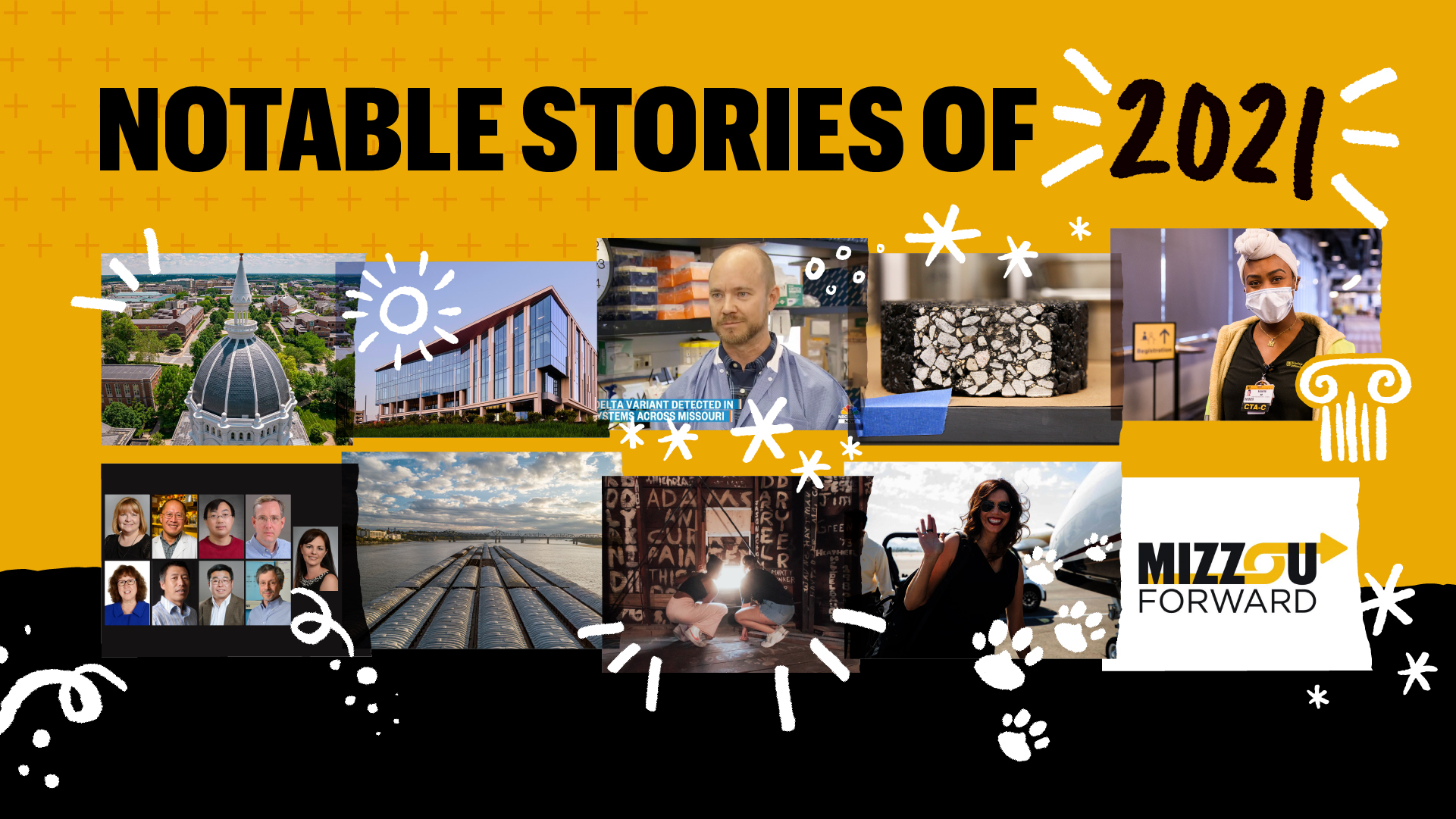 Dec. 13, 2021
Contact: Marcus Wilkins, wilkinsm@missouri.edu
1. Rising despite a pandemic
Boldly building on its values of respect, responsibility, discovery and excellence, the University of Missouri rose to new challenges — and beyond — in 2021. The COVID-19 pandemic didn't slow Mizzou's ascension in the U.S. News and World Report best value rankings, a 13-spot improvement from the previous academic year. MU also climbed in the category of online programs and was named to the Military Times' Best for Vets list. Despite a national drop in college enrollment, Mizzou increased its overall enrollment, a milestone that included an uptick in the average ACT score for incoming freshmen.
2. NextGen research efforts continue; campus celebrates flagship facility's grand opening
The Roy Blunt NextGen Precision Health building celebrated its grand opening on Oct. 19, ushering in a new era of cutting-edge research in a facility that unites researchers, clinicians and industry partners. The NextGen initiative, which promotes bench-to-bedside discoveries, will assemble clusters of researchers together under one roof in search of solutions to the world's greatest health challenges. The humanities also play an important part in the initiative — providing inspiration and creativity that are hallmarks of science and the arts.
3. COVID research continues at Mizzou
Mizzou's innovative students and faculty have taken on the challenge of researching a global pandemic from the heart of Missouri. Whether through harnessing a $4 million grant from the National Institutes of Health to study wastewater, investigating COVID-19's effect on the clothing industry, developing a wearable bioelectronic device to monitor patients, identifying strategies used in nursing homes to overcome challenges or breaking down the benefits and challenges of telehealth, the University of Missouri has affected timely solutions.
4. Innovation and improvement through research
In addition to COVID research, faculty and students across campus continue to confront the planet's environmental challenges, including reducing plastic waste by infusing asphalt with recycled material and experimenting with possible nutritious uses for destructive invasive carp. At the Bond Life Sciences Center, an avian laboratory is contributing to the Vertebrate Genomes Project, an international effort committed to accurately cataloguing the genomes of more than 70,000 vertebrate species. Researchers in the College of Arts and Science also recently found a rare, 500-million-year-old worm-like fossil that will help the scientific community better understand a period of biological proliferation known as the "Cambrian explosion."
5. Students make their mark on campus
Mizzou students continued to inspire us with their intellect, enthusiasm, compassion and ambition. In February, students from an array of healthcare fields were among the first to receive — and administer — COVID-19 vaccines. Undergraduate students, such as Rebecca Shyu and Trevontae' Haughton, have used hands-on research opportunities to investigate telemedicine and "train" robotic dogs, respectively. Many students took advantage of campus employment opportunities, including this set of Missouri Student Unions Ambassadors. And graduate students elevated the bar by photographing groundskeepers in the Mizzou Botanic Garden, nabbing a prestigious national geology award for carbon isotope research and teaching fellow Tigers mindfulness techniques to reduce stress. A new fellowship will also allow a recent alumna to continue her work advocating for veterans at the School of Law's Veterans Clinic.
6. Faculty and staff recognized with awards
MU celebrated its world-class faculty by honoring five people with the William T. Kemper Fellowship for Teaching Excellence and another nine with the title of Curators' Distinguished Professor. Mizzou Staff Advisory Council also recognized 10 Outstanding Staff Award recipients and 10 employees celebrating 40-plus years of service.
7. Giving back, taking part
Mizzou supporters stepped up in 2021 in support of students, faculty and research, including the launch of the Allen Access Program, a $5 million dedication from the Allen family to the Trulaske College of Business, that seeks to identify barriers to student success and hurdle them quickly and decisively by providing scholarships, programs and other support to underresourced students at the College of Business. The Walton Foundation's $1.4 million, three-year grant will create the Missouri River Basin Ag & Water Desk, a signature program of the School of Journalism's emerging Center for Science Communication. In addition to giving, our alumni continued to show their support throughout the year.
Mizzou also participated in events marking historical milestones in the Show Me State, including a partnership with the State Historical Society of Missouri for the state's bicentennial celebration, Together for '21 Fest. Marching Mizzou helped lead the Bicentennial Inaugural Parade in Jefferson City, and the University of Missouri's history is referenced in multiple locations on the City of Columbia's new Gateway Plaza sculpture.
And, of course, many Tigers returned to campus for in-person Homecoming traditions.
8. Black and gold through the years — and for the future
The Show Me Mizzou team highlighted MU icons through the years in a historic look at campus, while Mizzou Visual Productions gave everyone an inside look at the Jesse Hall dome and the Enns Entomology Museum. Marching Mizzou and the College of Engineering created a first-of-its-kind marching band performance featuring Spot the robo-dog, and we learned more about the people who make Mizzou special, including the School of Music's dedicated piano tuner.
9. Championship mentality
Enthusiastically pledging to "create a world-class experience that attracts the best and brightest and allows our students to better themselves and bring home championships to Columbia," Desiree Reed-Francois was named the MU director of athletics in August. Mizzou Nation also endeavored to #StripeTheState, a campaign to highlight Black and Gold Fridays across Missouri.
10. The future of Mizzou
To round out the year, the University of Missouri announced the launch of MizzouForward, a $1.5 billion investment over 10 years to use existing and new resources to recruit new tenure and tenure-track faculty, enhance staff to support the research mission, build and upgrade research facilities and instruments, augment support for student academic success, and retain faculty and staff through additional salary support.