Health care students give — and receive — COVID-19 vaccinations
Patient-facing students from the School of Health Professions, School of Medicine and School of Nursing headed to Faurot Field to help protect themselves, their patients and our community.
Feb. 9, 2021
Contact: Deidra Ashley, ashleyde@missouri.edu
Students at the University of Missouri are joining health care workers on the front lines in the fight against COVID-19. MU Health Care and the Student Health Center recently held a vaccination clinic where dozens of patient-facing students from the School of Health Professions, School of Medicine and School of Nursing received their first COVID-19 vaccination. Hear from students who received — and helped administer — the vaccine as they share why it is important and how it will help them in their work with the community.
Community vaccine information
Over time, various vaccines will be distributed in four phases, with multiple tiers in each phase. That distribution and the flow of the vaccine availability is controlled by county, state and federal health officials, who also decide when a particular group will be able to get vaccinated. Please check the county and state websites for the most up-to-date information about the progress through the priority groups and how they will be defined as supplies become available.
In order to get the community vaccinated as quickly and efficiently as possible, MU Health Care, Boone Health and Columbia/Boone County Public Health and Human Services have combined surveys to create a unified, streamlined process. All community members are encouraged to sign up to be notified when the COVID-19 vaccine will be available to them. For more information about the vaccine, visit renewal.missouri.edu/vaccine.
Marie Mays
Nursing student from Houston, Texas
"As a nursing student, I want to encourage people and promote health. I can't do that if I'm not staying safe myself, which is why I got the vaccine. I know some people are worried about the side effects, but honestly they're minimal to none, especially compared to the risk of not getting vaccinated and ending up with COVID-19."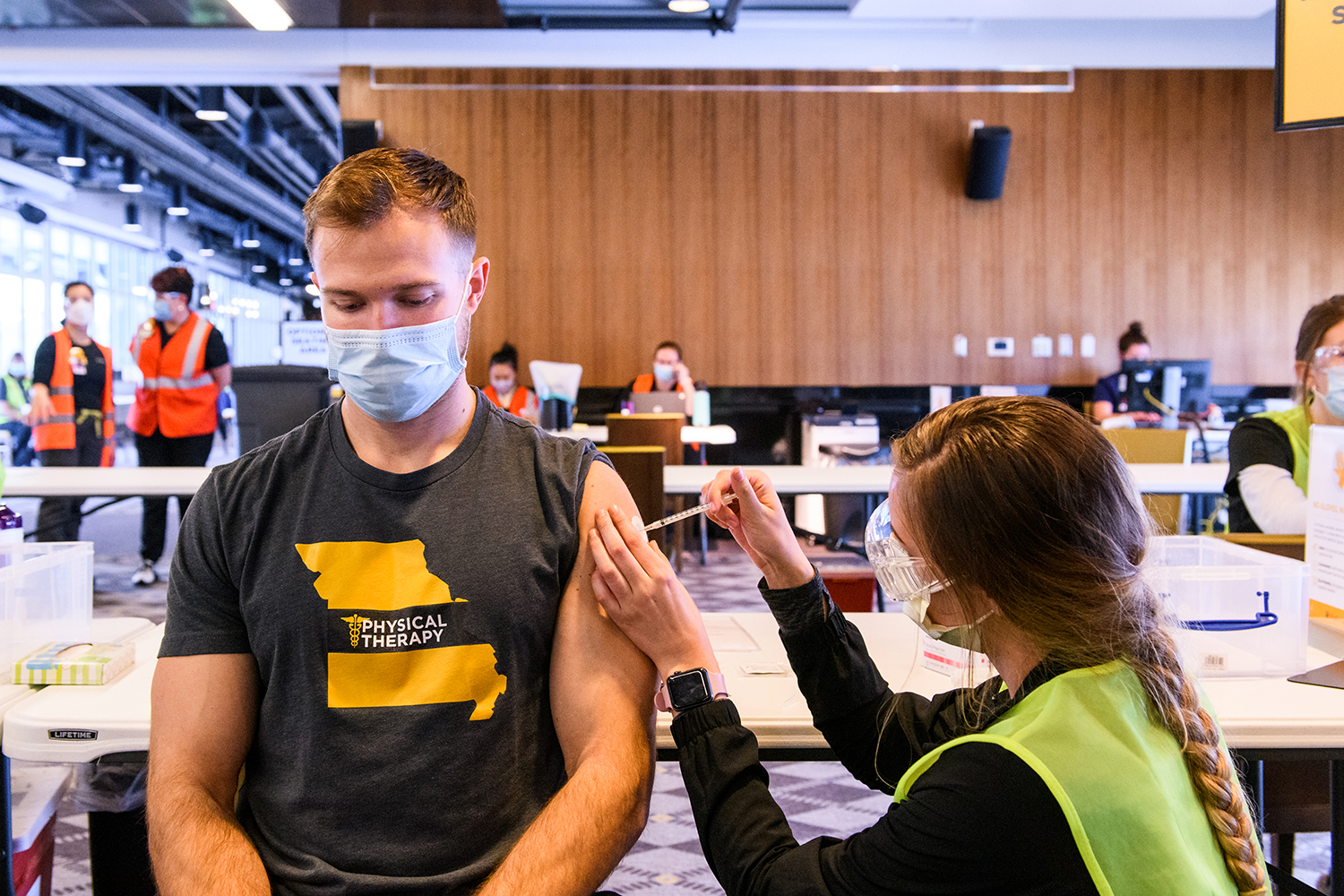 Ben Nolte (left)
Physical therapy student from St. Charles, Missouri
"I wanted to get the vaccine regardless, but my next clinical experience is going to be in a hospital so getting it now is pretty essential. I'm thankful we have the opportunity to get the vaccine here at Mizzou."

Sophie Gordan (right)
Nursing student from Naperville, Illinois
"It's a big honor and a privilege to be able to help vaccinate my fellow students and be a part of the fight against COVID. The pandemic has reduced the amount of time we're able to spend with patients, so it's nice that we're able to help vaccinate people and help us all get back to normal."
Catarina Kalamboukas (left)
Nursing student from St. Louis, Missouri
"I wanted to get vaccinated because I want to be safe and be an example to my community."
Austin Egley (right)
Nursing student from Kahoka, Missouri
"I think that everyone wants to get back to what we consider normal. This vaccination is a great testament to science and just how far we've come… Getting people vaccinated is a big step for us to get back to normal."
Abdi Abud (left)
Medical student from St. Louis, Missouri
"I'm getting vaccinated for my family — especially my parents. Hopefully this will help us get things back to normal."
Johanna Bastas (right)
Nursing student from Chicago, Illinois
"I've already had my second dose. I know some people are nervous because the vaccine went through the system so fast, but the truth is that the science has been done because the coronavirus is such a priority."
Related story: 'It won't hurt,' MU nursing students administer COVID-19 vaccines
Subscribe to
Show Me
Mizzou
Stay up-to-date on all things Mizzou when you subscribe to the Show Me Mizzou newsletter. Issues will arrive in your inbox every Tuesday, Wednesday and Thursday.