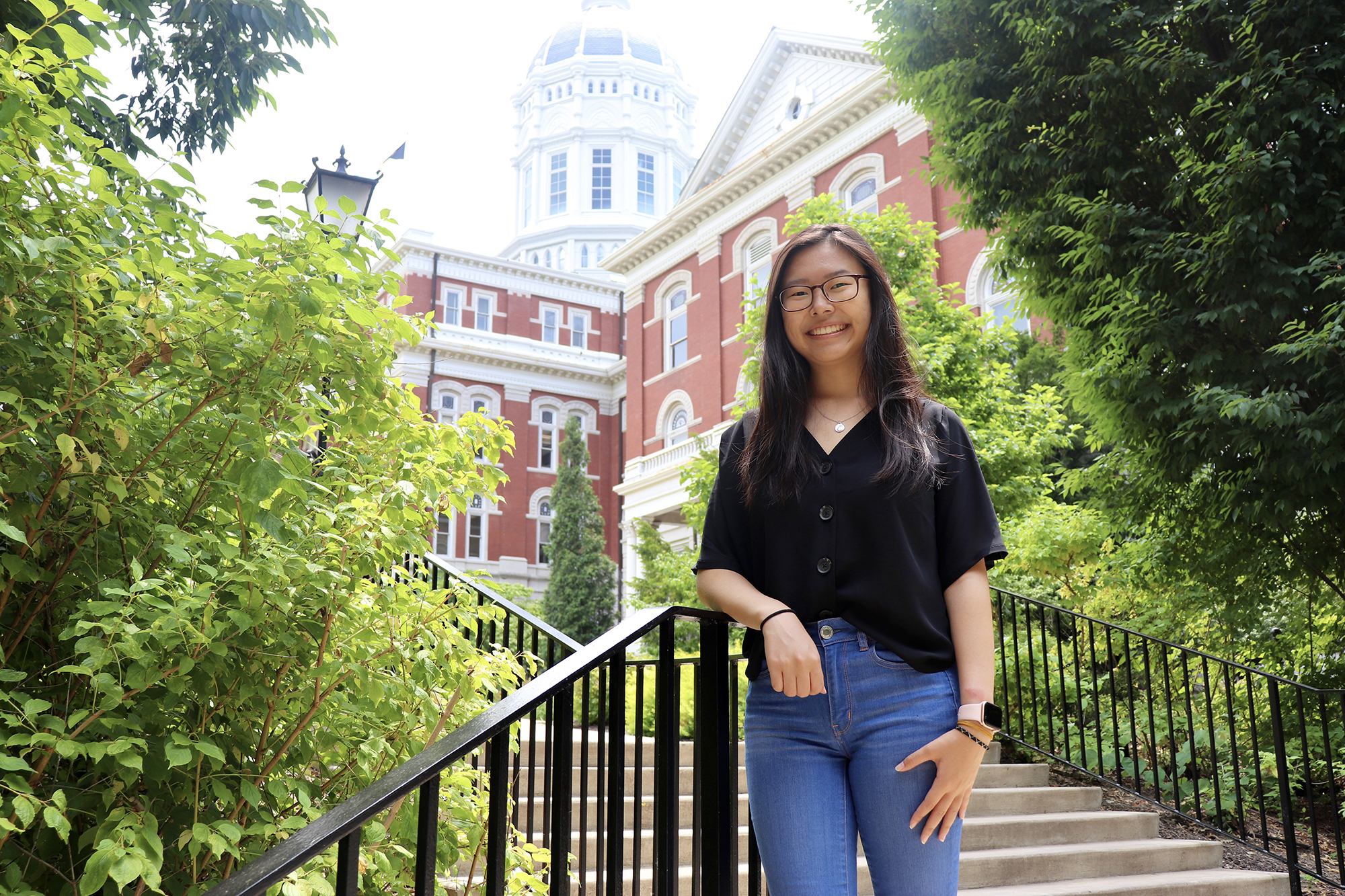 September 7, 2021
Contact: Kenny Gerling, gerlingk@missouri.edu
What's your name, major and hometown?
I'm Rebecca Shyu. I am a senior studying computer science from here in Columbia, Missouri. I'll graduate in May 2022.
You're a computer science major but you're also very focused on health care. How did that interdisciplinary approach begin?
It all really solidified when I came to Mizzou; the professors are incredible. At first, you don't know if this is the path you're set on. But I found all my professors are very encouraging, and I fell in love with coding — as nerdy as that sounds. Then, I found a passion in both coding and using data science to find new discoveries and patterns within health care. It really meshes a lot of my interests together.
You were researching the impact of telemedicine even before the pandemic. How did that begin?
I actually worked with Dr. Mirna Becevic (an assistant research professor in the School of Medicine) during high school for an internship. When I came to Mizzou, I knew I wanted to continue that partnership with her because she's an incredible mentor. She is an evaluator at Show-Me ECHO and — living in Missouri — I've really been opened up to all the disparities in terms of rural health care. [Working with Becevic] was a way for me to use my computer science background for real-world applications, which I thought was really unique and fulfilling. My research focused on transportation efforts and the time necessary for patients to travel to larger institutions like MU. For example, the time from the Bootheel to Columbia is really substantial. A lot of people in those areas might just not seek health care, which will lead to worse health outcomes.
Your research focuses on both telemedicine (which is more tailored to each individual) and public policy (which looks at the big picture). How do those two things work together?
I've always been very interested in policy making because it affects so many people. There are so many aspects of health — like telemedicine — that have political impacts. So along with my Show-Me ECHO project, I've also been doing an internship with Harvard Medical School's Department of Health Care Policy. I've been learning about the economic impact of telemedicine with Medicare and Medicaid, especially with the COVID-19 pandemic.
How have mentors helped you get started in research?
My mentors have been absolutely incredible. They have this balance between guiding me and also giving me room for independence so that I really learn to problem solve on my own, because that's exactly what's going to happen in graduate school. I think they've really prepared me and helped me find what I want to do in the future. I mentioned that I've been working with Dr. Becevic since high school. Starting my freshman year in the Honors College, I also worked as a Discovery Fellow with Iris Zachary (an associate research professor in the Department of Health Management and Informatics and the director of the Missouri Cancer Registry and Research Center). With her, I've been able to present at a lot of conferences, which has been important for my professional development. I actually nominated each of them for the Ann K. Covington Award for student mentorship, and they both received it.
Another mentor is Wei Jiang (an associate professor in the Department of Electrical Engineering and Computer Science). I started a research internship with him for my honors thesis in security concepts and health care because patient privacy is huge, and it's also necessary to understand the limits of research.
You've done a lot at Mizzou. What are some of the moments that stand out to you?
This past year I was a Goldwater Scholar, and that was with the help of all my mentors; it really solidified my path as a researcher. I also presented remotely at Posters on the Hill last May, which was a really cool experience. As much as I would have loved to be in D.C., it was fun seeing everyone else's research and being able to connect with legislators.
Do you have any advice for undergraduates who want to start research?
I'm actually an undergraduate research ambassador with the Office of Undergraduate Research, so you can connect with us and make an appointment with any one of the ambassadors. Just send an email to the office, and we can go through the steps and help you write to any professors you might be interested in working with. If there's something that you want to research or you're interested in, even remotely, there's someone here probably doing that research — and it doesn't have to be necessarily in your major, which is evident in my own case.