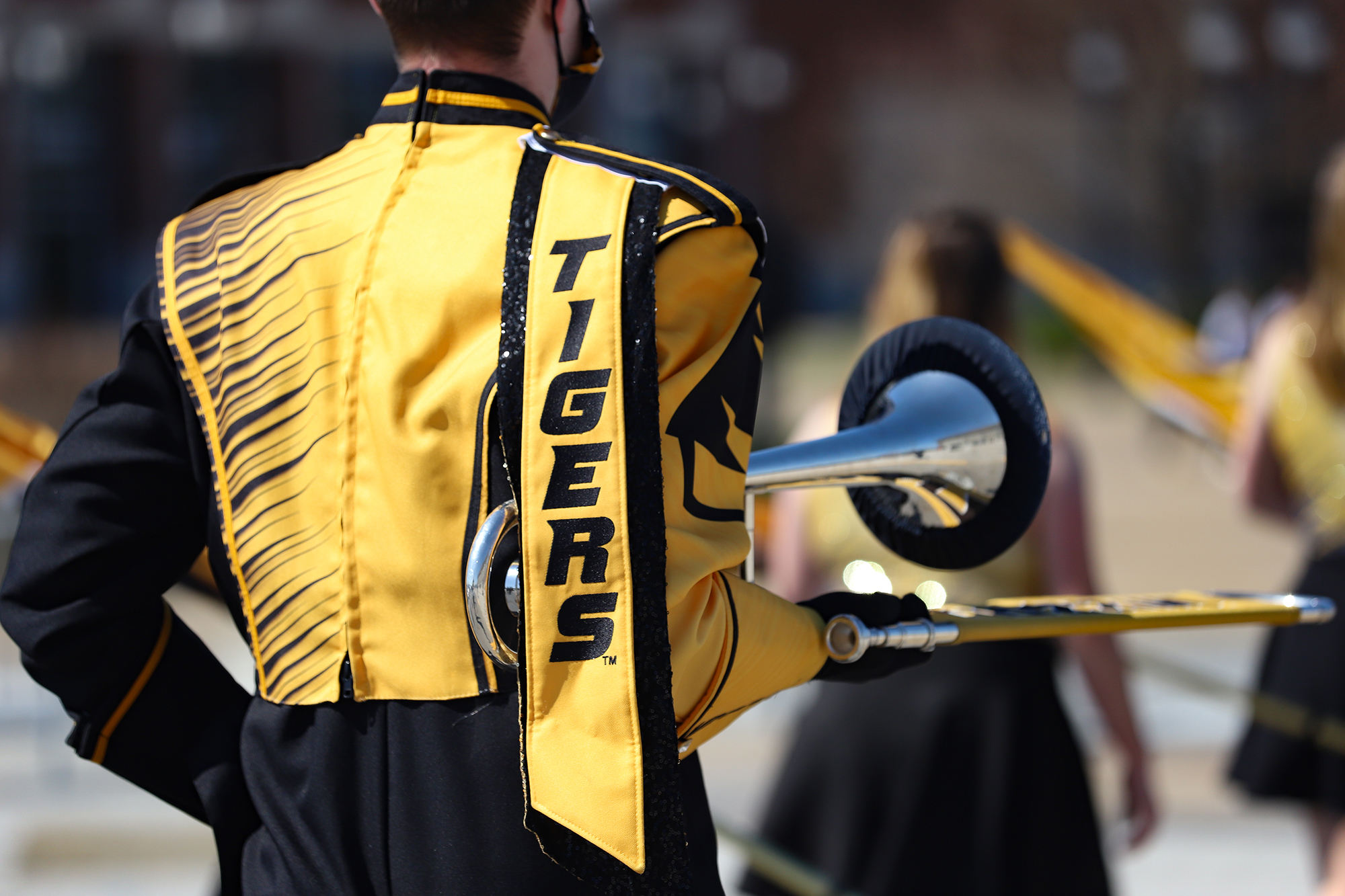 Sept. 8, 2021
Contact: Deidra Ashley, ashleyde@missouri.edu
Marching Mizzou is taking their show on the road to help lead the Missouri Bicentennial Inaugural Parade at 10 a.m. on Saturday, Sept. 18, in Jefferson City. The 340-member ensemble is one of nearly 100 groups celebrating Missouri's 200th anniversary. The 1.5-mile parade route will circle the Missouri State Capitol and can be livestreamed on Gov. Mike Parson's Facebook page.
"We are honored to represent the University of Missouri in the Bicentennial Inaugural Parade and are thankful to Governor Parson for the invitation," said Amy Knopps, director of Marching Mizzou and associate director of bands at the University of Missouri School of Music. "This performance will forever be part of the history of Marching Mizzou, and we appreciate the partnership with multiple entities on campus and Columbia Public Schools that allow us to successfully execute both the parade and football game responsibilities on September 18. We look forward to sharing our tribute to Missouri with the community."
The ensemble, also known as the "Big 'M' of the Midwest," has performed for Missourians for more than 135 years. In addition to appearances across the state and nation, Marching Mizzou has performed around the world in countries such as Ireland and England. Their next big venue is the 2022 Macy's Thanksgiving Day Parade.
"Students from Marching Mizzou represent nearly every discipline on campus," said University of Missouri President Mun Choi. "They embody our university's core values and I am proud to have them showcase MU in this historic celebration."
In addition to a performance by Marching Mizzou, MU alumna Edith Harrington will act as parade grand marshal and there will be an appearance by alumna and Miss Missouri 2021, Callie Cox. While Marching Mizzou is performing at the parade, the Hickman High School Marching Band will play on behalf of Marching Mizzou until they return to the stadium at the Sept. 18 home football game against Southeast Missouri State.
Help Marching Mizzou get to the Macy's Thanksgiving Day Parade
A fund has been created to help offset the costs for Marching Mizzou students going to the 2022 Macy's Thanksgiving Day Parade. Donations can be made online, and Mizzou will match donations dollar-for-dollar, up to $60,000.