Oct. 11, 2021
Contact: Deidra Ashley, ashleyde@missouri.edu
Homecoming traditions kicked off with Tiger Food Fight on Sept. 17. The University of Missouri community gathered more than 44,456 pounds of food to donate to the Food Bank for Central and Northeast Missouri, which benefits campus's Tiger Pantry.
Homecoming tri-director Jackson Ptasienski, right, helps unload non-perishable items in the Reynolds Alumni Center Circle Drive.
Matthew Rothermich, left, and Makayla Hayes, right, were among the Homecoming Steering Committee students who helped collect food donations.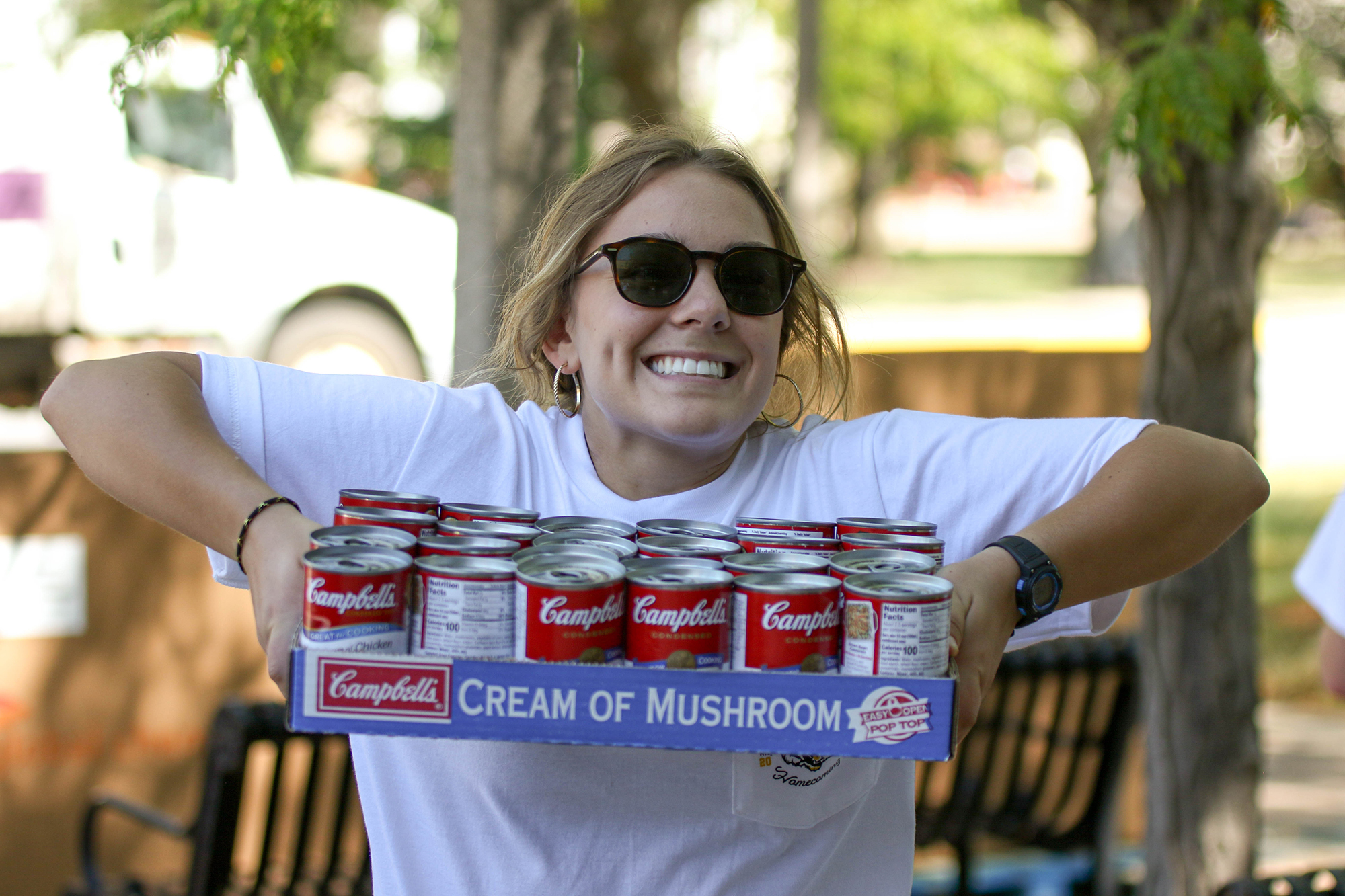 Canned soups and other nonperishable foods were collected at the food drive. Many also chose to make direct donations to Tiger Pantry.
The Homecoming Blood Drive took place the week of Sept. 27 and continues to be one of the largest student-run blood drives in the country.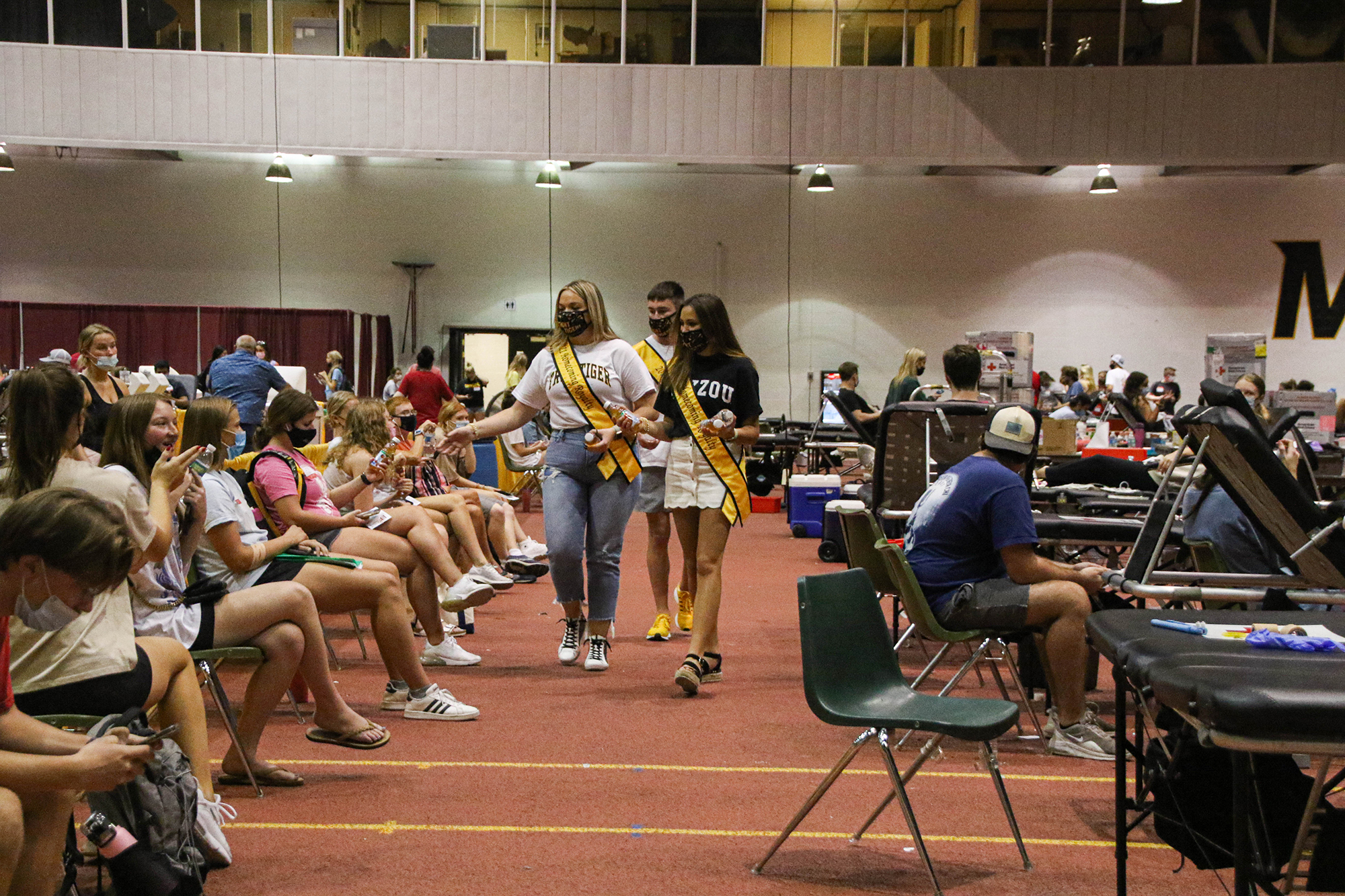 This year, the Homecoming Blood Drive collected more than 2,500 units – enough to potentially save 7,500 lives. Homecoming court members were on hand to pass out snacks and thank participants.
To celebrate Homecoming Week, the Jesse Hall dome was lit gold — a tradition dating back to 1987.

This year's subtheme, video games, was highlighted throughout Banner Walk. Each participating student organization submitted their painted banners and artwork for display throughout Homecoming weekend.
This year, 23 banners were created by participating student organizations. The display remained near Traditions Plaza through Sunday.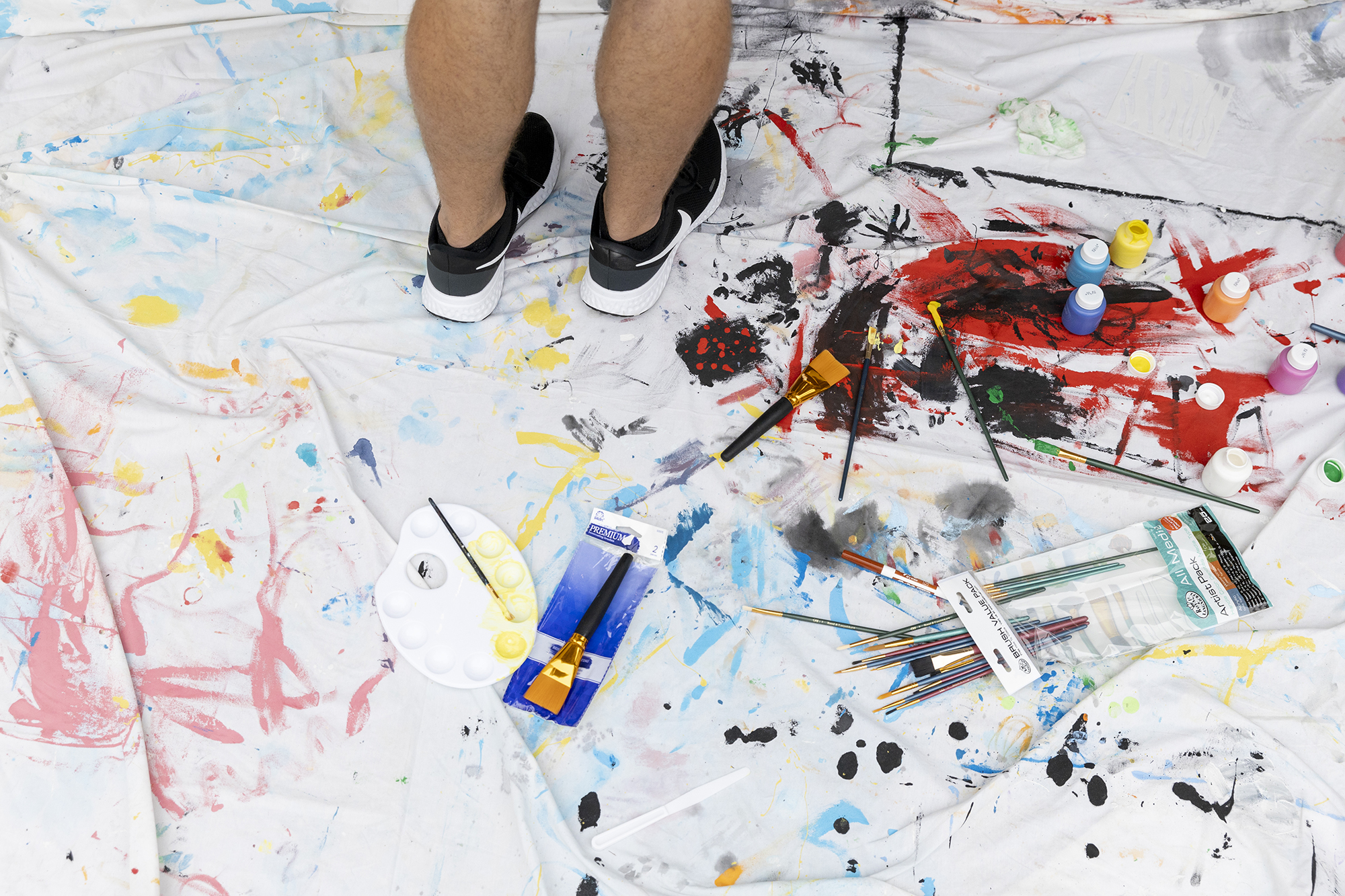 Students and campus organizations painted the town through Decorate the District.
Mizzou's Zeta Tau Alpha sorority needed a caffeine pick-me-up after painting Starbucks with a Talladega Nights theme.
Mizzou Air Force ROTC cadets decorated Tallulah's, a local small business specializing in home goods and décor.
Alpha Delta Pi sorority and Delta Chi fraternity became "best buds" as they painted Bud's BBQ downtown.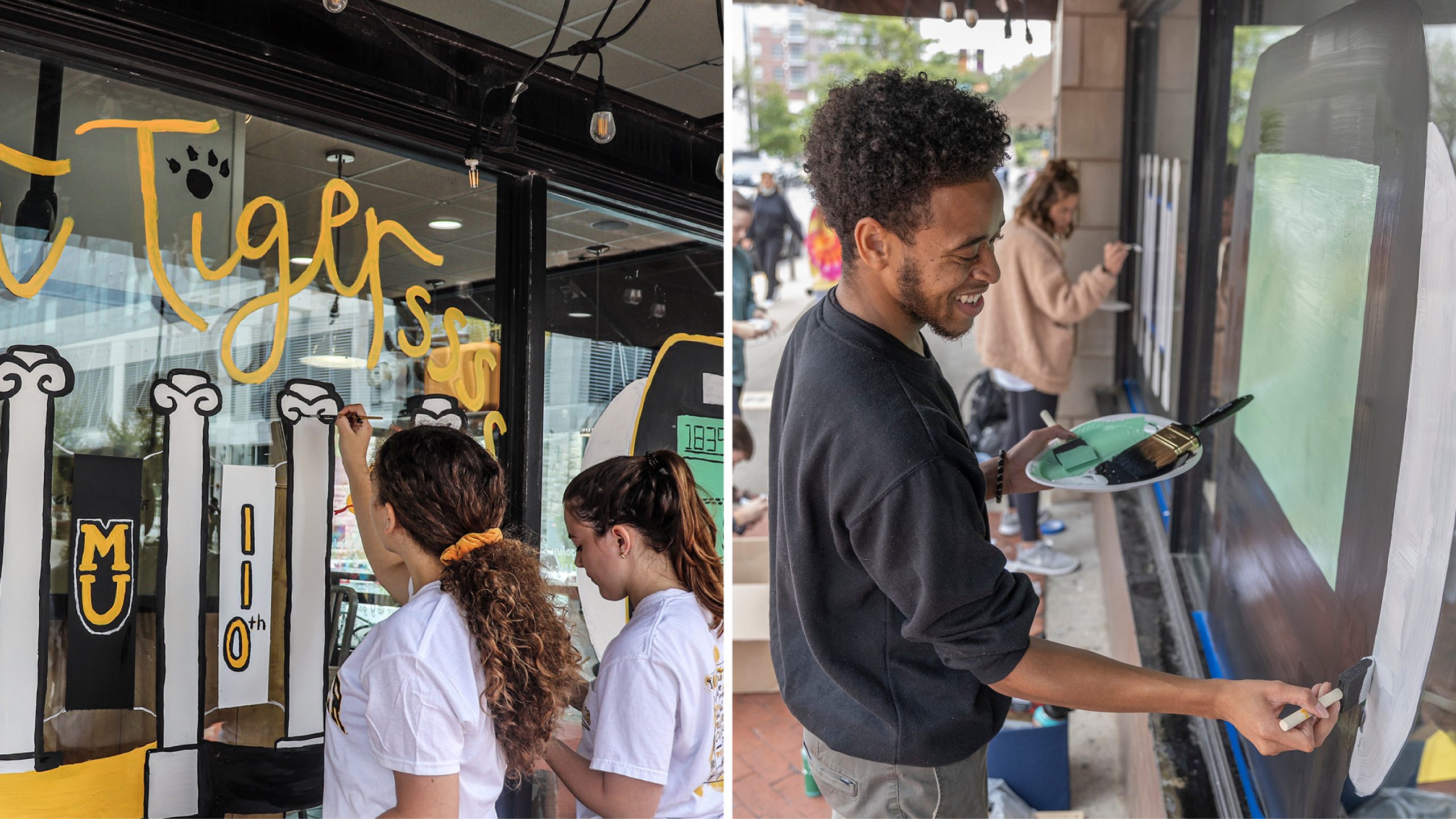 The Alumni Association Student Board decorated Columbia Art League's storefront windows with a "Fight Tiger" design.
Mizzou's Pi Beta Phi sorority and Phi Delta Theta fraternity decorated Hudson/Hawk Barber Shop with a Mario-themed treatment — featuring Truman as the Mushroom Kingdom plumber.
Chi Omega painted an Angry Birds theme on the windows of Campus Bar & Grill on 9th St.
Mizzou's Beta Eta chapter of Alpha Phi Omega, a national co-ed service fraternity, left their mark on International Café.
Alumni volunteers from the Bates County Mizzou Club popped kettle corn to share with attendees during Homecoming Headquarters in front of the Reynolds Alumni Center. Alumni and friends were invited to pick up treats and goodies to kick off their weekend.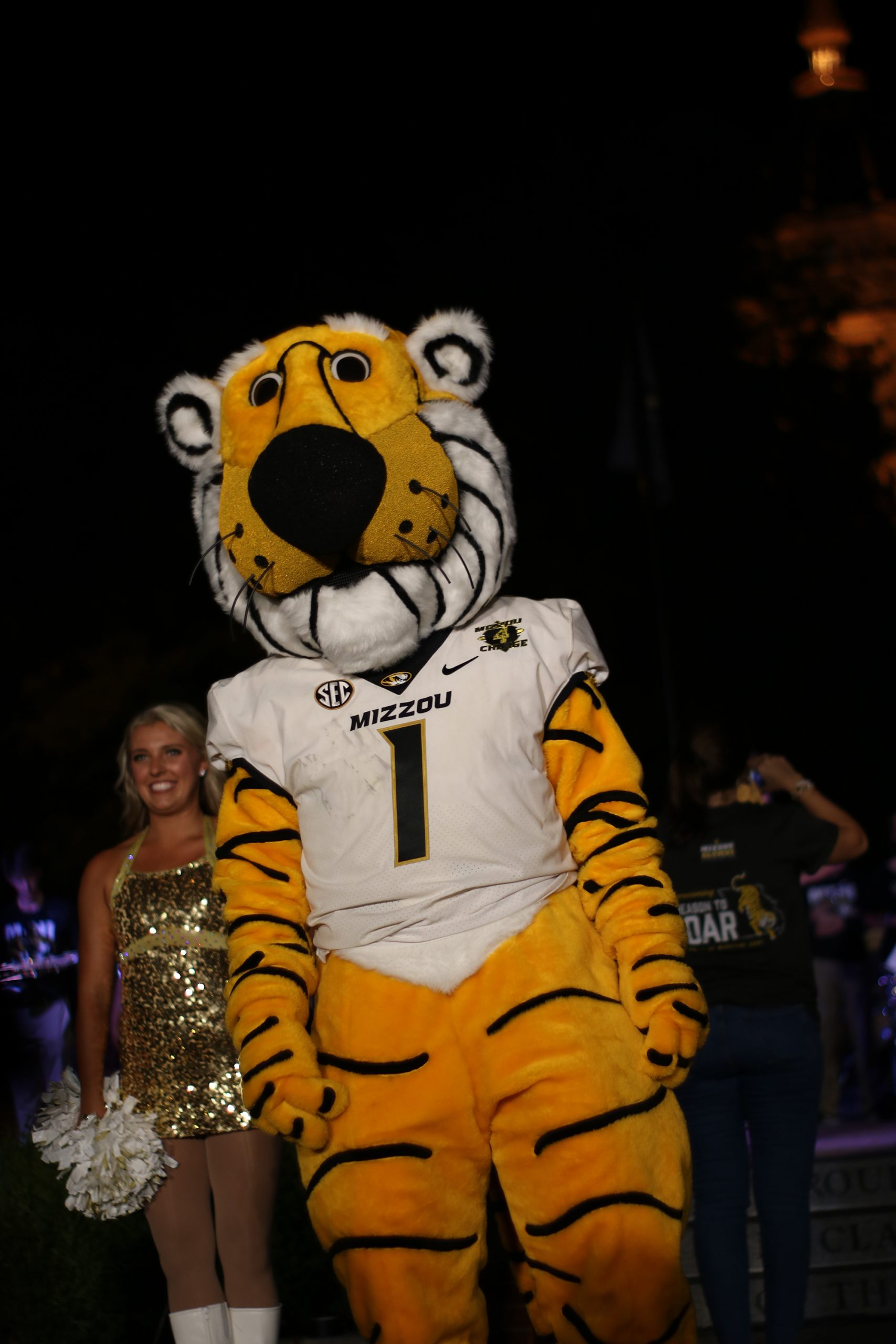 The night before the game, Truman, Marching Mizzou, The Golden Girls, Mizzou cheerleaders and more got us pepped up with the Spirit Rally.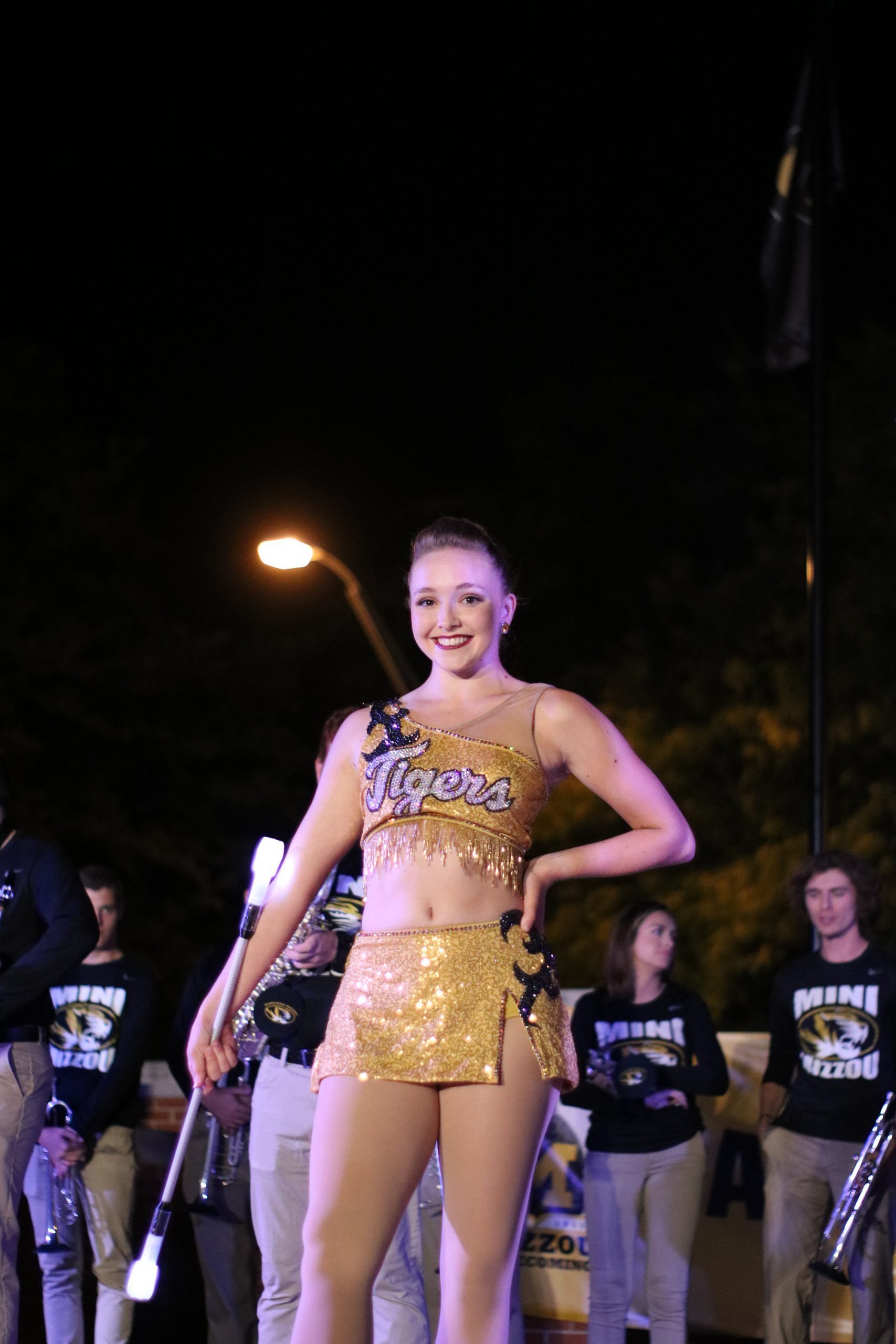 Freshman Mizzou Feature Twirler Ella Earnest showed off her skills with glowing batons.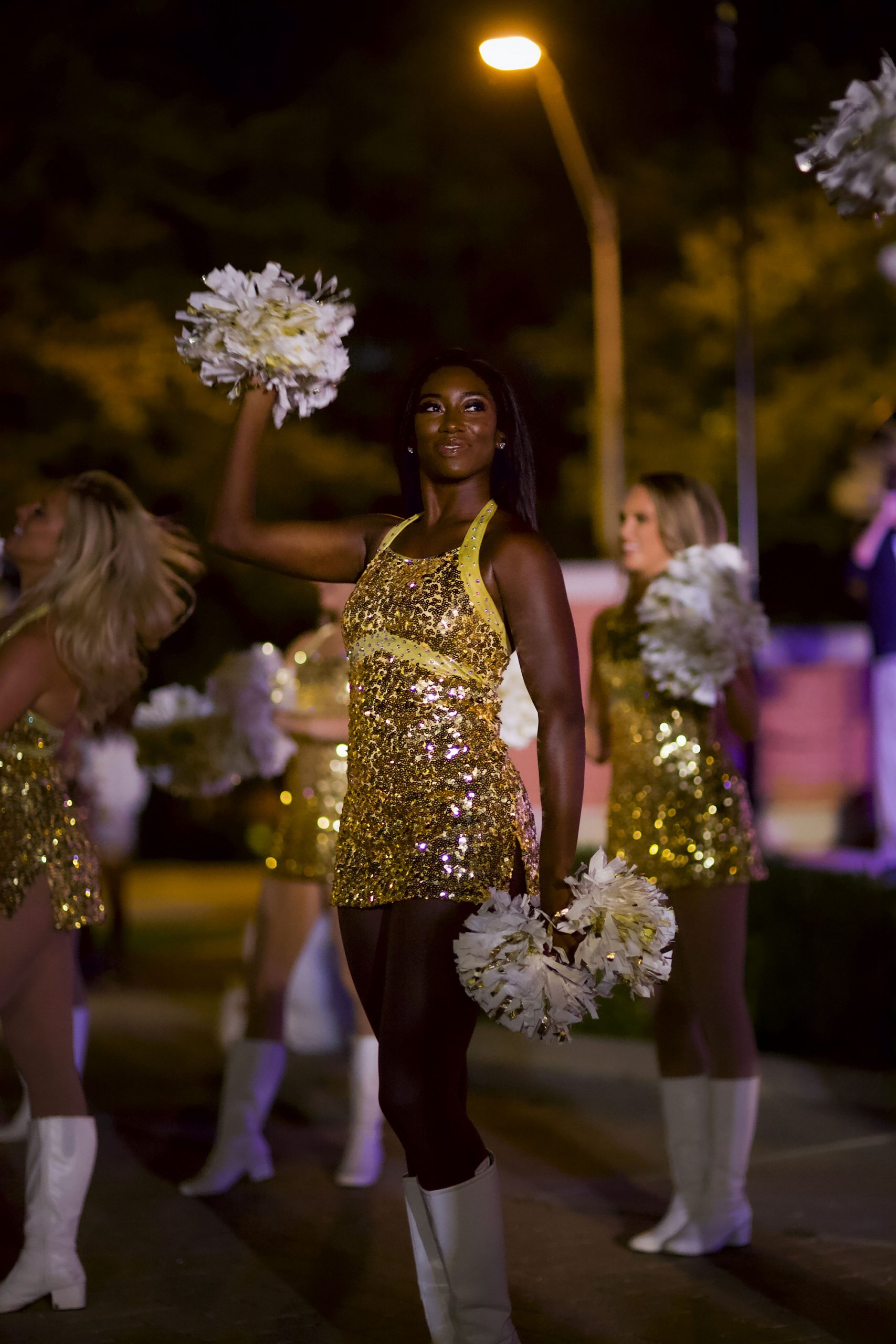 The Golden Girls performed and got the crowd excited.
Members of Mini Mizzou played the most popular Tiger tunes, including the fight song and the Missouri Waltz.
International students posed for a picture with their home flags before Saturday's Homecoming parade. Some were experiencing Homecoming traditions for the first time.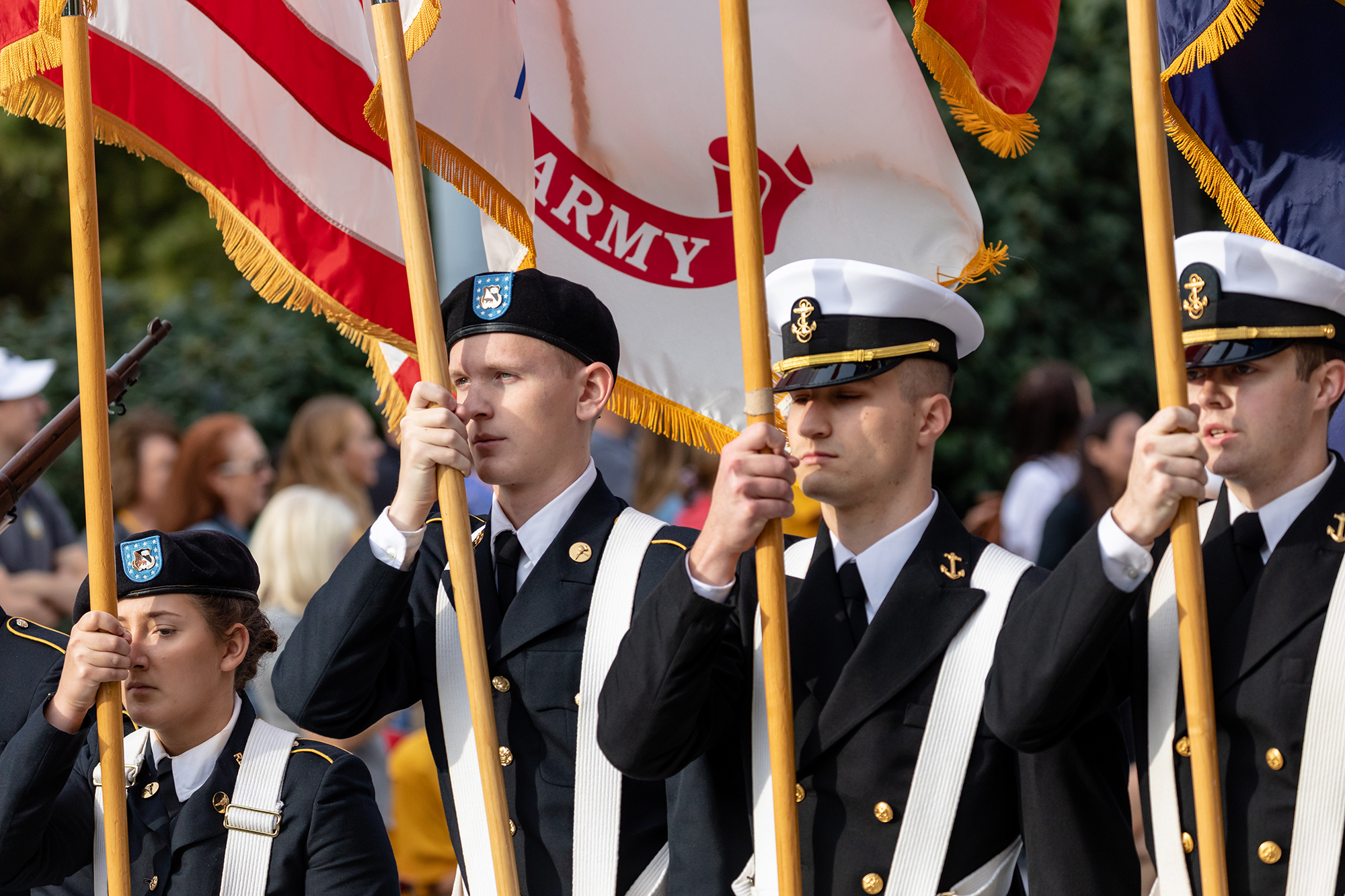 The Mizzou ROTC Color Guard helped kick off the parade. The parade returned after being canceled last year due to the COVID-19 pandemic.
Golden Girls led the crowd in the traditional "M-I-Z" chant.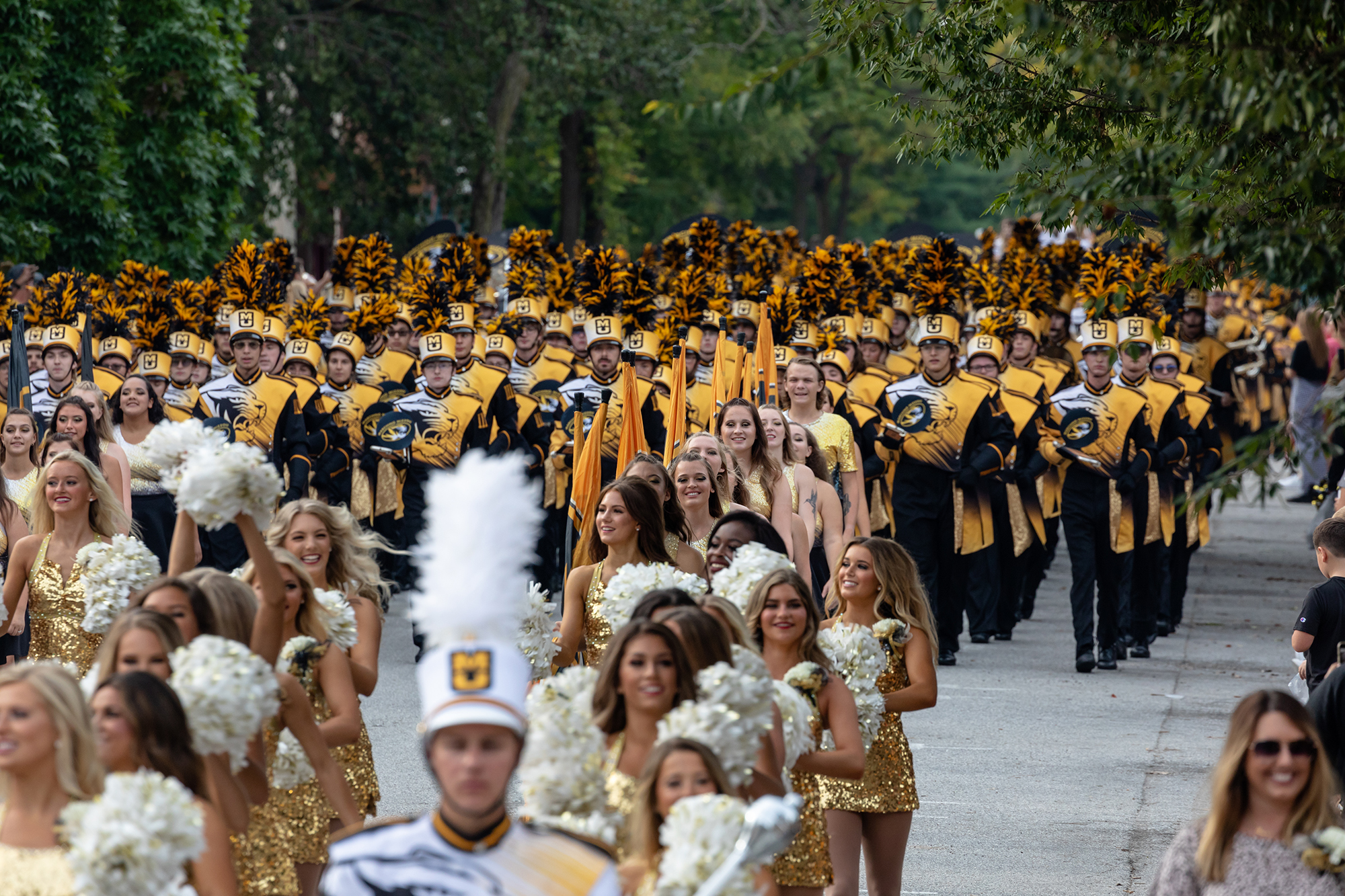 The year, more than 130 entrants were a part of the parade. Marching Mizzou was near the beginning of the parade and got the crowd fired up.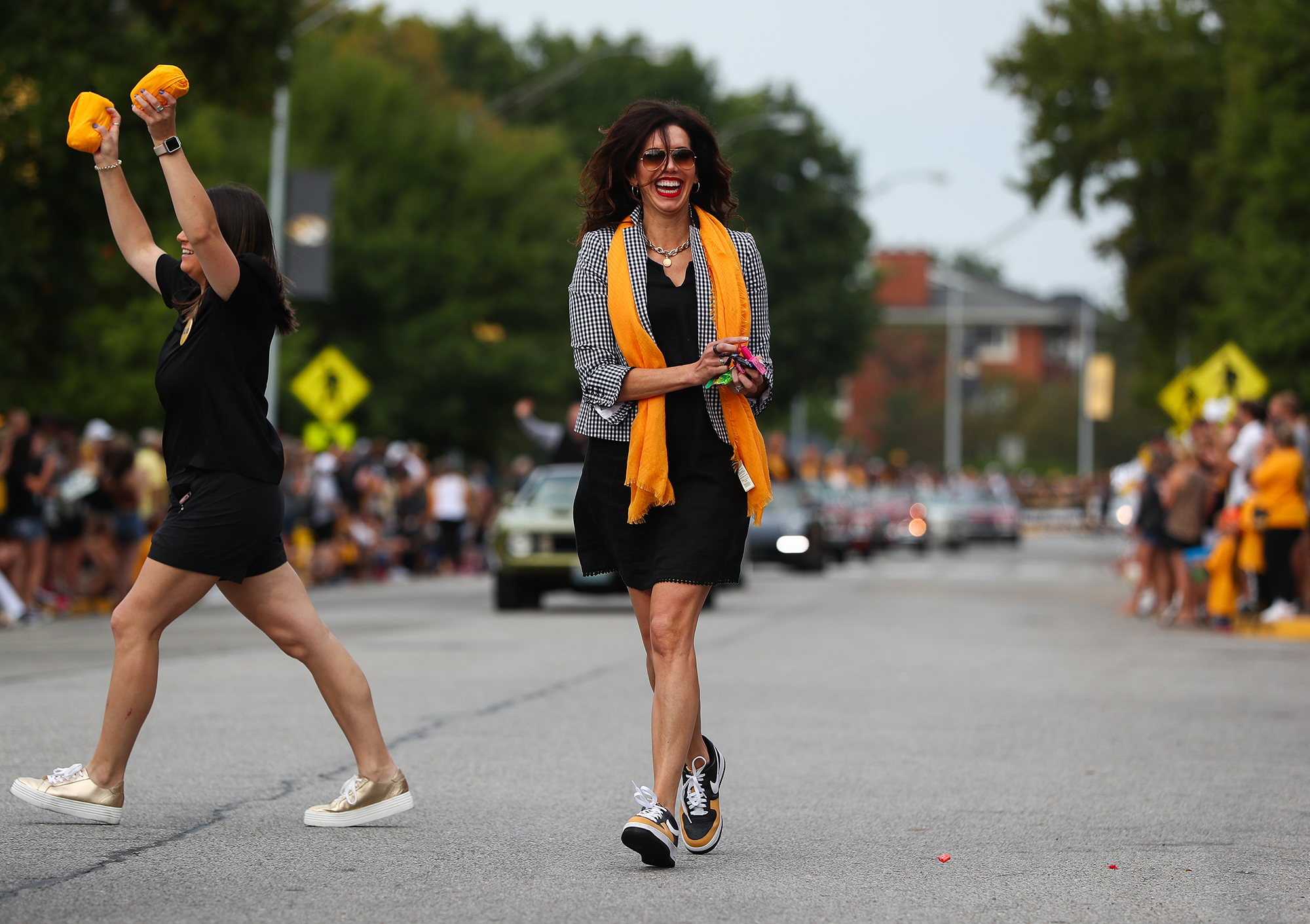 Athletic Director Desiree Reed-Francois handed out candy and greeted fans along the parade route. This was her first Mizzou Homecoming.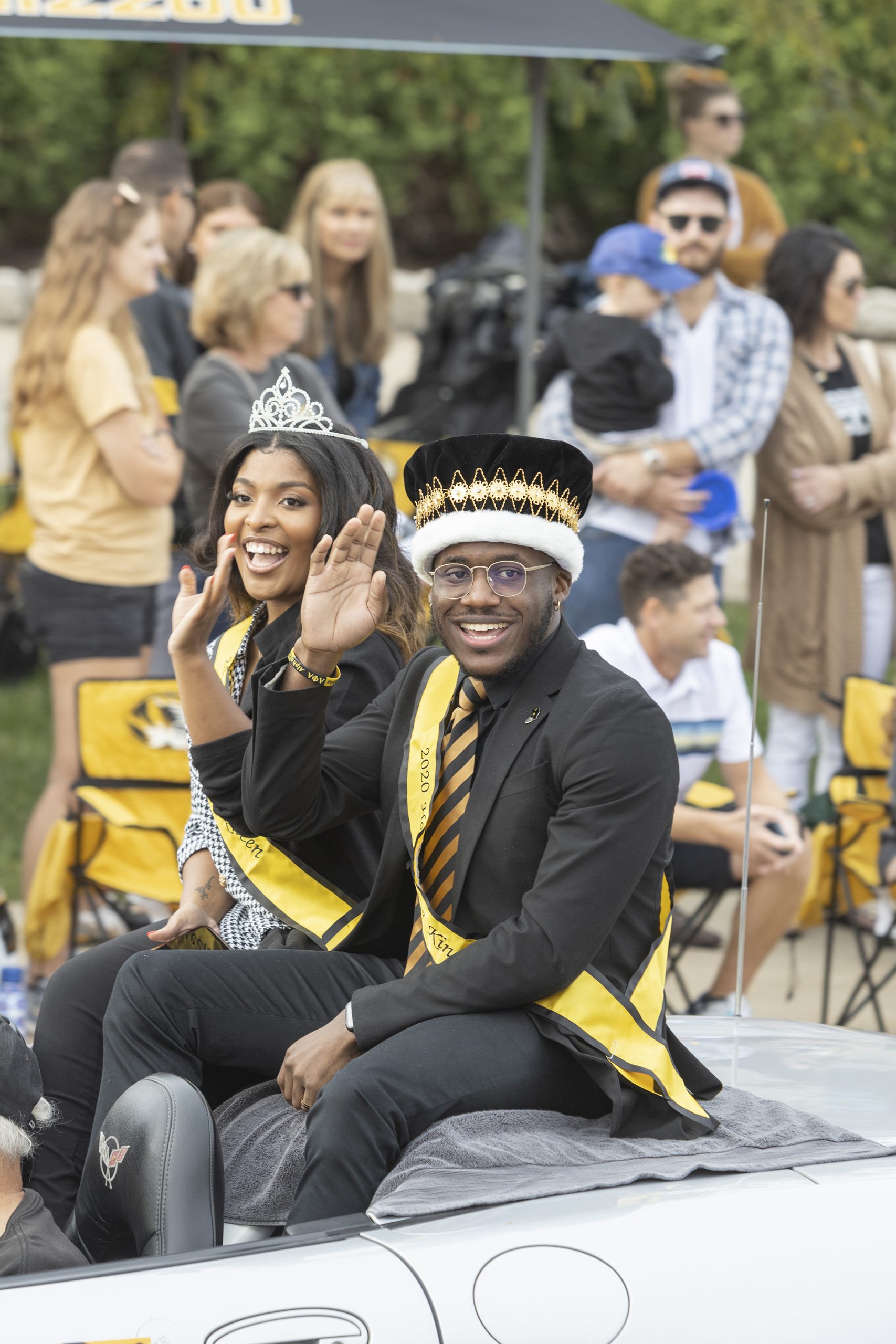 After not being able to ride in a parade in 2020, Gabrielle Gilmore, left, and Omobude Eke, right — 2020 Homecoming royalty — celebrated their recognition and prepared to help crown the 2021 royalty.
Members of the Homecoming Steering Committee rode atop a Boone County fire truck. These 37 students began preparations for the 2021 Homecoming festivities back in March.
Kemper Fellows Antoinette Landor (left), Martha Steffens (center) and Daryl Smith (right) joined the festivities. The fellowship is awarded to five outstanding teachers each year.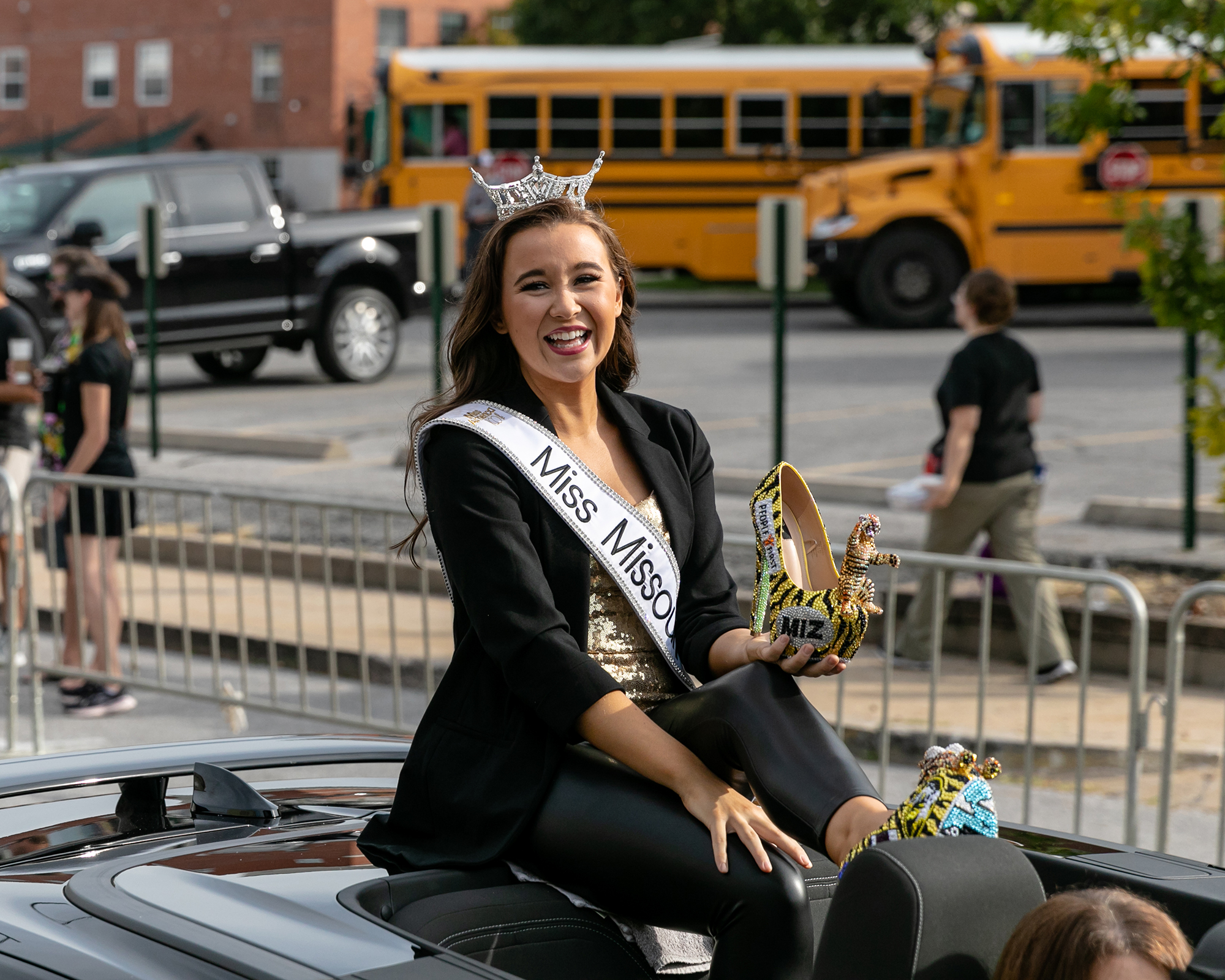 MU senior (and Miss Missouri) Callie Cox shows off her Homecoming heels. Cox is a communication major in the MU College of Arts and Science.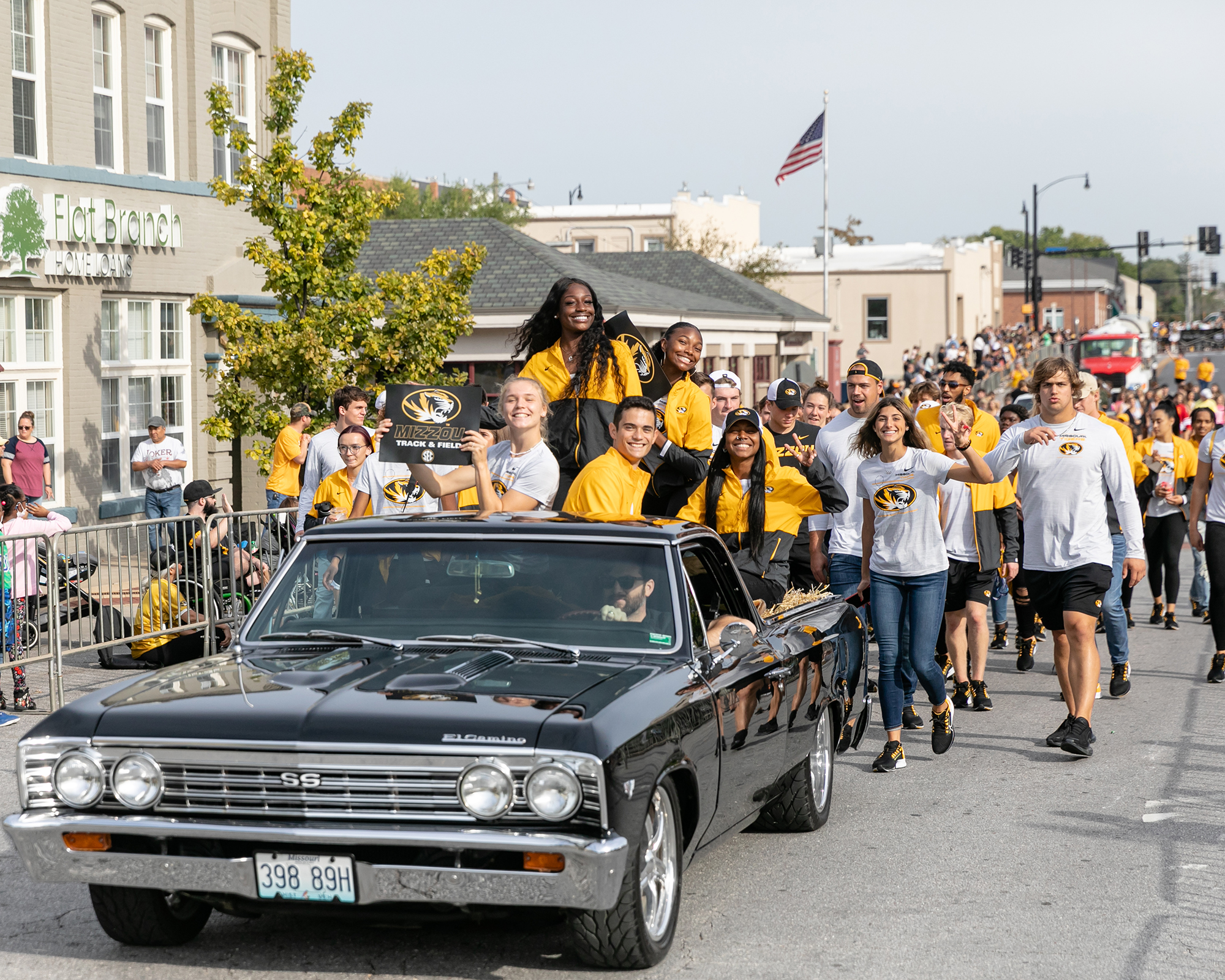 Members of Mizzou Track and Field strutted their stuff in matching Mizzou Nikes.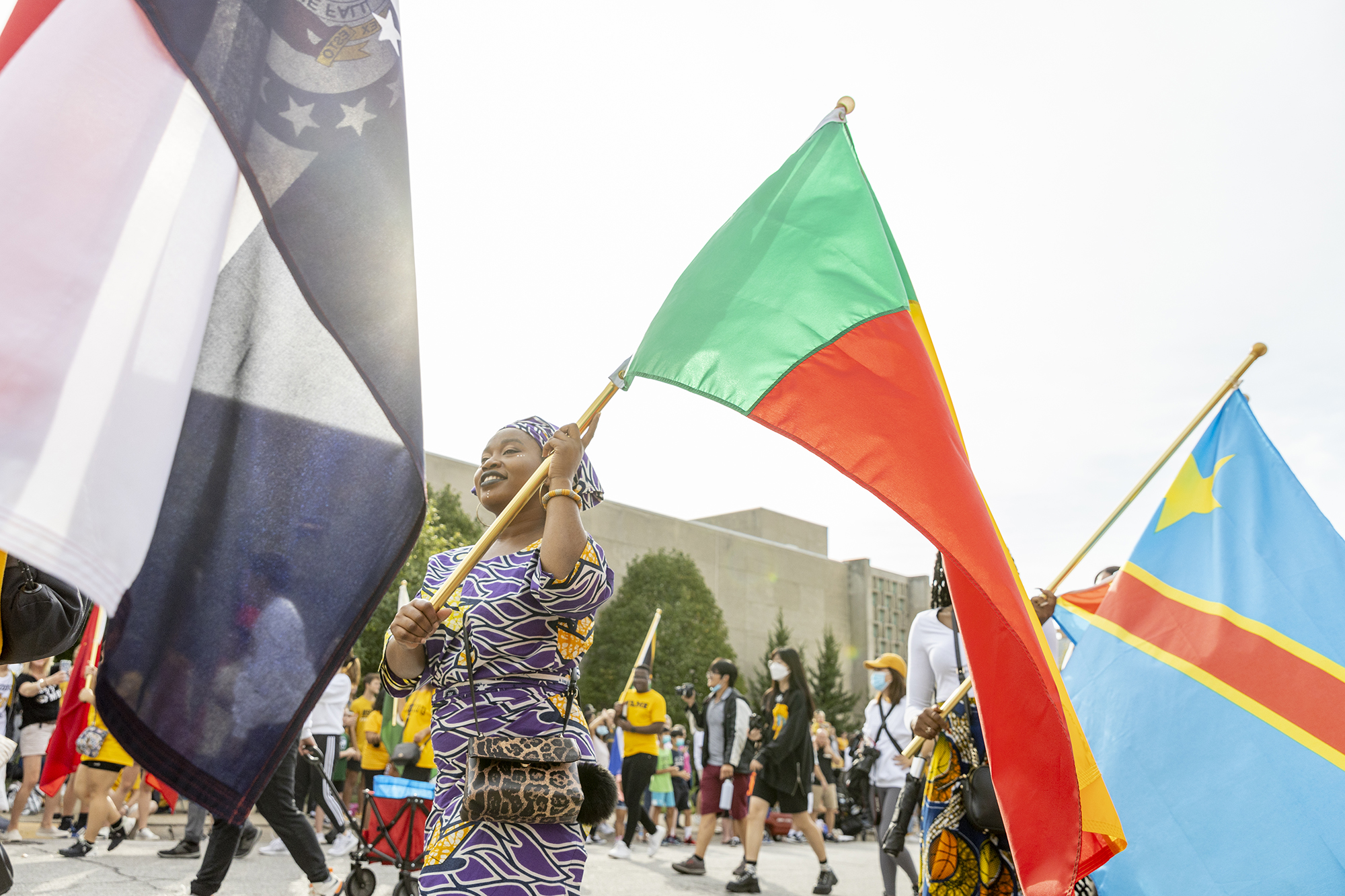 Members of the Missouri International Student Council marched with flags representing their home countries. MU is home to students from more than 100 countries.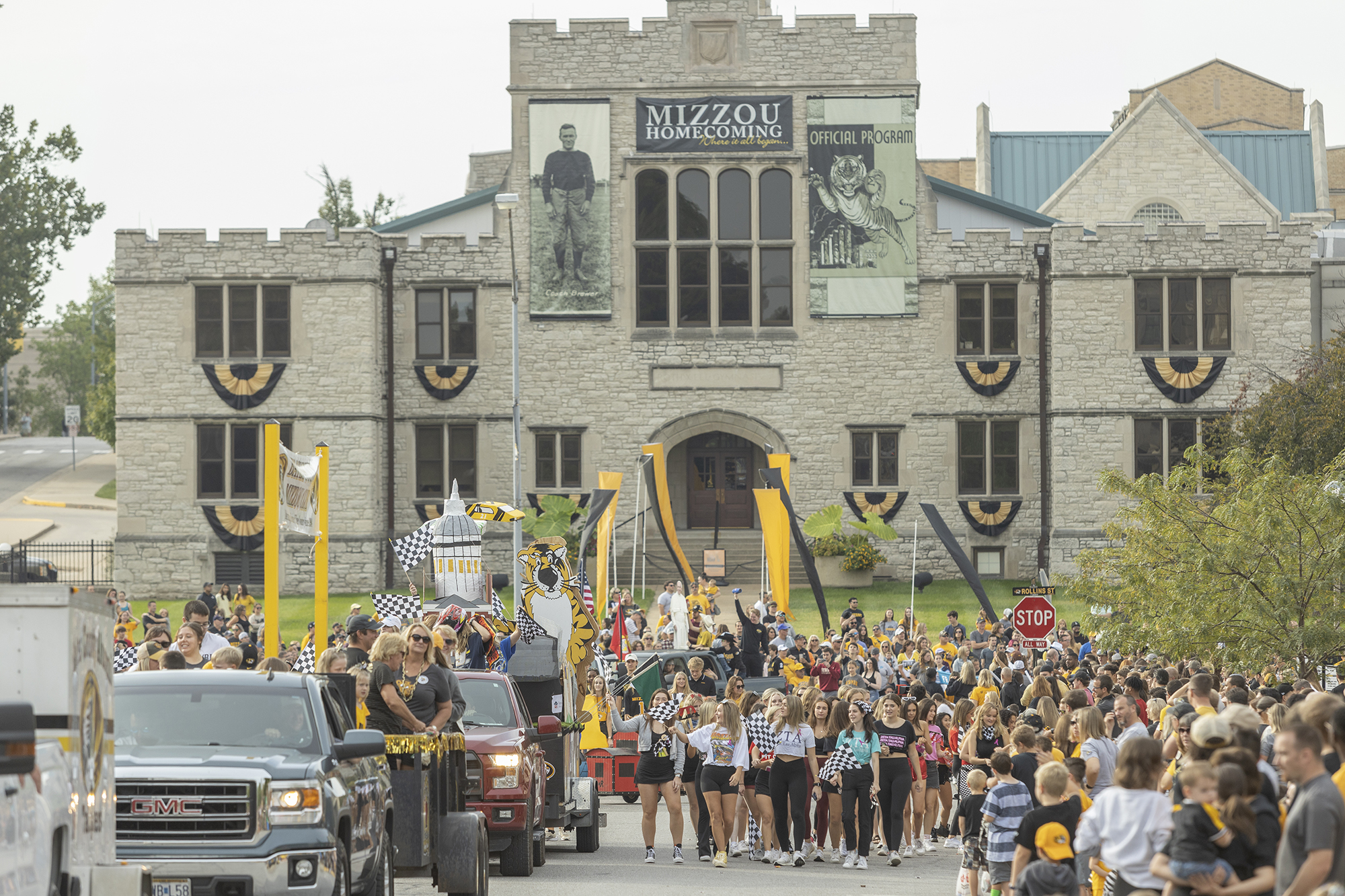 Many floats were designed with this year's video game sub theme in mind.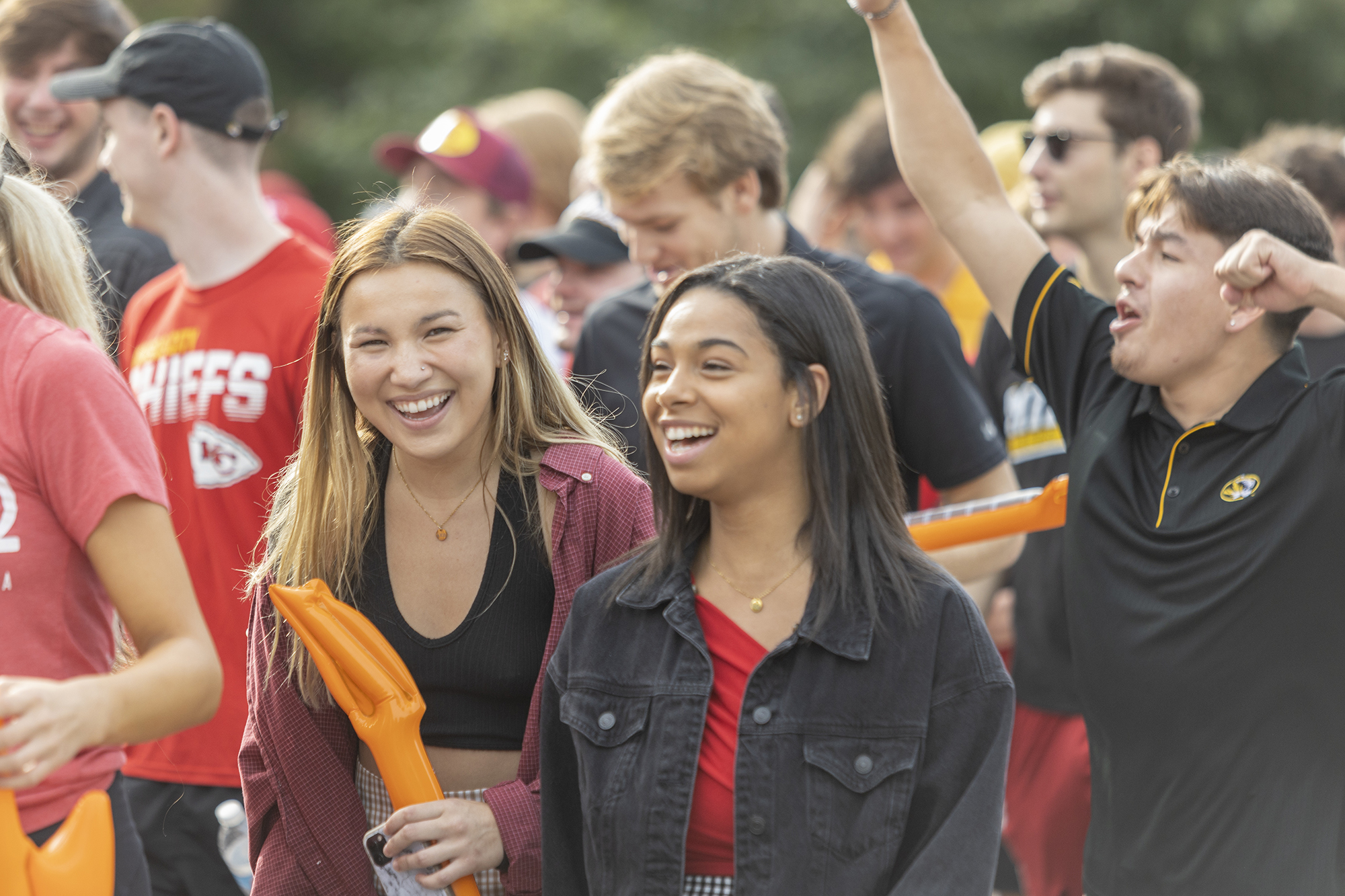 Students from Alpha Chi Omega smile along the 1.4-mile route.
Kappa Kappa Gamma and Alpha Gamma Rho designed a float with a Pokémon theme.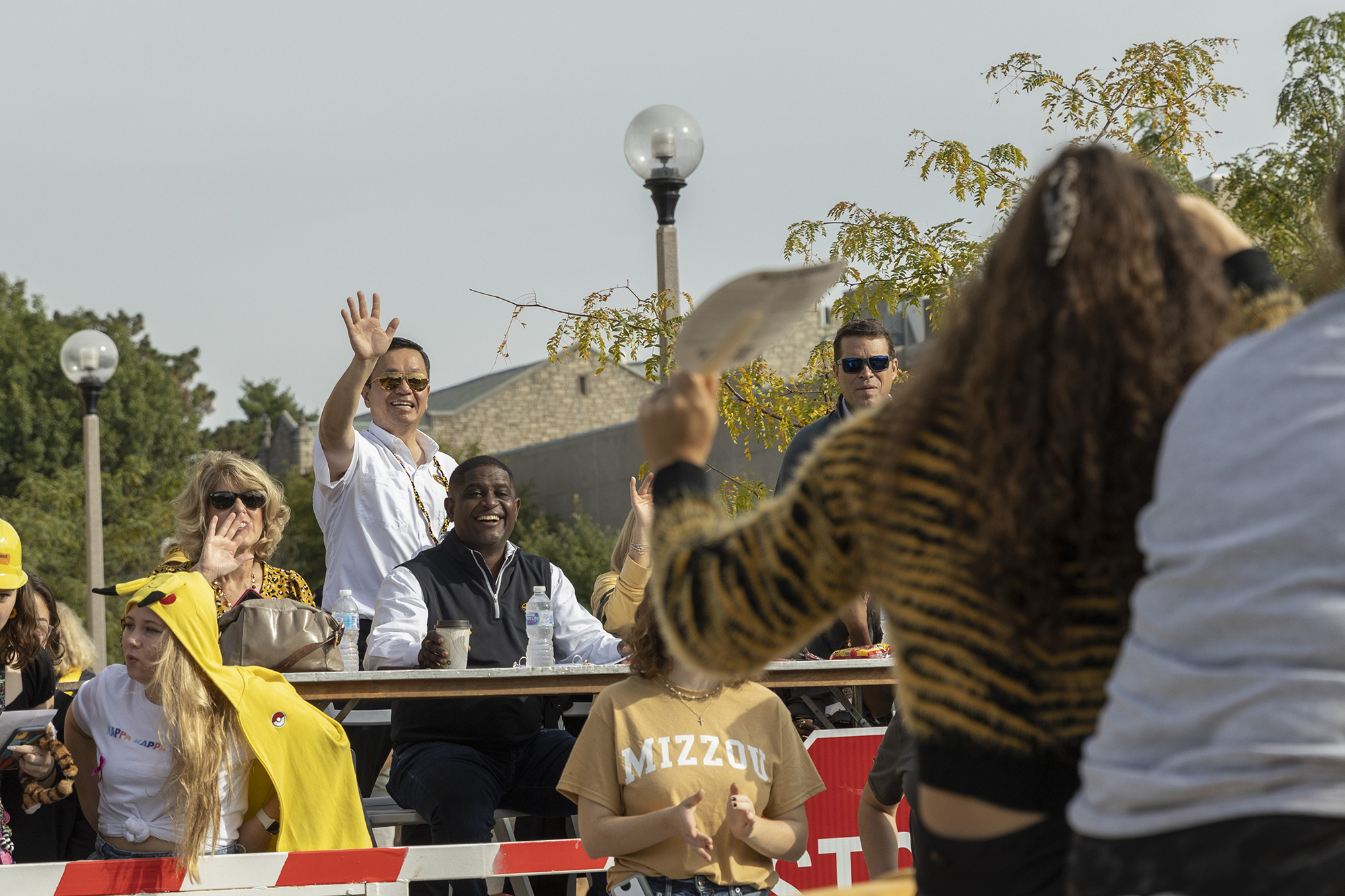 University of Missouri President Mun Choi, center, smiles and waves to a group of passing students. President Choi visited with the panel of judges who scored participating student organizations' floats.
The Oscar Mayer Wienermobile — driven by several Mizzou alumni — passes in front of the Student Center.
The Mizzou Quidditch club took a break from the pitch and greeted fans.
Students from the Pi Beta Phi sorority celebrated with a Mario-themed float and costumes.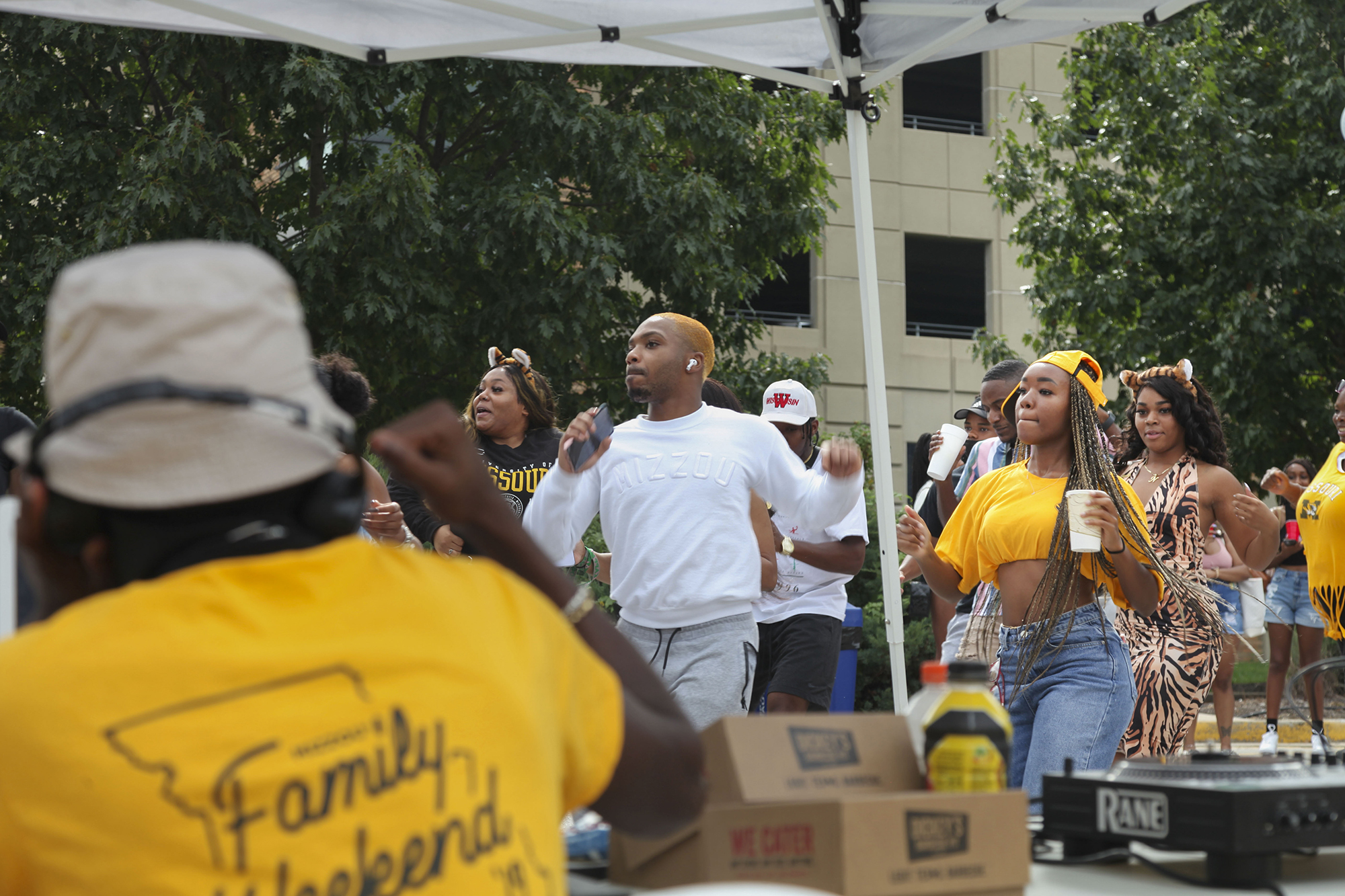 The Gaines/Oldham Black Culture Center held a Homecoming tailgate on Saturday before the game.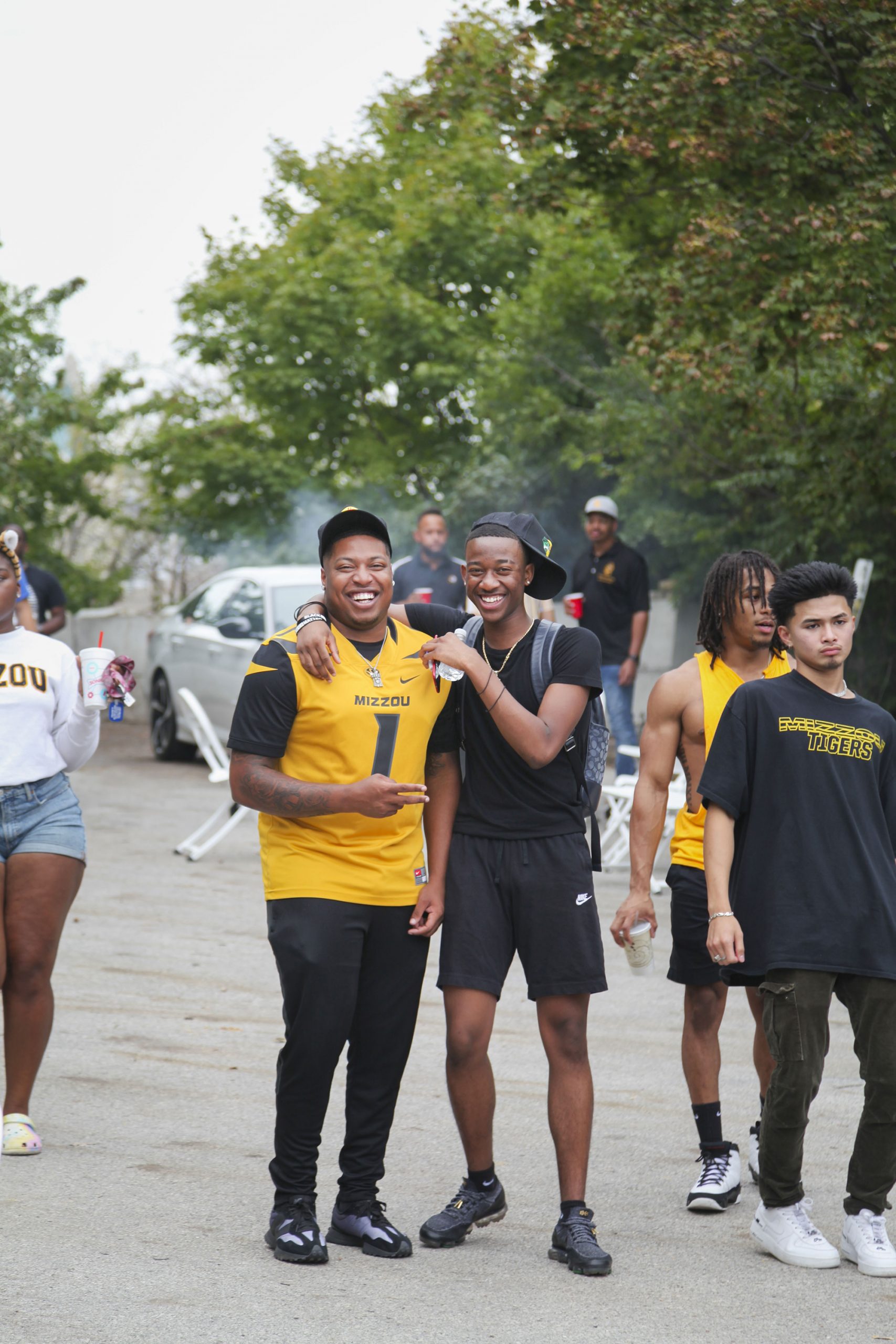 The event was co-sponsored by the Mizzou Alumni Association and the Gaines/Oldham Black Culture Center, with support from Mizzou Black Alumni Network.
C-130s flew over Memorial Stadium before the game began.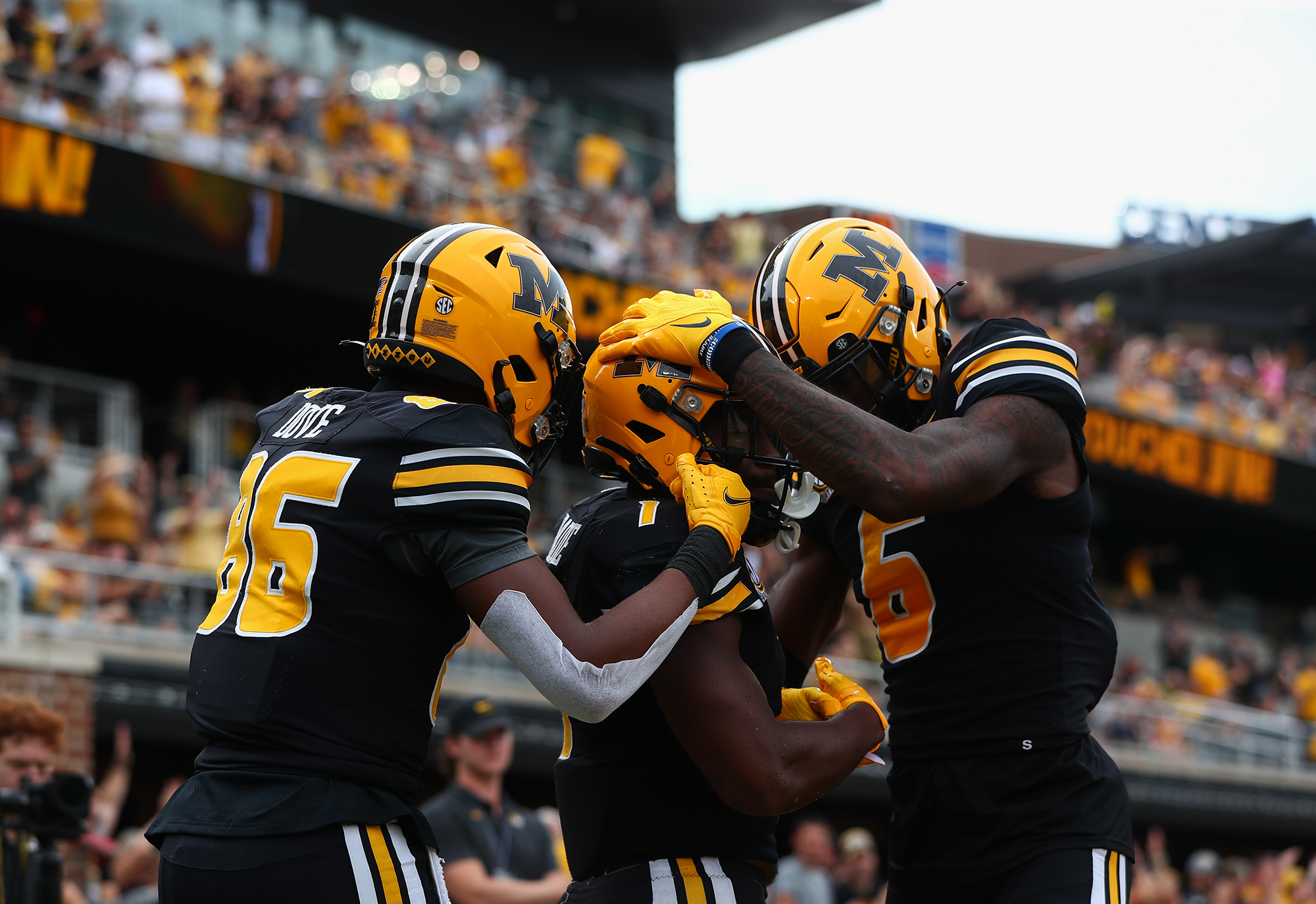 The Tigers beat North Texas 48-35 and held the Mean Green to fewer than 200 rushing yards.
Mizzou Feature Twirler Carlee Fenton twirls fire during the game. Because MU has a track around the football field, it's the only SEC school that can twirl fire at games.
Members of the Mizzou Tigers Lair, the official student cheering section for Mizzou Football, wave their free shakers which were distributed to the first 500 students who attended last Saturday's game.
Homecoming tri-directors Catherine Corley, Jackson Ptasienski and Jenna Winkler were recognized during halftime. The three worked together to lead the Steering Committee throughout the Homecoming planning process.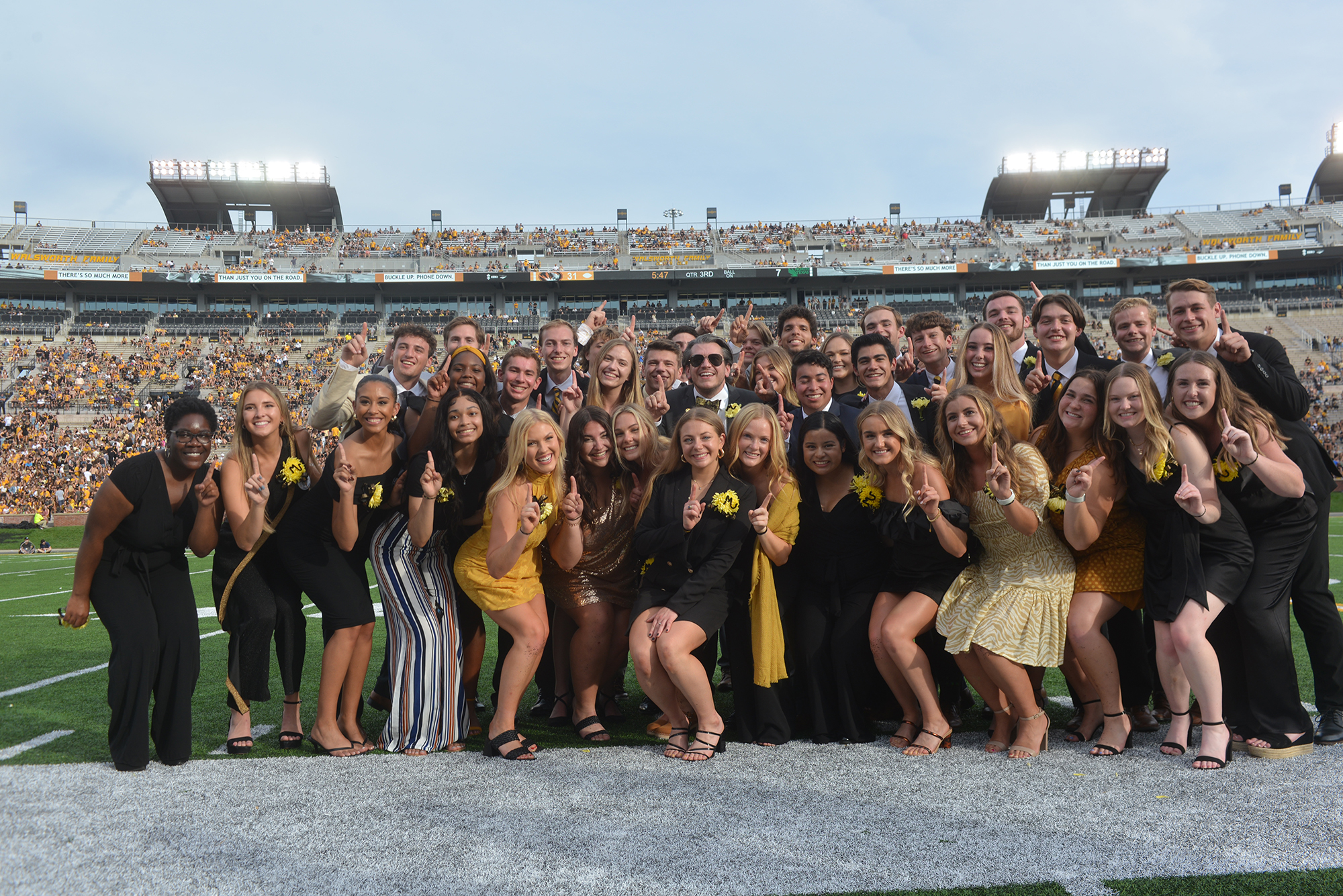 The entire Homecoming steering committee was also recognized during halftime. Each was selected to the role following an application and interview process.
During halftime, Madison Herweck and Dylan Hood were crowned Homecoming royalty. They are pictured here, center, with the 2020 winners.