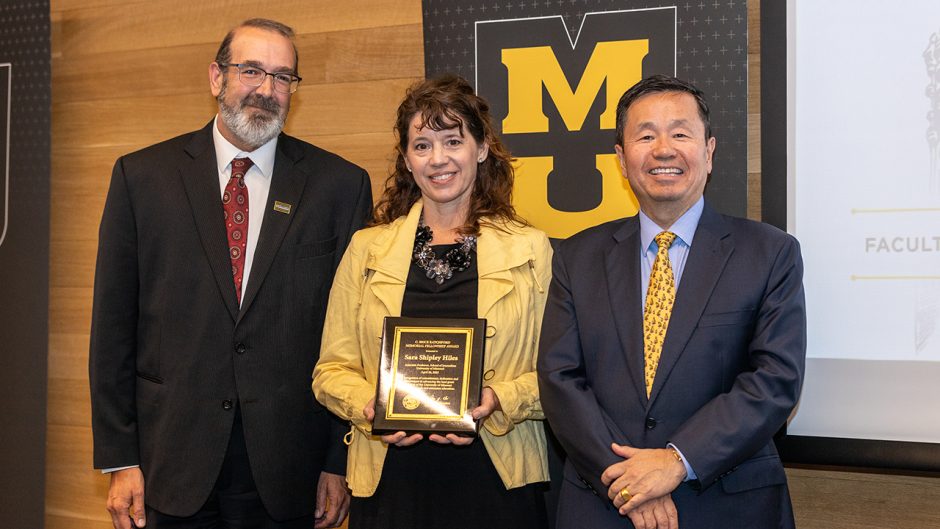 May 1, 2023
Sara Shipley Hiles, an associate professional practice professor in the University of Missouri School of Journalism, recently received the C. Brice Ratchford Memorial Fellowship in honor of her dedication to teaching and journalism, as well as her commitment to program building and administration.
Hiles serves as executive director of the Mississippi River Basin Ag and Water Desk, an editorially independent entity within the School of Journalism focused on covering issues that impact the agriculture, drinking water, commerce and recreation of the Mississippi River Basin region.
The award highlights a UM System faculty member who demonstrates commitment, dedication and effectiveness in advancing the land-grant mission through extension, international education and agricultural economics programs. The honor includes a $4,000 award.
"Sara has led the creation of a news ecosystem that reflects the natural ecosystem stretching beyond the traditional extension boundaries of individual states," said Jim Spain, vice provost for undergraduate studies. "This is the forward-thinking focus Ratchford challenged extension and land-grant universities to embrace that should be used as a model across all our outreach and service programs."
C. Brice Ratchford was the 15th president of the UM System from 1970–76.