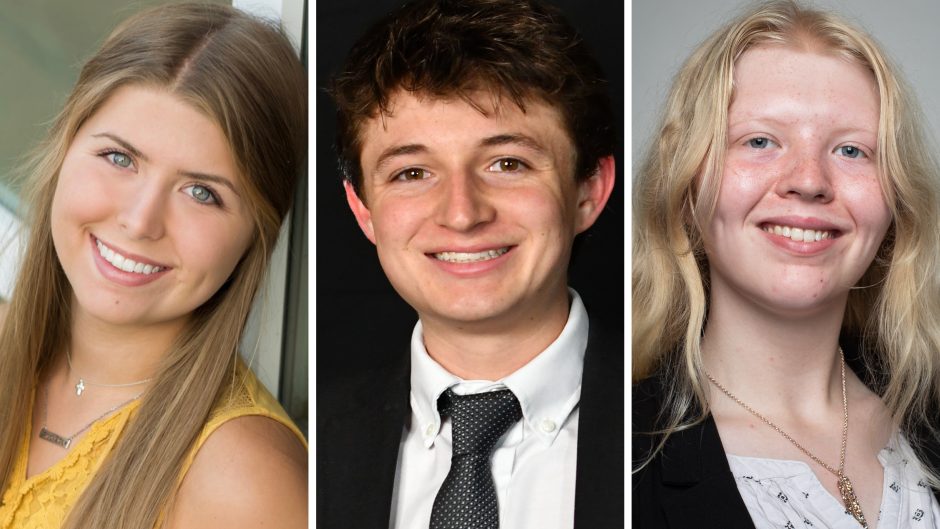 April 26, 2023
A trio of Tigers recently received the RISE Germany scholars award, a summer research internship that pays for students to research in Germany. Selected undergraduates are matched with doctoral students and researchers — from universities of applied sciences — whom they assist and who serve as their mentors.
Felicity Guttman, sophomore plant sciences major from Lee's Summit, Missouri
Kameron Hahn, sophomore biological sciences major from Edwardsville, Illinois
Randi Noel, sophomore plant sciences major from Butler, Missouri
Guttman and Hahn are both pursuing the Honors certificate at Mizzou.
RISE Germany internships were first offered in 2005 to applicants from the U.S. and Canada; the program extended to the United Kingdom in 2009 and Ireland in 2018. The program's stated objective is to promote student exchange to Germany in the fields of natural science, engineering and life sciences, and to motivate undergraduate students to learn more about Germany's research landscape and study opportunities.
"Students complete their RISE internship the summer after their sophomore or junior years, so the experience shapes the rest of their time in college," said Erik Potter, program manager for the Office of Global and National Fellowships. "And because the program is international, at well-known research labs, the students come back filled with confidence from having risen to that challenge. It makes them better researchers when they return to Mizzou and better future fellowship and grad school applicants."
Felicity Guttmann
"I'm really interested in research that pertains to agricultural applications. There are a lot of issues in agriculture that are continuously improved through research. I'm excited that my summer research topic has relevance to crop vitality with climate change. I'll be investigating heat-stress-resistant genes in barley, which is a model for other cereal crops. I hope to build on my previous skills within genetics and gain experience with other aspects of plant science, such as plant physiology."
Kameron Hahn
"The thing that excites me the most about the RISE Germany award is getting to experience a new culture and learn about the cross-cultural collaboration that is required in science. Through this program, I really hope to become a more diverse individual that can have a deeper understanding of how things function outside of my own country. If I were to become a physician in the future, being able to relate to people from different backgrounds will be an essential attribute to connect with patients."
Randi Noel
"In Germany, I will be studying how fine-root production in forests is affected by our changing climate. The most exciting fact for me is that my research in Germany involves outdoor and lab-based research. This exposes me to two completely different sides of research at the same time, allowing me to compare my options in order figure out the best fit for me. Doing this work in a different country will introduce me to how research is conducted outside the U.S. standard."