Sept. 27, 2023
Contact: Deidra Ashley, ashleyde@missouri.edu
Photos by CJ Harris
As part of Disability Culture Month, 12 forward-thinking members of the University of Missouri community have been recognized for their achievements in advancing accessibility.
The Lee Henson Access Mizzou Awards, named after a former Americans with Disabilities Act (ADA) coordinator at MU, honor students, faculty and staff who work to make the university a more inclusive place for people with disabilities. This is the tenth year Mizzou has celebrated the award.
Learn more about this year's recipients.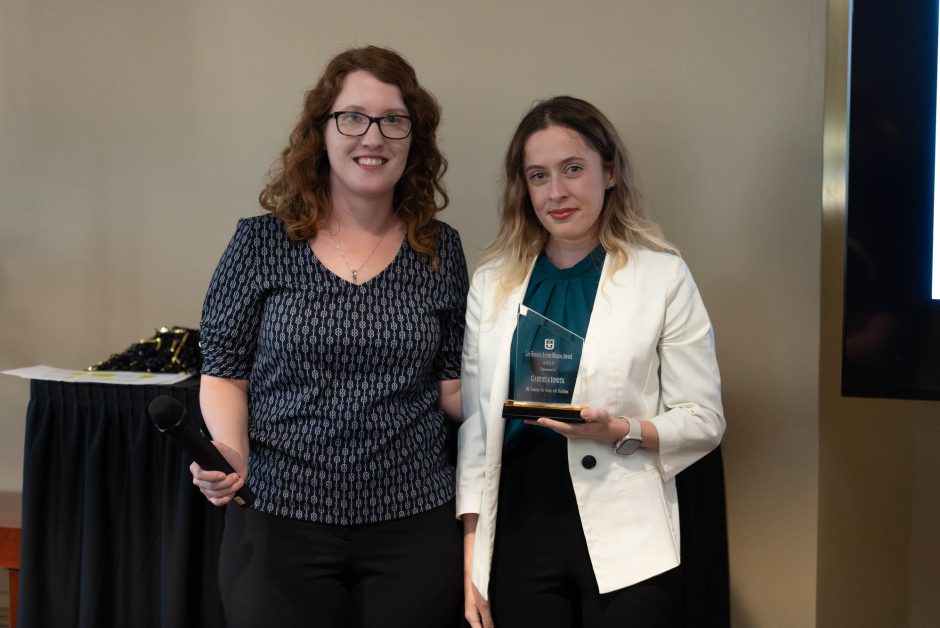 Student awards: Gabriela Ionita and Jia Wu
Gabriela Ionita, a senior majoring in biological sciences, works in the Digital Media & Innovation Lab, where she makes websites and maps more accessible.
"Gabriela is committed to making Mizzou a better place for everyone: she's been working on this project for a while to improve it, researching color accessibility designs, and working with her supervisor to change the entire website design," said senior A.B., who nominated Ionita.
"Maps are meant to guide you, not confuse you," Ionita said. "I wanted to create something that would make people smile and ease their everyday lives. I am grateful I was given the opportunity to express my ideas and make Mizzou a better place for everyone."
Jia Wu is a third-year Ph.D. student in the Department of Textile and Apparel Management (TAM), where her research focuses on functional clothing for people with disabilities.
"Jia's commitment to developing functional and accessible clothing solutions addresses the specific needs and challenges faced by disabled students, enhancing their overall college experience," said Assistant Professor Li Zhao, who nominated Wu. "Having access to adaptive and inclusive clothing is crucial for promoting comfort, confidence, and overall well-being among individuals with disabilities."
"A lack of inclusive apparel is truly an act of injustice," Wu said. "People with disabilities need more options in fashionable and adaptive apparel to express themselves and to fully participate in society."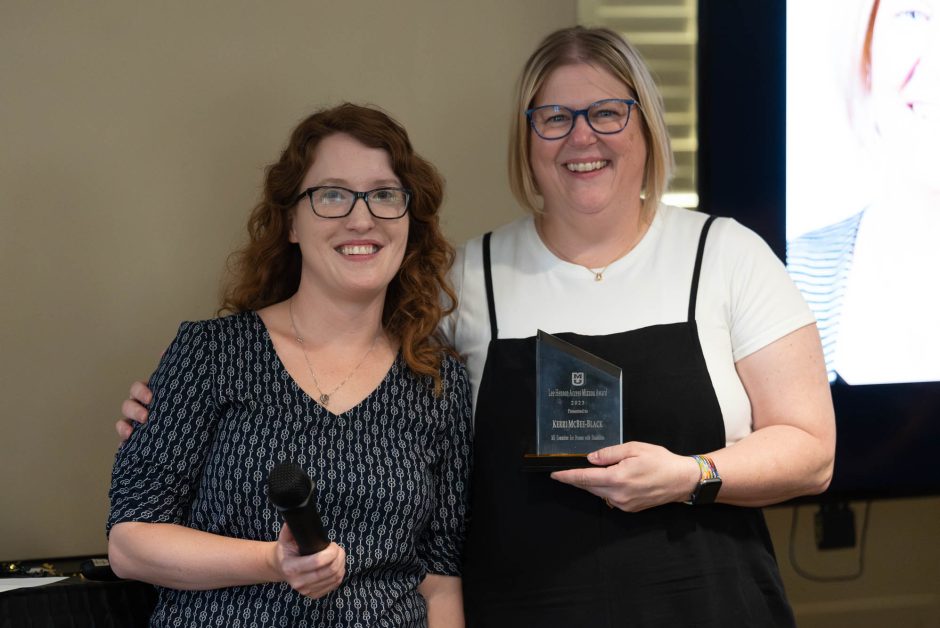 Faculty award: Kerri McBee-Black
Kerri McBee-Black is an assistant professor in TAM, where she explores the intersectionality between apparel and disability by identifying the apparel barriers that limit the ability of people with disabilities to fully participate in society.
"Dr. McB incorporates disability and accessibility issues in everything she does: teaching, research and service," said TAM Professor Jung Ha-Brookshire, one of McBee-Black's nominators. "She offers workshops in our professional organization to encourage other faculty members to think about and incorporate disability and accessibility."
McBee-Black said she was honored to receive the award. "I believe that to make a change in the apparel industry, we must educate the next generation of designers to understand the need to design with people with disabilities," she said.
Staff award: Erin Jorgensen
Erin Jorgensen is the director of communications for MU International Programs. She leverages her leadership in the HighEdWeb Association to bring professional resources and professional development opportunities related to digital accessibility to her peers across the university.
"Erin serves as a resource to marketing and communications professionals to improve the accessibility of email and web content," said MU Director of Student Communication Megan Silvey, who nominated Jorgensen. "She works to ensure the accessibility of digital communication in student communications, with a focus on use of alt text, captions, separation of graphics from text and replacing PDFs with accessible digital content."
Jorgensen said she was honored to be selected. "For digital accessibility, I find it's often the little things that can have a big impact," she said. "It's so important that everyone has the same access to content on our digital platforms.
Group award: Mizzou Wheelchair Basketball Camp student volunteers
Daniel Clements, Koda Inman-Ahlstrom, Tyler Malone, Macie McNeely, Mack Reed, Eric Rodgriguez, Danny Smuts and Peter Voskovitch served as volunteers for the 2023 Mizzou Wheelchair Basketball Camp.
"This year's camp was the largest in camp history, with 50 registered participants traveling to campus to develop wheelchair basketball skills," said MizzouRec external relations coordinator Sheena Rice, who nominated the team. "Volunteers worked with campers on their individual fundamental skills and strategies in team play. They also served as counselors — staying with the campers in residence halls during their time on campus."
Coach Ron Lykins, who supervised the volunteers, said he was gratified to see the team's hard work recognized. "Without their contributions, we wouldn't have a camp," Lykins said. "They went above and beyond to make sure campers had a great experience and that camp was successful. Mizzou Wheelchair Basketball Camp shows what an accessible and inclusive an environment we have, and it introduces Mizzou to more kids who will hopefully become part of the program."
Story written by Theo Schwinke