May 26, 2022
Elaine Hocks dedicated more than 20 years to building the foundation for the University of Missouri Writing Center. She passed away in 2013, and a new scholarship was recently created to honor her legacy.
The 2022 Hocks Memorial Scholarship recipients are current and recent graduate Writing Center tutors who demonstrated a consistent ability to be kind, generous and critical. Writing Center directors Aaron Harms and Bailey Boyd (pictured) presented this year's awards to: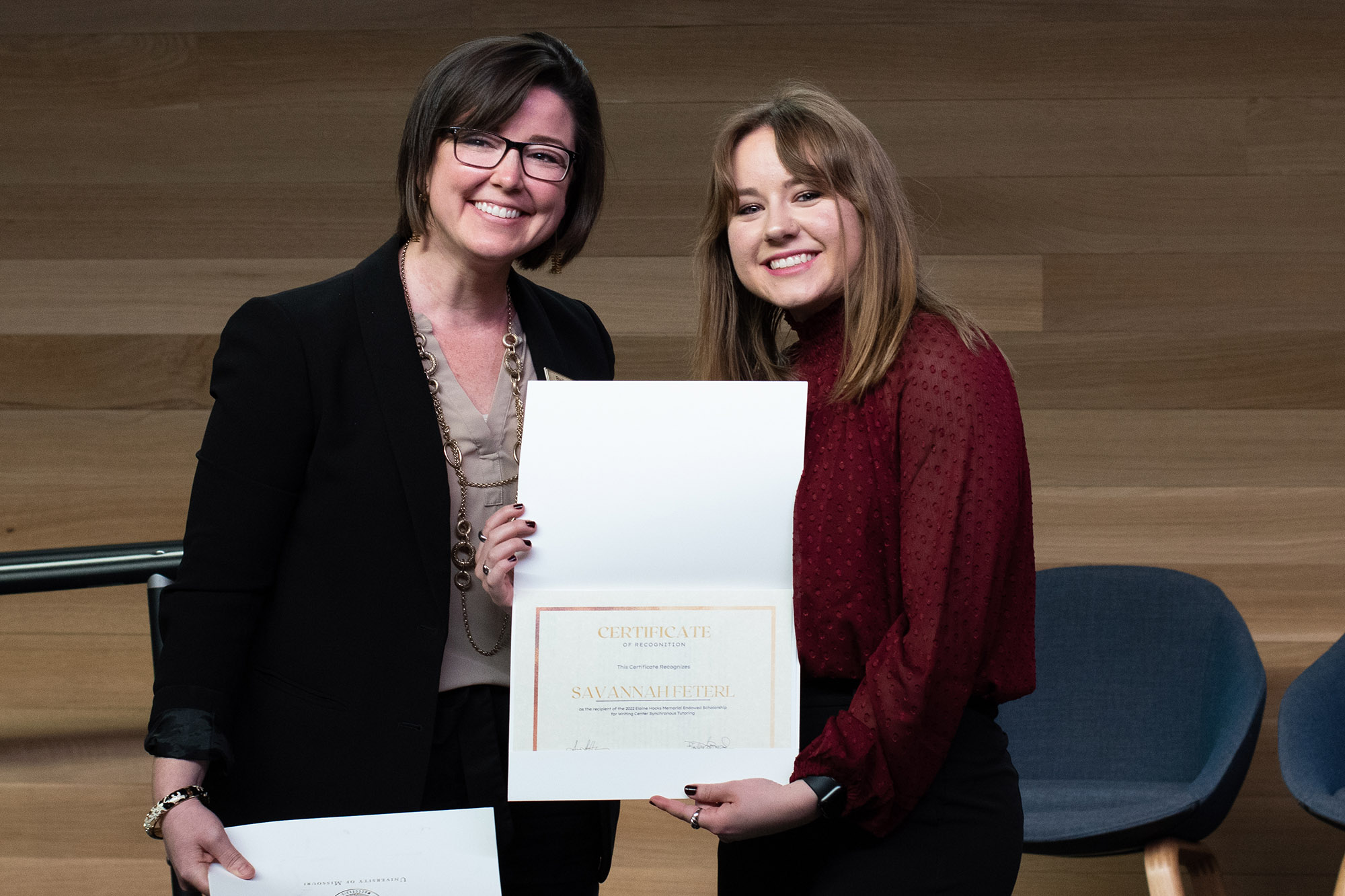 Savannah Feterl, Award for Writing Center Synchronous Tutoring
Savannah Feterl was recognized for her ability to adapt to the needs of each student she worked with.
Feterl studied physics and astronomy and graduated in spring 2022. Even as a science major, the Eagan, Minnesota native always had a passion for reading and writing. Feterl said she plans to use the scholarship to help pay for the remainder of her tuition. In the future, she hopes to work for NASA in a career focused on writing and science.
"Being from out of state, I felt a little bit out of place coming to Mizzou because the culture and atmosphere is very different from what I am used to," Feterl said. "Working with the Writing Center made me feel more at home and like I belonged."
Isabella Ledonne, Award for Public Relations
Isabella Ledonne was recognized for spreading awareness of the Writing Center's services to the Mizzou community.
Ledonne graduated in spring 2022 with degrees in journalism and economics and a minor in history. The Lombard, Illinois native was recently hired at a news station in Roanoke, Virginia, as a multimedia journalist. She plans to use the scholarship money to pay off her textbooks and student loans.
"As a writing tutor, I knew that I was helping at least one person every day," Ledonne said. "It might have been just a little bit of help, but, in my mind, it feels great that I was able to use one of my strengths to help others."
Elise Vahle, Award for Online Tutoring
Elise Vahle was recognized for consistently going above and beyond in her work with students through the Online Writery.
Vahle is a sophomore double major in journalism and political science and just completed her first semester working at the Writing Center. The Grand Island, Nebraska native said she plans to use the scholarship money to pay for her Fall Semester textbooks and course materials. Currently, she is the director of membership and education for the Campus Activities Programming Board and an RA. In the future, Vahle hopes to work for a government agency as a public relations specialist.
"I really enjoy writing and I love working with individuals on a one-on-one basis," Vahle said. "I appreciate being able to see students walk into the office — a little bit unsure of their project — and then walk out feeling much more confident in whatever essay they're working on."
About Elaine Hocks
Elaine Hocks served as the MU Writing Center director from 1987 to 2007. The Writing Center provides online and in-person writing support and is available to all Mizzou students, faculty and staff.
Hocks is credited with, among other things, helping to establish the Online Writery in 1994 — an innovation that would allow the center to maintain nearly uninterrupted service during the COVID-19 pandemic.