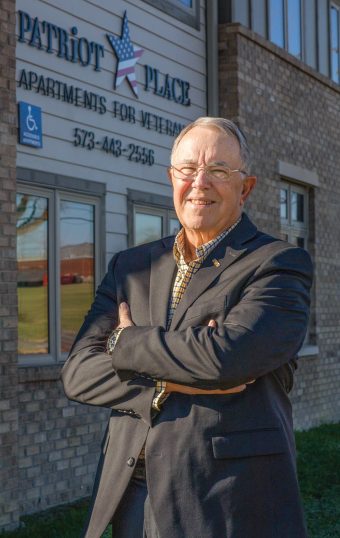 Published on Show Me Mizzou Dec. 16, 2022
More than 180 years ago, Richard Mendenhall's great-grandfather traveled on horseback to solicit funds for a new state university. That tradition of support for both Mizzou and Columbia has been upheld by the family ever since; Mendenhall, broker and co-owner of RE/MAX Boone Realty and RE/MAX Jefferson City, is a founding member and past president of the University of Missouri Flagship Council and continues to serve on its board.
His impact on Columbia's business landscape has been key to MU's continued growth, and vice versa. As president of the National Association of Realtors, Mendenhall's acumen has made him a transformational leader among the members of the Columbia Chamber of Commerce. He also successfully campaigned to create the Women's Network, now the chamber's largest branch. In 2003, Mendenhall received the network's Athena Award — the only man to receive this honor to date.
Before earning his undergraduate degree, Mendenhall enlisted in the U.S. Army, became a member of the Special Forces and served during the Vietnam War. Decades after returning, his advocacy for veterans became a driving force in the creation of Patriot Place, a rent-subsidized apartment complex for homeless veterans. Mendenhall also co-chaired a $3.6 million campaign for Welcome Home, a 32-bedroom facility serving homeless and transitioning veterans and their families. A member of the Jefferson Club and McAlester Society, Mendenhall is a life member of the Mizzou Alumni Association. — Theresa Lichty, BJ '12
For the full list of 2021 Faculty-Alumni Award winners, click here.
To read more articles like this, become a Mizzou Alumni Association member and receive MIZZOU magazine in your mailbox. Click here to join.