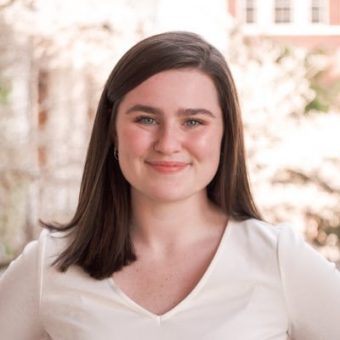 May 11, 2021
University of Missouri School of Journalism junior Danielle DuClos of Anchorage, Alaska, will work at ABC News Washington Bureau in Washington, D.C., this fall as the 28th David Kaplan Memorial Fellow.
Along with a $10,000 stipend from the Kaplan Fellowship fund, DuClos, who is majoring in print and digital news with an emphasis in investigative reporting, will receive a full-time, paid position for the fall 2021 semester.
"Danielle has a diverse selection of work experiences, along with her unique energy and passion for telling stories," said Amy Thomas, manager of Bureau Affairs at ABC News. "We think she will bring a fresh perspective to the Kaplan Fellowship."
For the program, fellows rotate through many different platforms and shows during their time at ABC News. In the past, Kaplan Fellows have worked with shows including This Week with George Stephanopoulos and Good Morning America, assisted ABC's reporters with breaking news in the field and written stories for ABCNews.com.
"I'm absolutely thrilled to learn and continue building my reporting skills," DuClos said. "All the correspondents at ABC are incredibly talented journalists, and I can't wait to pick their brains. I'm ready for the challenge of working in a fast-paced, national news environment and to dive into everything and anything that I can. I hope to learn how to cover complex, nuanced political stories but within the context of how they will impact Americans and their communities."