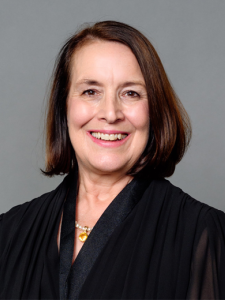 April 24, 2023
Contact: Brian Consiglio, 573-882-9144, consigliob@missouri.edu
University of Missouri Provost and Executive Vice Chancellor for Academic Affairs Latha Ramchand announced today that Lori Popejoy has been named dean of the MU Sinclair School of Nursing. Popejoy has served as interim dean of the school since July 2022, following the departure of Sarah Thompson. The appointment is effective May 1, 2023.

"In all of the various roles in which Lori Popejoy has served the university, she has demonstrated her commitment and dedication to the MU Sinclair School of Nursing and to our University," Ramchand said. "As part of the process, we heard from multiple groups including faculty, staff, students and alumni. This input made it abundantly clear that Lori's work is held in high regard, in her roles as teacher, researcher, and administrator. I look forward to working with Dean Popejoy so we achieve our goals in student success, research, and serving our communities in Missouri."

Popejoy, who has earned her bachelor's, master's and doctoral degrees at MU, joined the nursing school faculty in 2007. Before serving as interim dean, Popejoy was the associate dean for innovation and partnership and an associate professor in the school.
The demand for MU nurses continues to grow, as the school's placement rate for nursing graduates ranges from 98% to 100%. To help meet the growing demand and address a nationwide nursing shortage, Popejoy oversaw the school's opening of a new $30 million, four-story, 64,000 square-feet facility on MU's campus last fall. She received a Faculty Alumni Award from the Mizzou Alumni Association in 2022 for her contributions to MU's growth and core mission.

Popejoy's research focuses on understanding the complex issues surrounding the provision of care to elders in hospitals, nursing homes and community settings, home health care and primary care. Her efforts have improved the design, implementation and evaluation of nurse care coordination and transitional care practices in a variety of aging-in-place settings that have national and international implications for the care of older people.

"I am excited to have the opportunity to lead the Sinclair School of Nursing into the future," Popejoy said. "The work of our faculty, staff and students helps improve the health outcomes and well-being as well as overall quality of life for the people we serve. The Sinclair School of Nursing produces intelligent, hard-working and resilient nurses who show kindness and compassion across the health care industry, both throughout Missouri and worldwide."

Popejoy's focus on improving quality of care in nursing homes has been ongoing for more than 20 years and has centered on improving nursing homes' capacity to manage increasingly complex resident care issues and improve outcomes. She has more than 100 publications in journals and has earned funding from the National Institutes of Health and the Agency for Healthcare Research and Quality.

Popejoy has dedicated her career to improving the quality of care for older adults, having provided hands-on clinical care in hospitals and nursing homes as well as in community centers, home health care agencies and independent living facilities. She has served as co-director or co-lead on three studies with the Centers for Medicare and Medicaid Innovations (CMMI), funded for nearly $48 million.