May 22, 2023
Contact: Deidra Ashley, ashleyde@missouri.edu
The University of Missouri is gearing up for its premiere on Amazon Prime. Filmed during Homecoming 2022, Mizzou's hour-long episode of "The College Tour" features more than 20 students and alumni who provide a sneak peek into life as a Tiger. Enjoy it now at missouri.edu/the-college-tour or on Amazon Prime beginning May 23.
"This is huge, and it puts Mizzou out in so many spaces," said Kim Humphrey, vice provost of enrollment management. "This is going to be shared nationwide, worldwide. 'The College Tour' team distributes this to 60,000 high school counselors across the nation, and we are going to share this widely with all kinds of prospective students, parents and alumni. The final product is even better than we expected."
Read on for a behind-the-scenes look at the episode's filming.
Host Alex Boylan prepares to film the introduction for MU's episode of "The College Tour" in Mizzou Football's south endzone. "What an iconic, beautiful campus," Boylan said. "There's so much history. This is going to be a fantastic episode of 'The College Tour.'"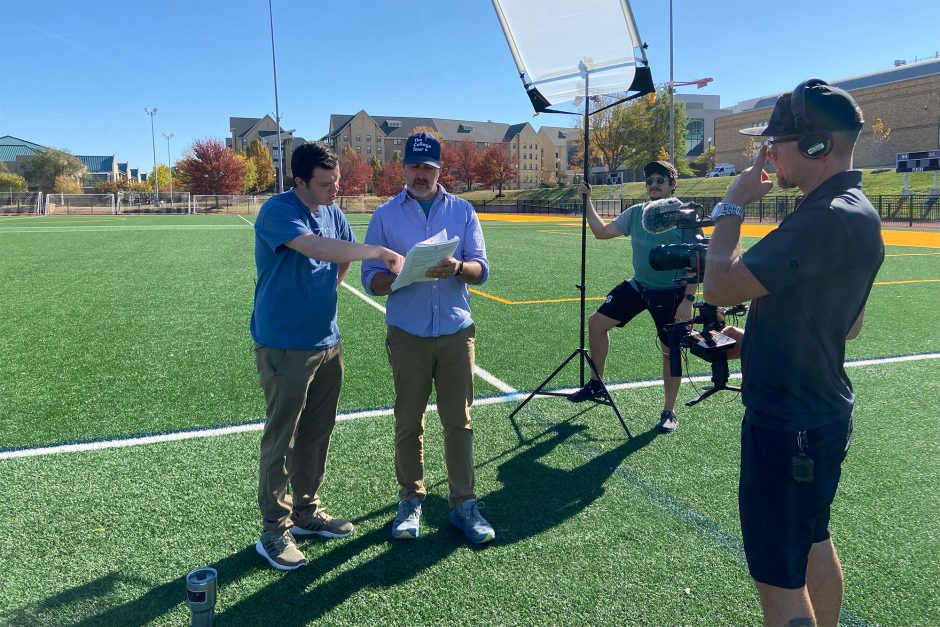 Business marketing student Aidan Matlock (left) confirms details with the crew of "The College Tour" before filming on Stankowski Field. Matlock's on-campus job as an involvement ambassador came in handy as he took viewers on a tour of the countless ways to get involved as a Tiger. "We're here to make you feel welcome and to show you that Mizzou is your home away from home," Matlock said. "Helping students find that is why I love being an involvement ambassador and representing Mizzou on 'The College Tour.'"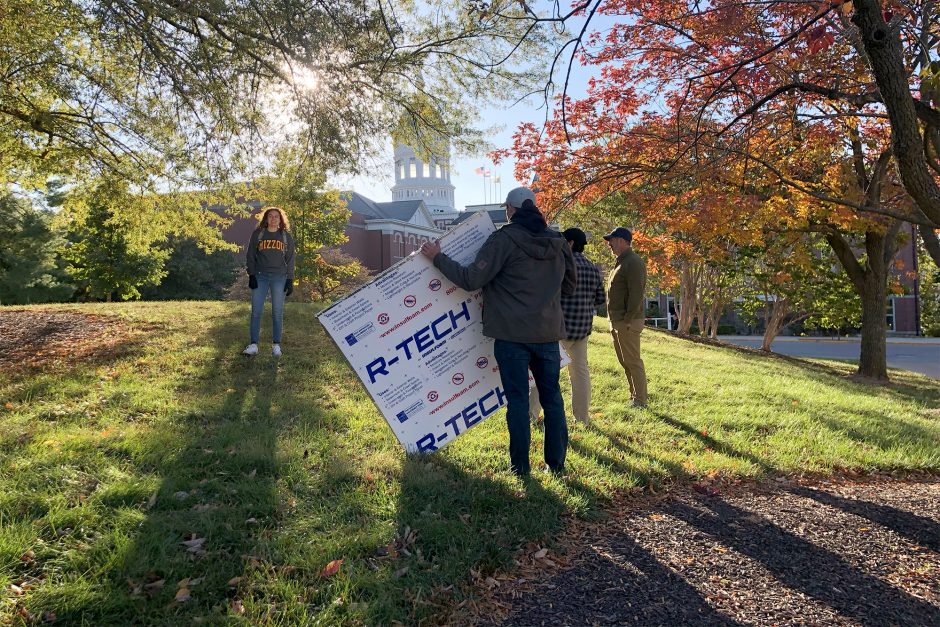 Digital storytelling student Anna Huebner (left) waits on the Quad as members of the crew set up a shot. In her segment, Huebner discusses her experience studying abroad in Barcelona and following her passion for storytelling to Mizzou. "I hope people understand that Mizzou is such a great starting point," Huebner said. "It's an amazing place for students to come and discover where they want to go and what they want to do."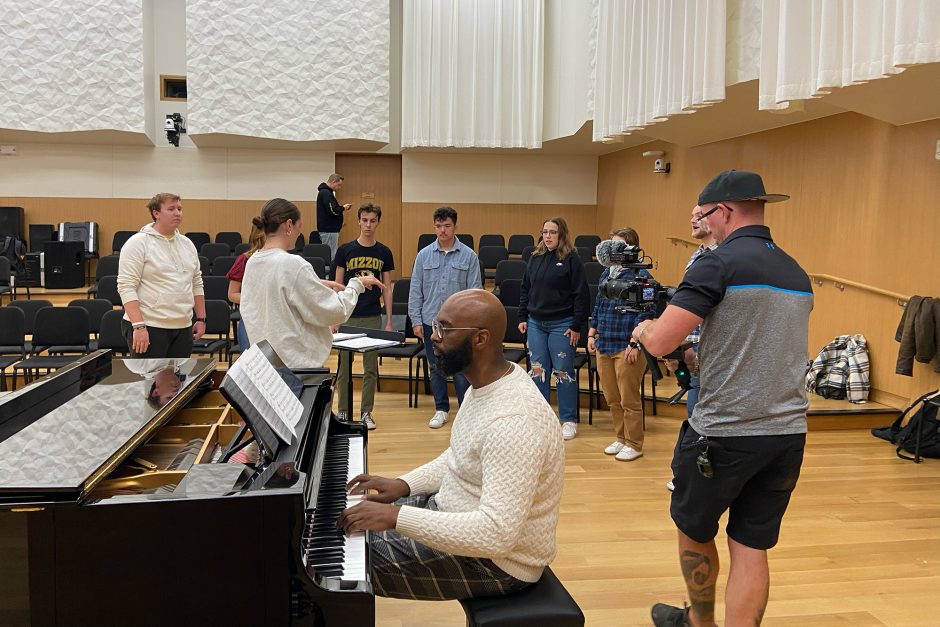 School of Music Assistant Professor Brandon Boyd (center) accompanies Honors College student Victoria Shore (second from left) as she and her vocal ensemble perform in a rehearsal room at the Sinquefield Music Center. In her time with viewers, Shore shared just how much she's been able to combine her love of performing and journalism to customize her learning experience at Mizzou.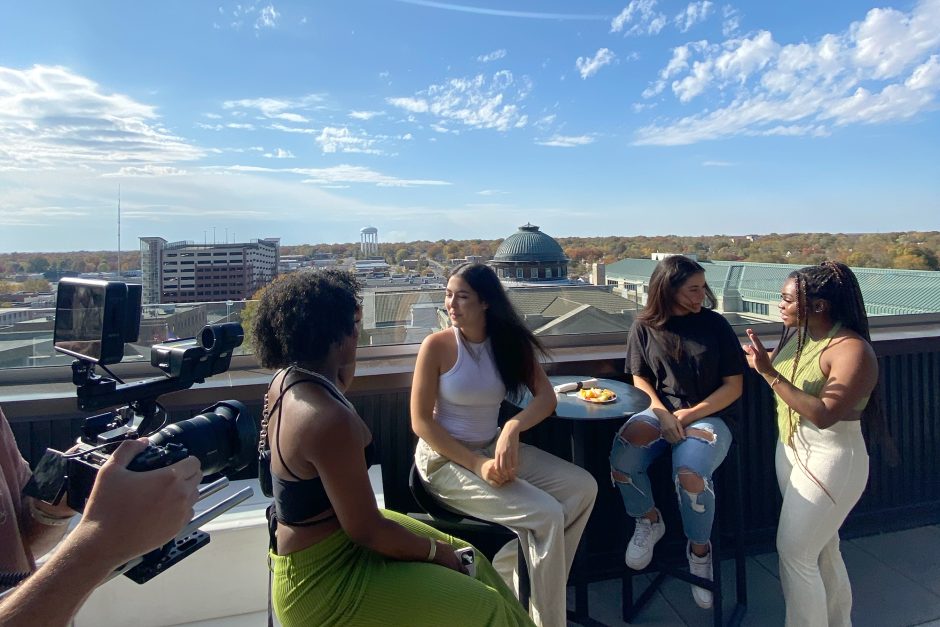 International business students Ashtin and Aris Holman (second and third from left, respectively) catch up with friends at a restaurant. The twins' segment takes viewers beyond Mizzou's campus and shows the bustling culture of downtown Columbia.
Proud alumni Claire and Matt Adrian gather with their family of fellow Tigers at Tiger Plaza for a photo. "It's so exciting to share how much Mizzou means to our family," Matt said in the family's feature.
Mizzou alumnus Josh Borgschulte (left) carves his initials into a booth at The Shack. Borgschulte said the Tiger alumni network helped him reach his dream career — working in the television industry in Los Angeles.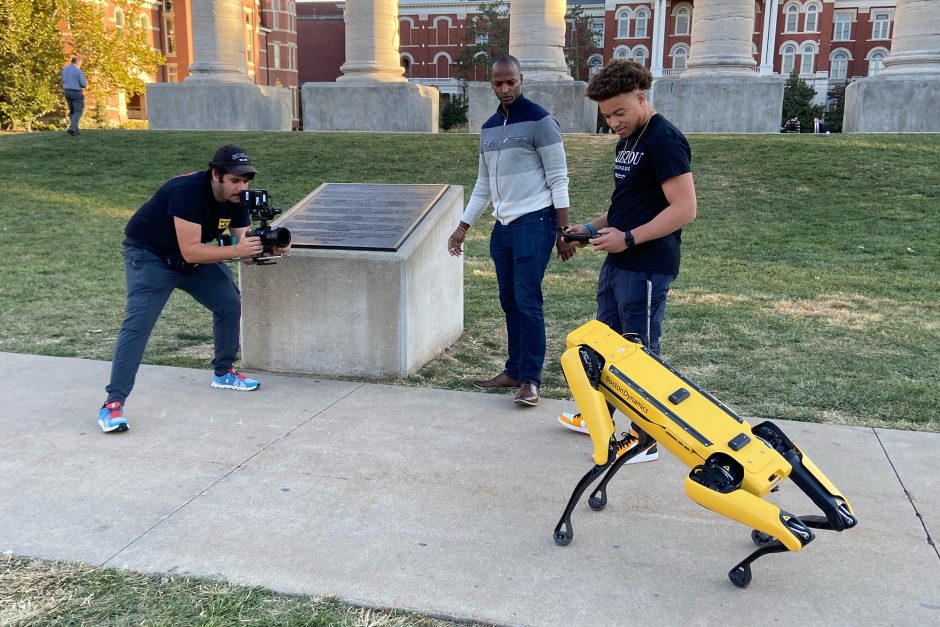 Information technology student Cedric Harris (right) and College of Engineering Assistant Professional Practice Professor Kristofferson Culmer (center) demonstrate Spot the robotic dog. Harris gave viewers an inside look at Spot and the other incredible opportunities he's had so far at Mizzou. "It's just been an honor and privilege as to how many experiences I've been able to explore since coming to study here," he said.
School of Health Professions student Ellie Swan (right) listens to director Daren Woolsey as he provides feedback on her segment. Swan's segment explored the possible career options when studying health sciences and how her classes and clinical experiences are preparing her to fulfill her dreams of becoming a doctor.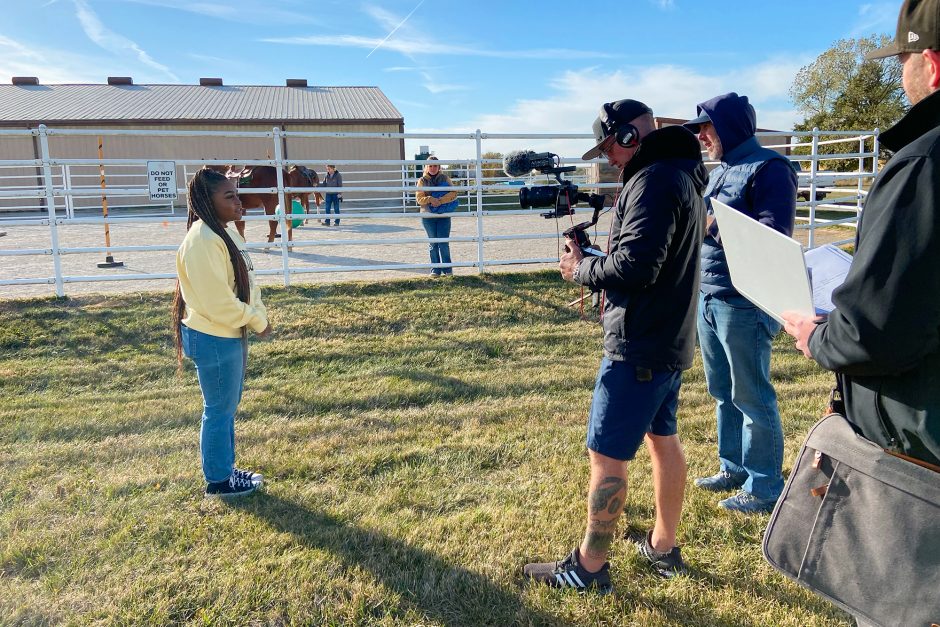 Animal sciences student Trillion Chanté (left) discusses her lifelong passion for animals. "My time at Mizzou has shown me that I want to work with more than just dogs and cats," Chanté said. "If I hadn't had this hands-on experience in college, I would've never known that I wanted to pursue that."
Organic chemistry graduate student Glenn Gilyot teaches a class in Ketcham Auditorium. "I chose Mizzou because it offered a really great Ph.D. program for me," Gilyot said. "The department not only offered a great financial package, but also a family and a home that I really enjoyed."
Mackenna Rodgers (center), a biochemistry student researcher, checks her script before a take in the Roy Blunt NextGen Precision Health building. Every Tiger featured in "The College Tour" helped the crew adapt their Mizzou experience for the big screen which included contributing to the scripts.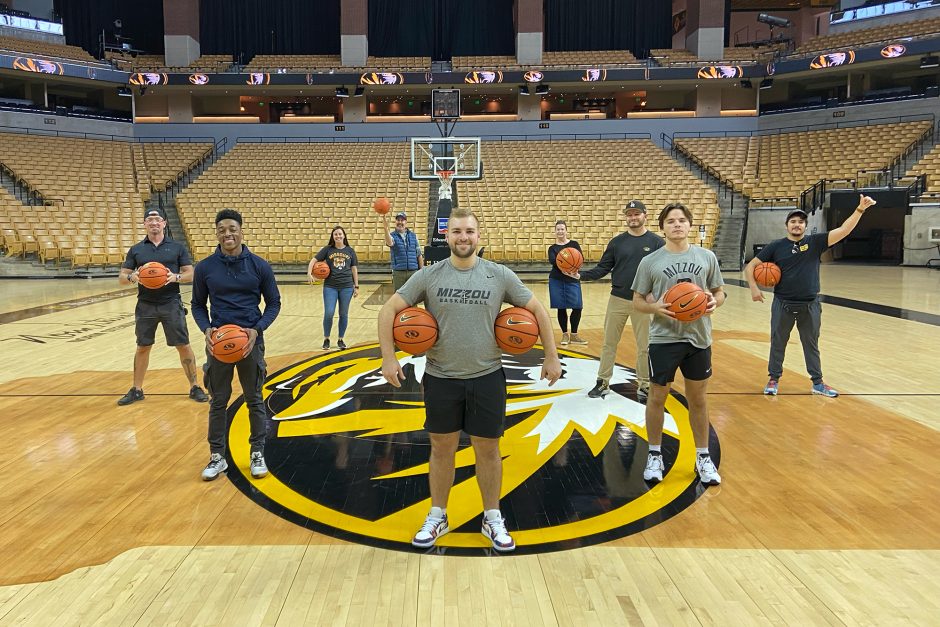 "The College Tour" and Mizzou marketing crews pose with cast member Scott Schwartz (center) after completing filming in Mizzou Arena.
"We're beyond excited to give such an expansive look into life at Mizzou," said Jaime Morgans, director of Mizzou Marketing. "Our crew, the cast and the countless others that helped with production deserve so much recognition for their tireless effort and we're thrilled that the time has come to share it with the world."
Story written by Vivian Kolks
See photos from "The College Tour" on-campus premiere