April 17, 2023
Contact: Marcus Wilkins, wilkinsm@missouri.edu
Photos by Abbie Lankitus
Gowns, glamour and gold glistened on Ninth Street as the University of Missouri recently celebrated the premiere of its episode on the Amazon Prime series "The College Tour." The student and alumni cast strolled the gold carpet dressed to the nines at Missouri Theatre on a gorgeous spring afternoon in downtown Columbia.
The audience was treated to an exclusive first look at the hour-long episode which is available now on missouri.edu and debuts May 23 on Amazon Prime. The production, essentially a virtual tour of MU's campus, academic programs and traditions, was filmed mostly over Homecoming weekend in 2022. It stars a cast of 19 students (plus alumni and a set of Tiger parents) who serve as on-screen tour guides. Executive producer Alex Boylan, of reality-TV fame, plays emcee.
"This is huge, and it puts Mizzou out in so many spaces," said Kim Humphrey, vice provost of enrollment management. "This is going to be shared nationwide, worldwide. 'The College Tour' team distributes this to 60,000 high school counselors across the nation, and we are going to share this widely with all kinds of prospective students, parents and alumni. The final product is even better than we expected."
Read on for photos from the event.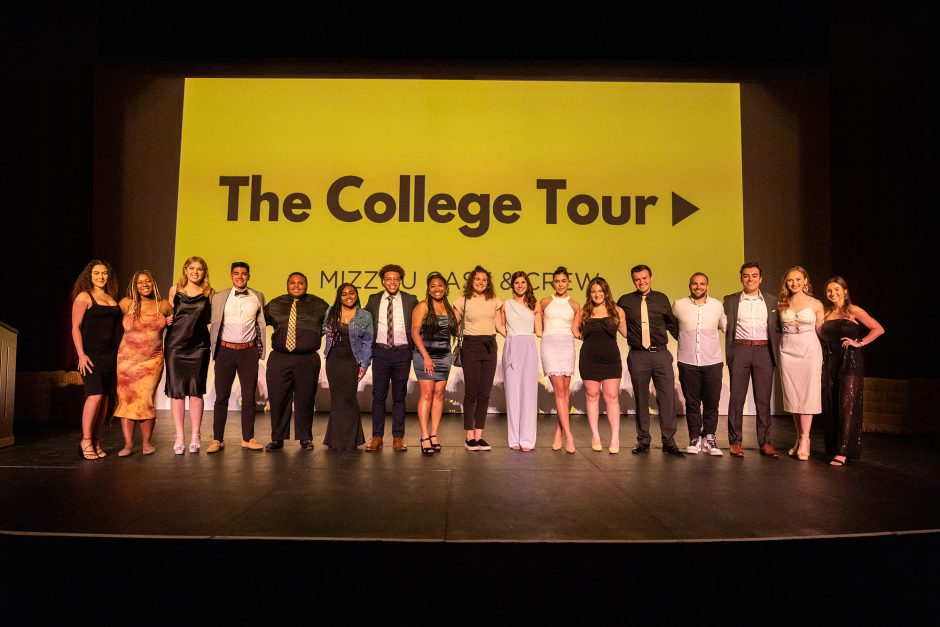 Every episode of "The College Tour" focuses on a single college or university. Highlighting campus life, academics, housing, sports, activities and more, each student-driven segment gives the audience an inside look at what it's truly like being a student at the featured institution. Many of the cast were in attendance.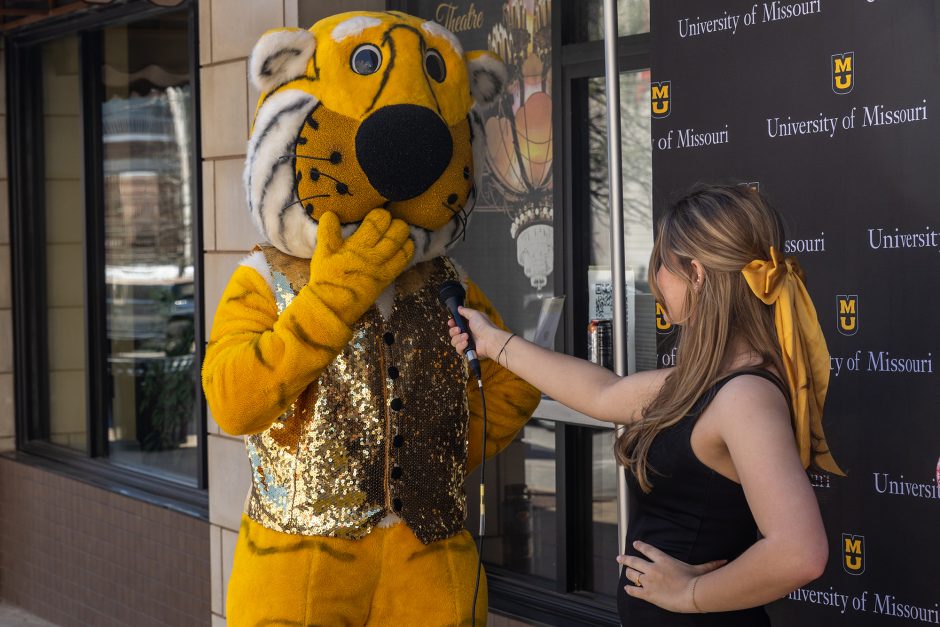 Mizzou student influencer Ali Barnhart played gold carpet host — interviewing cast members and Truman the Tiger.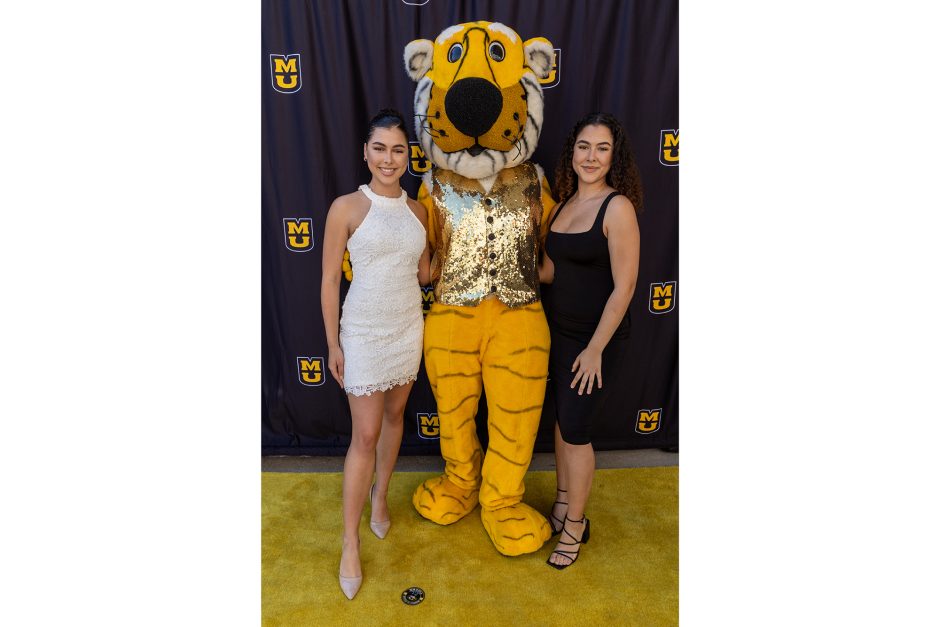 Twin sisters Aris (left) and Ashtin Holman, juniors from Kansas City, Missouri, hosted the segment of the episode featuring all there is to do and explore in downtown Columbia. "For our audition tape, we were right up on the deadline and almost didn't submit it because we didn't know what exactly to say," said Aris, an international business major. "But we said, 'let's just come at it with blatantly bare personality.' And they loved it!"
Cedric Harris (left), a senior information technology major from Memphis, Tennessee, hosted a segment on the College of Engineering. "Even though the focus of my segment was about the College of Engineering, I was able to share bits of my entire Mizzou experience," Harris said. "I talked about how I've seen my work displayed in front of 30,000 people, and how I studied photogrammetry in Ireland. Engineering connected all of that, and those experiences exist at Mizzou."
From left: Jaime Morgans, director of marketing; Christa Keers, senior project manager; and Nichole Clark, campaign coordinator; were among the Mizzou staff who worked with "The College Tour" team to bring the episode to life. "It was like working with a well well-oiled machine," Morgans said. "The production team was full of people who have worked in reality television, sitcoms, documentary film work … that kind of stuff. People are streaming video at an unprecedented rate and it's important to be where your audience is. This gives prospective students an inside look through our students' eyes at what it's like to be attend Mizzou."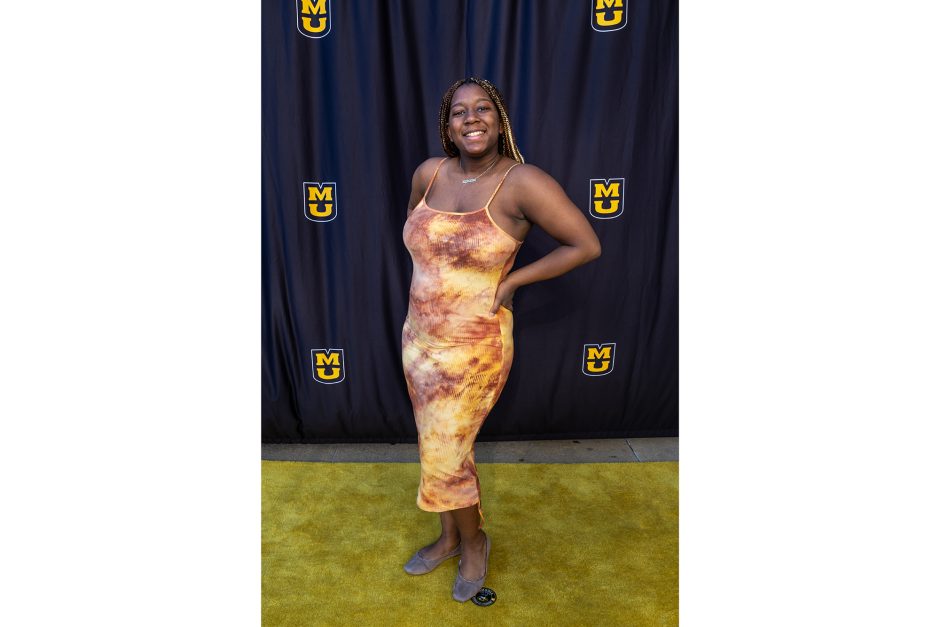 Kayla Sydnor, a junior journalism major from Chicago, hosted a segment on campus and community. "This 'College Tour' video is valuable because prospective students can see what's possible for them at Mizzou," Sydnor said. "I'm very big on visualizing yourself going places and succeeding."
Mackenna Rodgers, a sophomore biochemistry major from St. James, Missouri, hosted a segment about the hands-on undergraduate research she does for the NextGen Precision Health initiative with Michael Hill, director of the Dalton Cardiovascular Research Center. "My favorite part of working on the College Tour was meeting all the other student talent," Rodgers said. "When you're in biochemistry, it can be really easy to just be surrounded by people in your science fields. But meeting all of these people here and learning about their different backgrounds was so much fun. I have a bunch of new friends."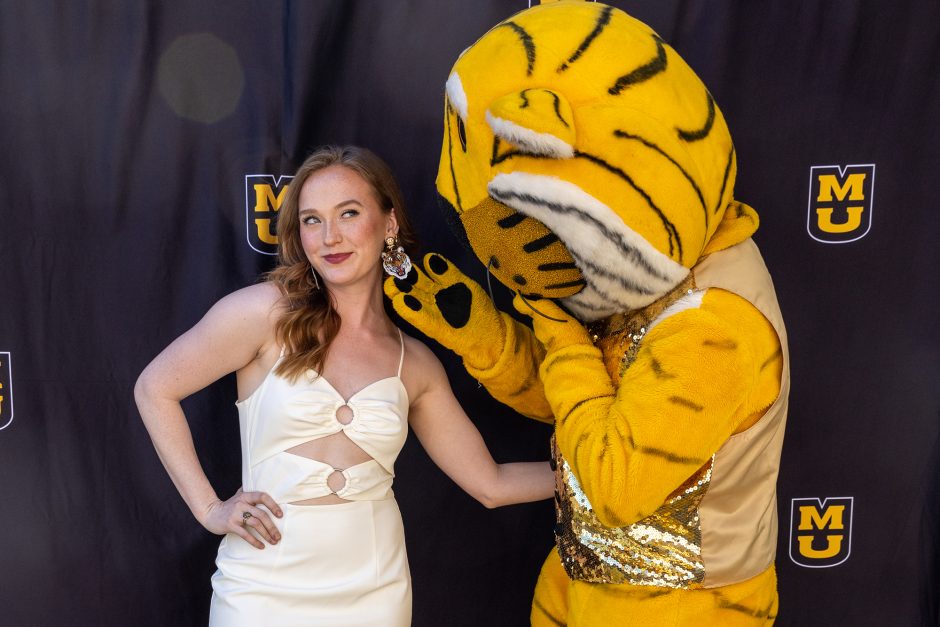 Truman admires the tiger earrings of Victoria Shore, a sophomore journalism major from Marion, Illinois. "I recorded my segment on Mizzou's wide variety of majors pretty close to my birthday in October, so the experience was like a present," Shore said. "I got to talk about all of my academic passions, and I got to sing on camera with my chorale group, the Hitt Street Harmony Jazz Ensemble."
Daniel Rhea (third from left), a senior biological sciences major from Jefferson City, Missouri, invited his family to the event. "The coolest part of this process was when I got to actually film my segment," said Rhea, who hosted the segment on traditions. "You feel cool being on a movie set with directions and lights and the camera — you kind of feel like a Hollywood actor." His dad, Don (far right), thought his son was perfect for the role. "Daniel grew up coming to Mizzou, and he likes being on stage in front of people," Don said. "He has always been really into the traditions here."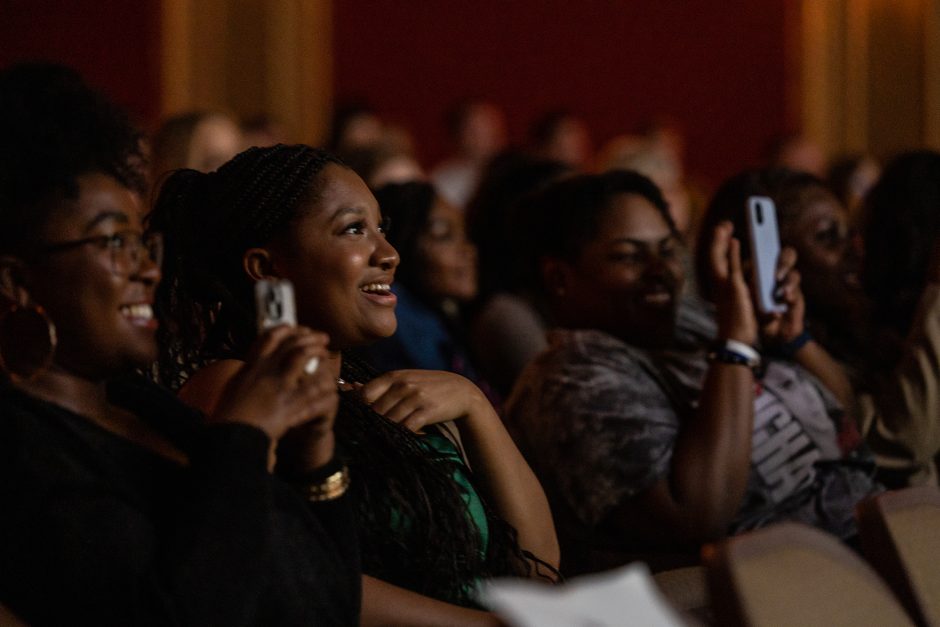 Rachel Henderson (in green), a senior Walter Williams Scholar and journalism major from Roswell, Georgia, enjoys the show. She hosted the segment on the Missouri School of Journalism.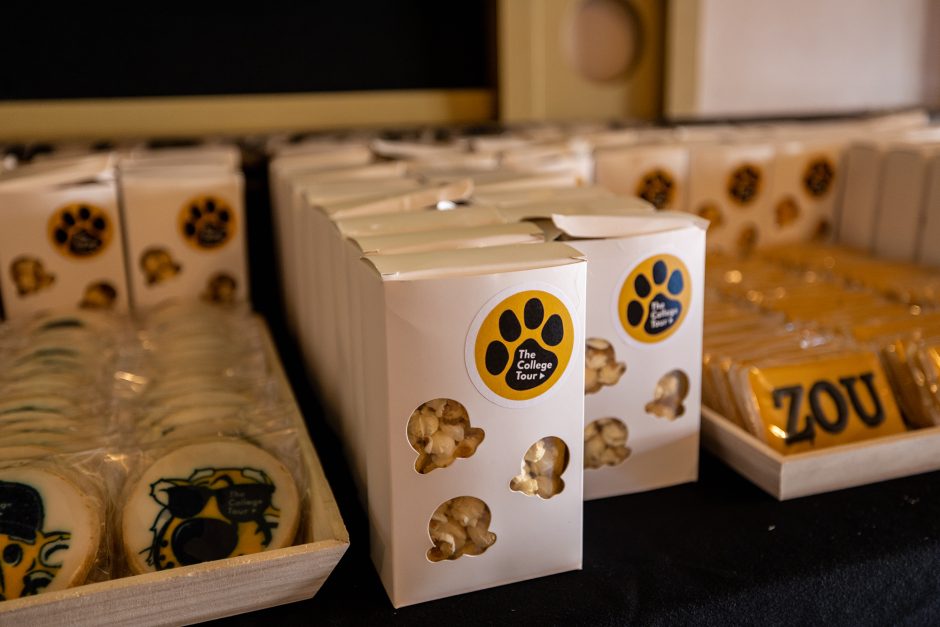 Mizzou-themed popcorn and cookies were available, and the lobby of the Missouri Theatre was festooned with black-and-gold balloons to accompany the gold carpet out front.