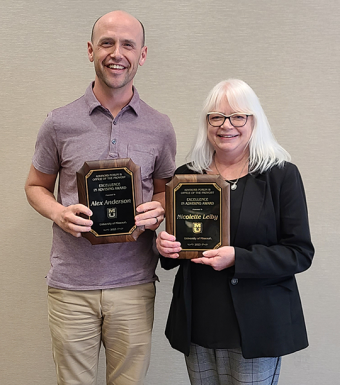 May 16, 2023
Alex Anderson and Nicolette Leiby were recently named outstanding advisors during the 2023 Excellence in Advising celebration.
Anderson, a senior academic advisor for the Department of Communication, received the Professional Advising Award.
"Mr. Anderson has been incredible and helped me graduate a year early," said Anderson's nominator. "He has a vast knowledge of the University of Missouri and is able to provide excellent advice, support and direction."
Leiby, an instructor and academic advisor for the Department of Textile and Apparel Management, received the Faculty Advising Award.
"With her mentorship, I have learned the importance of creating personal connections with faculty and peers and being a strong communicator," Leiby's nominator said. "The development of these skills has helped open the possibilities of what I can accomplish as a student and aspiring professional."
Read more from the College of Arts and Science