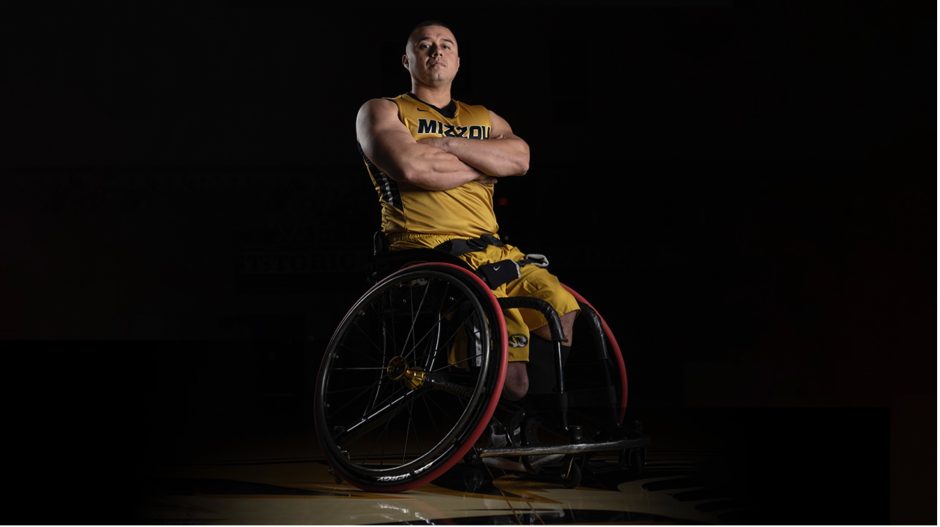 June 6, 2022
Contact: Marcus Wilkins, wilkinsm@missouri.edu
Cpl. Eric Rodriguez's face was on fire. Not literally, but the searing pain from embedded shrapnel muffled the frantic shouts of his corpsman as he fought for consciousness. Curled in the fetal position and covered with blood and debris, Rodriguez gradually realized his right foot was obliterated, his right forearm snapped in half.
"I came out of the blackness, and everything slowed way down," Rodriguez said. "I was angry at what happened, angry at the world. But I also knew when I signed up that there was a 50-50 chance of something like this happening."
The year was 2011, and Rodriguez had stepped on an improvised explosive device while his unit was clearing out a supply route through Helmand Province, Afghanistan. It was his eighth tour in nearly a decade, having also served in Iraq and tsunami-torn Sri Lanka.
The then 28-year-old could have bled out in minutes. He could have succumbed to shock, infection or complications from the 50-plus surgeries he underwent after returning stateside. Yet the tough-as-nails Marine gritted his teeth and focused on returning to his family.
"My daughter, Camilia, had been born recently, and I kept thinking, 'There are a lot of wolves out there,'" Rodriguez said. "'Nobody's going to take care of her the way I will.' She is what kept me motivated. She is what got me through the healing process."
Rebounding
Eleven years after the catastrophic injury that cost him most of his leg and resulted in metal hardware throughout his arm, Rodriguez likes to throw his weight around.
"E-Rod" has made a name for himself as a bulldozer of brute force, smashing into opponents and dominating them for court position during four years on the University of Missouri wheelchair basketball team.
"I've broken a lot of chairs," said Rodriguez, a senior who graduates in August with an interdisciplinary studies degree. "I play aggressively, so I needed a new chair practically every semester. The guys at Per4Max, the custom wheelchair company where I get my gear, give me crap about it. But they said they actually like it, because it forces them to engineer sturdier chairs."
Rodriguez knows something about sturdy construction. Following a two-and-a-half-month stay at Walter Reed National Military Medical Center in Washington, D.C., he worked through his grueling physical and occupational therapy at Balboa Naval Medical Center in San Diego. It was there that he discovered adaptive sports through Warrior Foundation Freedom Station, an organization that supports veterans reintegrating into civilian life. Rodriguez learned to surf, mono-ski and compete in marathons — all in a wheelchair. When the adrenaline-junkie considered basketball, he wasn't sure the sport measured up at first.
"I thought it was a bunch of dudes in hospital chairs lobbing the ball around," Rodriguez said. "But after I attended a camp in Illinois, I learned to appreciate the sport's physical and mental demands. My hands were completely torn up — and I was hooked."
Rodriguez and a buddy formed the San Diego Wolfpack, a wheelchair basketball club composed mostly of combat veterans. When Rodriguez's second child was born, it solidified his intent to earn a college degree.
"I knew if I wanted to tell my kids to go to college, I needed to lead by example," Rodriguez said. "I needed to have that diploma."
Enter Ron Lykins, Mizzou wheelchair basketball coach and peerless recruiter.
"I first saw Eric play at a U.S Wheelchair Basketball camp and I was immediately impressed by his skill, work ethic and willingness to learn," Lykins said. "Every time he takes the court, he wants to improve. Because of his military background, he doesn't get rattled. He's always the first one to show up at the gym and the last one to leave. But what else would you expect from a Marine?"
Rodriguez found immediate success. He was named to the National Wheelchair Basketball Association All-Rookie Team in 2018. He was often near the top of the stat sheet in points and rebounds for the Tigers, usually drawing the opposition's biggest player on defense. Rodriguez's ultimate goal is to play in the Paralympics for Team USA — which Lykins also coached for 17 seasons.
"I always wanted to go to a place where I would be challenged," Rodriguez said. "I knew Mizzou would be that place and Ron would be that coach. He had a reputation for being intense, but I like that. He talks to you like a champion."
Street ball
Growing up in Los Angeles among six brothers and sisters, Rodriguez constantly searched for "his place." Dad was an immigrant from El Salvador who, long before Rodriguez was born, had been captured and tortured during the country's civil war. At a young age, Rodriguez fell in with gang members, witnessing occasional stabbings and shootings.
The U.S. Marine Corps was his way out. During his military career, Rodriguez served on the personal security detachment for his battalion commander, boat company (amphibious raid squad), mobile assault platoon and sniper platoon.
"The mental aspect of the training was tougher than the physical for me," Rodriguez said. "They get you ready for any situation, and you learn that if you can control your mind, you can control your body."
In addition to his compatriots on the battlefield and basketball court, Rodriguez found another brotherhood through the MU Veterans Center. Providing a one-stop shop of resources for military-veteran students, the center was a place for Rodriguez to bond with others who share similar experiences.
As he rounds out his time at Mizzou, Rodriguez continues to grow as a leader — fusing his lessons as a Marine and a teammate to become a more effective communicator. He is currently considering contract offers to play professional basketball in Italy or Germany. He has also become an official Missourian, living in Ashland with his wife, Tania, his son, Maximus, 10, and Camilia, now 13.
"Missouri is a lot different than L.A. I love the slower pace here, and how everyone talks to you like they've known you forever," Rodriguez said. "My kids are everything to me. My daughter reminds me of myself when I was her age. She's quiet, compassionate, always tries to do the right thing and help others. And she likes to draw.
"I try not to think about what would have happened if I hadn't made it."