Dec. 13, 2021
Contact: Deidra Ashley, ashleyde@missouri.edu
Commencement will take place Dec. 17 and 18. To get you in the celebratory spirit, Show Me Mizzou talked with eight December grads to reflect on their time at Mizzou and share why they're proud to be Tigers. Follow @Mizzou on Instagram to watch video testimonials from these students as we lead up to this weekend's celebrations.
Carly Bailey
Health science major with emphasis in rehabilitation science; psychology minor
Hometown: Otterville, Missouri
Carly Bailey's high school graduating class had 21 students. When she arrived at Mizzou in fall of 2019, she said she was nervous about finding her place on a big SEC campus. But it didn't take long. "I was surprised at how quickly campus felt like a family environment — even if I didn't know everyone," Bailey said. "My professors really made an effort to make me feel like a person, not just a number, in their class."
Bailey originally thought she wanted to study biology but said a School of Health Professions (SHP) student ambassador reached out to her, based on her transcript, and helped her explore her options. "We didn't have a lot of college and career-readiness counseling in my hometown," she said. "The ambassador really helped me look at my passions and interest and find the right major."
Despite having only one semester on campus before the coronavirus pandemic, Bailey found many ways to get involved. Inspired by how a student ambassador changed her trajectory, she, too, became an SHP student ambassador. She also worked in the SHP Office of Career Services, as a TRiO ambassador and as a volunteer notetaker for the Disability Center — just to name a few. Her widespread involvement is one of the many reasons Bailey was selected to speak at the December SHP commencement. "Mizzou taught me that it's not just about what you learn in the lecture hall," she said. "I'm proud to be a Tiger because we do incredible things here. We're not only making an impact on Columbia as a community but also for people across the world."
Bailey was recently accepted into Mizzou's Physical Therapy program class of 2025.
Danielle Gee
Broadcast journalism major
Hometown: Palo Alto, California
Growing up, Danielle Gee watched The Today Show every morning with her parents. She dreamed of merging her passion for athletics with her love of broadcast television. Her end goal? Becoming a sports anchor.
When looking for colleges, Gee said the kinds of learning opportunities offered at Mizzou were at the top of her checklist. "Choosing the world's first journalism school was the best choice I've ever made," Gee said. "Mizzou is the only school that owns an NBC affiliate, and this hands-on opportunity has opened up so many doors for me."
Gee said she was excited to learn she'd be able to work with camera equipment so soon. "Most of the other schools I looked into wouldn't let you touch camera equipment until your junior or senior year," she said. "At Mizzou, I was able to learn the basics of recording, how to edit and how to make stories come together — all early on in my college career."
Among Gee's favorite memories at Mizzou are covering SEC Media Days for KOMU in 2021 and her sorority, Kappa Kappa Gamma, winning Homecoming in 2017. "I've made the best of friends here at Mizzou," she said. "I came here not knowing a single person, and I now have friends for life. I'm also so grateful for my professors who have pushed me to become the best journalist that I can possibly be."
Gee recently accepted a position with ESPN as an associate editor with the audience engagement team in Los Angeles.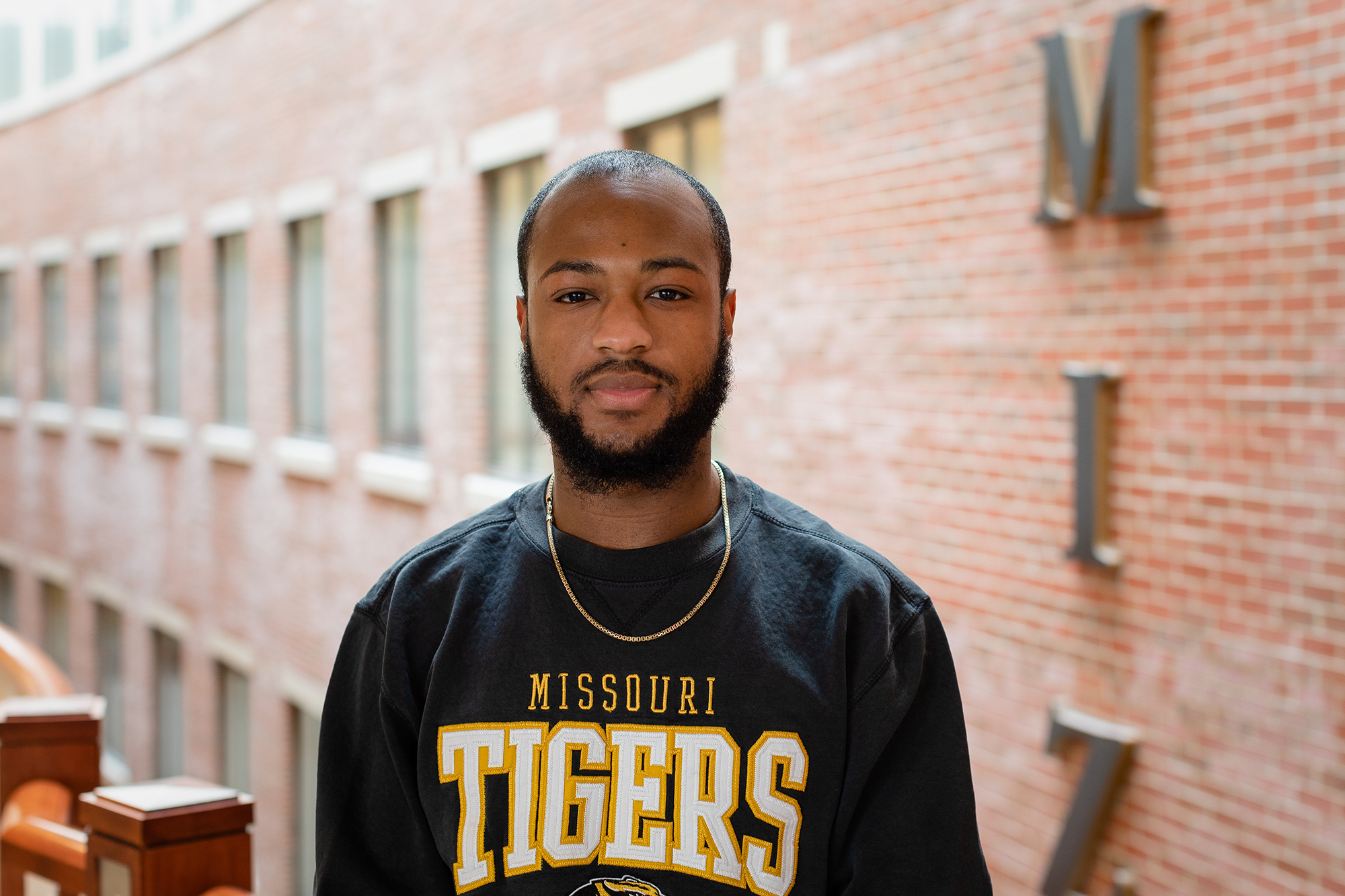 Maurice Glass
Accounting major
Hometown: St. Louis, Missouri
Graduate student Maurice Glass comes from a family of Tigers. His dad graduated from Mizzou with a degree in engineering, and his mom with a degree in chemistry. Glass jokes that he got into accounting because he likes money and thought an accounting career would help him make a lot of it. "While my decision-making process wasn't necessarily thorough, choosing to major in accounting has been one of the best decisions I've made," he said.
Glass said he grew up watching Mizzou football games and liked being close to home. "Mizzou just always felt like the right place for me," he said. "Mizzou helped me prepare for my future by helping me discover myself. I was able to make friends that I think I'll have for the rest of my life and learn more about my profession — and myself."
While on campus, Glass got involved in the National Association of Black Accountants, The Legion of Black Collegians' gospel choir and worked at the Tiger Team Store. Despite the pandemic, Glass took advantage of study abroad opportunities in New Zealand and Australia during his junior year. "I had never been out of the country before, but that was one of the best experiences of my entire life," he said. "There are so many different opportunities you can take advantage of at Mizzou, and although Mizzou can feel large, you can make it your home."
Glass is studying for the certified public accountant examination and will start his job at the St. Louis office of Ernst and Young, one of the Big Four accounting firms, next year.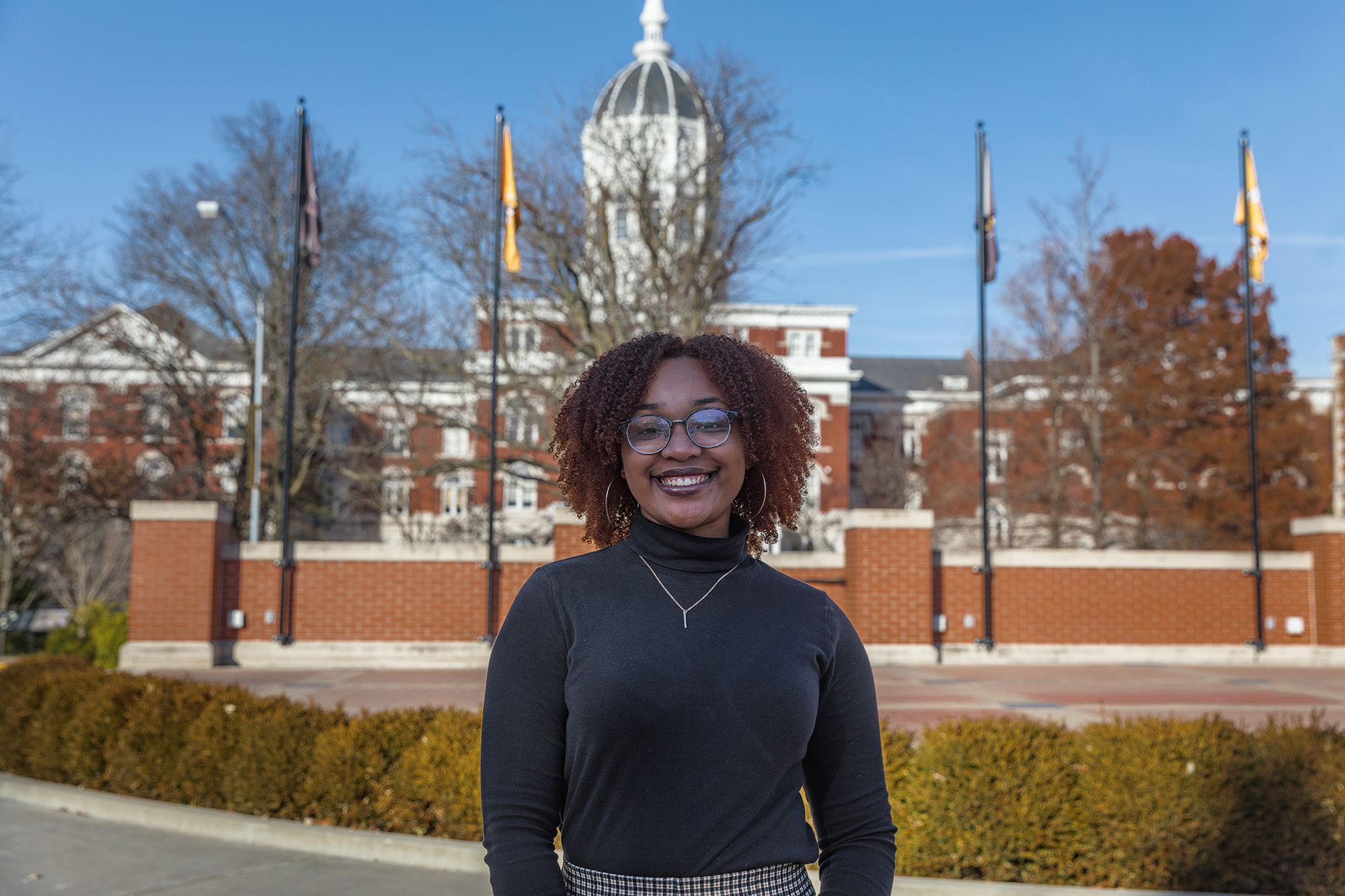 Raynesha Green
Theater performance major; journalism minor
Hometown: Kansas City, Missouri
Raynesha Green is passionate about telling other people's stories. "That's why I chose to attend the No. 1 journalism school in the country," she said.
After getting involved on campus, Green learned she could tell stories on stage — not just on paper. "That's when I decided to change my major to theater performance," she said. "Storytelling and representation are important to me. I love theater because I can tell people's stories and have an impact on communities in that way. I can use my journalism degree to tell those stories on paper."
Green has graced the stage in many Mizzou productions, but she said playing the Scarecrow in The Wiz: The Super Soul Musical is her favorite role. "It was the first all-Black cast at the University of Missouri, and it felt good to be represented and celebrated," she said. "It was also the last time my late grandmother got to see me perform, and it's something I won't soon forget."
In addition to theater, Green was involved in the Griffiths Leadership Society for Women and Alpha Psi Omega Theatre Honor Society. She also acted as a tour guide and worked as a public relations assistant at the MU Career Center for four years. "I've met so many people who care about me here," she said. "They've given me opportunities and looked out for me — not just with words, but with actions. I want to pass that on to the next generation."
After graduation, Green plans to take a gap year before applying to graduate programs. She hopes to become the chair of a theater department one day.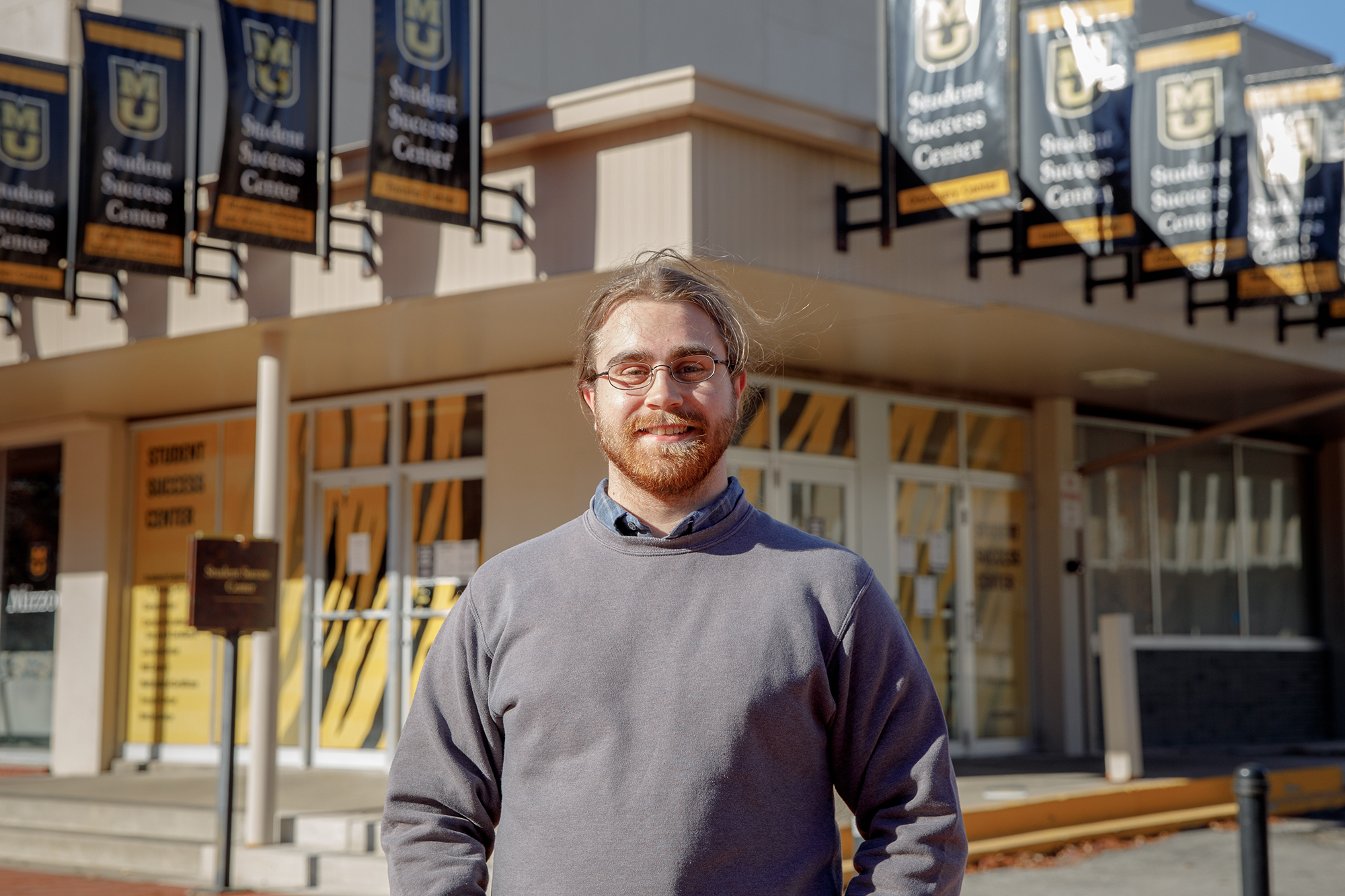 August Hemmerla
Biomedical engineering and biochemistry double major
Hometown: Ottawa, Kansas
As a child, August Hemmerla visited Mizzou many times when he road-tripped to his grandfather's house in St. Louis. "My parents both went to grad school at Mizzou, and it was almost a ritual that we had to stop and visit campus on the way to grandpa's," he said.
When it came time for Hemmerla to choose a college, he said Mizzou was an easy choice. "Other schools close to home didn't have undergraduate biomedical engineering programs and I wanted to study tissue engineering and regenerative medicine," he said. He was accepted into the biomedical engineering program. "I love biology and mathematics, and I knew I wanted to go into a medical field so I can do something impactful," he said.
Hemmerla recalls how quickly he met other people with similar interests on campus. "The second floor of Gillette Hall was half engineering majors and half computer science majors," he said. "We all fit well together and got to know each other by playing board games and hanging out in the lobby."
Early on, he immersed himself in on-campus research and got involved in the Biomodulatory Materials Engineering Laboratory under the direction of Bret Ulery. "In the lab, I learned a lot about how to approach research and work with others," he said. "I also had the opportunity to start my own project through Cherng Summer Scholars."
Outside the lab, Hemmerla used the tutoring skills he'd built up in high school to get a tutoring job at Mizzou's Learning Center — helping other students with biology, chemistry, and biochemistry. He said his time working with Engineers Without Borders (EWB) was particularly impactful. "I initially joined EWB because they were breaking ground on a project in Ecuador," he said. "I have three older sisters who were adopted from Ecuador and I'm bilingual in Spanish. Being elected project manager for EWB and working on that project for two years meant a lot to me."
When asked what his favorite memory of Mizzou is, Hemmerla didn't hesitate: "I'm staying here for grad school, so I don't have to pick one yet!"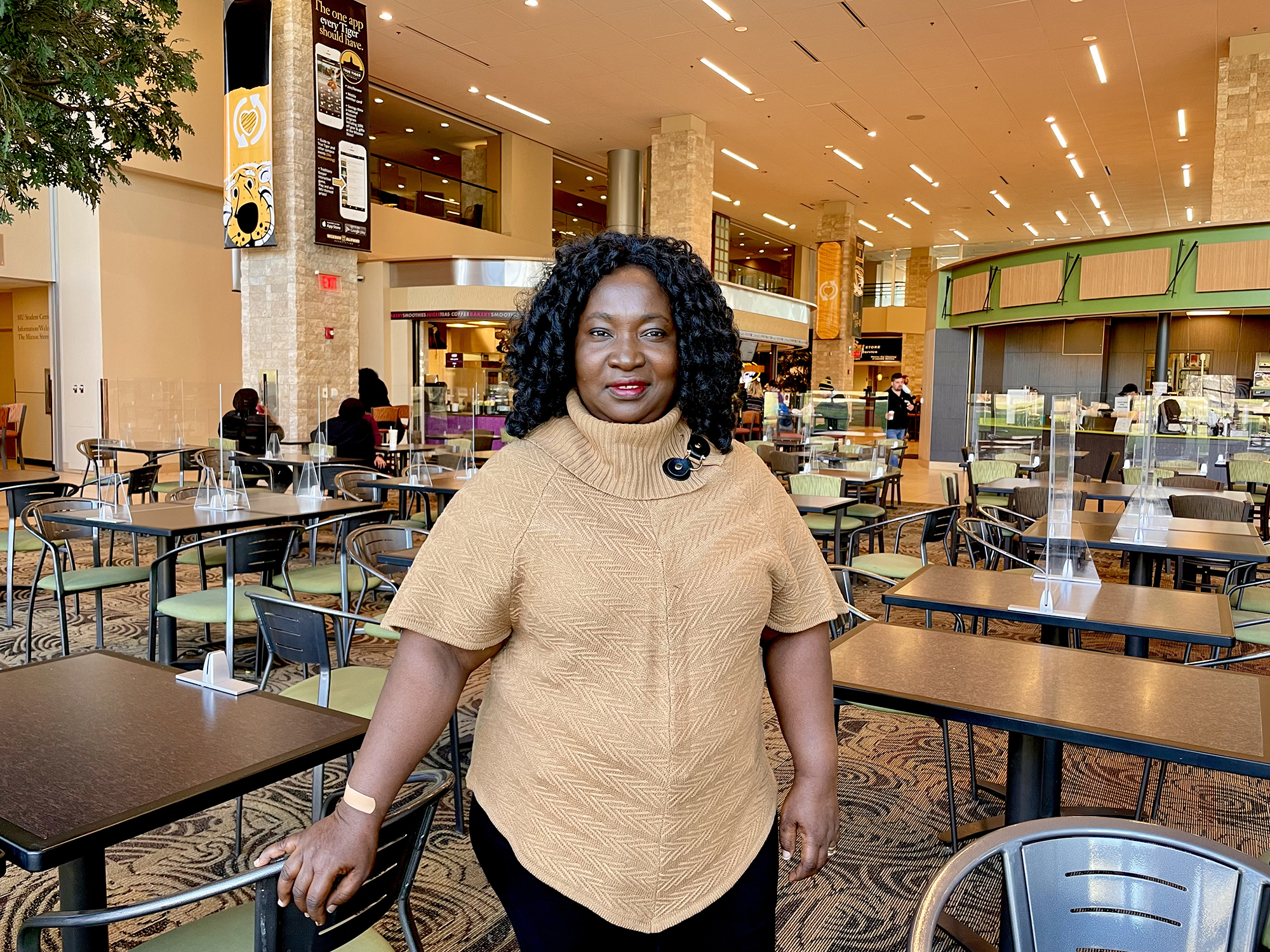 Justina Serwaa Yevu Johnson
Doctor of philosophy, nursing science
Hometown: Bompata, Ashante Region, Ghana
In 2017, Justina Serwaa Yevu Johnson traveled nearly 7,000 miles from her home country, Ghana, to study at Mizzou. The Fulbright Scholar had served as a nurse and nursing instructor for nearly 20 years but wanted to devote herself to palliative care research.
"My experience as a medical-surgical nurse over the years and seeing the sufferings and pains of patients at the end of life in Ghana was overwhelming," she said. "And I made a promise to myself and to these patients to advocate for the provision of palliative and end-of-life care services."
Although it was her first time in the United States, Yevu Johnson adjusted to life on a new continent and quickly integrated herself into the Mizzou community. "I fell in love with Mizzou," she said. "The School of Nursing has been home to me, and I like the fact that the faculty treat students as colleagues. They are concerned about you and want to see you do well and succeed. I'm going to take that with me and share it with my future students."
On campus, Yevu Johnson got involved in multiple programs including the MU Graduate Professional Council and the Griffiths Leadership Society for Women. She also became a Deaton Scholar.
Yevu Johnson said her favorite place on campus is the MU Student Center. She even has a specific table that she returns to each day. "It served as my office for the past three years," she said. "It's where I did all my class assignments and wrote my dissertation. I was surprised when I got all emotional on my last day there — a day before my dissertation defense. I will always hold the memories of my time there close to my heart."
After graduation, Yevu Johnson will complete post-degree academic training at the Sinclair School of Nursing — teaching and working with a research team. She is also waiting to hear back whether she was accepted into a postdoctoral program.
Ronell Jones II
Chemical engineering major; business and chemistry minors
Hometown: Kansas City, Missouri
Lafferre Hall quickly became the second home of Ronell Jones II when he came to Mizzou in 2017. He said he loves the versatility of the building — and all its study spaces. "Lafferre perfectly fits the needs of engineering students," he said. "There are plenty of places to study on your own, or with a group. The technology here makes it easy to do my coursework, all while in a positive working environment."
When reflecting on his favorite memories at Mizzou, Jones paused for a moment. "There are too many," he said. He finally landed on being inducted into the prestigious Mizzou '39. "The group encapsulates everything it means to be a Mizzou student," he said. "Service. Academic Achievement. Involvement. It was a great honor and acknowledgment of my hard work over the years."
In addition to being a part of Mizzou '39, Jones also served as President of the National Society of Black Engineers, pledged as a member of Alpha Phi Alpha fraternity and worked on the Mizzou Tour Team. "I'm going to miss the atmosphere of campus," he said. "I got to be in a close circle with all of my best friends. I know I'll appreciate that even more once I leave."
Jones said he's grateful to Mizzou for the hands-on learning experiences he was given — especially with internships. "They teach you readiness in the classroom, but they also prepared me by giving me three internships," he said. "I think that joining the workforce will be a smooth transition because of that."
After graduation, Jones will move back to Kansas City to work for Burns & McDonnell as a water treatment specialist.
Rachel Zelle
Microbiology major
Hometown: St. Louis, Missouri
Despite being the first student to earn an undergraduate degree from the College of Veterinary Medicine, Rachel Zelle is as humble as it gets. Zelle transferred to Mizzou for microbiology — an undergraduate degree that was created in 2019. Most of her time at MU was spent remotely, due to the pandemic, but she said she's still proud to be a Tiger. "I chose to come to Mizzou because it had a good reputation," she said. "It was great timing, honestly, because microbiology had just opened up as a major, so I just jumped on that. Mizzou has helped prepare me to explore microbiology as a career."
Zelle said she was happy to be the first student to complete the program at Mizzou. "It's really cool that I'm going to be the first undergraduate for VetMed and the first microbiology major," she said. "I really didn't think about it when I signed up — but I've been able to work with my professors, who are used to teaching graduate courses, to help influence what the future of this program might look like."
In the past semester, Zelle said she took a particular interest in gut microbiome research and learning how it affects our bodies. After graduation, Zelle plans to move home to St. Louis and continue working in the veterinary medicine field.
Commencement tips
From where to get your regalia, to livestreaming links, parking instructions and more — here are the eight things you need to know for a stress-free commencement.