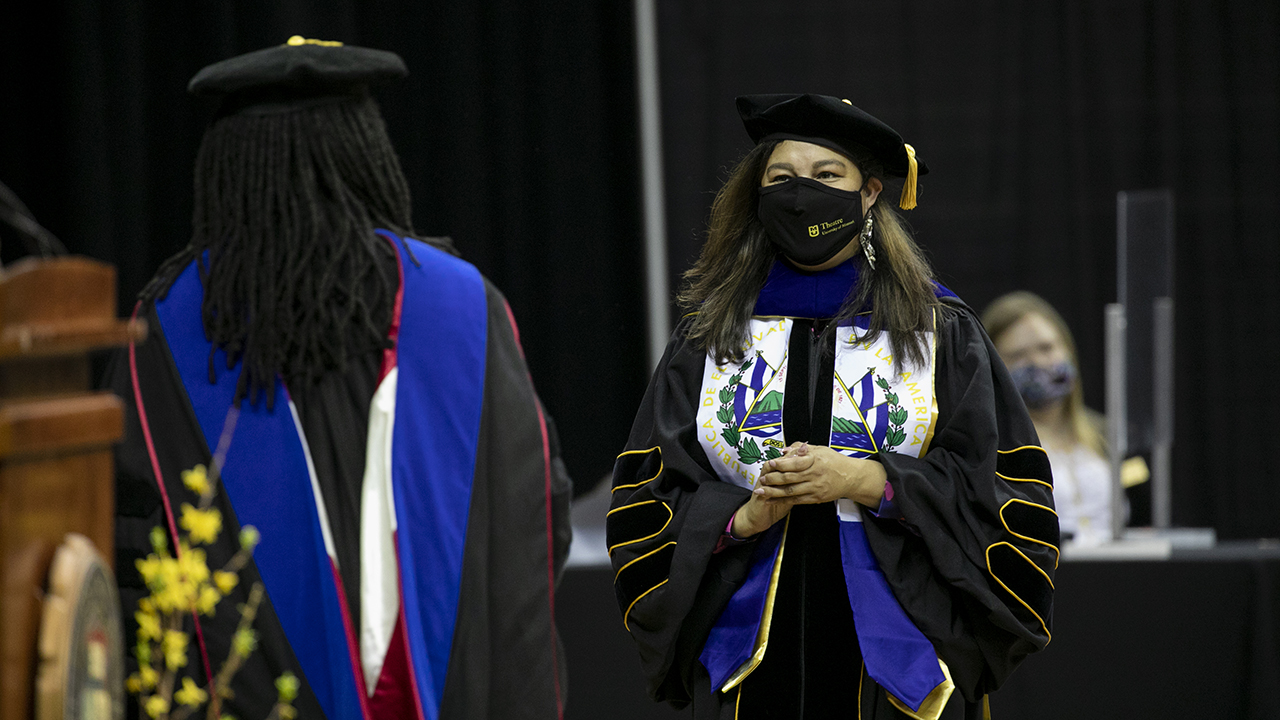 Nov. 29, 2021
Contact: Nathan Byrne, nathanbyrne@missouri.edu
The University of Missouri will celebrate its December 2021 graduates with in-person commencement ceremonies on Dec. 17 and 18. Here are the eight things you need to know before the big day:
1. Regalia
Regalia is now available at The Mizzou Store, and we encourage you to purchase it in advance. All participating graduates must wear a cap and gown in order to walk.
Graduates who have earned an honors medallion may pick it up at The Mizzou Store. Those receiving honors certificates will be recognized by receiving cords at the Honors Ceremony. Graduates' schools and colleges will notify those who are eligible.
2. Graduation application
Regardless of whether you plan to participate in commencement ceremonies, all students who plan to graduate in December need to complete the graduation application in MyZou. Before graduation gets here, make sure you also check out the rest of this pre-graduation checklist.
3. Guests, tickets and seating
Tickets are not required, and graduates can bring as many guests as they would like.
4. Livestreaming
Every ceremony will be livestreamed and recorded for guests and family members who are not able to attend. The commencement website will have links to livestreams.
5. When to arrive
Doors open one hour prior to each ceremony. Graduates should plan to arrive no later than 30 minutes before the ceremony begins. This allows time to be checked in and pre-seated.
6. Where to park
Free parking is available for commencement guests.
Hearnes Center: The majority of the guest parking is located east of the Hearnes Center. We recommend entering from Stadium Boulevard to Champions Drive. There is also parking available on the west side of the Hearnes Center, at Memorial Stadium, using the Mick Deaver Memorial Drive entrance.
Jesse Auditorium: Parking is available in the Turner Avenue garage, south of Jesse Hall, and in the Conley Avenue garage, west of Jesse Hall. There are no restrictions Friday evening after 5 p.m. or Saturday or Sunday except in fire lanes, loading zones, etc.
Visitors who encounter parking difficulties may call the MU Police Department at 573-882-7201.
7. COVID considerations
We ask that you mask indoors. For more information about campus safety expectations, visit the Show Me Renewal website.
8. Photo opportunities
Professional photographers will be at every ceremony to capture a photo of each graduate as they walk across the floor, as well as additional shots of the ceremony. Photographs are determined by each school or college. Graduates who pre-register for photos can receive a 20% off coupon. You can learn more about commencement photos here.
Other questions?
For more information, visit commencement.missouri.edu