Dec. 14, 2020
Dear faculty, staff and students,
It's been some time since we updated the larger campus community on NextGen Precision Health, our statewide initiative to transform health care and improve lives in Missouri and beyond. As executive director of NextGen, I wanted to reach out and let you know what's been going on. Since I joined the University of Missouri in May as executive vice chancellor for health affairs, I've focused on bringing together talented teams who will unite the multidisciplinary strengths of the four UM System universities, MU Health and MU Extension to put our community at the forefront of precision health advancement.
NextGen research activities are led by six faculty research leads (FRLs), who are working to build connections on campus and between universities that distinguish and elevate our precision health efforts. It's important to remember that NextGen is much more than a building on the MU campus. It's a systemwide effort that builds collaboration and brings state-of-the-art resources to researchers across the system.
Thank you again for your commitment to our university and the health of Missouri. Your support is critical for the success of this initiative.
Richard Barohn, MD
Executive Director, NextGen Precision Health
Executive Vice Chancellor for Health Affairs, University of Missouri
---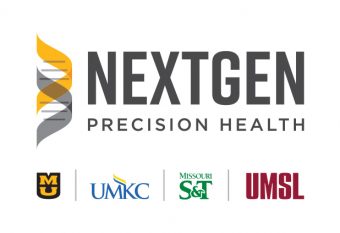 Branding refresh
You'll notice we have a new look for the initiative. The updated logo builds in the university brand mark and can be adapted to each of the UM System universities and for collaborations between universities, ensuring systemwide representation of NextGen team science efforts.
NextGen Discovery Series
In 2021, we will be introducing the virtual monthly NextGen Precision Health Discovery series for the university community. If you have ideas for speakers or topics, please reach out to senior director of education programs Mary Hindle at hindlem@health.missouri.edu.
NextGen building update
Since the topping off ceremony in June, construction on the NextGen building remains on track and on budget. We've now entered the final year before the October 2021 grand opening — be sure to mark your calendars.
We are meeting with MU scientists to identify the first wave of research teams who will occupy laboratories and office spaces in the new NextGen building. Discussions are in the final stages and the names of the selected researchers will be announced in January 2021.
Data Science and Analytics Innovation Center
UMKC and MU have jointly launched the NextGen Data Science and Analytics Innovation Center (dSAIC). The dSAIC will serve as a control center for NextGen Precision Health research and as a resource to analyze complex data for researchers across the UM System and industry partners. The ability to rapidly access and analyze massive datasets will accelerate research and improve outcomes not only in precision health, but also in finance, public safety, agriculture, life sciences and more. The dSAIC was jump-started with a $5 million award through UM System Tier 1 funding and a $2 million gift from former UM System president Gary Forsee and Sherry Forsee. Read more about the dSAIC in the news release here.
Clinical Translational Science Unit
We are finalizing construction plans for a Clinical Translational Science Unit (CTSU) on the third floor of the NextGen building. At the CTSU, participants will be enrolled in first-in-human clinical testing to develop cutting-edge therapeutic interventions, using state-of-the-art techniques in exercise and nutrition science, cognition studies and more. NextGen is a full-spectrum effort that encompasses everything from studies of cells and animal models to human testing and pilot-scale manufacturing, and the CTSU is a key feature in our strategy.
Philanthropy update
NextGen Precision Health has received $36.87 million in total support to date, thanks to the generosity of alumni, friends and corporate partners. Of that total, approximately $21.65 million has gone to facility support for building construction and equipment, while $15.22 has gone to NextGen program support — primarily toward faculty positions and various research initiatives. These totals reflect the efforts of all four system universities.