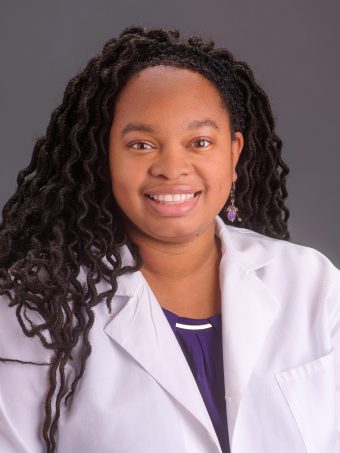 Nov. 10, 2023
Vovanti Jones always wanted to be a physician.
"My dad said the earliest I told him was at the age of four," Jones said. "So, I've always pursued science and medicine."
Growing up in eastern North Carolina, where the closest hospital was more than 30 minutes away, Jones observed how a lack of access to care resulted in negative outcomes for people in her community. She felt it was important to address this in the community she served.
But during her senior year of college, Jones was diagnosed with muscular dystrophy, a genetic disease that causes progressive weakness and degeneration of skeletal muscles. Jones debated whether she wanted to continue pursuing medicine, and after much self-reflection, she decided to complete her medical degree at Washington University in St. Louis.
While in medical school, mobility became more of an issue for Jones.
"I couldn't let that determine what I was going to do," Jones said. "I learned how to provide care using a mobility scooter."
Persevering through the setback, Jones completed medical school and currently serves as the medical director of the inpatient stroke rehab unit at Rusk Rehabilitation Hospital – an affiliation of Encompass Health and MU Health Care. She uses her passion for medicine to advocate for and help stroke patients through the rehabilitative process, with her ultimate goal being to make sure her patients can return to their homes – and in the process, help shape a more well-rounded community.
"I work with the rehab team to come up with medical and rehabilitative plans for patients to help them try to reach their functional goals," Jones said.
In addition to her clinical role, she instructs medical students and resident physicians, providing them with hands-on clinical experiences.
"The School of Medicine does problem-based learning based on patient cases," Jones said. "I'm bringing the clinical correlates from what they are reading on paper to showing them how we take care of patients in the community."
In addition to her academic and clinical responsibilities, Jones understands the importance of impacting the medical community through her involvement in national organizations and outreach. Now, she serves on the diversity and inclusion committee for the American Academy of Physical Medicine and Rehabilitation. This upcoming year she will take on a greater role serving as chair of the entire African American community for the organization.
"Coming into a community where you have other colleagues who understand the importance of having your face out there in the larger community helped grow my career," Jones said. "My time here has allowed me to grow not only as an individual, but in my leadership skills and ability to address different people in different populations."
Read more from the Division of Inclusion, Diversity and Equity