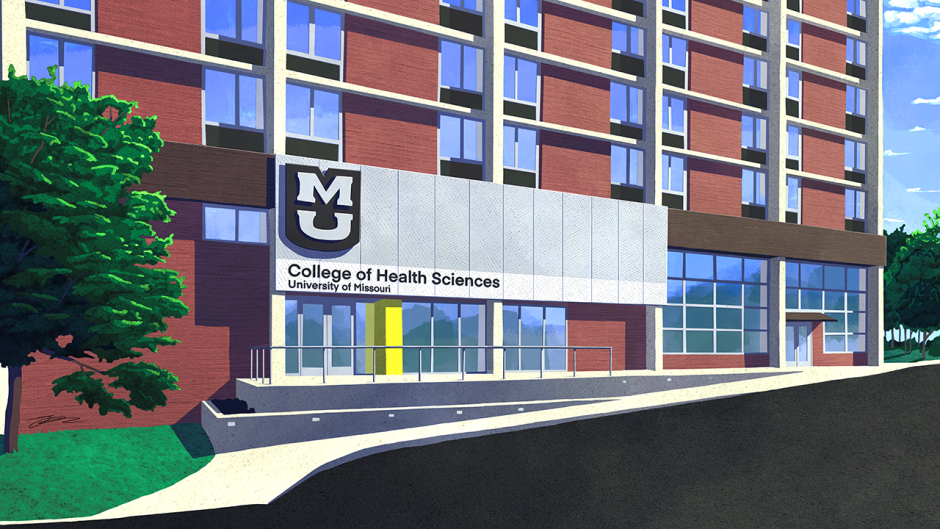 April 4, 2023
Contact: Brian Consiglio, 573-882-9144, consigliob@missouri.edu
Today, the MU School of Health Professions (SHP) announced a name change to the MU College of Health Sciences and a $5 million renovation to Clark Hall.

The name change, which was announced at the SHP annual State of the School event, will become effective for the 2023-24 academic school year.

Created in 1978, the school was originally a unit within the MU School of Medicine, and many of its programs were solely hospital-based. But by 2000, the school's mission had expanded, prompting the UM System Board of Curators to designate SHP as an independent academic unit.

"In higher education, the term 'school' has traditionally been used for a training unit with a single discipline or limited disciplines, whereas the term 'college' is applied to academic units with multiple disciplines, levels of degrees and a broader scope of mission," said Kristofer Hagglund, who has served as SHP dean since 2013. "Over the past few decades, we have greatly expanded to become a comprehensive academic unit with a full complement of higher education missions: teaching and training, research and scholarship, clinical service, extension and engagement. This name change positions us for future growth."

The $5 million renovation to Clark Hall will help the College of Health Sciences meet the demands that come with significant student enrollment growth, attract top-tier research faculty, facilitate student success and improve accessibility at entrances. The renovations will create additional classrooms, student meeting spaces, and open study spaces.

Since 2000, SHP has become the fastest-growing academic unit at MU and is home to Mizzou's most popular undergraduate major: health science.

"With MU being a land-grant university, our overall goal is to improve the health and well-being of Missourians, especially vulnerable populations," Hagglund said. "Through teaching, research and community outreach, our mission is to prepare the health care workforce of the future."

Student enrollment has grown from 629 students in fall 2000 to more than 3,500 students in fall 2022. Tenured and tenure-track faculty have increased nearly 30% since 2015, and teaching, research, clinical and extension faculty have increased nearly 50% in the same time period.

Faculty taught more than 59,000 total credit hours in fiscal year 2022 compared to 13,468 total credit hours in fiscal year 2007. Research productivity, which explores emerging topics such as health disparities, language development, autism interventions and stroke rehabilitation, has grown significantly as well. Research expenditures have more than doubled since fiscal year 2020, with a total of $5.65 million in research expenditures in fiscal year 2022.

This growth, in combination with evolving workforce demands in both Missouri and the broader health care industry, have led to the addition of new departments and degree programs within SHP. Recently added degree programs include a bachelor's degree in fitness programming and management, a doctoral degree in health and rehabilitation science, and a bachelor's degree for prospective occupational therapy assistants.

Additionally, SHP has created or added four departments since 2000, which include the Department of Public Health, the Department of Health Sciences, the Department of Health Psychology and the School of Social Work.

The health science major, which began enrolling students in spring 2009, has surpassed biology as the most popularly chosen major at MU since 2017, graduating 578 students in 2019, a majority of whom have stayed in Missouri to work.

"Health care is a very high-demand field with broad career path options, and the health science degree program has a significant amount of elective credit room that lets students really flex it to what they need it to be," said Cheri Ghan, the school's first student recruitment coordinator who is now documenting the school's history. "I have seen firsthand over the years how these factors and the variety of options have really made MU students love this degree — and it has been a tremendous driver for our school's growth."

The name change to College of Health Sciences reflects the interdisciplinary nature of this growth. Speech pathologists work with computer scientists, occupational therapists collaborate with electrical engineers and health psychologists conduct research with neurologists. The collaboration ultimately benefits underserved Missouri communities.

"Our goal is to prepare graduates to work with and serve people from a wide range of backgrounds and communities," Hagglund said. "The demand for the school's graduates has been extremely strong, with 100% of those earning professional degrees finding employment in their field."