Oct. 11, 2023
Contact: Courtney Perrett, 573-882-6217, cperrett@missouri.edu
Photos by CJ Harris
As a physician, University of Missouri researcher W. David Arnold has long cared for patients with some of the world's most debilitating illnesses, including spinal muscular atrophy (SMA), amyotrophic lateral sclerosis (ALS) and muscular dystrophies. Now, funded by a $3 million grant from the National Institute on Aging (NIA)/National Institutes of Health (NIH), Arnold will examine how motor neuron firing rates influence strength in older adults. His ultimate goal for this grant is to discover new ways to optimize and maintain function and independence of older adults.
Much of prior research that has investigated causes of weakness in older adults has focused on the role of muscle in isolation. Arnold's research, however, aims to delve into how function of the nervous system influences strength levels in older adults. His research focuses on a problem referred to as sarcopenia, which is the age-related loss of muscle mass and strength.
"With aging of society as a whole, our goal is to develop ways to add life to our years, what we call healthspan, rather than just to increase lifespan," said W. David Arnold, Executive Director of the NextGen Precision Health initiative and a professor in the Departments of Physical Medicine and Rehabilitation, Neurology, and Medical Pharmacology and Physiology in the MU School of Medicine. "The purpose of this grant is to come up with ways to improve strength in older adults to allow them to extend their independence and maximize healthspan. Specifically, we are investigating a compound that we have shown to improve muscle strength in preclinical aging studies. The long-term goal of this research is move to clinical trials in older adults with physical function impairments that limit their day-to-day activities."
This study, which will involve collaborative research with scientists at Ohio University, has two main objectives:
Testing whether loss of neural activation of muscle contributes to age-related weakness
Developing a novel treatment for weakness in older adults
Arnold says that most people define "older adults" as individuals aged 65 and older, however he notes that the physiological rate of decline during aging becomes steeper for people after the age of 80.
"If you look at an older adult who has experienced something like a hip fracture, the risk of mortality following that is huge," Arnold said. "Therefore, the practical implications of this study involve helping older adults keep up their strength so that they experience fewer falls. But, if they do fall, they're able to recover and leave the hospital environment relatively quickly."
Based on Arnold's research and experience, currently the best way for aging individuals to stay healthy is to stay active. He recommends progressive resistance training that stresses the muscles safely while building strength. Keeping active in combination with a balanced diet and a regular sleep schedule are all factors that can influence a person's quality of life as they get older.
"As a physician, it's a privilege to be able to help people navigate health," Arnold said. "Oftentimes we're only able to reduce suffering and help people navigate challenging diagnoses, but our long-term goal is to work toward developing cures. We are all slowly dying, whether it's from a horrible disease such as Lou Gehrig's disease or ALS — which is one of the big areas of research of my lab — or just from old age. There are good and bad ways for that to unfold; I want to help people navigate that as best as possible."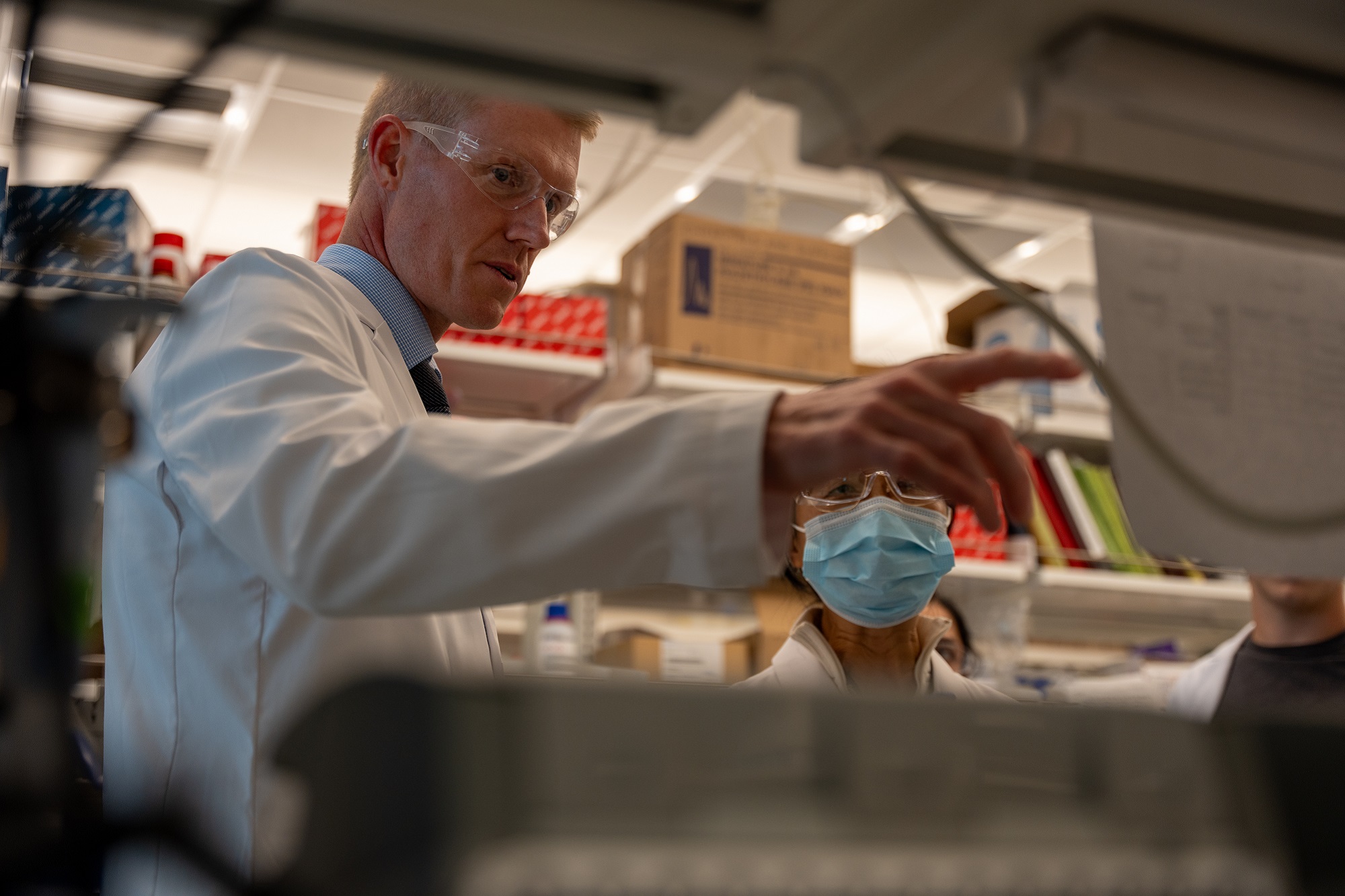 NextGen Precision Health
Highlighting the promise of personalized health care and the impact of large-scale interdisciplinary collaboration, the University of Missouri System's NextGen Precision Health initiative is bringing together innovators from across the system's four research universities in pursuit of life-changing precision health advancements. It's a collaborative effort to leverage the strengths of the entire UM System toward a better future for Missouri's health. An important part of the initiative is the new NextGen Precision Health building, a state-of-the-art research facility which is expanding collaboration among researchers, clinicians and industry leaders.