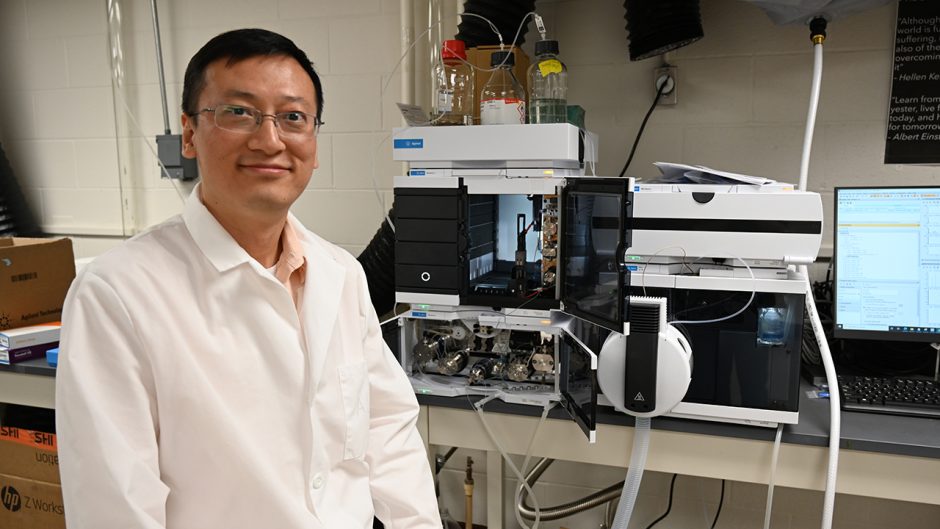 May 25, 2023

Before most of his peers knew them as "forever chemicals," Feng "Frank" Xiao — an associate professor of civil and environmental engineering in the University of Missouri's College of Engineering — knew they were a problem.
It was the early 2010s, and he was reviewing Centers for Disease Control data when he noticed a disturbing trend. Pre- and polyfluoroalkyls (PFAS) — compounds mass marketed since the 1940s — were showing up in more than 95% of blood samples, and they appeared to be wreaking havoc on human health.
"These chemicals are useful in products, but they linger in the environment," Xiao said. "These are toxic chemicals that can cause cancer and other health issues."
The U.S. Environmental Protection Agency recently laid out plans for more research around PFAS and future restrictions and guidelines for their use. But the chemicals already in the environment aren't going anywhere without human intervention.
In January, Xiao was recruited to the College of Engineering through MizzouForward, a campus-wide initiative aimed to attract top faculty. PFAS are used in food and product packaging and have made their way into our environment. Xiao specifically studies how they behave and get transported — and ultimately can be destroyed — in soil and drinking water.
In a recent project, Xiao demonstrated how to break down PFAS in soil by inserting extreme heat. In a paper published last year, he specifically found that heating soil temperatures to 500 degrees for just 30 minutes degraded 99% of all PFAS.
"PFAS have been around nearly 80 years," Xiao said. "However, they were not discovered in environmental and biological samples until 2001. Even before 2014, these chemicals were new to the environmental community."
At Mizzou, Xiao is growing his research team, purchasing state-of-the-art equipment for his lab and collaborating with world-class colleagues.
"This is really important research," he said. "We're solving a real, global problem. It's exciting work."
Read more from the College of Engineering