April 10, 2023
Contact: Deidra Ashley, ashleyde@missouri.edu
Photos by Abbie Lankitus
At the state's only public research university, University of Missouri students have many opportunities to work alongside talented faculty to conduct cutting-edge and groundbreaking research every day. These experiences, which range from science to medicine to the humanities, help prepare students for graduate and professional studies at prominent universities as well as careers in leading industries.
Eleven Mizzou students recently participated in the University of Missouri System Undergraduate Research Day at the Capitol. The event gives students an opportunity to showcase their accomplishments and allows our elected officials to see firsthand the exciting innovations taking place at MU and other system universities.
See photos from the event and learn more about our undergraduate researchers.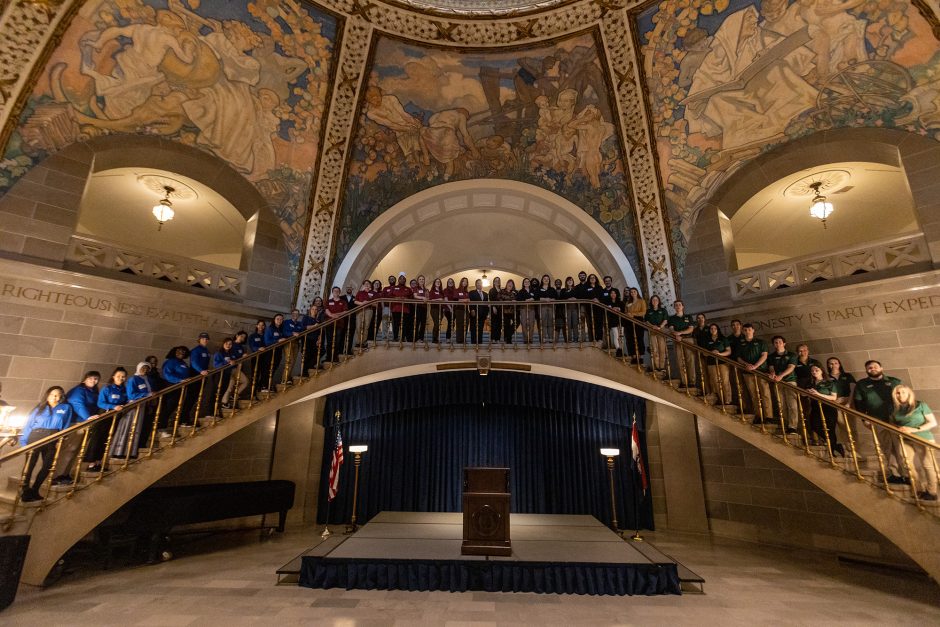 Nearly 50 students from Mizzou, the University of Missouri-Kansas City, Missouri University of Science and Technology and the University of Missouri-St. Louis presented at this year's event.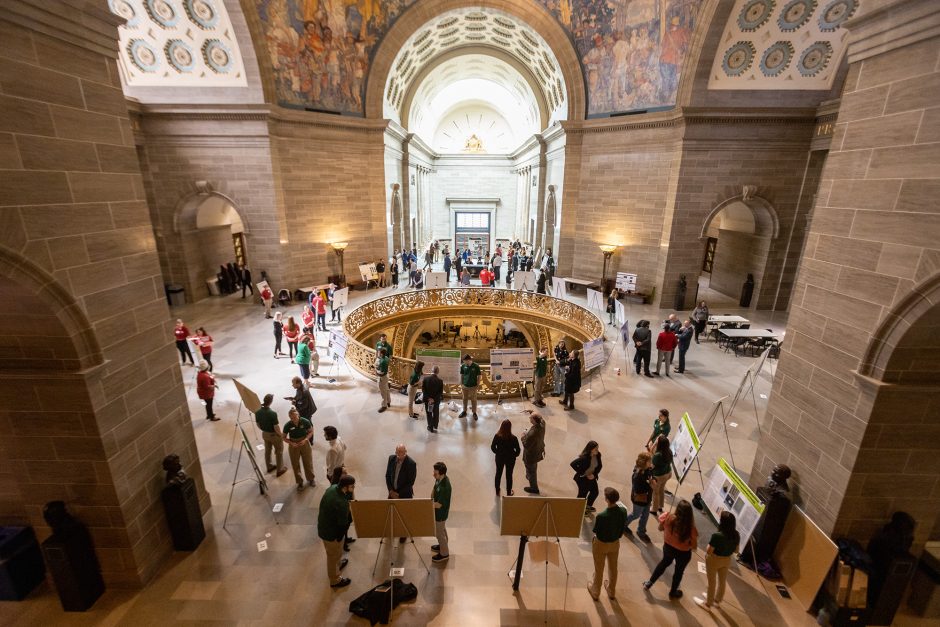 The event supports MU's mission to educate students to become leaders, promote lifelong learning by Missouri's citizens, foster meaningful research and creative works, and serve as a catalyst for innovation.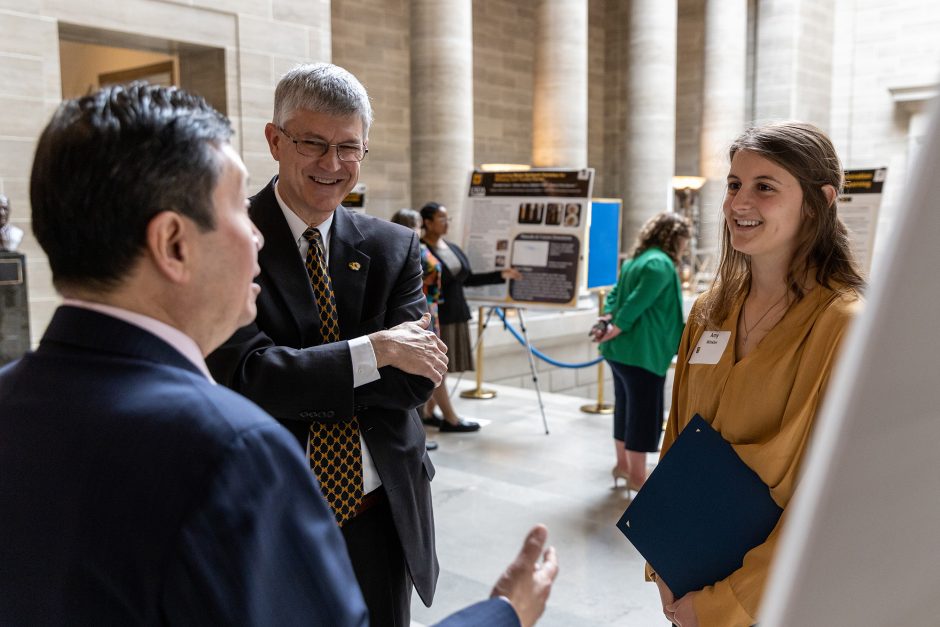 Mizzou students presented on a variety of topics spanning multiple fields. Left to right: University of Missouri President Mun Choi, Vice Provost for Undergraduate Studies Jim Spain and Amy Winkler.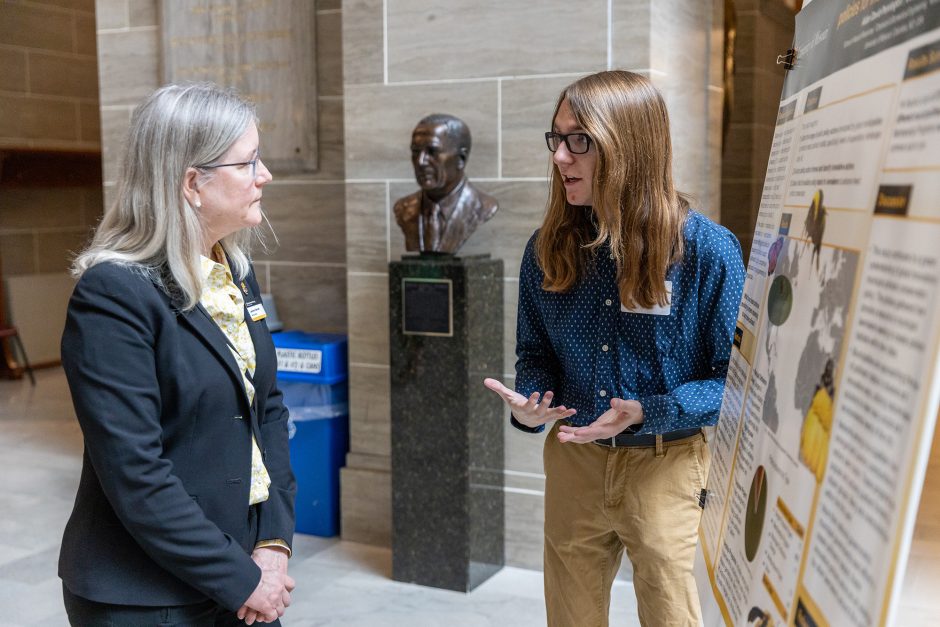 Aidan David-Pennington, right, shared his research on municipal-level pollinator conservation. "Our goal for this study is to provide a resource for municipal leaders by highlighting examples of policies to implement," he said.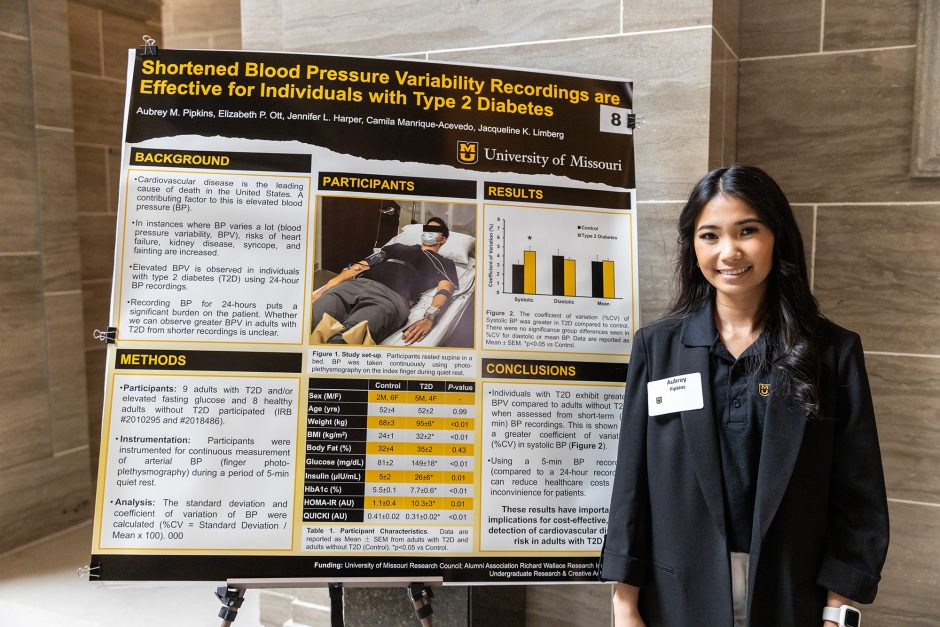 In addition to environmental topics, health was another popular subject of the day. Aubrey Pipkins' shared her research on blood pressure in individuals with Type 2 diabetes. Pipkins and team recently found a way to improve patient care while reducing health care costs.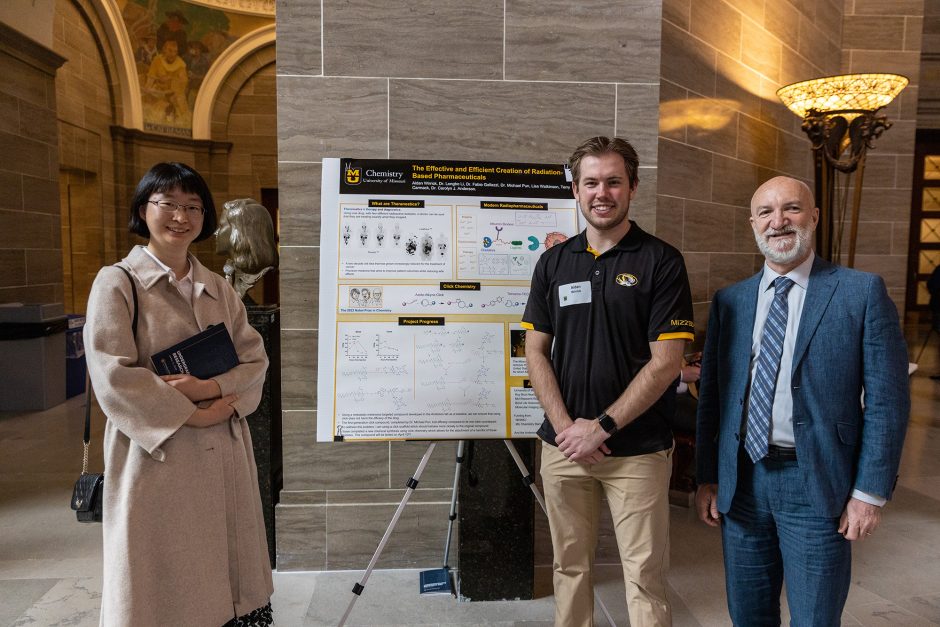 Aidan Wirrick, center, shared his work on the creation of radiation-based pharmaceuticals. Wirrick's research is part of the NextGen Precision Health initiative and involves the MU Research Reactor.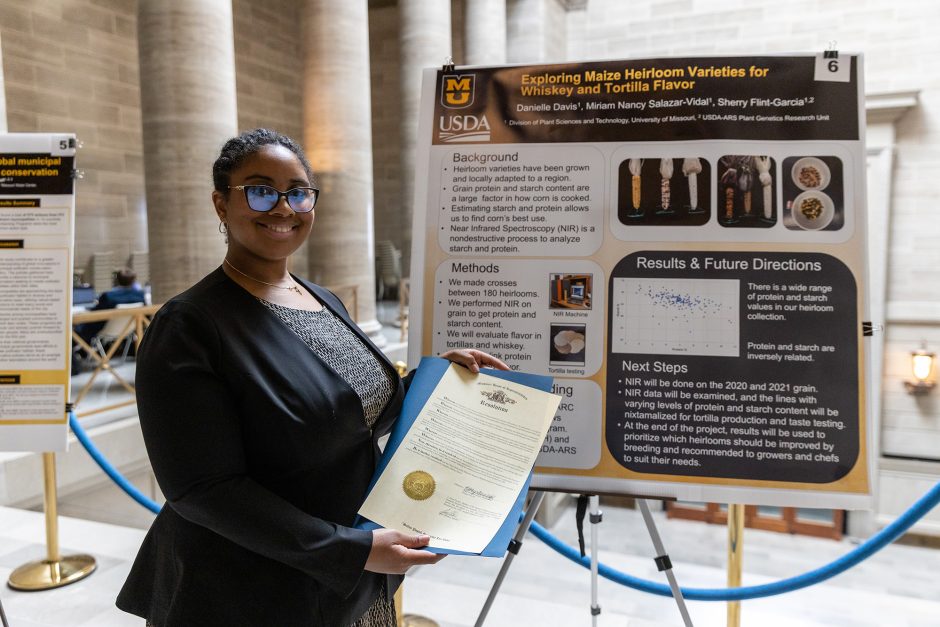 "Less than 1% of corn grown in the United States is used for human consumption," Danny Davis said. Despite that number, there's a growing demand for corn-based foods. Davis' research examines heirloom corn varieties that could be used for commercialization. "The database resulting from this project will serve as a searchable resource for consumers and processors with various needs."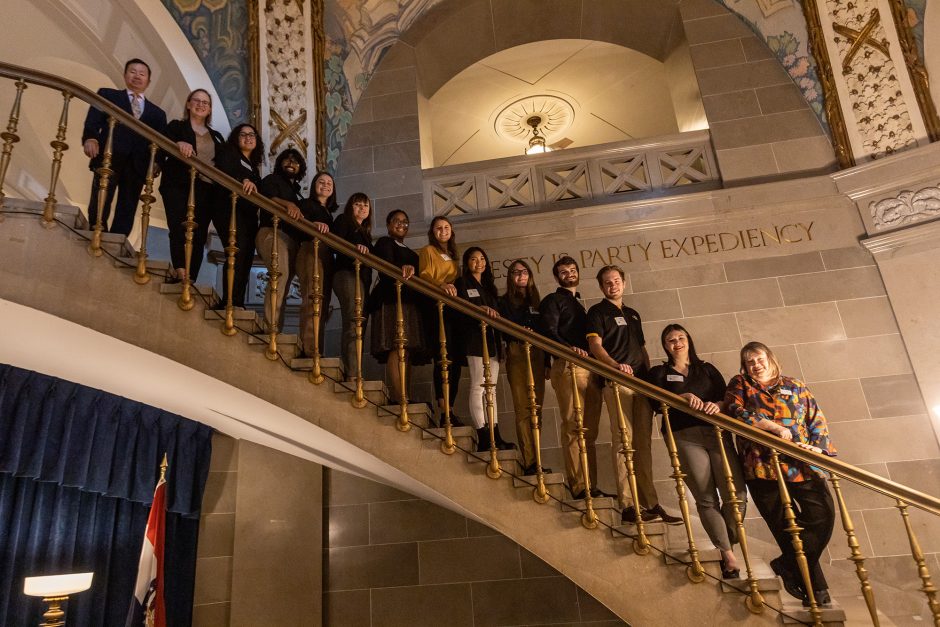 This year's Mizzou participants at UM System Undergraduate Research Day at the Capitol were:
Noura Alhachami and Aravind Kalathil: Undergraduate Research of Autism Spectrum Disorder at the Thompson Center: Psychophysical Predictors of Response to Medications and Camouflaging
Kristen Barwick: Designing a Biochemical Tool to Confirm the Presence of Cellular Components for Plant Defense Against Bacterial Infection
Graham Bond: Developing Biocompatible, Shape-Memory Tissue Scaffolds Using 3D and 4D Printing
Elli Costonguay: Using Carbon to Combat Historic Mining Pollution in an Urban Stream in Joplin, MO
Aidan David-Pennington: Cities for Bees: Reviewing Global Municipal Policies for Insect Pollinator Conservation
Danny Davis: Exploring Maize Heirloom Varieties for Whiskey and Tortilla Flavor
Madeline Easley: Using Augmented Reality Innovation to Improve College Student Learning
Aubrey Pipkins: Shortened Blood-Pressure Variability Recording are Effective for Individuals with Type 2 Diabetes
Amy Winkler: Adapting to Chaos During COVID: Telehealth in Nursing Homes
Aidan Wirrick: The Effective and Efficient Creation of Radiation-Based Pharmaceuticals
Read more on President Mun Choi's Blog