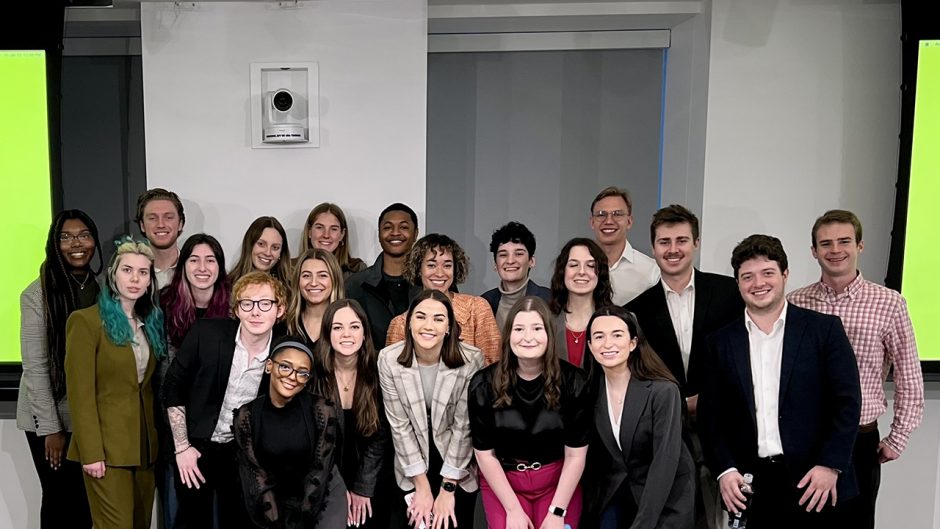 March 1, 2023
Twenty-one strategic communication students from the University of Missouri School of Journalism recently traveled to New York City to create and pitch marketing campaigns for a real client of global agency VMLY&R.
Co-led by Reuben Stern, director of the New York Program, and international consultant Sandy Kornberg, the NY Campaign program allowed students to experience what it's like to work in a top-tier professional agency environment at VMLY&R's New York City office.
"We are continuing to expand the hands-on, Missouri Method opportunities available to students, and this program really highlights the impact of the school's industry connections on those opportunities," said David Kurpius, dean of the Missouri School of Journalism. "This is a challenging and deeply rewarding experience that students will carry with them for a long time."
The students made the most recent trip over winter break and were split into three teams. Over the course of two weeks, each team created a comprehensive pitch for a marketing campaign for a longtime VMLY&R technology client. The students conducted extensive research and provided strategic analysis, sample ads, and a media plan. On the final day the teams presented their work in formal pitch presentations to client representatives and executives from VMLY&R. The client chose one team as the winner.
"While there was only one 'winner', our client was incredibly impressed with all three teams," said Ann Carey, VMLY&R executive director of client engagement. "Each team provided insights about college-age consumers our client will leverage going forward."
For senior Madalyn Murry, who led the winning team, the program was an ideal opportunity to lay the foundation for her career goals while putting the skills she honed in the classroom into practice.
"Living in New York and specifically working for VMLY&R has been a dream of mine for a while, so this felt like a very concrete first step to achieving that goal long-term," Murry said. "It was incredibly impactful — I already knew I was in the right spot with strategic communication, but this really gave me my first opportunity to lead a team, showcase leadership skills and learn how to manage and operate a successful team."
Read more from the Missouri School of Journalism