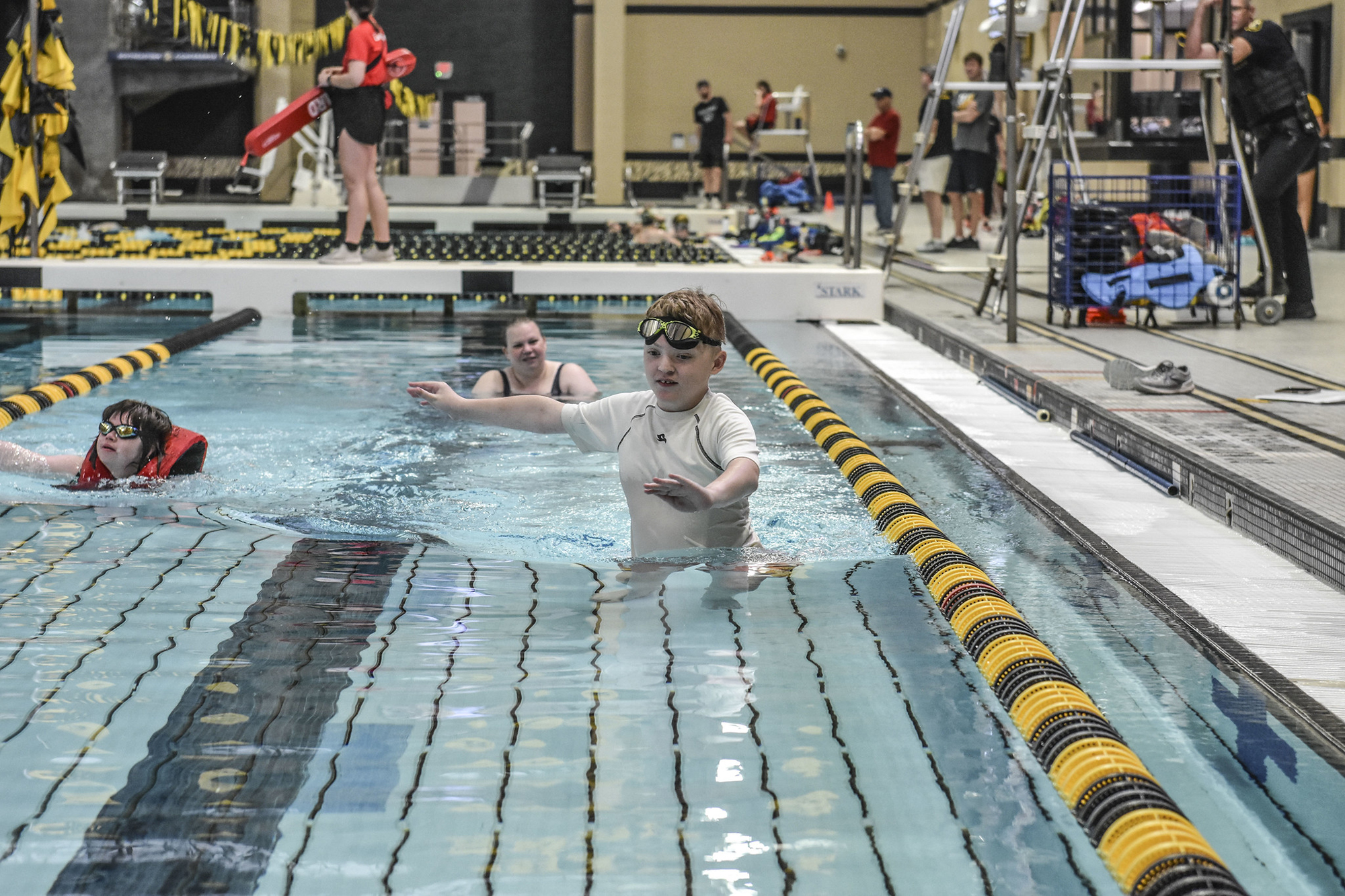 A Special Olympics athlete competes in the aquatics competition at the 2022 State Summer Games in the Mizzou Aquatic Center.
May 29, 2023
Contact: Marcus Wilkins, wilkinsm@missouri.edu
Melinda Wrye-Washington bumped, set and spiked her way to a stellar volleyball career in the early '90s at the University of Missouri. Her résumé boasts All-Big Eight Conference honors, a Missouri Sports Hall of Fame induction and a pair of national championships as head coach at Columbia College — to list a few accolades.
But in Wrye-Washington's latest role, as senior director of programs for Special Olympics Missouri, she relishes a different set of celebratory rewards.
"I love the hugs, high-fives and fist bumps on game day," Wrye-Washington said. "My heart is filled when the athletes achieve, feel empowered and have a platform to play sports and learn lessons they might not have without Special Olympics."
From June 2 through 4, MU will co-host the Special Olympics Missouri State Summer Games, with athletic events to be held at MizzouRec and Columbia's Hickman High School. The three-day celebration brings more than 1,000 athletes, Unified Partners, volunteers and coaches to Columbia, and kicks off with the opening ceremony at 7 p.m. at MizzouRec. Maurice Gipson, vice chancellor of inclusion, diversity and equity, will deliver opening remarks.
The event marks year four of the Special Olympics Missouri's partnership with Mizzou, MU Health Care and the University of Missouri System. The ever-expanding relationship has helped recruit personal trainers for the Special Olympics' health-and-wellness program (which promotes nutrition and healthy habits), mentors and instructors for its athlete leadership program (which facilitates higher education opportunities), and volunteers for events throughout Missouri. Mizzou also provides residence hall lodging for athletes and families during their stay.
"The partnership is mutually beneficial," said Alison Copeland, UM System deputy chief engagement officer. "It benefits Special Olympics Missouri because there are many assets at our universities that the athletes and families can take advantage of, including access to medical care, screenings and treatment. For UM System universities, the partnership opens our students and faculty more broadly to individuals with intellectual disabilities and helps us to be more inclusive — which is a really fantastic thing."
This year's featured sports are powerlifting, swimming, track and field, and volleyball. In addition to traditional events, there are also unified events, which are designed to bring together equal numbers of athletes with and without intellectual disabilities on the same team.
Sarah Linthacum, a junior forward on the Mizzou women's basketball team, volunteers with Special Olympics Missouri and was named to the Southeastern Conference Community Service Team for her work.
"My cousins have intellectual disabilities, and I have always loved connecting with them — which is part of the reason I volunteer," said Linthacum who is from Jefferson City, Missouri. "One of my fondest memories was when an athlete with limited vision was determined to participate in kickball. Her friend, another Special Olympics Missouri athlete, kicked the ball for her and helped her run the bases. I just love the Special Olympics outlook on life and sports."
Wrye-Washington concurs. As her team orchestrates Special Olympics Missouri programs and events throughout the Show-Me State, she infuses everything she touches with many of her MU-learned philosophies — including one of Mizzou's core values.
"Excellence," Wrye-Washington said. "Like all Tigers, I want to pursue excellence, and so I carry that over to the Special Olympics. I want to continue to make a difference for the athletes and provide an excellent platform for them to participate in sports. I want to make a difference in their lives, empower them through sport, lift up their families and provide them those opportunities. "The Special Olympics Missouri State Summer Games at the University of Missouri is a huge part of that."