March 21, 2023
Contact: Pate McCuien, 573-882-4870, mccuienp@missouri.edu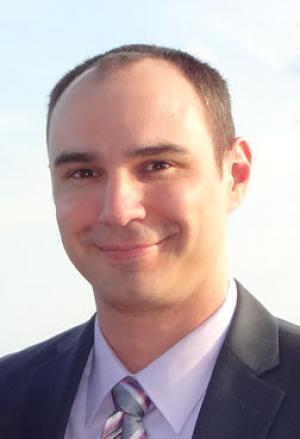 Latha Ramchand, University of Missouri provost and executive vice chancellor for academic affairs and Steve Sowers, CEO, Missouri Community Markets, today awarded a 2023 William T. Kemper Fellowship for Teaching Excellence to Lee Manion. Manion is an associate professor of medieval and early modern English and Scottish literature at MU.
College of Arts and Science Dean Cooper Drury joined other administrators surprising Manion by honoring him with the fellowship, which includes a $15,000 check. Kemper Fellowships are awarded to five outstanding teachers at the University of Missouri each year.
The William T. Kemper Fellowships for Teaching Excellence were established in 1991 with a $500,000 gift. Kemper, a 1926 MU graduate, was a well-known civic leader in Kansas City until his death in 1989. His 52-year career in banking included top positions at banks in Missouri, Kansas and Oklahoma. Commerce Bank manages the trust fund.
Lee Manion biography
As an associate professor in the College of Arts and Science, Manion is regarded by colleagues as a leader in his field. He received a perfect student evaluation score of 5.0 in nine of the fourteen courses he taught from 2017 to 2022, the period covered by this year's Kemper Award. He has developed a reputation as an elite teacher and is well-regarded at the college.
Manion focuses on presenting complex ideas, creating critical learning environments and giving students confidence and control over their learning experience. His areas of research and teaching include medieval and early modern literature, with an emphasis on political and governmental theory during the Crusades. From 2019 to 2021, Manion served as director of Undergraduate Studies. During this time, he also developed a peer mentoring program for English majors.
"I often see him meeting with students and helping them with their assignments and comprehension of the material. He asks them about how they're doing in this course and other courses, and he shows them that he cares about their success," wrote Stephen Karian, the Catherine Paine Middlebush Chair of the Department of English and English Professor, in a letter nominating Manion for the Kemper Award. "His students have clearly been inspired to work hard to meet his expectations. Our department and our university are fortunate to have such a dedicated, talented, gifted and caring teacher."
Manion's former students echo his colleagues' sentiments. Darian Doser, who graduated from MU in 2020, credits Manion for most of her nostalgic moments at MU.
"I can say with the utmost confidence that Professor Manion is one of the most engaging and kind professors, not only in Tate Hall, but across our university," said Doser. "He has an ability to make intellectual topics accessible, and students feel like colleagues with thoughts to share instead of just being there to listen and absorb information. I always struggled with confidence in my classes and especially during discussions, but Professor Manion has an ability to make everyone feel like they add value to the conversation, as if the classroom is a book club or a seminar, no matter the number of students or subject matter."
After taking a course in medieval romance taught by Manion four years ago, Ethan Anderson's academic interest "jumped seven centuries into the past." As a first-generation, low-income college student from rural Missouri, Anderson graduated from MU in 2021 and credits Manion with motivating him to pursue a doctorate in English at the University of Notre Dame.
In 2000, Manion graduated from Duke University with a bachelor's degree in English magna cum laude and received a doctoral degree in 2008 at the University of Virginia. Nancy West, a professor of English at MU and 2004 Kemper Fellow, said that the contribution Manion makes to the students and university as a whole makes him extremely valuable.
"Over the years, I have heard many students sing Lee's praises as a teacher, noting how he held them to very exacting standards while also making each class fun and engaging," West said. "Lee is an amazing teacher, kind, patient, engaging, caring. But he is also demanding. He sets high standards and expects students to meet them. Reading his class materials and watching him in action has inspired me to challenge my own students more. It's also made me realize, once again, how very, very lucky MU is to have him."
Meet all of the 2023 recipients