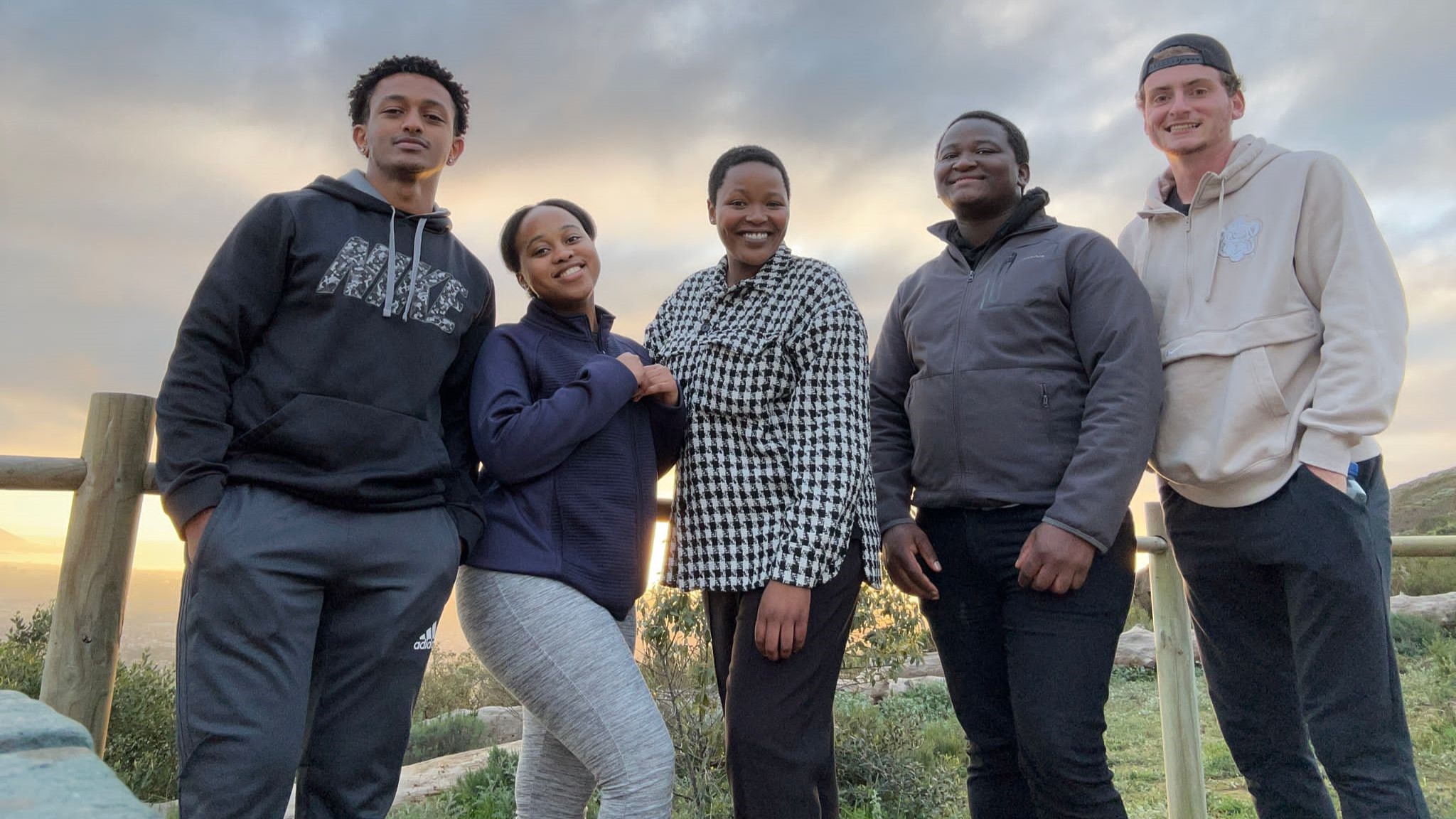 Sept. 28, 2023
Contact: Courtney Perrett, 573-882-6217, cperrett@missouri.edu
Photo courtesy Nez Redi
It was during a business class pitch contest that Nez Redi heard about a new pilot program at the University of Missouri that would involve a trip of his dreams. Immediately, he and classmate Michael Moriarty, both juniors at MU, hustled together applications for the Robert J. Trulaske, Sr. College of Business' Entrepreneurs Without Borders program. Turns out, a trip to South Africa was, in fact, in the books for the two business majors.
In late July, Redi and Moriarty, the first Tigers to participate in the Entrepreneurs Without Borders program, gathered their passports and luggage and boarded a 15-hour transatlantic flight from Atlanta to Cape Town, South Africa, for a two-week trip to the University of the Western Cape (UWC). There, they attended lectures on business practices and participated in entrepreneurship workshops — while setting aside plenty of time to explore some of Cape Town's storied historical buildings and tourist attractions.
Opportunities abroad
Entrepreneurs Without Borders is run by MU's The Center for Entrepreneurship and Innovation (CEI). The CEI is housed within the Trulaske College of Business and focuses on creating opportunities for students to learn outside the classroom through building connections with international collaborators.
"Discovery is a massive part of finding your passion," Redi said. "I've found my passion in traveling the world and helping educate others. Going to South Africa was exactly the experience I needed, and I'm thankful to Mizzou for making it happen. Witnessing another group of people going through life and observing their struggles helped me to tap into my creativity."
As part of the mission of this pilot program, Redi and Moriarty were tasked with laying the groundwork for a prosperous future exchange network. They built relationships with students and professors while establishing connections with local business owners and corporate entities to create a sustainable network for future exchange students to learn from.
Over the course of their trip, Redi and Moriarty worked with local entrepreneurs at UWC where they traded and brainstormed ideas, workshopped prototypes and shared feedback with one another.
"We offered one another a new perspective and an alternate way to view the obstacles to our innovations but also the solutions," Moriarty said. "We not only collaborated to solve problems, but also learned what entrepreneurship looks like from a global vantage point. This is an experience that I feel will help me jumpstart my future career."
Those involved with Entrepreneurs Without Borders hope the pilot program will develop into a fully fledged, endowed exchange program where entrepreneurial students from both MU and UWC can travel back and forth between the United States and South Africa on a yearly basis.
"The Entrepreneurs Without Borders program focuses mainly on building relationships with universities all over the world to give our students opportunities to develop international networks they can use to springboard their careers," said J. Scott Christianson, director of CEI. "Nez and Michael grew so much through this experience, so this is an investment that I think is worth making for the future."
Lessons for a lifetime
In the two short weeks Redi and Moriarty were in South Africa, their experience solidified their passion for entrepreneurship in ways they couldn't have predicted.
"My favorite thing was definitely getting to meet the people there," Redi said. "We made a close-knit group of friends, and getting to understand their lives, hearing their stories and sharing our beliefs and talking about how they compare left a massive impact on me. The lessons I learned from local business owners will influence how I go ahead with my own ideas in the future."
For Moriarty, the experience abroad served as a reminder to not shy away from taking calculated risks.
"There's a lot of comfort in everyday life, but sometimes to get to where I want to be, I'm going to have to take those risks and not be afraid of the outcome," Moriarty said. "This experience definitely gave me the tools to be able to better judge the risks and possible rewards of the decisions I make in my life."
For more information about programs available through The Center for Entrepreneurship and Innovation, sign up for their newsletter and program updates.