May 16, 2023
Contact: Deidra Ashley, ashleyde@missouri.edu
Photos by Abbie Lankitus
'Tis the season — foaling season, that is — at the University of Missouri's Equine Teaching Facility.
The facility, part of the College of Agriculture, Food and Natural Resources' Division of Animal Sciences, is known for its long tradition of breeding and raising quality quarter horses. It's also a prime example of the student-operated, hands-on experiences you can find at Mizzou.
Undergraduate students in Animal Science's Equine Breeding Management class focus on practical applications of reproductive management techniques and breeding in the horse.
Check out the hands-on learning in action.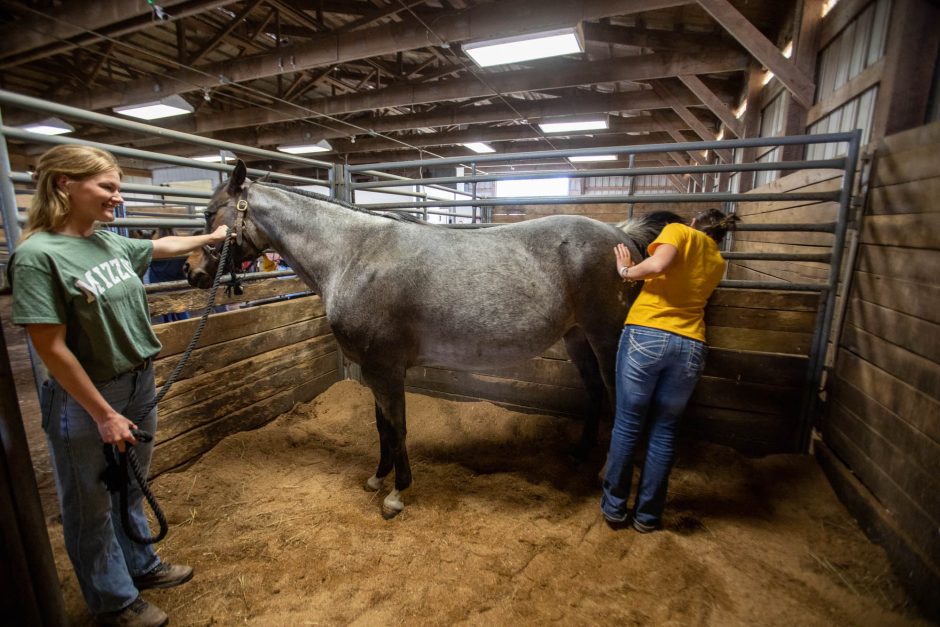 The Division of Animal Sciences Equine Teaching Facility is located at South Farm, just a few miles from main campus. It's operated by 60–70 undergraduate equine practicum students and volunteers who are overseen by a barn manager, equine faculty members and two assistant undergraduate managers.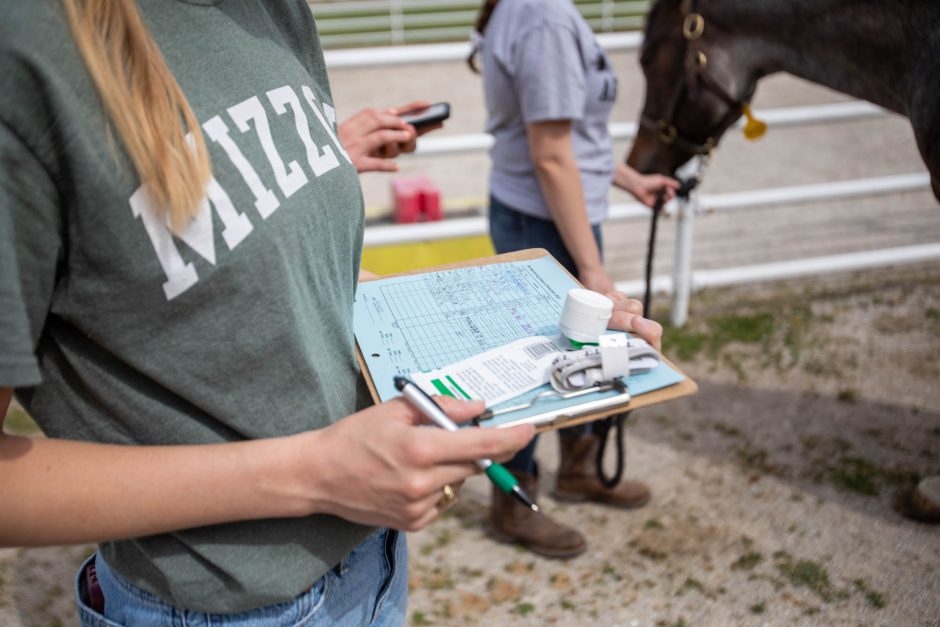 "We are a science-based equine program focused on nutrition, physiology, health and reproductive management," said Marci Crosby, an instructor and advisor in the Division of Animal Sciences and the Equine Program Director.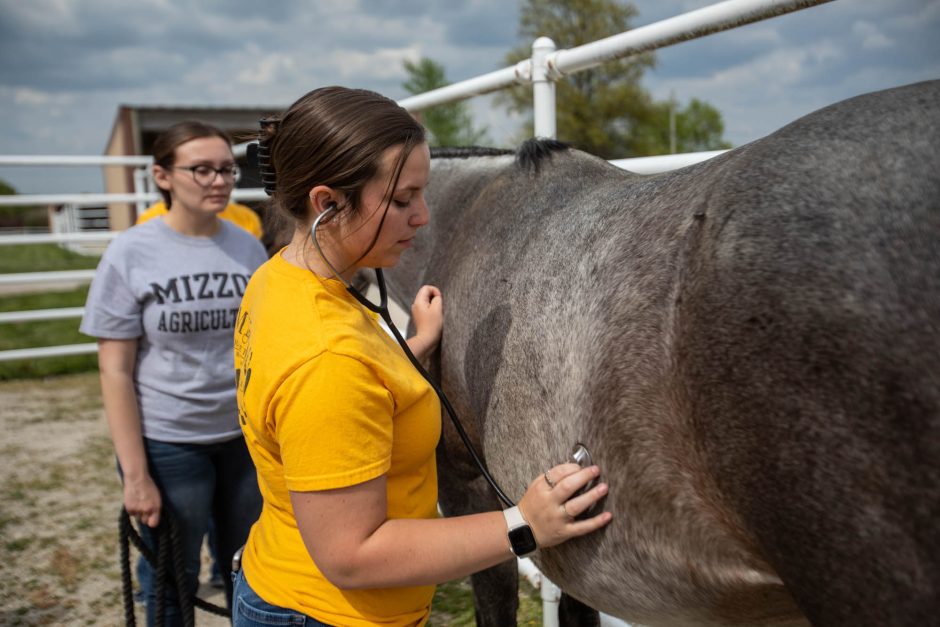 Morgan Stansell, a senior animal sciences major from Caruthersville, Missouri, collects vitals and other stats from a mare. The information is documented and used to help monitor changes as the horse nears labor.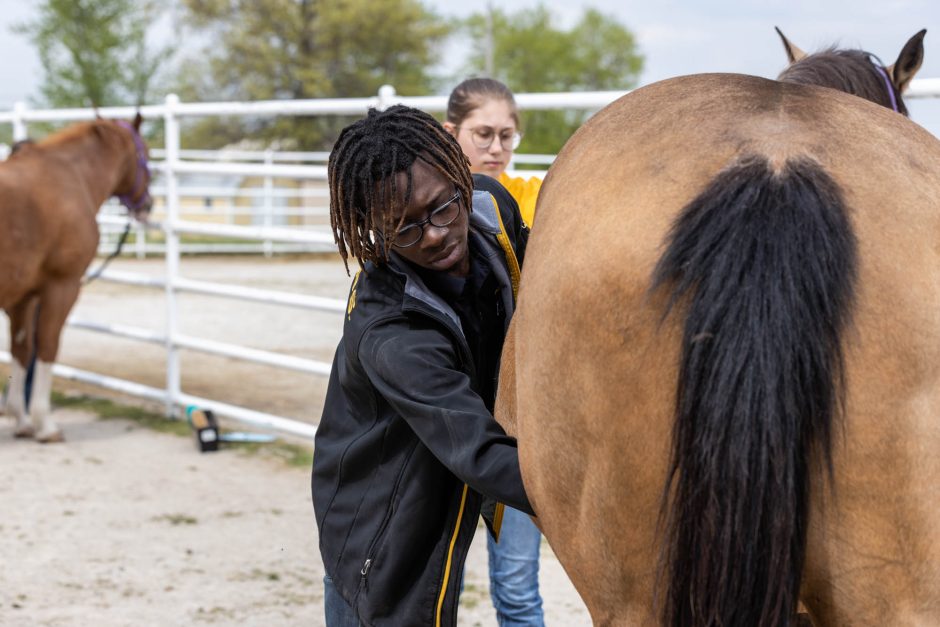 Devin King, a senior animal sciences major from St. Louis, said he came to Mizzou specifically for the equine program. "My favorite experience was the first birth I was able to see," King said. "I'd never witnessed labor before, so it was really special for me."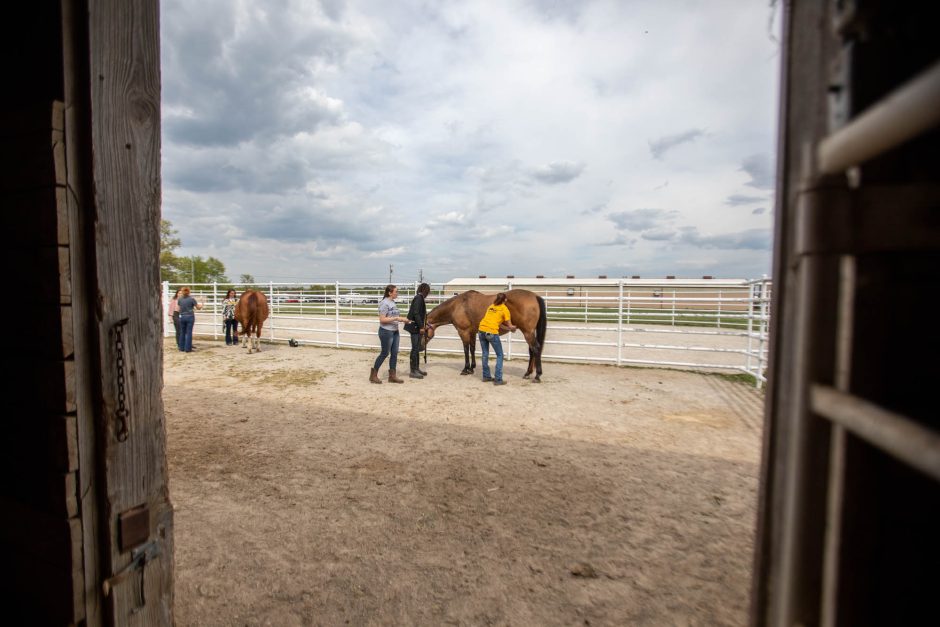 During foaling season, about 50 students rotate through shifts that span all 24 hours of the day. Their job is to keep an eye on the mares should any start to foal. Earlier this season, some of the students got food and camped out for a foal expected to come that night, which they then witnessed firsthand.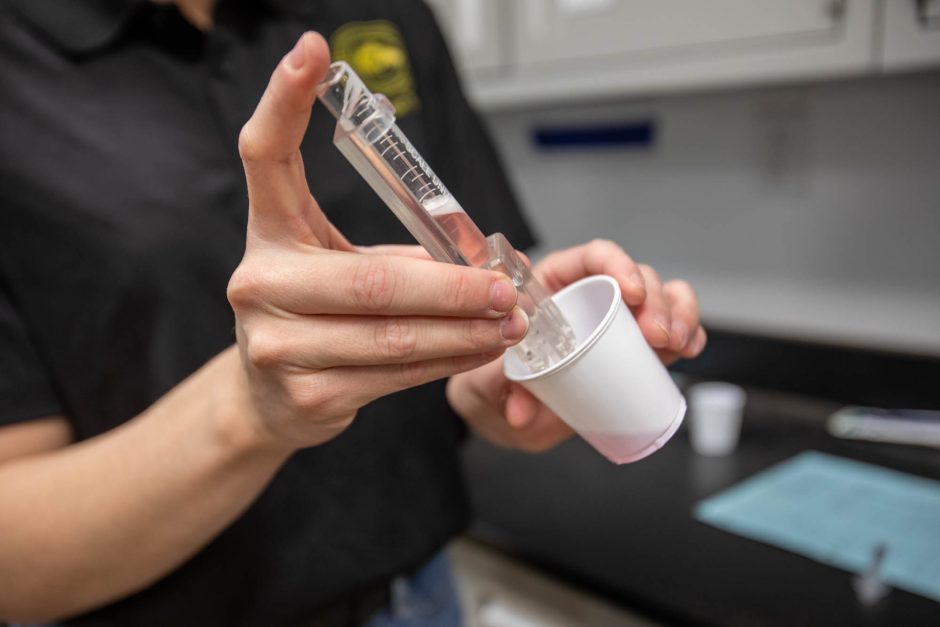 How do they know when a baby is coming? Physical changes to the mare's body and its mammary secretions (early milk for the unborn foals) is gathered to help inform students as to when a mare may start the laboring process. Milk calcium concentrations and pH levels of mammary secretions are measured for each mare.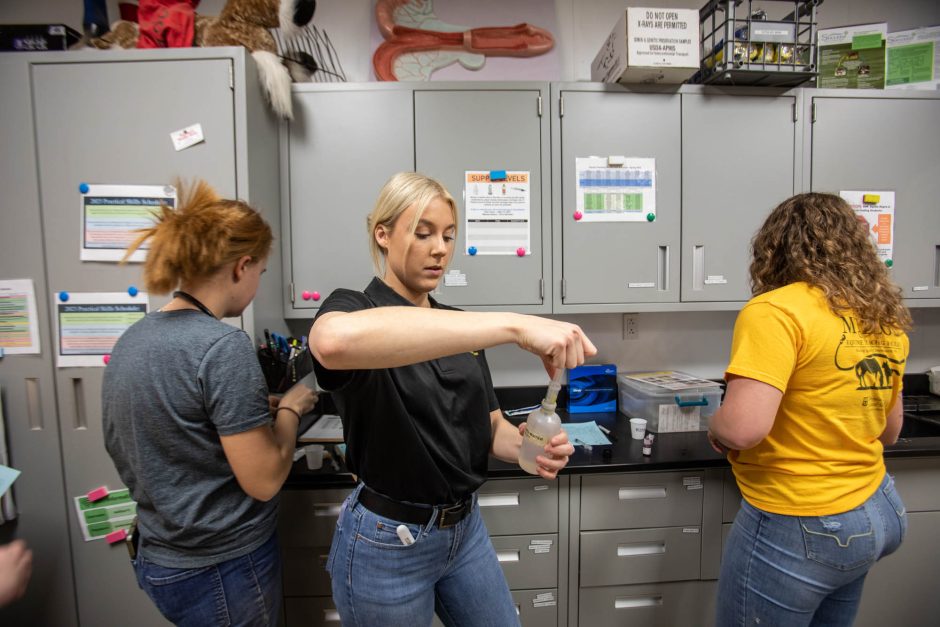 Faith Korpus (center), a senior animal sciences major from Frankfort, Illinois, and other students work to analyze some of the secretions they gathered for the day.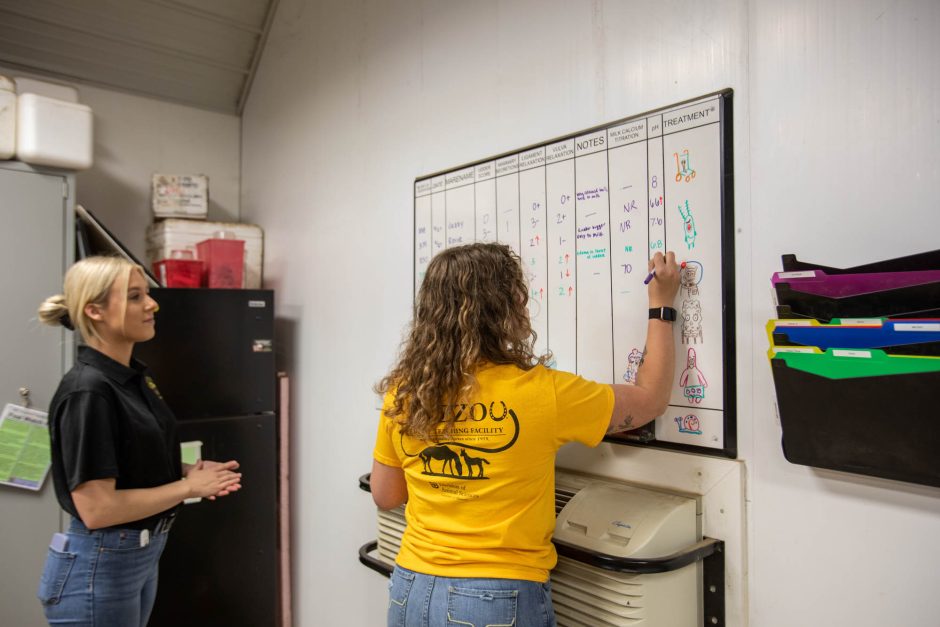 Numerical data are kept on a white board in the lab, helping all students stay up to date on each mares' stats.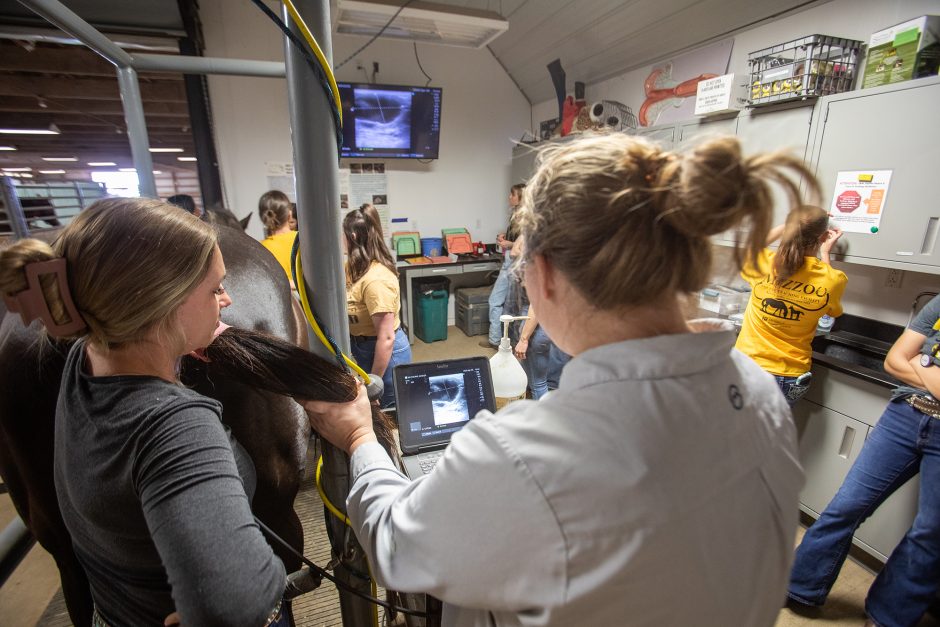 An ultrasound is conducted by Mikaela Adams, an animal sciences instructor and the Equine Teaching Facility Manager, to see if a mare is ready to be bred.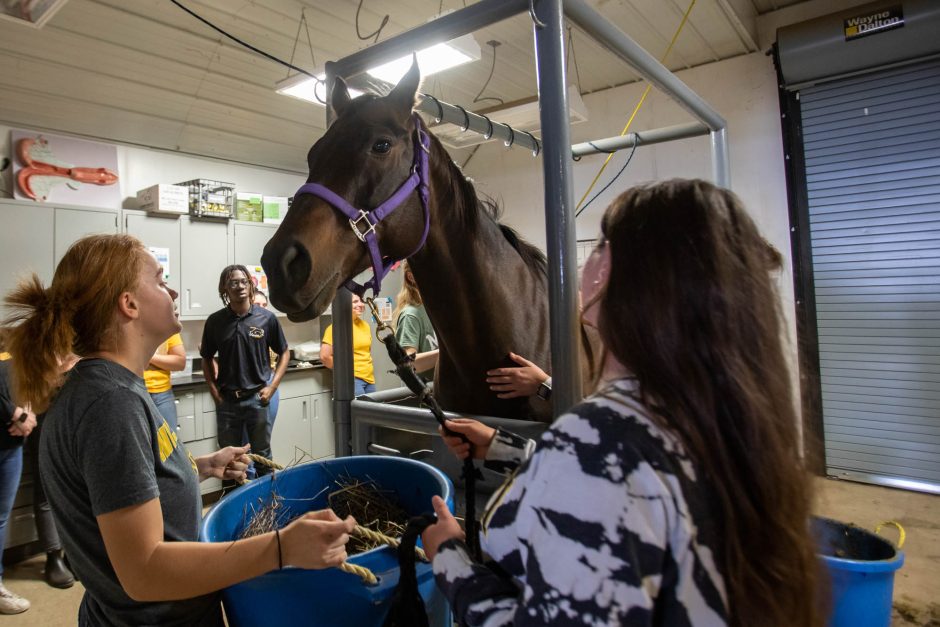 Makenna Parks (left), a junior animal sciences major from Omaha, Nebraska, and Erica Mantle (right), a part-time student beginning her master's degree in the fall, from Boonville, Missouri, observe the ultrasound and provide hay for the mare. "I've never had experience with equine reproduction, so this has given me a big opportunity," Mantle said. "I've learned so much."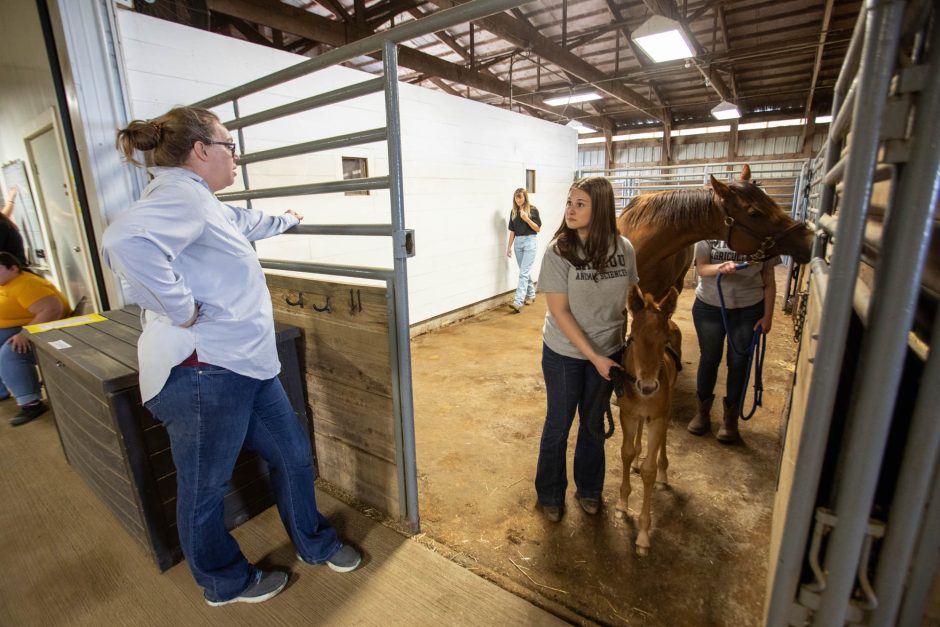 "Students play a role in every level of the management of the horses," Crosby said. "In the breeding season they are handling stallions, breeding, and foaling out mares. In the fall they are focusing on equine marketing, training, interfacing with sales customers and thinking about the economics of the industry. They have all these different hands-on opportunities — everything from the top down."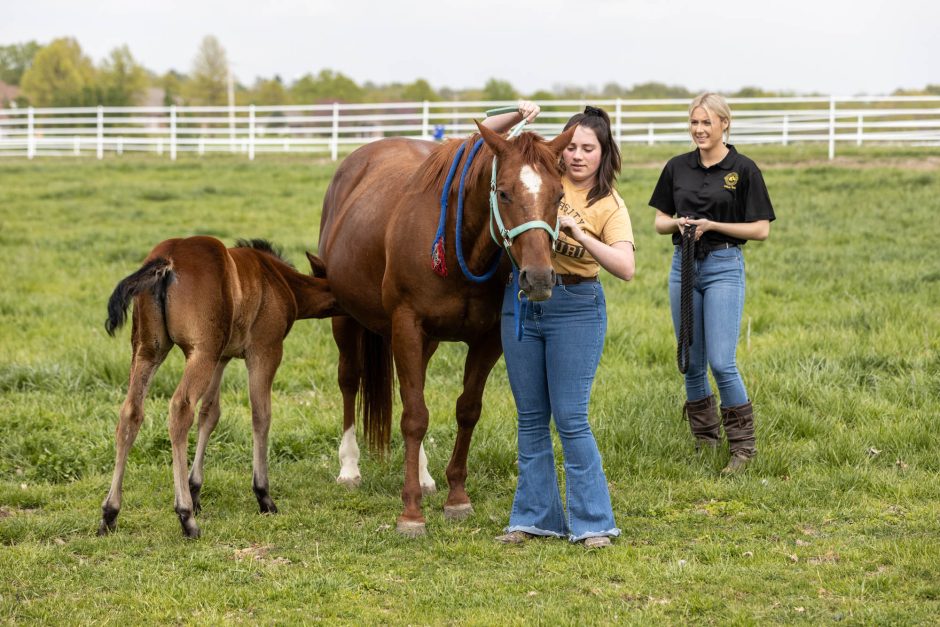 Many of the students are working to complete the Equine Science and Management Certificate, a certificate program open to all Mizzou students.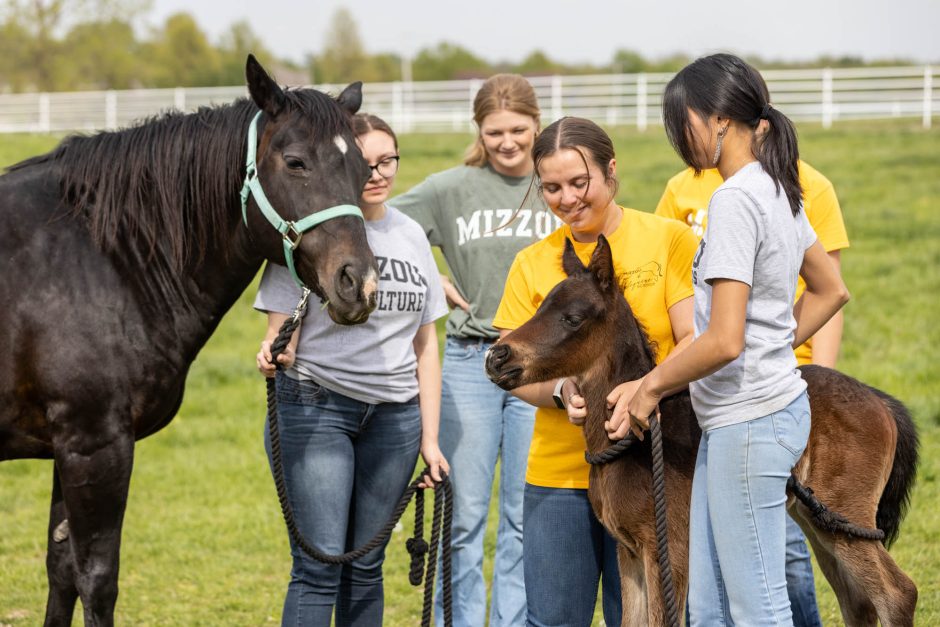 One of the favorite tasks is training the new foals, which is simply getting them used to human interaction and touch.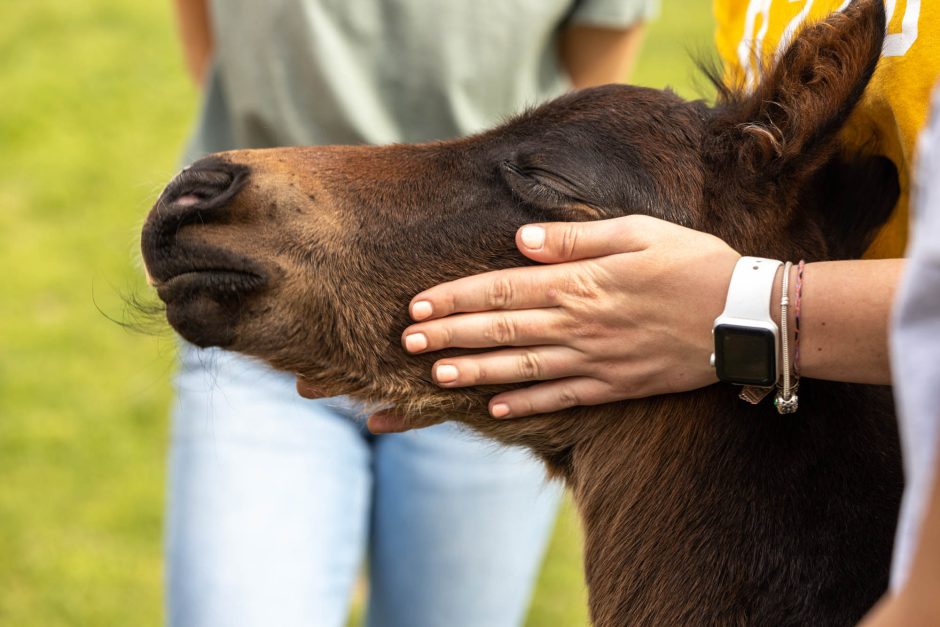 The foals are trained throughout the year. The sale of Mizzou-owned foals each fall in the MU Online Horse Auction and Fundraiser as well as the management of client mares for foaling in the spring both provide hands-on learning experiences to the students. Additionally, they generate funds that are used to directly support the operations of the facility and student education.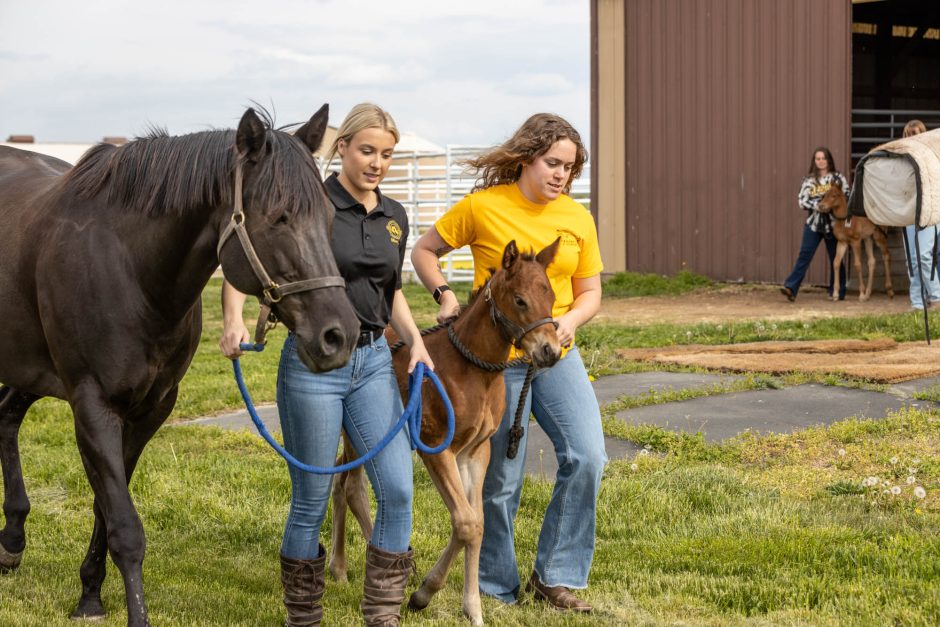 "Learning about how to care for mares and foals, manage a breeding herd and train foals for sale is something that I will carry with me into my life and future career," said Madison Genge (right), a senior animal sciences major from Festus, Missouri. "I can't say I've heard about experiences like this being offered at other schools, and it makes me feel incredibly grateful that I chose Mizzou and was able to learn through this program."
Story written by Madalyn Murry