Oct. 5, 2023
Contact: Eric Stann, 573-882-3346, StannE@missouri.edu
Photos by Santiago Guzman
As a child growing up in India, Sachin Handa, an associate professor in the Department of Chemistry at the University of Missouri, remembers his persistent interest in the path of various types of waste from its manufacturing to its destination. That passion eventually led him to pursue a career as an organic chemist focused on developing sustainable chemistry solutions to help "change the world."
These days, Handa, who joined MU's faculty in July 2023, is focused on advancing various aspects of sustainability, including organic synthesis, energy and nation security. He said all of his research projects will benefit from the world-class resources at MU, including the Electron Microscopy Core (EMC) and the MU Research Reactor (MURR).
"Being at Mizzou will allow me and my research team to achieve new heights of discovery and innovation in sustainability," Handa said.
A goal of Handa's research group is to develop bio-based synthetics.
"Our efforts could one day help provide cost-effective solutions for development of active pharmaceutical ingredients, including radioisotopes that can be created at MURR for use in drugs to treat diseases like Hepatitis B and C," he said.
The group's efforts also include reducing waste byproducts and organic solvents from the process.
"According to the U.S. Environmental Protection Agency, 80% of waste from any kind of chemistry comes from organic solvents," Handa said. "It's like boiling potatoes — once the potatoes are boiled, the water is thrown out as a waste. Most organic solvents are petroleum-based, so solutions need to be developed for how we mitigate the use of solvents or get rid of them from organic synthesis. And if you look at the way nature does chemistry, it uses water, not these harmful, organic solvents. But the difficultly of conducting organic chemistry in water is the insolubility of the reactants and the products in water."
That's where the micelles developed by Handa's research group come in. Designed as a group of molecules loosely bound together to form a structural unit, they are 50% water-soluble and the other half is synthetically engineered to create a cavity where chemistry can be conducted independently from the external environment that is water-filled. The micelles can also dynamically open and close, allowing for chemical reactions to occur internally and the resulting end products to be released. This technology is currently licensed commercially by Sigma-Aldrich.
Handa's self-described "dream" project is to develop a technology that uses water instead of petroleum-based gasoline to power vehicles. The technology involves a photoactive catalyst that in the presence of sunlight would split water into hydrogen and oxygen. While hydrogen would be used to power the vehicle, oxygen would be returned freely to the environment.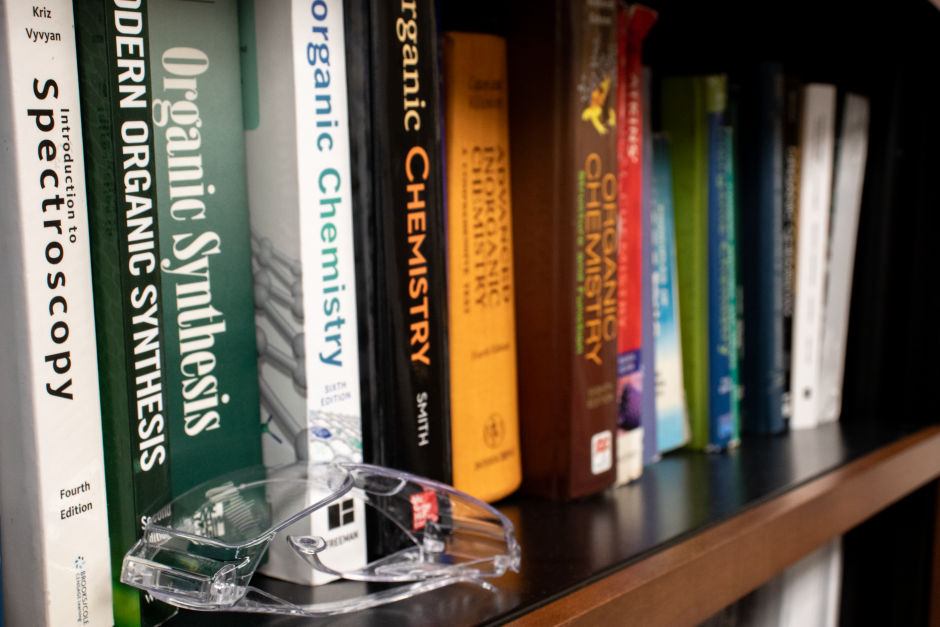 Another future project of the Handa research group is developing a thin-film paint technology that could one day be used to combat chemical warfare.
"When this photoactive material comes in contact with light, it can oxidize, or kill, these chemical warfare agents, because the catalyst is activated," Handa said. "We want to design it so it can be included with multiple components, so more than one warfare agent can be targeted at once. It will also involve various polymers we've created which can remain stable in extreme environments, such as extreme heat or extreme cold."
The ongoing synthetic chemistry work in the Handa group is funded by federal and industry partners.
MizzouForward is a transformative, $1.5 billion long-term investment strategy in the continued research excellence of the University of Missouri. Over 10 years, MizzouForward will use existing and new resources to recruit up to 150 new tenure and tenure-track faculty to address some of society's greatest challenges. Investments also will enhance staff to support the research mission, build and upgrade research facilities and instruments, augment support for student academic success, and retain faculty and staff through additional salary support.