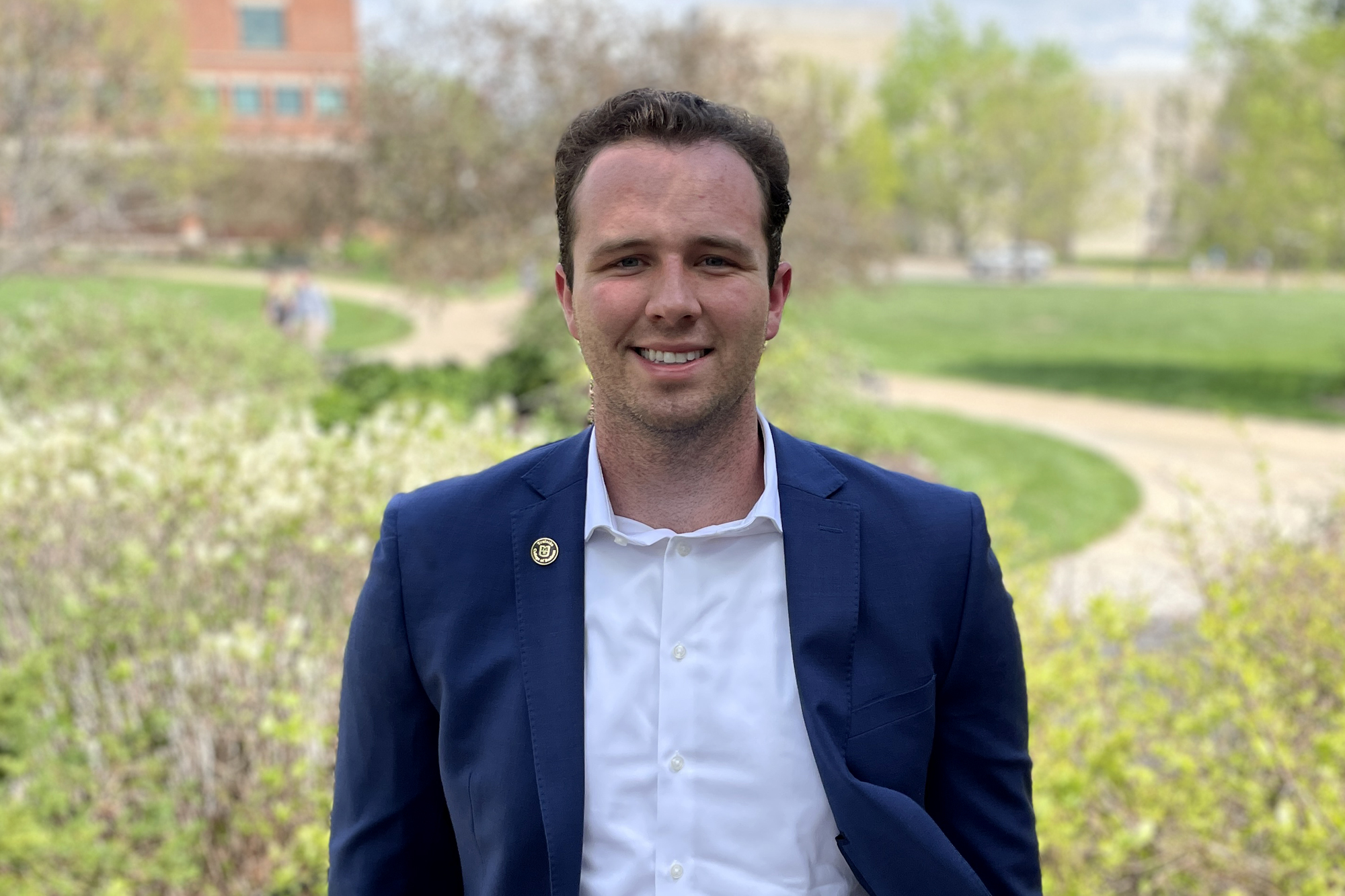 May 8, 2023
Contact: Marcus Wilkins, wilkinsm@missouri.edu
Tyler Hagan doesn't wait for opportunities to come to him — he seeks them out.
As a friendly, ambitious and optimistic freshman from Chesterfield, Missouri, he started at the University of Missouri not knowing exactly which academic path to pursue. He immediately joined the fraternity Beta Theta Pi, started making lifelong friends and volunteered around campus and Columbia.
But it was a conversation with his cousin — who studied economics at Vanderbilt University — that led him to MU's Robert J. Trulaske, Sr. College of Business.
He said, "Mizzou has a top-tier business program. You should look into it," Hagan said "So, that's exactly what I did."
Hagan declared his major in business administration as a sophomore, embraced the Trulaske Edge Program (the college's holistic approach to business education), joined the Allen Angel Capital Education Program, thrived in the Cornell Leadership Program and traveled to New York with Tigers on Wall Street to witness high finance at its pinnacle.
That trove of résumé-building experiences helped land him a job as an asset-based lending credit analyst with JP Morgan Chase in Chicago where he'll start in June.
Read on for a Q&A with Hagan about his Mizzou experience.
What kind of leadership skills have you gained at the Trulaske College of Business?
It starts with the ideas of teamwork and collaboration through the Trulaske Edge Program — which immerses you in business projects, including a required internship course that pairs you with other business students. The Edge program also provides constant opportunities to speak with and learn from business professionals.
But another big piece of advice that Mary Beth Marrs, director of the Cornell Leadership Program, consistently gives is to be unique. Be a unique person. It helps attract others to you and also supports you in your attempts to help other individuals — building confidence and success.
Embracing your individuality also helps in your ability to speak in front of others and to speak out. MU taught me that leadership is also about not being fearful of failure. If you're not failing, you're not pushing yourself to the degree that you need to because that's when you really learn a lot about yourself, when you're able to stand back up and continue to grow.
What hands-on opportunities at Mizzou will you take with you into your business career?
The Allen Angel Capital Education Program is a student-run angel investment group through which I had the chance to do a handful of impactful things. It allowed me to talk to business leaders, speak with entrepreneurs for different startups and learn about fundraising processes.
Then there's the Investment Fund Management Program. The first eight weeks of the program are a dedicated learning experience, so you're attending lectures and learning about relative valuation models, etc. I'm grateful to Michael O'Doherty, professor of finance, who pushed me beyond anything I could have ever imagined.
Then you're broken up into different industry groups. Over the final eight weeks you deliver three or four stock pitches based on research you've done and assessments you've made. Then the class selects which companies to invest in. We ended up investing in one of the companies I pitched, which was pretty cool and a great confidence boost.
What are your favorite Mizzou memories?
My favorite Mizzou memory is living at the Beta Theta Pi house and everything that comes with that — building relationships, getting to know mentors, being mentors for incoming freshmen and really getting them off on the right track.
Of course, there's Mizzou athletics, like men's basketball. The Iowa State game and the Arkansas game were intense this year. Or the football game against [eventual national champion] Georgia when the Tigers gave them pretty much their toughest game of the season. And my younger brother is a freshman on the Mizzou wrestling team, so the opportunity to spend a year together on campus is something neither of us will ever forget.
Meet more spring 2023 graduates