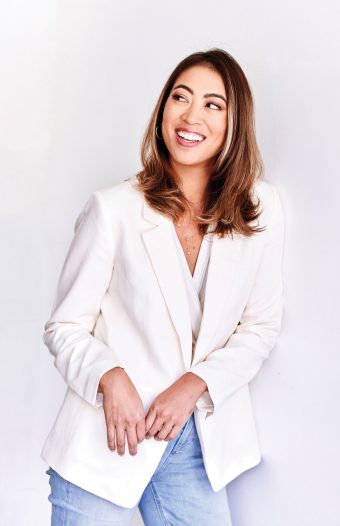 Published on Show Me Mizzou Sept. 4, 2023
The writer, journalist and TED Talks Daily host Elise Hu, BJ '03, didn't have a sense of what to expect when she moved to Seoul, South Korea, in 2014 and accepted the position as NPR's Seoul bureau chief. So she writes in Flawless: Lessons in Looks and Culture from the K-Beauty Capital, her acclaimed new exploration of South Korea's intense culture of appearances.
Unaware of the extreme quest for beauty and the society-wide desire for blemish-free living, Hu had to quickly adapt to expectations, rituals and conversations that surprised the St. Louis-born, Texas-raised daughter of Chinese American immigrants.
"The cultural know-how is immense because consumer beauty matters more in Korea than in any other place on earth," Hu writes in Flawless.
Published in May by Dutton, the book has earned rave reviews from outlets including Kirkus, the Washington Post and the Globe and Mail — the latter of which called it "a brilliant, deeply researched book that reads like a conversation with your smartest friend."
Hu took time out of her TED Talks Daily schedule to discuss South Korea, single-sized clothing, plastic surgery culture, eating cake out of the trash can and favorite recollections of her time at Mizzou.
You write that South Korea "is a place where the dominance of the beauty industry and the dominance of an appearance standard feed off of one another in an endless loop." How does this aspect of the culture differ from in the U.S.?
Both the beauty industry and the appearance standards are more intense in South Korea, especially for a country its size. The population is about 55 million, and geographically, it can fit in the space between LA and San Francisco. Yet South Korea is the world's third-largest cosmetics and skin care exporter, the plastic surgery capital of the world and appearances matter so much that passport photos are retouched by default, headshots were required on resumes and it's not unusual for high school graduates to be gifted cosmetic procedures upon graduation.
Before arriving, how aware were you of the differing expectations regarding a woman's appearance in public? Can you recall any specific instances in which you felt out of place because of it?
I wasn't aware at all, so the experience of feeling like my body was out of place and sometimes even invisible happened to me one revealing interaction at a time. I first confronted feeling excluded when shopping, where boutiques only carry one size of clothing — "free size" — which is a U.S. size 2. I also heard comments from strangers about how my freckles could be easily removed because, as I was told, in South Korea they're not considered cute.
You write about the notion of "lookism." Can you describe how that manifests itself in day-to-day life?
Lookism is simply discrimination on the grounds of appearance. It shows up in fatphobia and shaming those whose bodies didn't "fit" and in problematizing your inborn features as cosmetic issues. For example, my freckles. Well-meaning people would often offer names of places that could remove them. Lookism is endemic to the job market, especially for women. People openly talk about their weight and trying to lose weight. My women friends wouldn't so much as duck down to the convenience store without hair looking presentable and makeup done.
In Flawless, you recount that at Mizzou, at one point you were so underweight that "when I would lie on my back to do sit ups, my spine would grind against the floor" and once stopped starving yourself by eating a chunk of chocolate cake from a garbage can. What would you advise your younger self about this period of your life?
Be kinder to yourself. What a major transition it is not just to go from high school to college but move so far away from home (my parents were in Texas). I wish I would have known that we are (usually) our own worst critics, and now in my parenting, I really emphasize to the girls how worthy they are, that they were born worthy, and they don't have to look or do or
be anything to earn their place to be here and be their fullest selves.
Did you have a posse at Mizzou, and if so, how would you describe them, and where were your hangouts?
My Mizzou squad that really endured through the years were the fellow journalism majors who graduated with me. Besides hanging out at the newspaper or TV station all the time, we ate a lot of lunch slices at Shakespeare's and toasted ravioli with our beers and cheap cocktails at the Heidelberg. When Buffalo Wild Wings first opened, we went there for karaoke nights every Wednesday for an entire summer. The Pasta House Company for sangria. A lot of frozen custard at the establishment previously known as Shakey's. Anyway, it's a delight we all stay in pretty good touch and celebrate both mundanities and milestones together. My friend Tim, also BJ '03, lives 4 minutes away, and not only do we hang out, our kids hang out, and his wife has become my business partner.
To read more articles like this, become a Mizzou Alumni Association member and receive MIZZOU magazine in your mailbox. Click here to join.