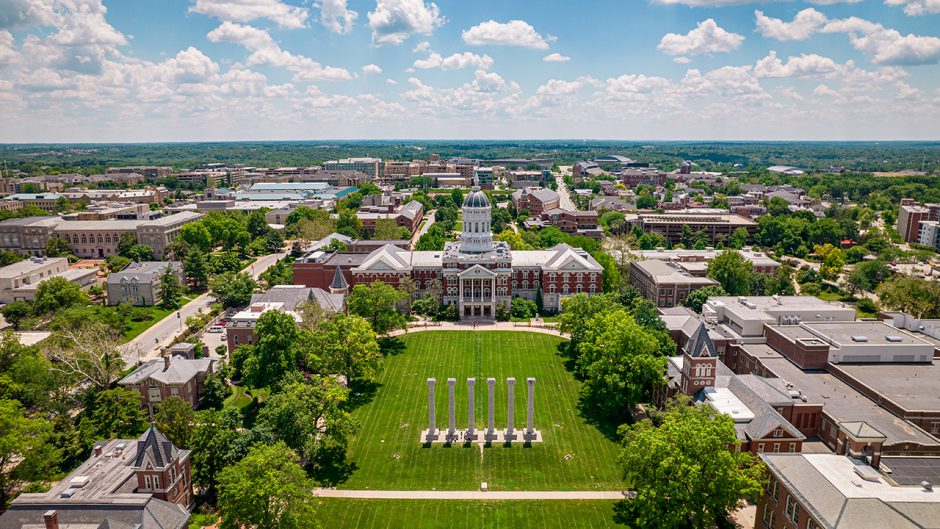 May 9, 2023
Forty-three University of Missouri students have been awarded MizzouForward Undergraduate Research Training Grants to support their investigations in STEM and National Science Foundation-supported fields and enhance their graduate school applications.
The one-year grants include up to $5,000 per year in salary support for the students. The grants are funded as part of the MizzouForward investment, which includes increased support for undergraduate research.
The candidates were reviewed by 56 MU faculty, and the recipients are rising juniors, juniors or seniors with at least six months of undergraduate research experience in the same lab as their application research project, which must be related to science, technology, engineering and math or an NSF Graduate Research Fellowship Program field.
"Many of us have had the experience of falling in love with science and a project and want undergraduates at MU to have the opportunity to have this experience and follow up on the ideas that they develop," said D Cornelison, a biological sciences professor who worked with Rocío Melissa Rivera, an animal sciences professor, to launch the program. "By working side-by-side, day-by-day with faculty and other lab members, undergraduates get a sense of belonging and contributing to the greater research effort and becoming key players on a research team.
"Our goal is that this support will allow the grantees to spend more of their time on research, enhancing their education and experience while also contributing to their faculty mentors' success with results that will go into grants and manuscripts, ultimately enhancing the research mission of the University of Missouri."
Students must submit an external fellowship application within one year of the start of funding and also present their work at appropriate venues at least once during the funding period, among other deliverables.
The students receiving MizzouForward Undergraduate Research Training Grants, along with their home department and mentor, are:
Luke Annin, Biochemistry, Aaron Stoker
Cooper Barnes, Biological Sciences, Pamela Brown
Kristen Barwick, Biochemistry, Antje Heese
Margaret Beecher, Biochemistry/CAFNR, Donald Burke-Agüero
Lorenzo Ceccon, Biological Sciences, D Cornelison
Kai Chen, Electrical Engineering and Computer Science, Dong Xu
Jordan Chiantelli-Mosebach, Linguistics, Rebecca Grollemund
Elizabeth Conley, Physics, Gavin King
Mia Connor, Chemistry, Kent Gates
Erin East, Anthropology, Brandi MacDonald
Maya Elste, Psychology, Lisa Flores
Dylan Fowler, Chemistry, Kurt Brorsen
George Frees, Biochemistry/CAFNR and Plant Sciences, Bill Folk
Leah Groene, Nutrition and Exercise Physiology, Jaapna Dhillon
Felicity Guttmann, Plant Sciences, Soyon Park
Camryn Habben, Biological Sciences, Rocío Melissa Rivera
Mia Hackworth, Biological Sciences, Shiying Jin
Gillian Hark, Biological Sciences, Aaron Stoker
Abigail Hernandez, Biological Sciences, Johannes Schul
Preston Kellenberger, Biochemistry, Peter Cornish
Henry Koenig, Chemistry, Matthias Young
Marissa LaMartina, Biological Sciences, Manuel Leal
Jocelyn Lamore, Psychology, Ashley Groh
Ashley Lienemann, English, Michael Marlo
Samantha Mackley, Economics, Brittany Street
Emma McDougal, Chemical and Biomedical Engineering, Bret Ulery
Mallory Moats, Chemistry, Brandi MacDonald
Randi Noel, Plant Sciences, Richard Ferrieri
Jada Paden, Biological Sciences, Caroline Kopot
Advaya Patro, Biological Sciences, Scott Zawieja
Aubrey Pipkins, Biological Sciences, Jacqueline Limberg
Kellen Sharpe, Chemistry, Victor Outlaw
Ben Shostak, Chemistry, Tim Glass
Paige Snider, Civil and Environmental Engineering, Baolin Deng
Pierce Taylor, Plant Sciences, Peng Tian
Zach Tretter, Biochemistry, Lloyd Sumner
Corey Valleroy, Physics, Carlos Wexler
Ethan Vanderwert, Biochemistry, Guangfu Li
Jayna Wallinger, Chemistry, Gary Baker
Bayliee Wegman-Roark, Psychology, Jordan Booker
Demi White, Plant Sciences, Soyon Park
Colin Wilburn, Plant Sciences, Paula McSteen
Veronica Worthen, Chemistry, Michael Harmata