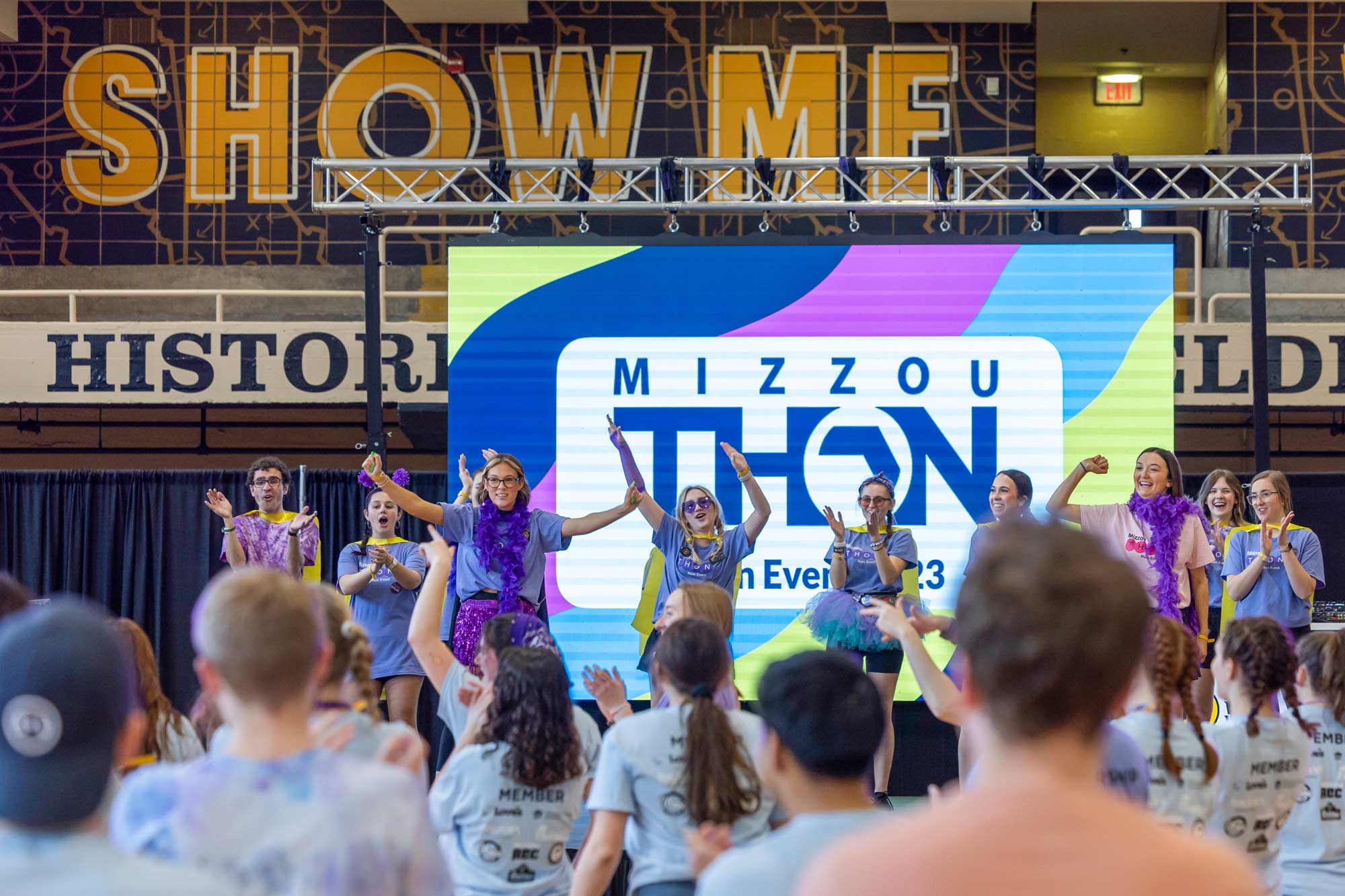 Published on Show Me Mizzou April 27, 2023
Kelsey Allen, BA, BJ '10
College students have a reputation for engaging in outrageous antics. A 13.1-hour nonstop dance marathon can be added to the list. But this stunt was for a good cause: to raise money for pediatric patients and their families in mid-Missouri.
Hundreds of students gathered in the MU Student Recreation Complex March 4 to participate in MizzouThon, which raised more than $122,000 this year to support MU Health Care's Children's Hospital. The largest student-run philanthropy at the University of Missouri, the organization hosts fundraising and awareness events throughout the year, culminating in what's called Main Event, where participants meet some of the "Miracle Families," learn about the programs their fundraising dollars support, play games — and, of course, dance.
"I dance for those who can't," says junior journalism major Halle Paulus. "If a child can go through countless surgeries and procedures to get better, then I can stand on my feet and dance for 13.1 hours to support them."
Now in its 15th year, MizzouThon has raised more than $2.25 million to support programs at Children's Hospital. It completed a $1 million pledge to the neonatal intensive care unit, now named the MizzouThon NICU, in 2018. In 2021, the organization pledged to raise $1.25 million in five years for the new Children's Hospital NICU and the music therapy program.
"Even when kiddos are in the hospital, we want to make sure they get to enjoy being a child," says MizzouThon president and senior health science major Nicole Lawson.
To read more articles like this, become a Mizzou Alumni Association member and receive MIZZOU magazine in your mailbox. Click here to join.