Sept. 6, 2023
Contact: Deidra Ashley, ashleyde@missouri.edu
Photos by Abbie Lankitus
Faith Aynekulu has always been curious. Even as a child, she would read the ingredients on the back of shampoo and medicine bottles.
"How do you pronounce this?" she'd ask her parents. "What does it do?"
Today, the fifth-year doctoral candidate is taking her curiosity to new heights and inventing groundbreaking advancements for cancer patients — all while exposing others to the possibilities of STEM.
No so fast, cancer.
Each year, about 10 million people die from cancer — making it one of the world's most challenging health problems — but about half of cancer related deaths could be prevented if diagnosed early, according to the World Health Organization.
That's why Aynekulu came to Mizzou – to work under Timothy Glass, the dean for research for the University of Missouri College of Arts and Science.
In Glass' lab, Aynekulu is developing a multicomponent fluorescent sensor for the detection of glycolipids.
"Glycolipids are important because they maintain the stability of a cell membrane and regulate what enters and leaves the cell," Aynekulu said. "They are also involved in inflammation and cancer progression. Detecting lipids is a valuable therapeutic strategy for various diseases including cancer."
Not only can Aynekulu's sensor detect cancer early, it's also cost-effective — a trait Aynekulu said she hopes makes it more accessible to people around the globe.
"I came to Mizzou to work on this project," Aynekulu said. "Cancer diagnostics and treatments tend to be very expensive — preventing a lot of people from getting screened early on. This sensor can eliminate some of those barriers and help solve a very serious global issue."
Sparking an interest
In addition to uncovering ways to remove barriers on a global scale, Aynekulu is also exploring ways to bolster our local research community — from igniting excitement about STEM in area schoolchildren to mentoring future graduate students.
"I'm a first-generation college student, and I didn't always have someone to ask questions to when it came to college and graduate school," Aynekulu said. "It's really important to me to become a resource for others and help expose them to research in science, technology, engineering and math fields. Mizzou has provided me numerous opportunities to do that."
Two years ago, Aynekulu met Jenn Brown, director of access and outreach initiatives, K-16 for the Office of Academic Access and Leadership Development in the Division of Inclusion, Diversity and Equity. Brown invited Aynekulu to serve as an instructor for STEM Cubs, MU's popular science, technology, engineering and mathematics program for elementary and middle school students. Aynekulu enjoyed it so much that she went on to become a site coordinator for the group.
"STEM Cubs is all about closing the gap between STEM fields and individuals who might not normally see themselves in those fields," Aynekulu said. "At the end of the day, when you see the kids leaving and interacting with their parents — telling them everything they learned — you immediately feel the impact you're making. I love it."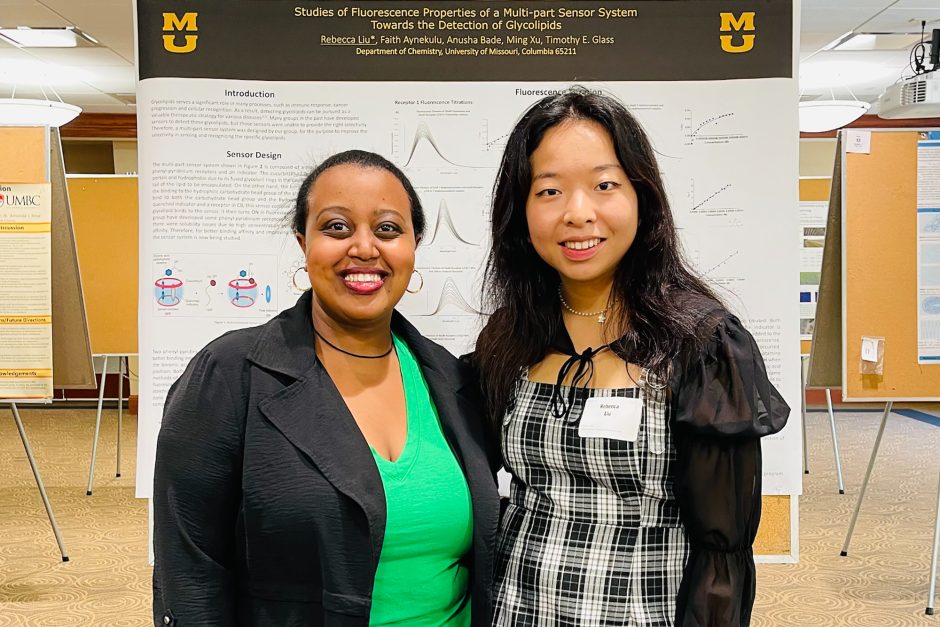 Aynekulu also teaches classes at Mizzou and serves as a peer mentor through the Graduate Scholars of Excellence program and summer research programs. One of her former mentees, Rebecca Liu, said Aynekulu is known for her empathy, responsibility and addition to detail.
"I wouldn't have survived my summer research project without Faith," said Liu, a junior biochemistry major from Southwest Baptist University. "This was my first time working in a lab, and Faith went above and beyond — not only to help me succeed with the project, but to learn to enjoy the research process. I've never met someone more hardworking."
Through helping others discover their passion for STEM, Aynekulu said she's also making discoveries about herself.
"When I came to Mizzou, there were things I expected to learn," she said. "But I've also learned a lot of lessons I never expected. For instance, I never realized how much I love teaching until Mizzou put me in a position to teach. Because of those experiences with my students, I've learned how to be a more compassionate person — to be able to step back and see what others are going through. All of these things are making me a better teacher and a better researcher."
Using her passion for good
Aynekulu plans to graduate in December 2023 and is eager to take all the lessons she's learned at MU as she works toward her goal of establishing a biopharmaceutical research startup.
"I want to start a company that's dedicated to drug discovery and therapeutic cancer treatments," she said. "My dream is to lead a team that helps close the gap between science and underrepresented groups — creating meaningful change and improving lives."