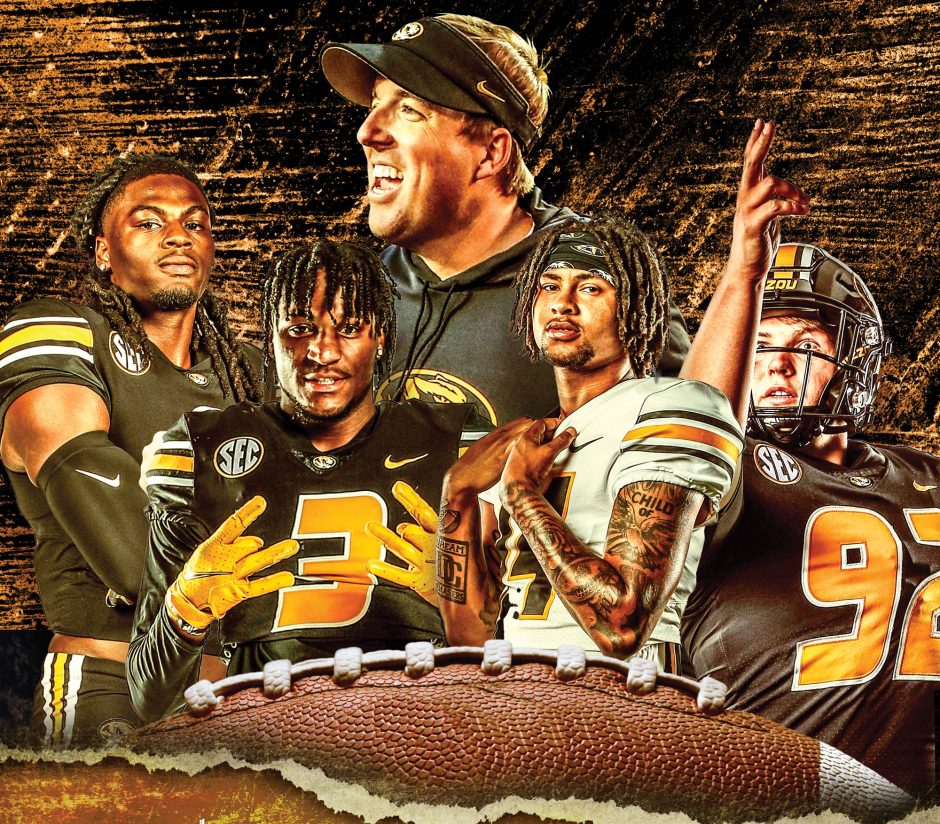 Published on Show Me Mizzou Sept. 5, 2023
Story by Tony Rehagen, BA, BJ '01
li Drinkwitz arrived on campus in 2020 as a highly touted, fast-rising young head coach, and in some ways, he's lived up to the hype. In his first three seasons wearing the Mizzou headset, he has won 17 games, one of only six coaches in school history to win at least that many to start their careers — and he's one of only two coaches to have been bowl eligible in each of his first three seasons. He was rewarded with a two-year contract extension midway through last season.
At the same time, Drinkwitz has yet to post a winning record. And this year, the media has picked his squad to finish sixth in the seven-team SEC Eastern Division.
But some of those same pundits and reporters also allow that Missouri has the tools (a stout and experienced defense) and potential (a second year of five-star receiver Luther Burden III) to surprise opponents. Will those weapons be enough to overcome an always-stiff Southeastern Conference opposition?
Let's break down the 2023 Missouri football team trying to return our school to gridiron glory.
The coach
All eyes will be on the sideline and behind the table at postgame press conferences as "Coach Drink" works to fulfill the promise he brought with him when he was hired.
"We're not trying to prove we're individually talented; we know that we've had talent on this football team," he said at a press conference in July. "We're trying to prove collectively that we belong in our league and can play better than we have and produce better results."
Drinkwitz's reputation has centered on being one of the most innovative offensive brains in the college game. It's the Tiger offense, though, that has failed to gain the necessary yards — and more importantly points on the board — finishing11th in the SEC in both categories in 2022. Those results, or lack thereof, seem to have been enough for Drinkwitz to call for help. This offseason, he brought in former Fresno State offensive coordinator Kirby Moore to call plays for the Tigers in 2023 — the first year in Drinkwitz's head-coaching career that he won't be holding the clipboard.
The offense
While the scheme might look different with Coach Moore at the helm, the offense could have consistency under center for the first time in Drinkwitz's tenure. Last year, Brady Cook became the first quarterback under the coach to start every game of the season, and the redshirt junior is the early favorite for first-string QB this year. But don't rule out four-star recruit and redshirt freshman Sam Horn; former Top 25 overall recruit Jake Garcia, who transferred from Miami; or junior-college transfer Dylan Laible.
Whoever takes the snaps, they'll be protected by preseason All-SEC second-teamer Javon Foster and a revamped offensive line. It includes 2023 All-American Athletic Conference center Cam'Ron Johnson, a former guard who followed his offensive line coach, Brandon Jones, to Columbia from Houston. He'll join Eastern Michigan transfer Marcellus Johnson; Bence Polgar, a transfer who sat out last season; and standout sophomore right guard Armand Membou.
Regardless of how the rest of the offense shakes out, fans should be excited to watch the progression of Burden at wide receiver. Last year he outmaneuvered defenses with 45 catches and six touchdowns, showing glimpses of explosiveness — and this year, he'll move to slot receiver, which should only boost his opportunities.
The defense
If the Tigers are going to shock anyone, it likely won't be with 40-point offensive onslaughts. It'll be by their defense neutralizing opposing playmakers, keeping other teams out of the end zone and winning the battle of field position.
Last year, under first-year defensive coordinator Blake Baker, Mizzou held opponents to a mere 25.2 points per game. They finished fourth in the SEC in total defense, letting up just 5.25 yards per play and only 33 touchdowns.
This year, they return eight starters from that 2022 unit. Linebacker Ty'Ron Hopper and defensive back Kris Abrams-Draine have already been named second-team preseason All-SEC and defensive lineman Darius Robinson was on the third team. Add in defensive backs Jaylon "JC "Carlies and Daylan Carnell, who combined for six interceptions, and there's plenty of reason to believe in the Tiger D.
The special teams
This is often an unsung aspect of the team, but that's when you don't have a kicker tied for second in program history with 61 career field goals made. This year, preseason All-SEC second-team kicker Harrison Mevis will look to add to his legacy, which includes a school-record 10 career FGs from 50 yards or more.
To read more articles like this, become a Mizzou Alumni Association member and receive MIZZOU magazine in your mailbox. Click here to join.