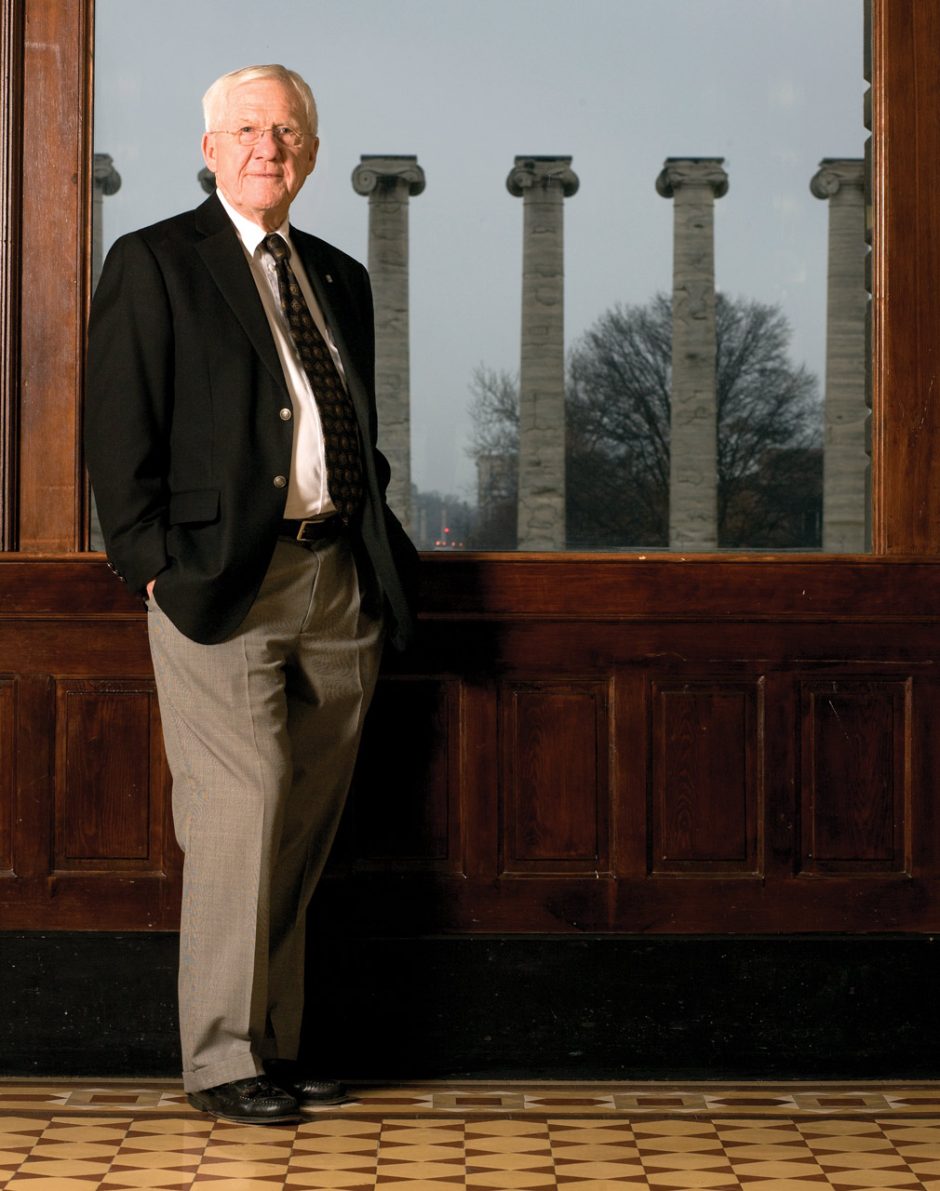 Published on Show Me Mizzou Sept. 4, 2023
Story by Jack Wax, BS Ed '73, MS '76, MA '87
Tom Schultz, BJ '56, the only person to have served in the volunteer position of MAA president before becoming the organization's executive director, died May 15 at 89, having lived a full, fruitful and generous life. And whether as a volunteer or professional, he remained a steadfast Mizzou advocate for more than 50 years.
When describing his way through life, friends and colleagues use words such as genuine, caring and enthusiastic. Schultz's far-ranging accomplishments started in his youth when he earned a spot on the 1952 U.S. Olympic soccer team. But his enthusiasm and appreciation for all things Mizzou eclipsed his passion for sports. "His love for MU was a part of his character," says Schultz's daughter, Dana Carter, BS BA '81. "Giving back to something that contributed so much to his life was ingrained in his DNA." Like her father, she received the MAA Tiger Pride Award. "We were a tag team," she says.
To those who only knew him from afar, Schultz is best known for having started the tradition of lighting Jesse Hall's dome and for heading the campaign to preserve the Academic Hall cornerstone. Those who knew him personally say that it was his lively wit and deep concern for others that made a lasting impression. "Tom was the ultimate relationship builder," says Todd McCubbin, M Ed '95, MAA executive director. "He was one of those rare individuals who could create meaningful relationships one on one, or if you if put him in a room full of fellow Tigers, they'd all soon feel they knew him."
Schultz founded alumni chapters in California, Wisconsin and Missouri before serving as MAA president in 1980–81. From 1981 to 1986, he led the organization as executive director, then moved on to leadership positions in the athletics department and in advancement until his retirement in 2000. Gary Smith, M Ed '65, EdD '71, former director of admissions and registrar, became friends with Schultz early in their careers. "He was a pleasure to be around, always enjoyable and upbeat — exactly the right person for his roles at MU," he says.
To read more articles like this, become a Mizzou Alumni Association member and receive MIZZOU magazine in your mailbox. Click here to join.