Nov. 11, 2022
Contact: Deidra Ashley, ashleyde@missouri.edu
Photos by Abbie Lankitus
Memorial Union holds a special meaning for student veterans. After World War I, students and faculty called for a memorial to the University of Missouri's fallen service members. The Memorial Union Tower was completed in 1926 and features the names of Mizzou students who lost their lives since World War I. Shortly after the tower's completion, seniors initiated a commencement exercise placing a wreath on the archway's floor in memory of the fallen Tigers.
Each Veterans Day, the tradition continues by laying a wreath in the archway to remember and honor the brave Missouri men and women serving in the U.S. Armed Forces.
Campus and community members gathered on Lowry Mall at noon for Mizzou's memorial.
The Memorial Tower clock rang 12 times as ROTC units marched from Lowry Mall to the tower stairs along with a color guard.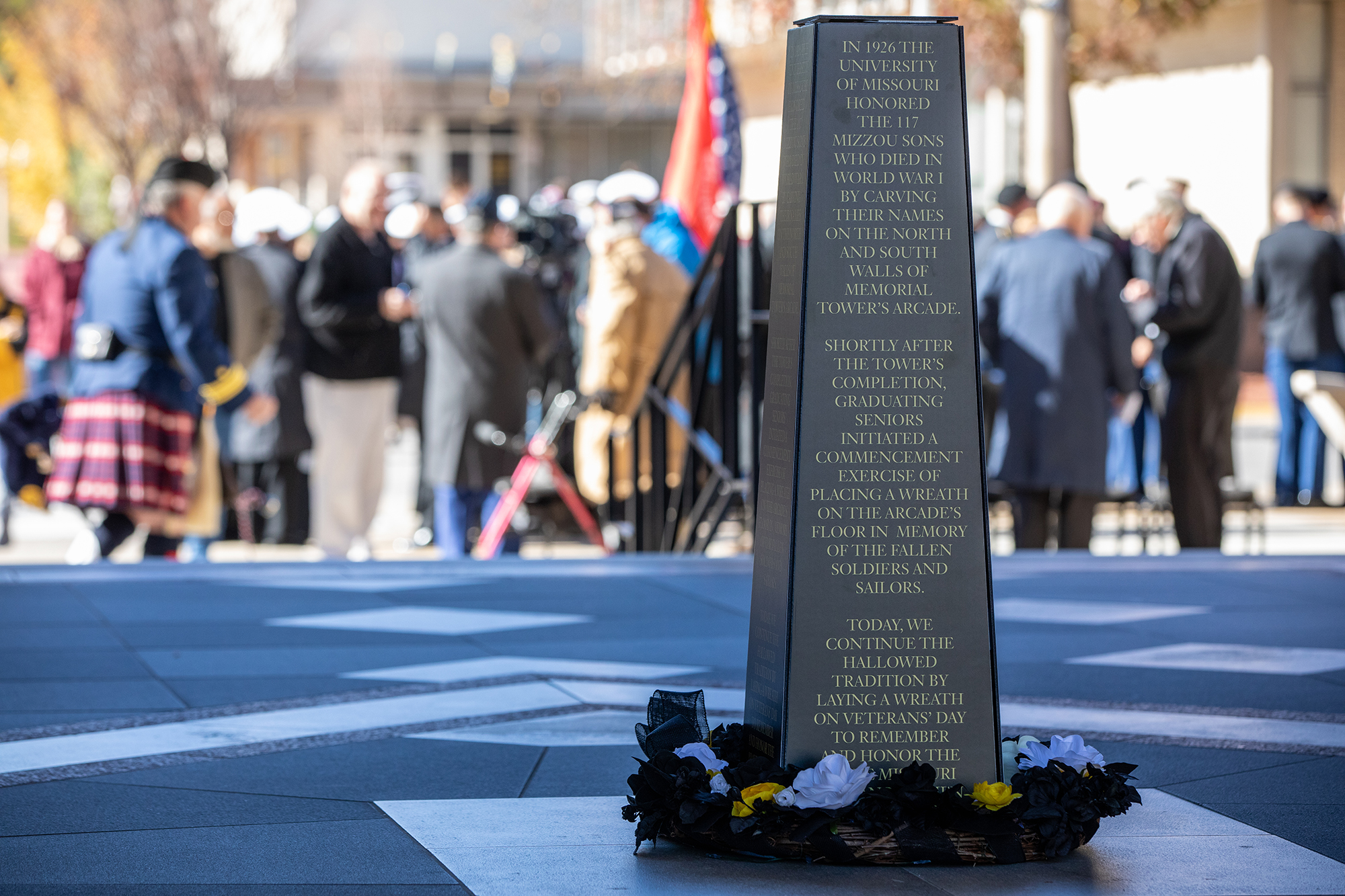 A wreath was placed in the archway to remember and honor the Missouri men and women serving in the U.S. Armed Forces.
The event was one of many this week organized by the Campus Activities Programming Board, the Mizzou Student Veterans Association, the Student Veterans Resource & Support Center, the Air Force ROTC, Army ROTC, Naval ROTC, Harry S. Truman Memorial Veterans' Hospital and The Bridge.
Richard J. Barohn was one of the event speakers. The executive vice chancellor for Health Affairs and dean of the MU School of Medicine is a retired lieutenant colonel in the U.S. Air Force Reserves. "I cherish my years of service to the nation," Barohn said. "My service made me a better man and a better citizen. I was fortunate to serve in peace time. The real heroes we are celebrating, of course, are those who serve during times of war or conflict."
Mizzou is home to more than 1,000 military-connected students as well as veterans among the faculty and staff.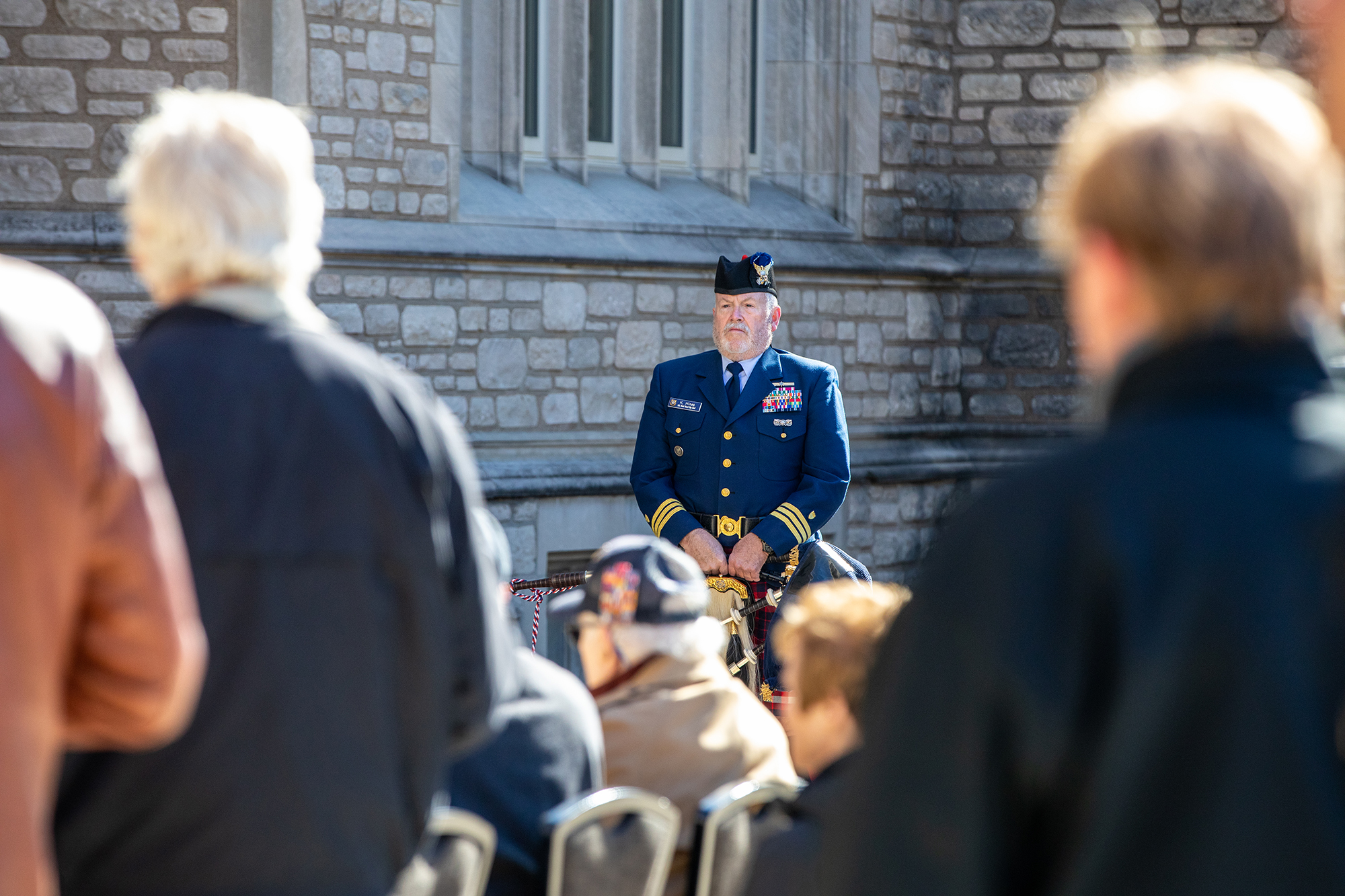 During the annual wreath-laying ceremony, MU also commemorated the 100th anniversary of the laying of the cornerstone at Memorial Union.
H. Riley Bock shared the story of his relative, MU alumnus Carlisle "Chuck" Wilson. Wilson is one of the 117 fallen Mizzou World War I veterans whose name is etched in the stone of Memorial Union.
Today, Memorial Union is home to the Student Veterans Resources & Support Center, where student veterans can find camaraderie and friendship along with resources and support.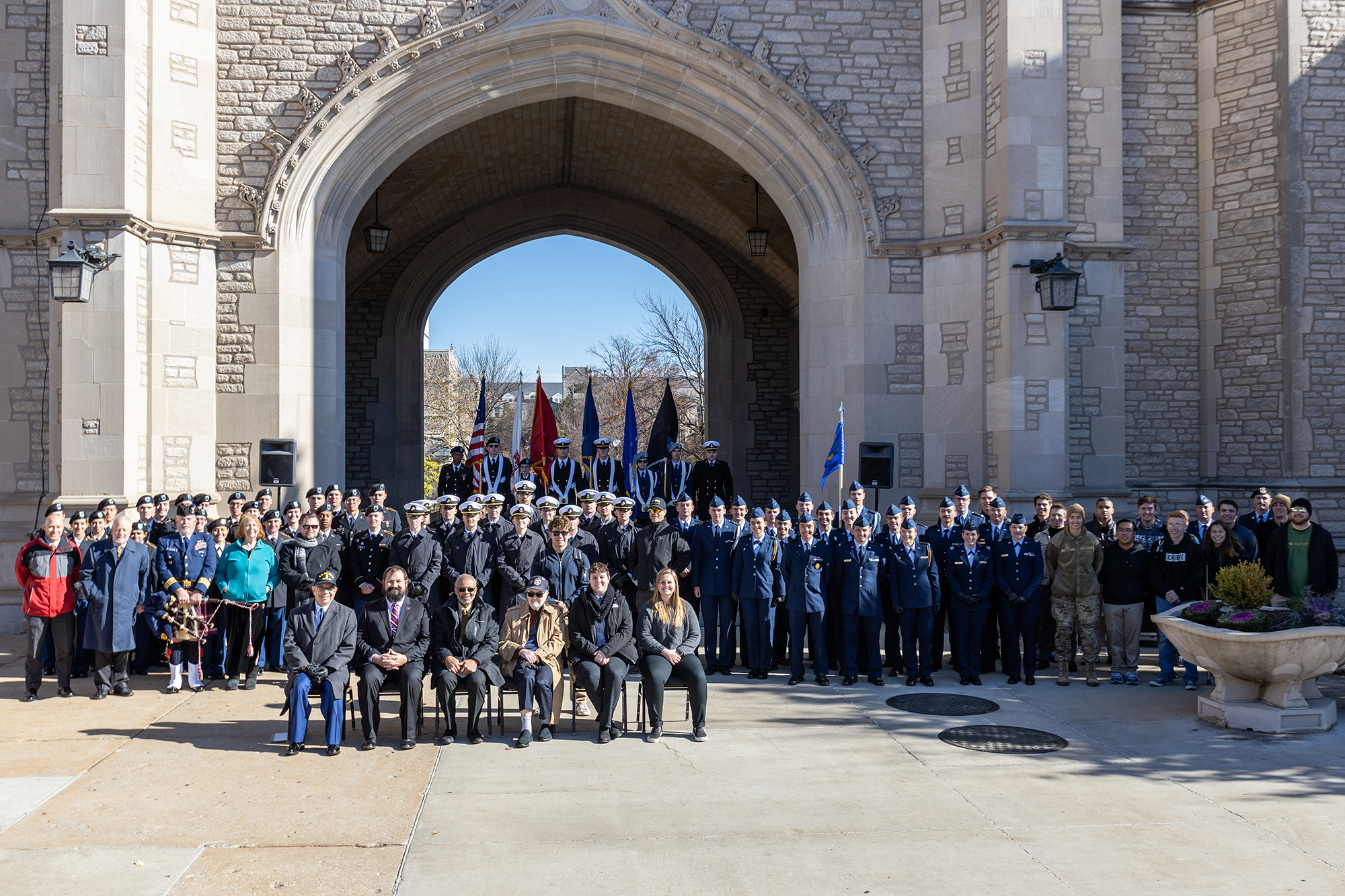 Many student, faculty, staff and community veterans attended the event and took a group photo at the end.