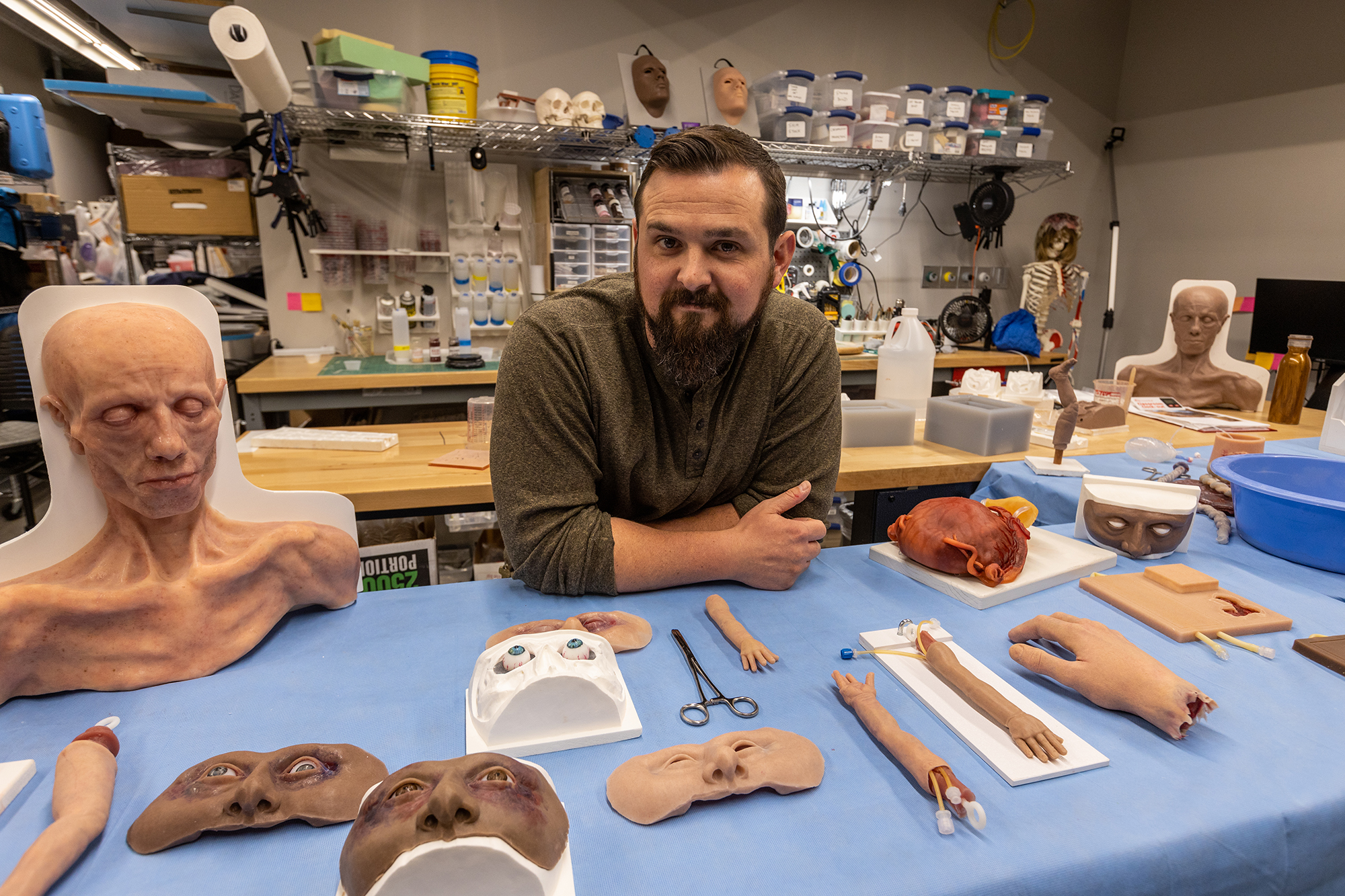 Oct. 31, 2022
Contact: Marcus Wilkins, wilkinsm@missouri.edu
Photos by Abbie Lankitus
Stroll past Damon Coyle's workspace on any given weekday and you might feel as if you've stumbled upon a special effects lab.
What appear to be glistening crimson organs rest in metal procedure trays and plastic medical tubs. Suture scissors and thumb forceps surround swatches of wounded and partially stitched skin. Tubes of mysterious fluids crawl across blue surgical cloth. Gray cadaver torsos cast elongated shadows, while dislodged fake eyeballs gawk skeptically this way and that.
Though creepy at first glance, these body parts aren't real. They're the creations of Coyle, medical innovation specialist for the Russell D. and Mary B. Shelden Clinical Simulation Center. The "trainers," made mostly of silicone and latex, are used to teach students medical techniques in the worlds of health care and veterinary medicine.
"If I'm at a cocktail party or giving an elevator pitch, typically I tell people I'm a medical sculptor," Coyle said. "When I was a little boy, I said I wanted to be a doctor artist."
Coyle arrived as a student at the University of Missouri in 2007. He took advantage of the breadth of academic options at Mizzou, majoring in biology en route to the School of Medicine — falling in love with sculpting along the way. Three years into medical school, he realized his heart wasn't fully in it.
"You have to throw a lot of hobbies aside to make room for the rigors of such a difficult education," Coyle said. "I realized what brought me fulfillment at the end of the day was creating tangible items that somebody else can appreciate, touch, feel and use. Functional art, if you will. If my art could be used to help medical students, all the better."
Enter Dena Higbee, Shelden Center executive director. She hired Coyle based on his artistic talent and medical background — a perfect combination for an unusual occupation.
"The reason we started the lab was because there's a gap in the market for how the realistic task trainers look, feel and react," said Dena Higbee, executive director of simulation at the Shelden Center. "I knew Damon as a medical student, but I didn't initially know that he had a background in sculpting. When I learned that, I thought, 'This is ideal.' "
Read on for a behind-the-scenes peek at Coyle's studio. A feature on his work will appear in the forthcoming Winter 2023 issue of MIZZOU magazine.
Located on the fourth floor of the Patient-Centered Care Learning Center, Coyle's workspace is part art studio, part laboratory. In the foreground from left to right: neonatal intravenous trainer, wearable arterial bleeding sleeve and severe malnutrition palpation trainer for dietetic students.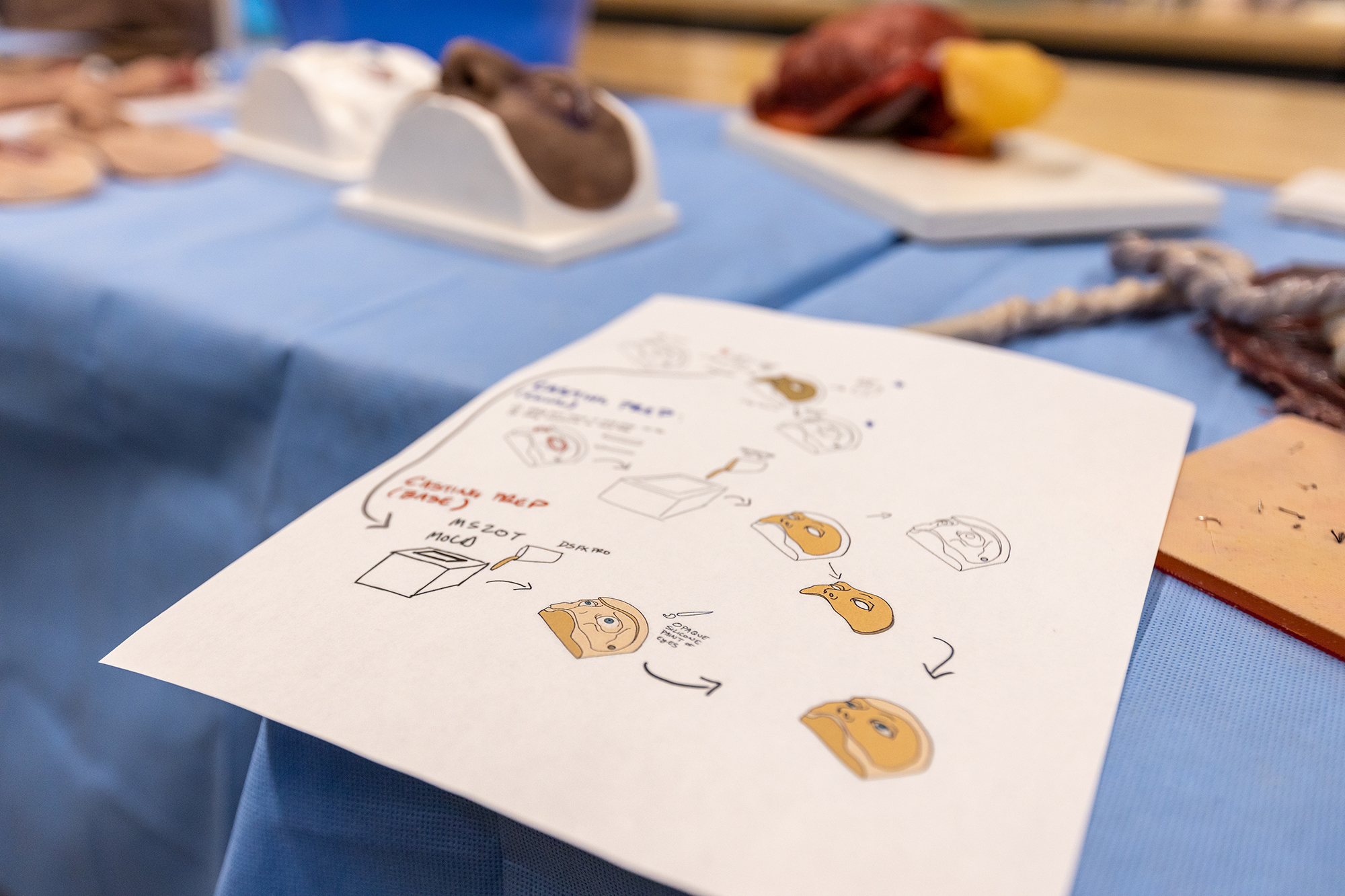 Coyle hand-illustrates instructions — a personal step-by-step recipe book, so to speak — for all his creations, including the ocular trauma repair skills trainer.
Coyle sculpts his models using polymer-based "monster clay" named for its popularity in Hollywood horror and science fiction films. The clay remains malleable indefinitely and retains even the tiniest muscular, skeletal and vascular details. The sculptures are then used to create molds.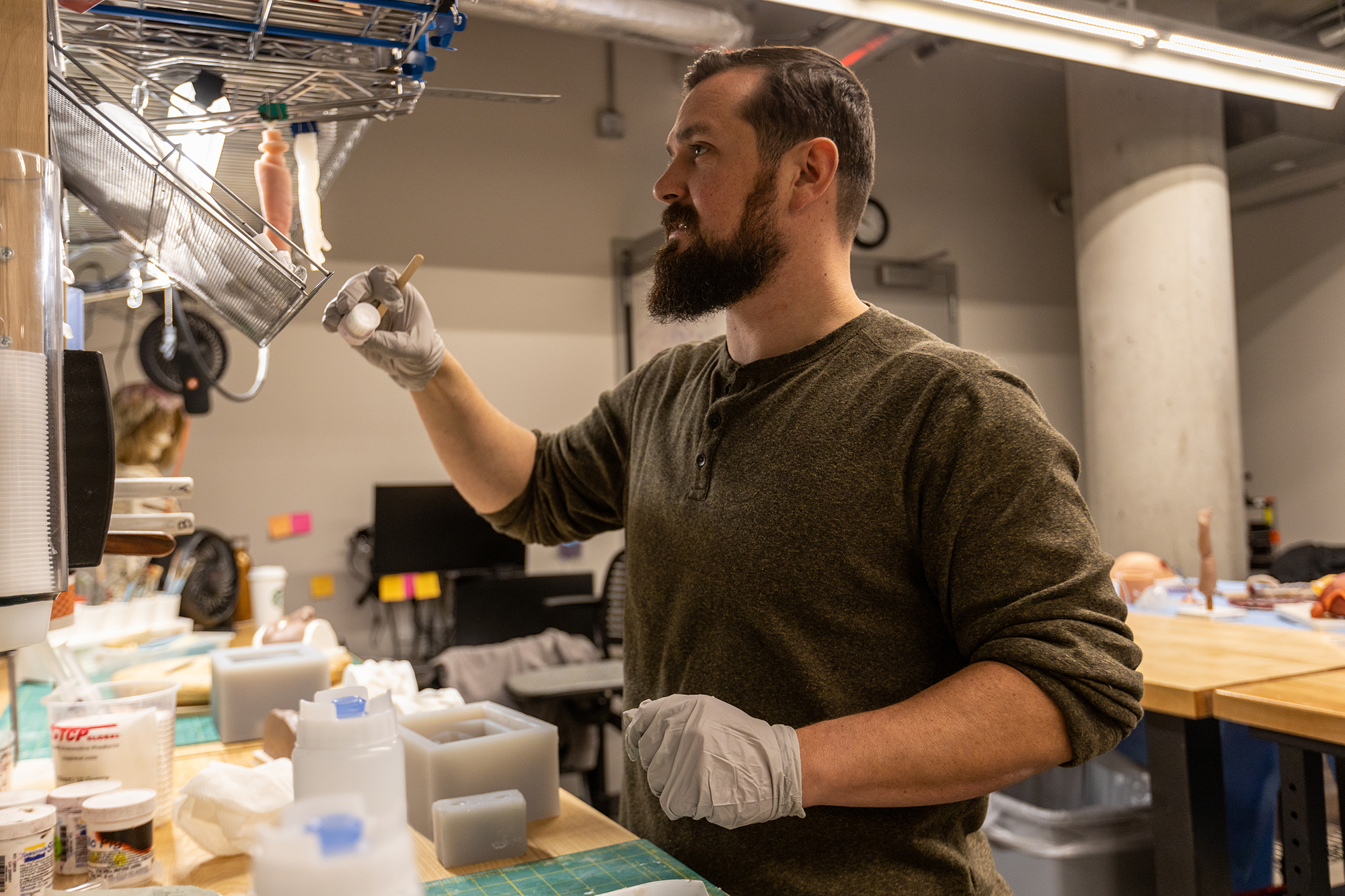 Ensuring his trainers feel as authentic as possible is important to Coyle. To achieve this "haptic authenticity" (real feel), Coyle uses various silicone and rubber materials.
"I'm able to intrinsically change the pigmentation of the silicone that I cast here in my studio, so I can make any skin tone reflective of any population or region of the world," Coyle said. "I also use what's called 'flocking' — very small hairs or fibers of varying colors that you can put in at the mixing stage."
Coyle's background in art, especially bronze sculpture with professor emeritus James Calvin, has served him well in an unusual profession.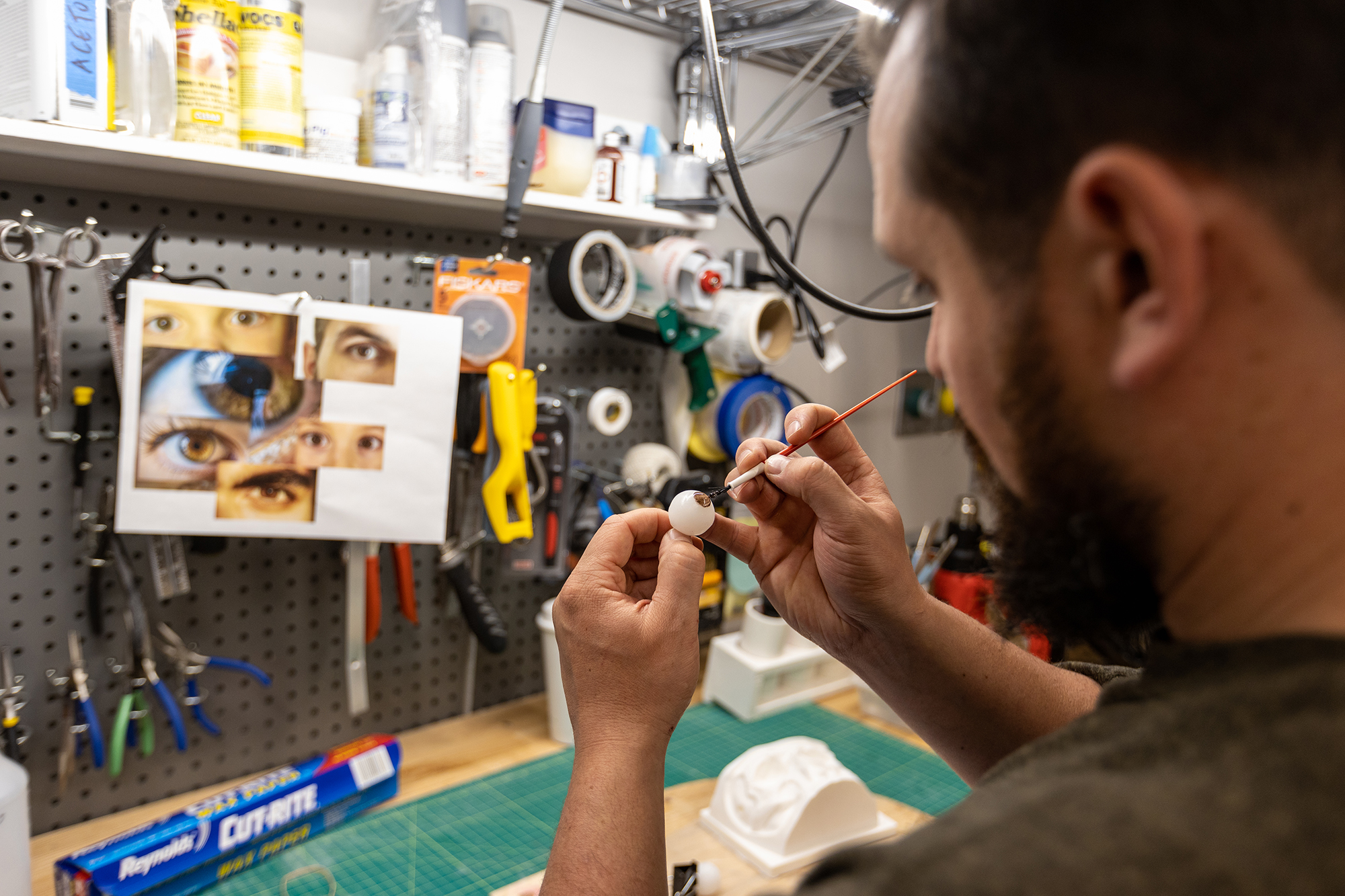 Meticulous attention to detail separates Coyle's trainers from many currently available on the market. For instance, ocular trainers come in any eye color, and he has painted hundreds of eyeballs.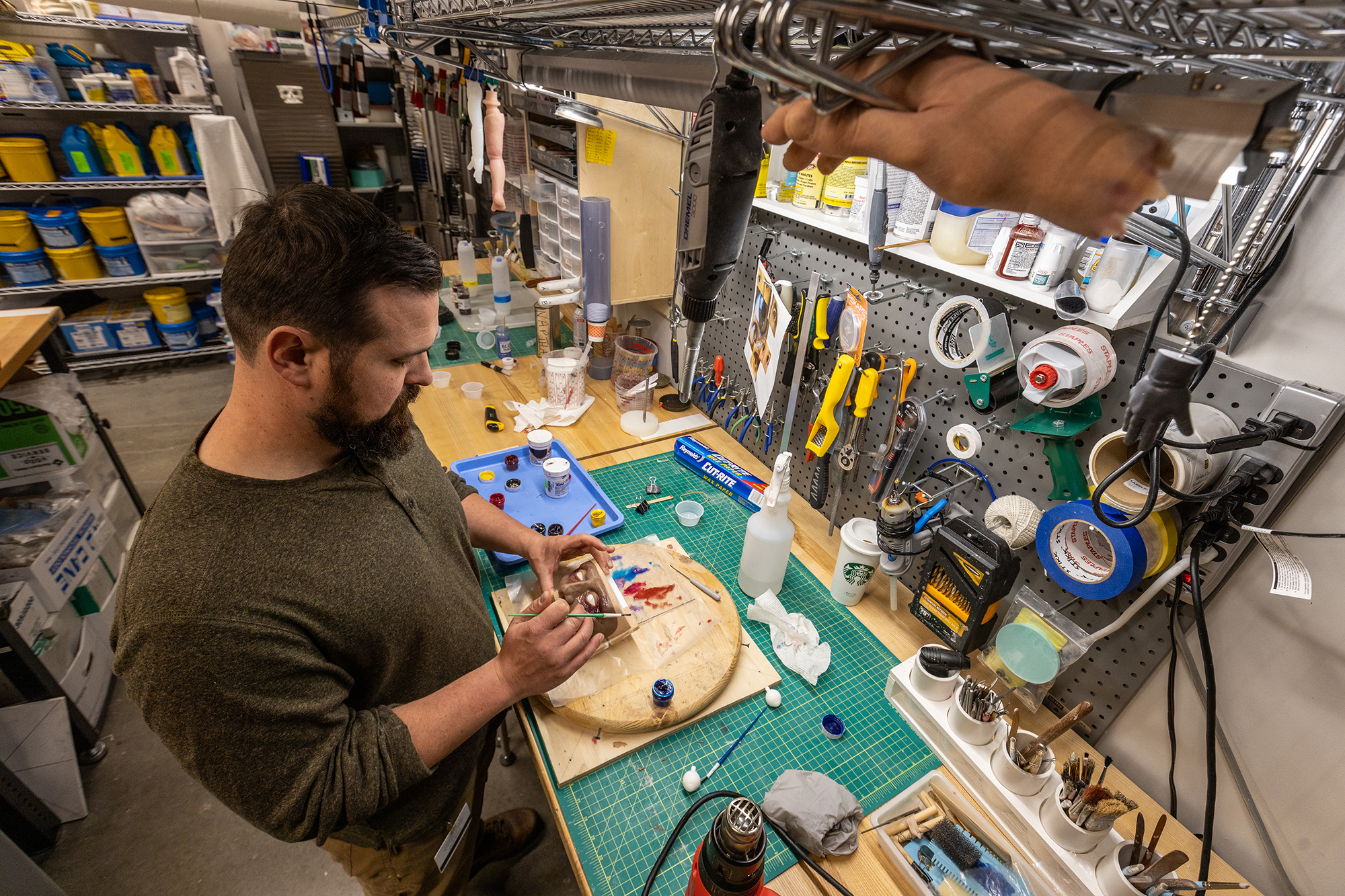 Coyle prides himself on practical solutions when constructing new products, often using hardware products for the structural underpinnings of his creations. "I go to the hardware store a lot," he said.
Christopher Sampson, professor of emergency medicine, demonstrates for medical residents a procedure using the ocular trauma trainer. Simulation exercises such as this depend on the fidelity of the trainer to maximize transfer of knowledge.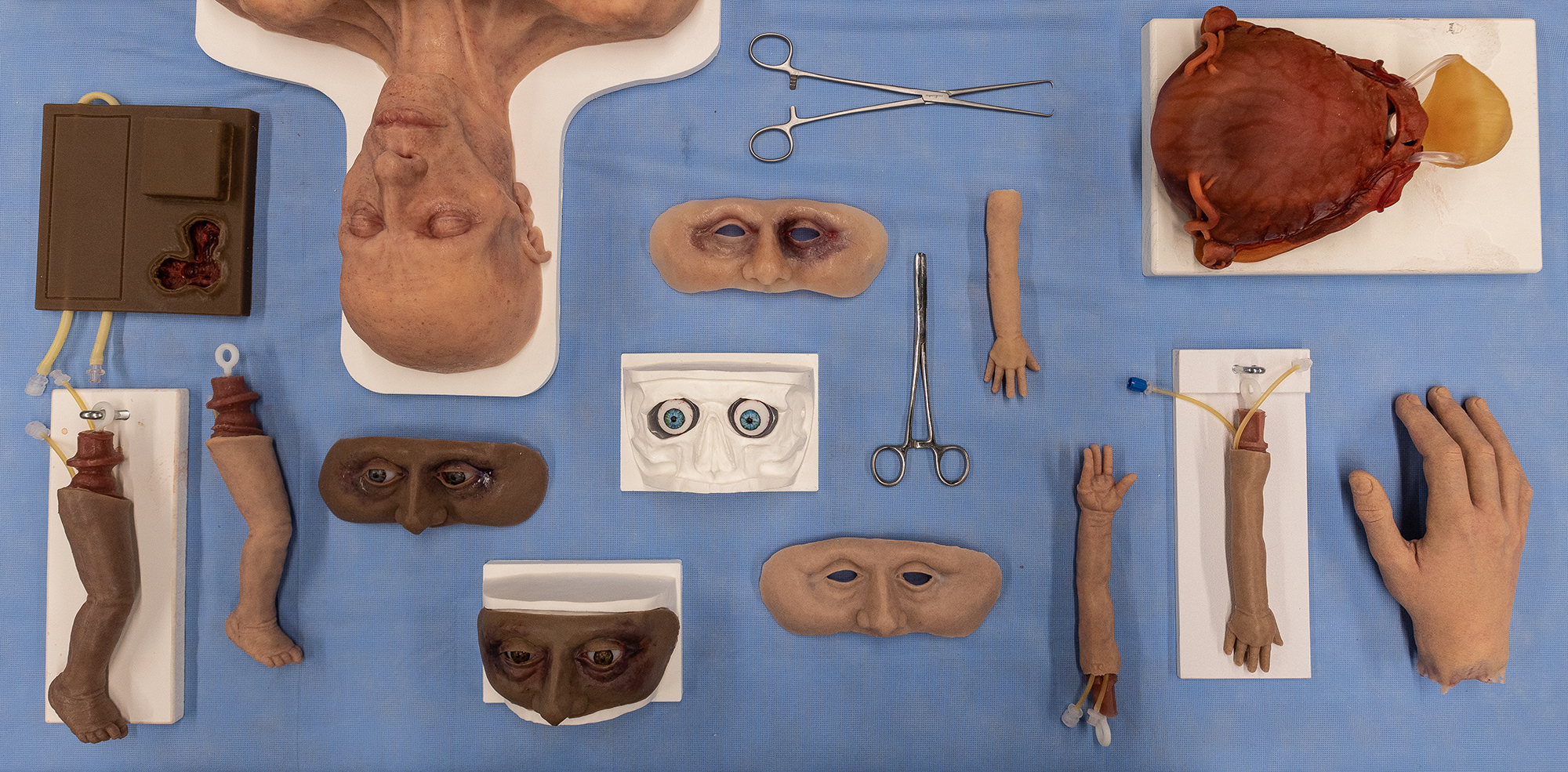 Coyle's portfolio contains hundreds of appendages and more than 20 prototypes, including a kit for ocular procedures, pads of lifelike "flesh" to practice suturing and infant limbs fitted with arterial tubing for neonatal nurses to practice needle insertion.