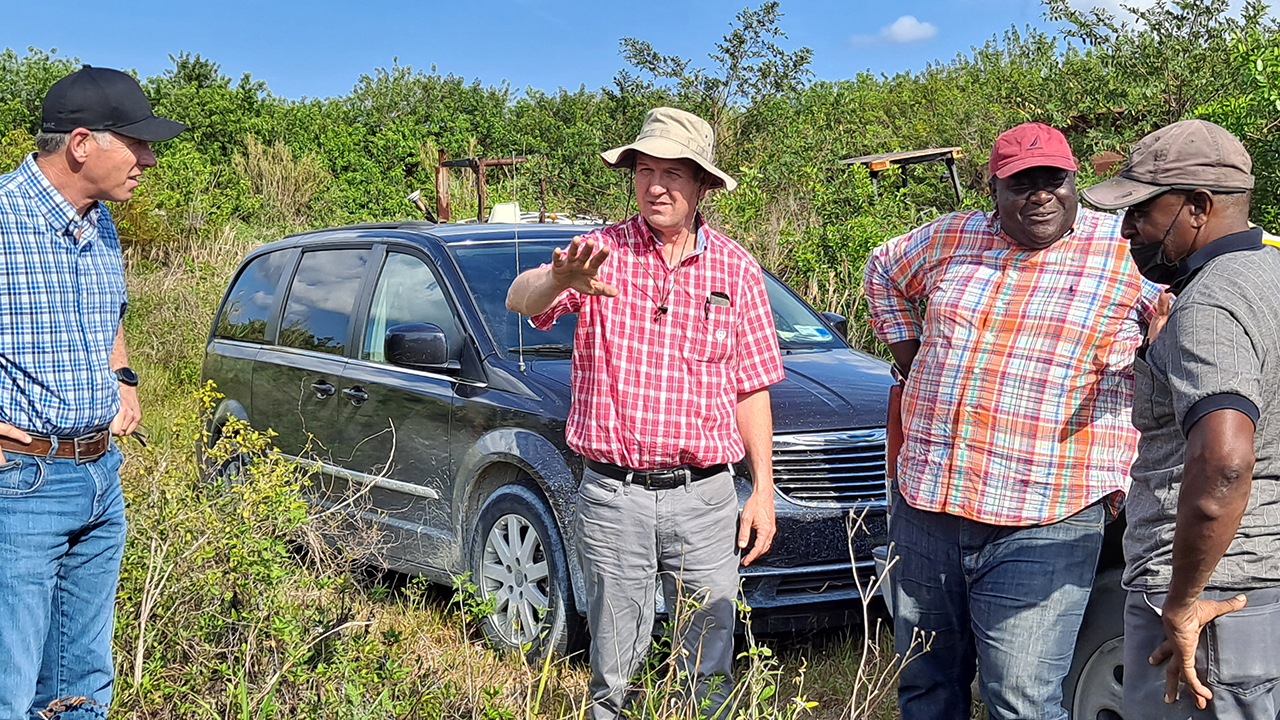 Nov. 28, 2022
Before the pandemic, the Bahamas imported nearly 90% of its food, according to the U.S. Department of Agriculture. The islands relied on the steady flow of imports, often connected to the cruise ship industry. But food imports plummeted when COVID-19 halted tourism and disrupted supply chains.
Representatives from Springfield, Missouri-based organization Convoy of Hope quickly established relationships with Bahamian organizations. These partners expressed the need for agricultural experts who could teach both experienced and novice farmers on the islands.
Partnering with MU Extension
To help meet that need, Convoy of Hope obtained a Farmer-to-Farmer Program grant from the U.S. Agency for International Development in December 2021.
Collaborating with University of Missouri Extension specialists was a "game changer" for the project, said Alyssa Killingsworth, the global program partner relations manager at Convoy.
"We needed somebody who knows how to teach," she said. "Somebody who knows how to pull stakeholders together and engage communities in a constructive way to bring new education and new projects into those communities. These are skills that are natural to extension specialists."
Agronomy specialist Matthew Herring and horticulture specialist Debi Kelly traveled with Convoy to the Bahamas in April 2022. They were tasked with introducing growers on the islands of New Providence, Grand Bahama and Abaco to the basics of soils. They offered field tours and presentations on fertilizing, composting and cover crops, and met with several government entities working to scale up the country's agricultural production.
Herring worked with commercial farmers, while Kelly's focus was on helping small-scale growers, called "backyard farmers" in the Bahamas. Backyard farmers make up the majority of Bahamians involved in agriculture.
Kelly explained that their primary motivation is to feed themselves, their families and those in need. Only a small portion of growers she met were interested in selling their produce. "It's a very faith-based culture, which might be driving the desire to share and give to others," she said.
Agronomy specialist Pat Miller traveled to the Bahamas in June. She was accompanied by Carol Miles, who is a professor of vegetable horticulture from Washington State University and one of three non-MU Extension experts to participate. Miller's focus was on composting, soils, different types of cool- and warm-season crops and rotating the garden for backyard farmers.
Convoy of Hope reported in July 2022 that it was the only organization on the entire island chain offering agriculture training. Interest in the program was high, with 300-400 farmers attending in just the first week.
Grace Pinder, a producer in Freeport, Grand Bahama, has been inspired to expand her garden since attending the MU Extension training sessions, and she has even offered three of her own workshops to other growers on the island.
"I'm using compost now in my garden and preparing my soil properly," she said. "I've learned about shade houses or hoop houses, and now I'm growing celery among (other) vegetables that we thought could not be grown in our climate."
Applying the land-grant mission internationally
MU's land-grant mission means there is a commitment to extend university expertise by serving the community. Because the Bahamas doesn't have its own university-based extension system, MU has a unique opportunity to expand the definition of community.
"Our partnership with Convoy of Hope builds on the rich heritage we have of serving others," said Marshall Stewart, MU vice chancellor for extension and engagement. "The challenges faced by our friends in the Bahamas are solvable thanks to the technological advances land-grant universities have made in agriculture. Our partnership with Convoy of Hope is yet another example of Mizzou fulfilling its land-grant promise."
Several other MU Extension specialists have either returned from the Bahamas or plan to travel with Convoy of Hope before the end of the project in early 2023.