Published on Show Me Mizzou December 16, 2022
Story by Sara Bondioli, BA, BJ '05
You might have seen a familiar black-and-gold logo at the start of the recent Macy's Thanksgiving Day Parade. That's because Marching Mizzou (M2) made its parade debut on the streets of New York City.
The band took advantage of its first-ever march through Manhattan. The day before the parade, members of M2 appeared on NBC's The Today Show. Then, on Thanksgiving morning, the band helped open the festivities when, to a televised audience of nearly 28 million viewers, it supported singer-actor Lea Michele during her opening performance of "Don't Rain on My Parade," from the Broadway musical Funny Girl.
M2's appearance was modeled after its usual Homecoming parade sequence of traditional school songs and drum cadences, with the addition of a portion of "Missouri Waltz." Most prominently, NBC and streaming service Peacock featured the band's performance of alumna Sheryl Crow's "All I Wanna Do."
Bringing the group — 350 strong, including band, drumline, feature twirlers, color guard and the Golden Girls — to New York City was a goal for Marching Mizzou Director Amy M. Knopps, BM '01. She has always loved the holiday parade and was a drum major in Marching Mizzou when the group had another memorable performance out east: President George W. Bush's inaugural parade in Washington, D.C. On Thursday, parade co-host Hoda Kotb even gave Knopps a shout-out.
M2's first international trip came in 1975 when the late Alex Pickard, then-director of the band, took the group to England to perform at a soccer match at Wembley Stadium. "They really had never seen a marching band perform before," recalls clarinet player Bill Moyes, BS '75, M Ed '79, EdSp '83, EdD '92. "By the end of the show, we had them on their feet, and they were yelling and screaming."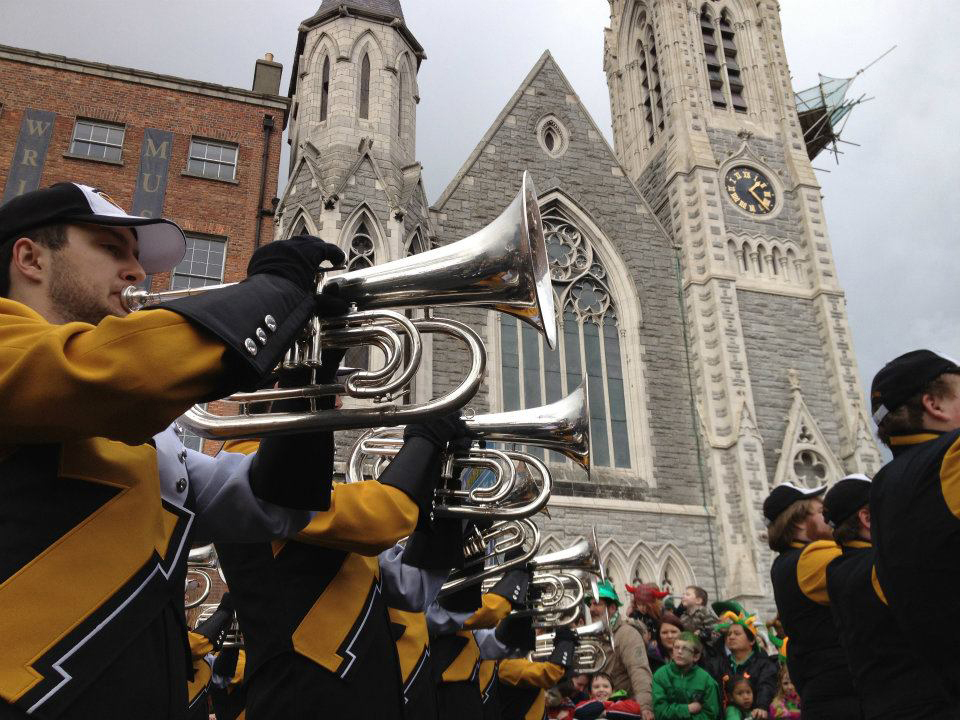 In 2012 and 2016, the band crossed the Atlantic Ocean again, this time to perform at the St. Patrick's Day parade in Dublin. Brianne O'Sullivan, BHS '18, who was a trumpet section leader in 2016, attended the parade in New York.
"Being able to watch Marching Mizzou on a worldwide stage in the Macy's Thanksgiving Day Parade was something I will never forget," O'Sullivan says. "It made me very proud to be an M2 alum!"
Knopps still reminisces about the band's D.C. trip during every presidential inauguration: "Personally, I have that memory. And that's what I'm so excited about for our students: Now, when they get up on Thanksgiving morning, they're going to be like, 'Oh, remember when I was in Marching Mizzou? We were part of that holiday tradition.' "