Published on Show Me Mizzou Dec. 16,2022
Story by Randall Roberts, BA '88
Illustrations by David Plunkert
When Rich and Nancy Kinder stood to acknowledge applause in the rotunda of Jesse Hall in October, they did so at a unique moment in American constitutional democracy's history. A heated midterm election in which control of Congress was on the horizon, and the subject of free and fair elections was in the air.
As founding supporters of MU's Kinder Institute on Constitutional Democracy, the Kinders were at Mizzou to announce that the Kinder Foundation, which they established 25 years ago, would continue to invest in the institute, and the vision of America's foundational document, through a $25 million gift.
"I believe that this kind of education grounds people in such a way that they can understand facts and discuss issues more intelligently," says Kinder, BA '66, JD '68. "If you look back at virtually any incident during the founding of the country, there were controversial issues. And if you understand what those issues are, I think it gives you a much better understanding of how we evolved into what we are today."
During the rotunda announcement, University of Missouri President Mun Y. Choi said: "The Kinder Institute is a story of transformational success at the University of Missouri. Through their generosity, the Kinder Institute has become an international leader in a new era of public discourse — one that inculcates a range of perspectives, free thinking and responsible dialogue across our society."
All told, the Kinders have given the institute $60 million, beginning with a $25 million gift from the foundation in 2015 that initially endowed the Kinder Institute on Constitutional Democracy. In 2019, another generous $10 million investment allowed the institute to offer two new degrees at MU — a Bachelor of Arts in constitutional democracy and a Master of Arts in Atlantic history and politics.
Seven years later, the Kinders' efforts have enabled MU to harness its middle-of-the-country location to become a center for researching, studying and reinforcing America's founding principles.
Five questions for Rich Kinder
In early November, the Kinder Foundation gifted $25 million to continue its investment in the Kinder Institute on Constitutional Democracy. MIZZOU recently spoke to Rich Kinder, BA '66, JD '68, about his and wife Nancy's gift.
When you and your wife committed to your initial 2014 investment that led to the formation of Kinder Institute on Constitutional Democracy, what did you see on the horizon? Given the timing, it's almost like you were a soothsayer.
You give me too much credit. I wanted to do something for my alma mater, and we arrived at this because I felt, even back then, that there was a great lack in teaching about the founding of America and the constitutional democracy that resulted from it. I was a history major, and I continue to have a very vibrant interest in history, and I thought that it wasn't being taught today and that we are educating our youth in ways that don't really help them understand the background of this country. That was the original thought process, and I've been surprised by how well it's done and how prominent it's become not just on campus but beyond.
You've said that understanding the foundations of American democracy isn't a matter of political beliefs, but it's tough to discuss the threats to constitutional democracy around the world without talking about politics. How do you walk that line?
That's a very good question. I believe that this kind of education grounds people in such a way that they can understand facts and discuss issues more intelligently. There are all kinds of examples of this, but if you look back at virtually any incident during the founding of the country, there were controversial issues. And if you understand what those issues are, I think it gives you a much better understanding of how we evolved into what we are today. This is not intended to be an effort to brainwash anybody or convince them of one outlook or another. The idea is to educate students so that they understand the country.
Your recent generous commitments suggest that you are happy with the progress. Are you excited by any specific aspects or initiatives?
Oh, yeah, I'm excited. In those seven years we've been able to offer undergraduate and graduate degree programs. We've entered this great partnership with Oxford University. What a wonderful thing for a young person coming out of Missouri in a master's program — to be able to spend a whole summer at Oxford. With the new grant, we're increasingly going to do that with the undergraduates. Those opportunities in partnership with Oxford, the undergraduate and graduate degrees, the Residential College, the D.C. scholars — I could go on and on. We're changing people's lives one by one. That's what you want to see.
You've long advocated for continually learning about history. What are you reading right now?
I happen to be reading an excellent book by British historian Antony Beevor, who's written a lot on World War II. He's written a new book simply called Russia, which is a story of the Bolshevik Revolution and the war between the Reds and the Whites from 1917 to 1921. Another interesting book for the people of Missouri is called Life on the Mississippi — not the Mark Twain version but by a guy by the name of Rinker Buck. He built a replica of a flatboat that the pioneers used to go down the Ohio River and all the way to New Orleans in the days before the steamboat. Buck's a very good writer, and his thoughts and reminiscences on the history of the Ohio River and the Mississippi are fascinating.
When you were attending Mizzou, did you have favorite hangouts?
I'm so old I can remember the Shack and the Paradise Club and the I Club. I had a great social life. I probably spent too much time on socializing during my undergraduate years, but that was the one time in my life when I was mature enough to realize that I would never again have so much freedom and so little responsibility. That changed when I got into law school, but they were very enjoyable times and, really, a big part of the impetus for wanting to give something back. I thought I could do something that would reward the university for the gifts it gave me.
---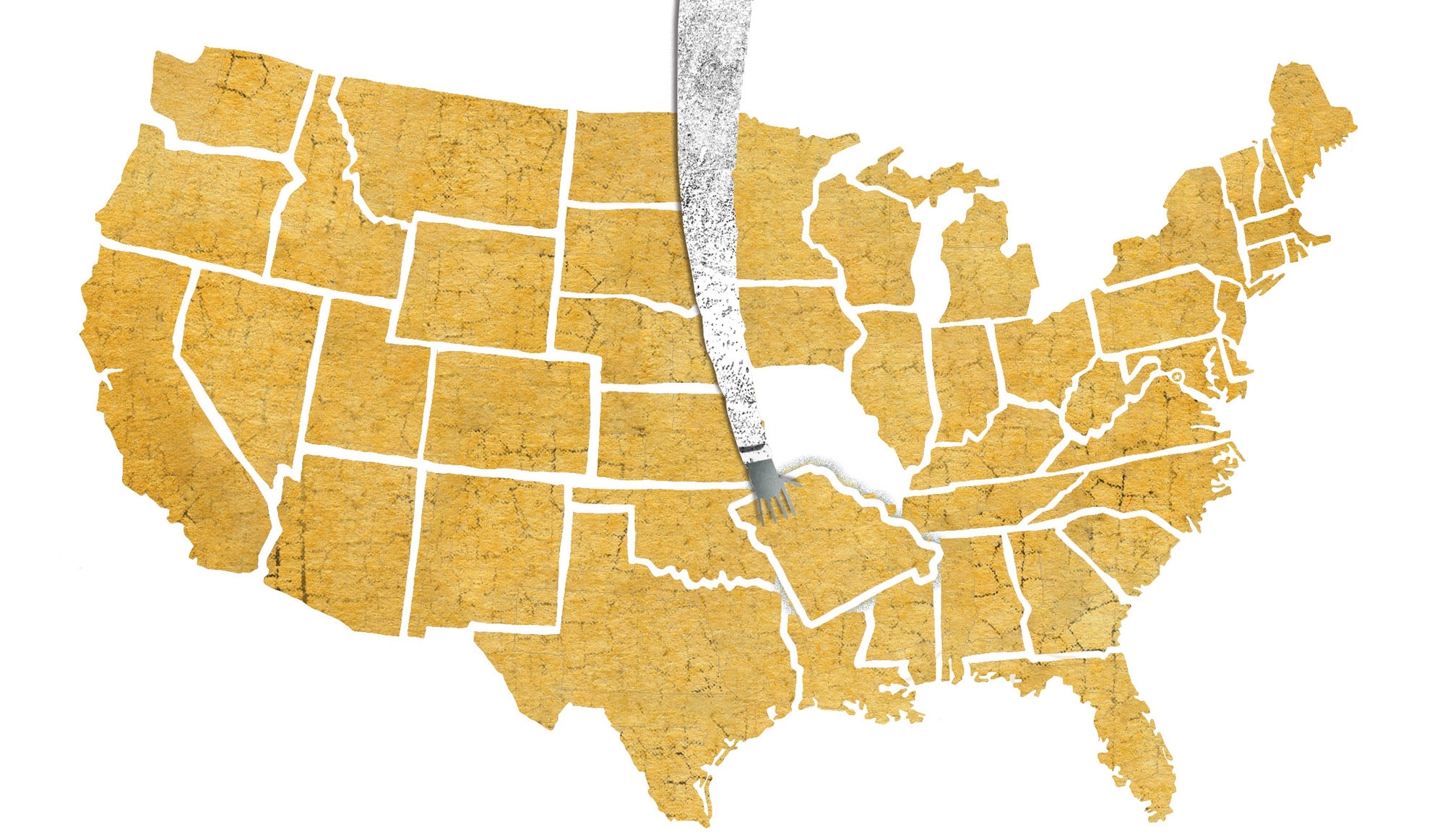 A more perfect union
Story by Dale Smith, BJ '88
If a thread runs through Kinder Institute offerings, it could be that experience teaches best. For starters, Institute Director Jay Sexton touts study-abroad programs to England and South Africa, where students form their own seat-of-the-pants take on how other cultures function. On campus at Missouri Debate Union meets, undergraduates grapple with current events in a format modeled on the United Kingdom's parliament. "We are doing it just as well after half a dozen years as those venerable institutions are doing after six centuries," he says. And the institute's speaker series, he adds, may be unmatched at any university, public or private.
The overall atmosphere at the institute? "It's an intellectual hothouse," says Jeff Pasley, institute associate director. The Kinders' gifts include a recently announced $25 million directed toward increasing faculty numbers and expanding student programs such as study-abroad and internship initiatives. The gift will provide scholars with more resources to further elevate Mizzou's profile in the field.
Such new knowledge is for all comers. "What I enjoy most is talking about history with colleagues and students," Pasley says, "and I know the students like hanging out where ideas that become books and articles are worked out in front of them." Scholarship should be approachable, he adds. "If it's not fun, you're doing it wrong."
Check out a handful of the institute's recent accomplishments and offerings below.
Thinking aloud (and allowed)
"Speakers are the heart and soul of the Kinder Institute," Sexton says. Forty scholars a year, mostly from outside Mizzou, draw faculty, students and others into "cutting-edge" talks on constitutional democracy. Recently, Lynne Jackson, great-great-granddaughter of Dred Scott, came to town. At such moments, Sexton says, the audience sees vividly the stakes of the past, the legacies both good and bad, and that "history is real and lives with us today."
Will the union survive?
Missouri's statehood application opened the battle over whether slavery would extend west of the Mississippi, a searing conflict that threatened the union itself. The crisis severed the nation into slave states and free states, crystallizing issues the Civil War later decided. Pasley and colleagues commemorated Missouri's complicated history by adding two volumes of new scholarship in A Fire Bell in the Past: The Missouri Crisis at 200. "Teaching is key," he says, "but research makes us a university."
Studying in hallowed halls
The institute's extraordinary connection to the University of Oxford in England came with Sexton, who taught there. Kinder students can apply to study at Oxford for a month, a summer or a year. "But we don't take them there and teach them ourselves," he says. "We subcontract Oxford faculty. Students are embedded to discover for themselves how another culture examines problems." The experience often shapes career choices, "including international opportunities they had not known existed."
Undergraduates have the floor
Unlike the aggressiveness of high school debate competitions, the Missouri Debate Union takes a more collegial approach, says institute student Paul Odu, the program's founder. "The atmosphere is interactive and conversational. It's about building knowledge and persuasion skills, not diatribes." All Mizzou undergraduates are welcome at the program's debates, where teams of students trade points of view on topics of the day. Likewise, the union's lectures by local politicians, professors and alumni are open.
Take me to my people
The institute's Democracy Lab answers a burning question on every freshman's mind: How will I find others who share my interests? By choosing the program, students interested in history and politics not only live on the same residence hall floor but also take the same classes with Kinder Institute faculty members. They quickly become a tight-knit scholarly community exploring constitutional democracy worldwide. And study buddies are never more than a few doors down the hall. More: democracy.missouri.edu
To read more articles like this, become a Mizzou Alumni Association member and receive MIZZOU magazine in your mailbox. Click here to join.