Aug. 29, 2022
Contact: Deidra Ashley, ashleyde@missouri.edu
Football. Is. Back.
And no home game is complete without Big MO: the largest playable bass drum in the world.
Despite its grandeur and size — the drum stands 12 feet tall on its base — Big MO is still a semi-delicate instrument, one that must be meticulously cared for.
This tending and tweaking is done by the Big MO Chairs, a team from University of Missouri band service organizations Tau Beta Sigma and Kappa Kappa Psi.
Every April, when hundreds of Missouri high school musicians descend on campus for the State Music Festival, the Big MO Chairs and faculty from the MU School of Music bring the drum out for a tuning.
"Big MO isn't easy to move, so when we do have it out of its case, it's a great time to provide some maintenance and tuning," said Julia Gaines, director of the School of Music. "We love bringing the drum out at the State Music Festival because it is such a strong symbol of the School of Music and of our campus. Thousands of high school students from all over the state get to see the drum up close and have a chance to hit it, providing a great memory of their time at Mizzou."
Because the drum is so large, it takes a team of three to tune it in a triangle pattern, rather than the traditional one-person star pattern. The entire process takes less than an hour.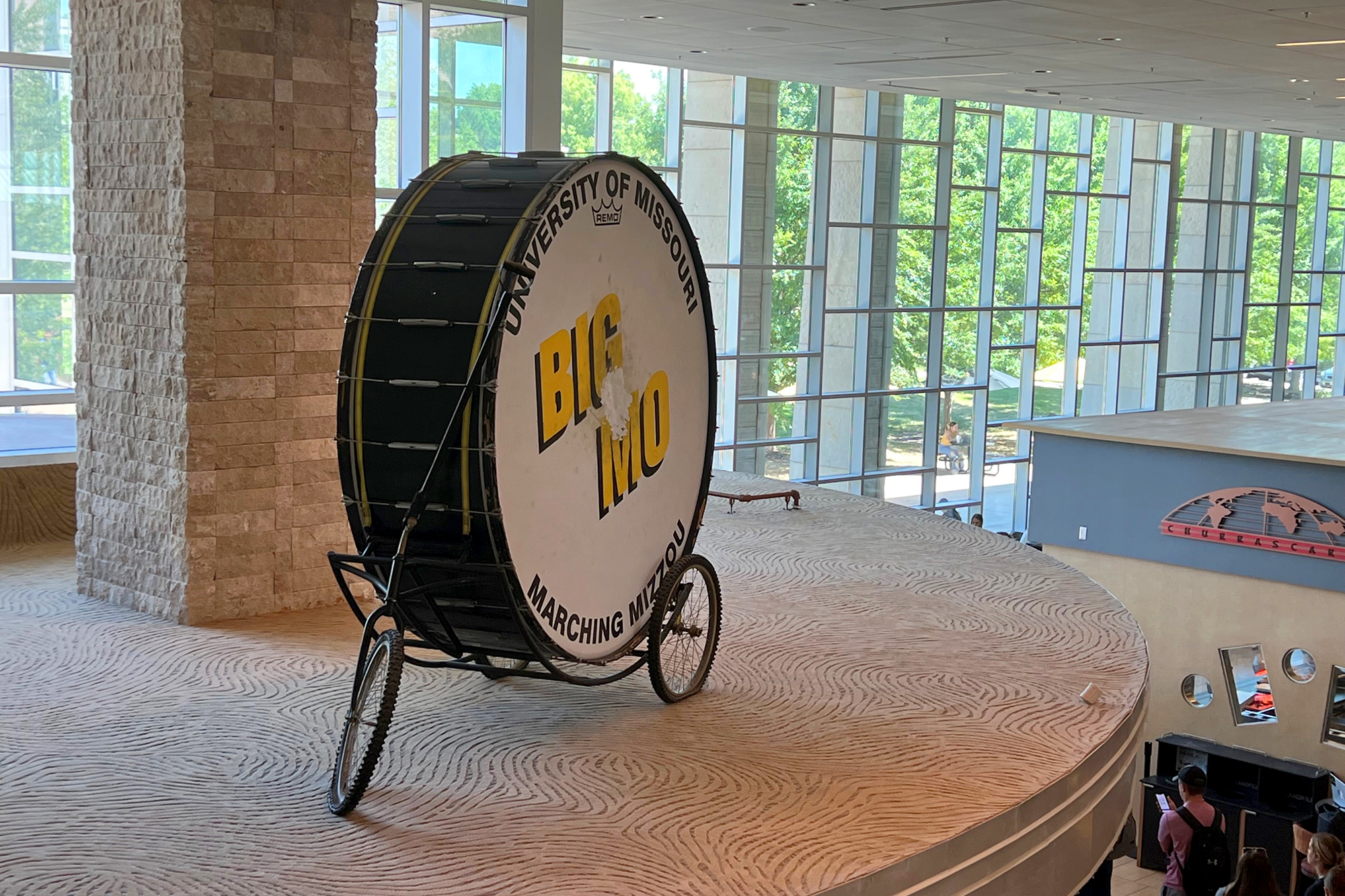 The Big MO we know and love today is not the only game day drum we've had on campus. The original drum, now on display in the Student Center, was donated to MU in 1980 by the Tiger Quarterback Club of St. Louis.
In 2011, both Tau Beta Sigma and Kappa Kappa Psi held fundraising campaigns, in addition to the $50,000 allocated by the Student Fee Capital Improvements Committee, to replace the worn-out drum with a bigger one to accompany the Tigers' move to the SEC
"Big MO provides spirit and contributes to our game atmosphere in Memorial Stadium – it's a highlighted item in the overall production of our game day," said Amy Knopps, Director of Marching Mizzou.
Through the years, a variety of people have played Big MO on game day including former coaches and players, SEC Network representatives, alumni and Marching Mizzou members. The chosen strikers are instructed by the Big MO Chairs on to how to properly hit the drum so they get the classic Big MO boom without denting the drumhead.
Want to take a closer look? Knopps invites fans to come see Big MO on game day. The drum is located in the northeast corner of Memorial Stadium (adjacent to Marching Mizzou in section 110).
Story written by Madalyn Murry