April 21, 2021
Contact: Deidra Ashley, ashleyde@missouri.edu
Crossing the stage is a ceremonial rite of passage for college graduates. This weekend, members of the University of Missouri class of 2020 are coming back to campus to fulfill this tradition and participate in in-person commencement ceremonies. Fourteen alumni members who are returning to Mizzou share what they've been doing since graduation, what they love most about their time at Mizzou and why they're excited to return to CoMo.
Kimberly Amaonye
Program: Bachelor of science in nursing
I am currently working as a pediatric cardiac intensive care unit registered nurse. I'm looking forward to coming back to walk because I believe that graduation ceremonies signify a huge accomplishment and will allow me to have full closure of that chapter of my life. I'm also really excited to see and catch up with the other graduates in the 2020 class. Our goodbyes were cut short due to the pandemic.
---
Madaline Dunkmann
Studied: Journalism; minored in business
I am forever grateful for the lifelong friendships, endless opportunities and all the memories Mizzou has given me. I will never miss an opportunity to go back to the place that will forever feel like home.
---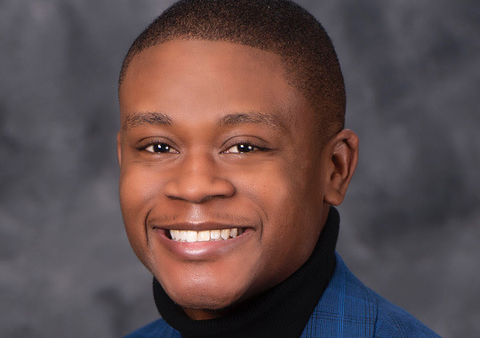 Anthony Ealy
Studied: Law
At Mizzou Law, I had the opportunity to be on the National Black Law Students Association Board. There, I expanded my networking circle and met some of my best friends who are still around today. Today, I work as an Associate for Blake & Uhlig, P.A. I was placed on the KCMBA YLS Board, and I am involved in other success-building organizations. Now, I have the chance to learn to fly.
---
Shelby Grant
Studied: Food science and nutrition
After I completed my last semester, I stayed in Columbia due to the job market being better here during the pandemic. I found a good job with a small company, and since then I've been patiently waiting for the proper recognition of my greatest accomplishment.
---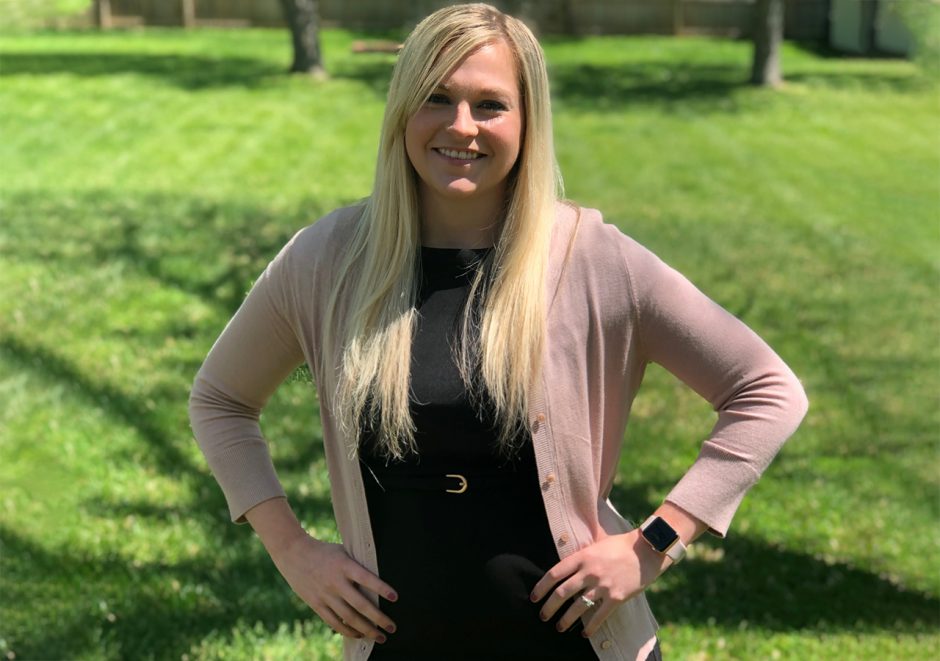 Alexandria "Lexi" Grodie (formerly Brinker)
Program: Doctor of nursing practice with an emphasis in family psychiatric and mental health nurse practictioner
When searching for programs, I knew deep down I wanted to attend Mizzou. The prestige, the honor — it was such an amazing experience to be a part of Mizzou.
I was a distance learner but that didn't matter. Mizzou gave me the opportunity to live out my dream. I may have only "met" the faculty and my cohort group a couple of times, but each time we met, we grew closer. Mizzou is an excellent school with an exemplary nursing program. I will forever stand by decision to attend Mizzou and encourage future students to do the same.
Since graduation, I have gotten married and started working as a family psychiatric and mental health nurse practitioner.
---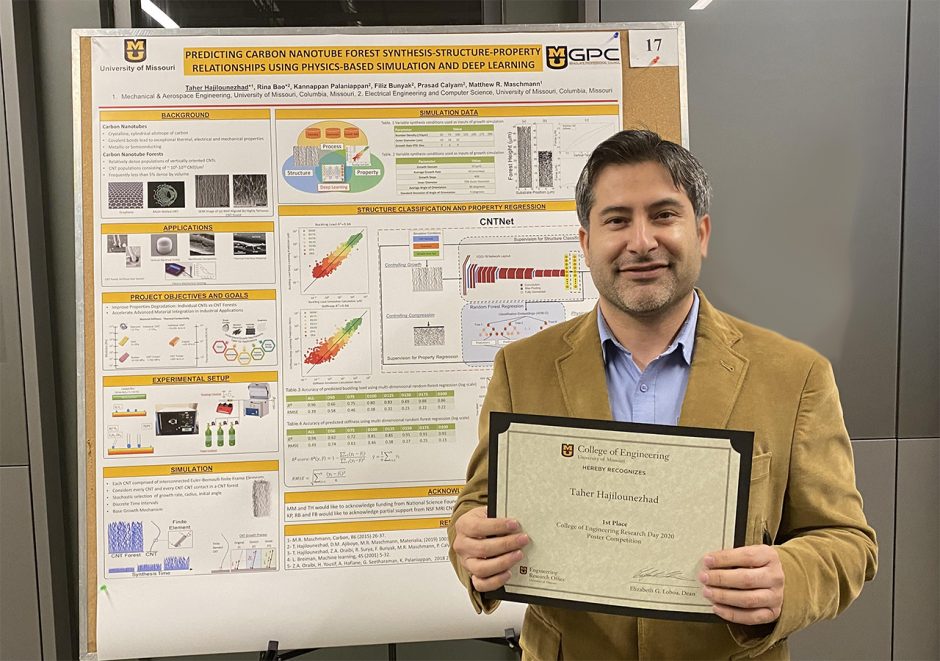 Taher Hajilounezhad
Studied: Mechanical and aerospace engineering
I picked the University of Missouri for my PhD journey because Mizzou offers a world-class research opportunity backed by wonderful leadership, faculty, research staff and facilities. As an international student, I experienced many ups and downs, but, my advisor, who was also my best motivator and mentor, tremendously helped me pass through all struggles and frustrations. I appreciate Professor Matt Maschmann, the Mechanical and Aerospace Engineering Department and all my lab mates, collaborators and my family, for their encouragement and support.
---
David Helmerich
Program: execMBA
Since graduating, I have been able to pivot careers into a different industry and continue to grow with the tools Mizzou gave me. I am excited to come back for graduation, because — after receiving an undergraduate and graduate degree from the university — Mizzou feels like a second home to me, and I will take any opportunity I can to return to campus.
---
Montgomery Hill
Program: execMBA
Since graduating in May 2020, I was able to secure a job in Columbia with Veterans United. The skills I learned throughout the execMBA program gave me the confidence I needed to step out during a global pandemic, take a leap of faith and start a new career path! I was so excited to receive a second degree from Mizzou and get a job with a local company.
Columbia has always felt like home. I pass Faurot Field every day on the way to work now, and it brings back great memories from my childhood, college years and professional years of cheering on our Tigers. Now, campus is basically in my backyard and I can live and breathe black and gold every day!
---
Hope Johnson
Studied: Journalism with emphasis in strategic communications; art with emphasis in graphic design
I absolutely loved my four-and-a-half years at Mizzou, and I'm so grateful that my class has the opportunity to come back and walk in an in-person graduation. Since finishing classes in December, I've been lucky enough to land an opportunity as a junior brand designer at BuzzFeed's New York office. I've been working from home in Columbia, so the ceremony will be just a short walk away. It will be such a fun weekend to reunite with Mizzou peers and celebrate our achievement!
---
Michael Osher
Studied: Biological sciences with emphasis in medical science and human biology; minored in chemistry and theater
Returning for graduation will allow me to celebrate my hard work as an undergraduate with my friends and family — I will feel like I finally finished what I started. I'm excited to continue my education at Mizzou's medical school this fall.
---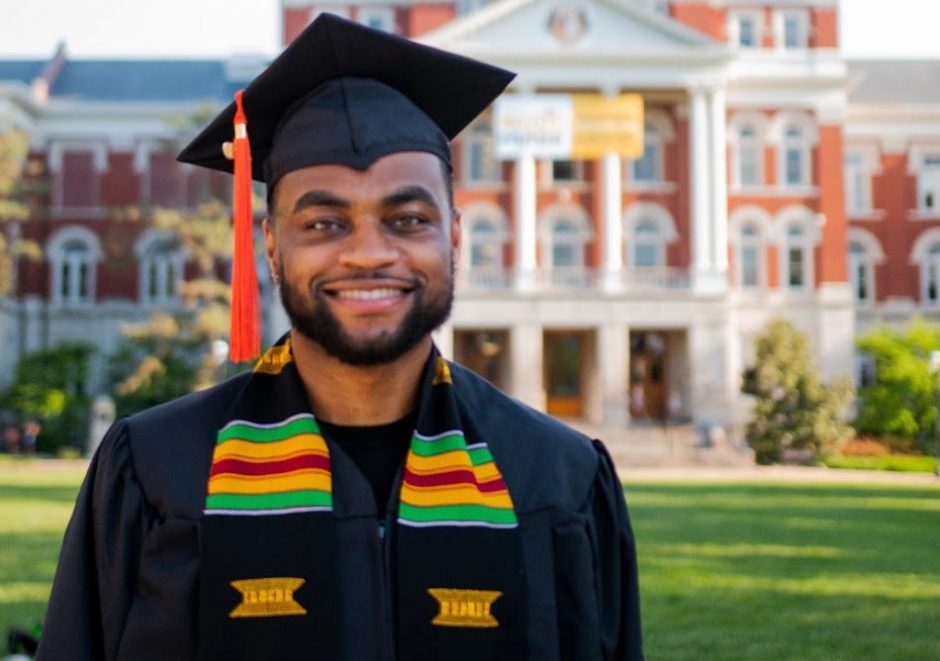 Austin Paschal
Studied: Civil engineering
After graduation, I began work as a civil engineer and design engineer for ComEd, a utility company in the Chicago area. I am coming back to enjoy this special moment with family and friends. Last year, everything ended so quickly that we didn't get to fully grasp and enjoy this accomplishment. Now is our time to shine.
---
Rebecca Poulin
Studied: Speech, language and hearing sciences
Currently, I am in my first year of graduate school for a master's of health science in speech, language and hearing sciences at Mizzou. I feel so grateful that Mizzou gave me the opportunity to attend an in-person graduation with my family present. I am able to celebrate my accomplishments so far and look forward to my future endeavors.
---
Sarah Pribe
Studied: English, international studies and Russian
I had a great time at Mizzou and will forever be grateful for the opportunities and incredible mentorship and support I had from my professors. Their guidance led me to opportunities I didn't know existed and helped me discover my own skills and interests in transitional justice and human rights.
Since graduation, I have been working as a program associate at a global pro bono law firm. I'm excited to have this opportunity to come back walk — it is a nice closure to a great four years.
---
Monica Witzke
Studied: Biomedical sciences with emphasis in veterinary medicine and surgery
Through my bachelor's and master's degrees at MU, I made great friends and landed my dream job. I am excited to come back for graduation to celebrate this chapter in my life and to congratulate the other graduates. We did it!