Dec. 8, 2021
When the COVID-19 pandemic first hit in spring 2020, it seemed like the backdrop of a Ted Chiang science fiction novel. Widely considered to be one of the most influential writers in his genre, Chiang was scheduled to visit the University of Missouri for its Artist in Residence program, but that plan was delayed until earlier this month. His visit, some two years in the making, was the first in-person Artist in Residence since the pandemic.
"Ted Chiang's visit struck such a chord with our community because he touched upon not just such science-fiction premises as artificial intelligence and life-logging, but upon science ethics and how existing technologies can better serve humanity," said Phong Nguyen, director of creative writing and the Miller Family Endowed Chair in Literature and Writing at MU.
Chiang's writing explores connections to artificial intelligence, biotechnology, science and linguistics. His fiction works have won multiple Hugo, Nebula and Locus awards and have been featured in The Best American Short Stories. His debut collection, Stories of Your Life and Others, has been translated into 21 languages. An adaptation of one short story from that collection, Story of Your Life, was made into the 2016 film Arrival, starring Amy Adams.
In addition to giving a craft talk and a talk on life-logging, Chiang met with faculty and students in the Department of English. He also served as a guest lecturer in two classes, Introduction to Fiction, taught by AnnElise Hatjakes, and Caroline Brock's course on Technology and Society. Brock said she appreciated Chiang's "agility and willingness to respond to any questions around the intersections of science/technology and society and his writing process."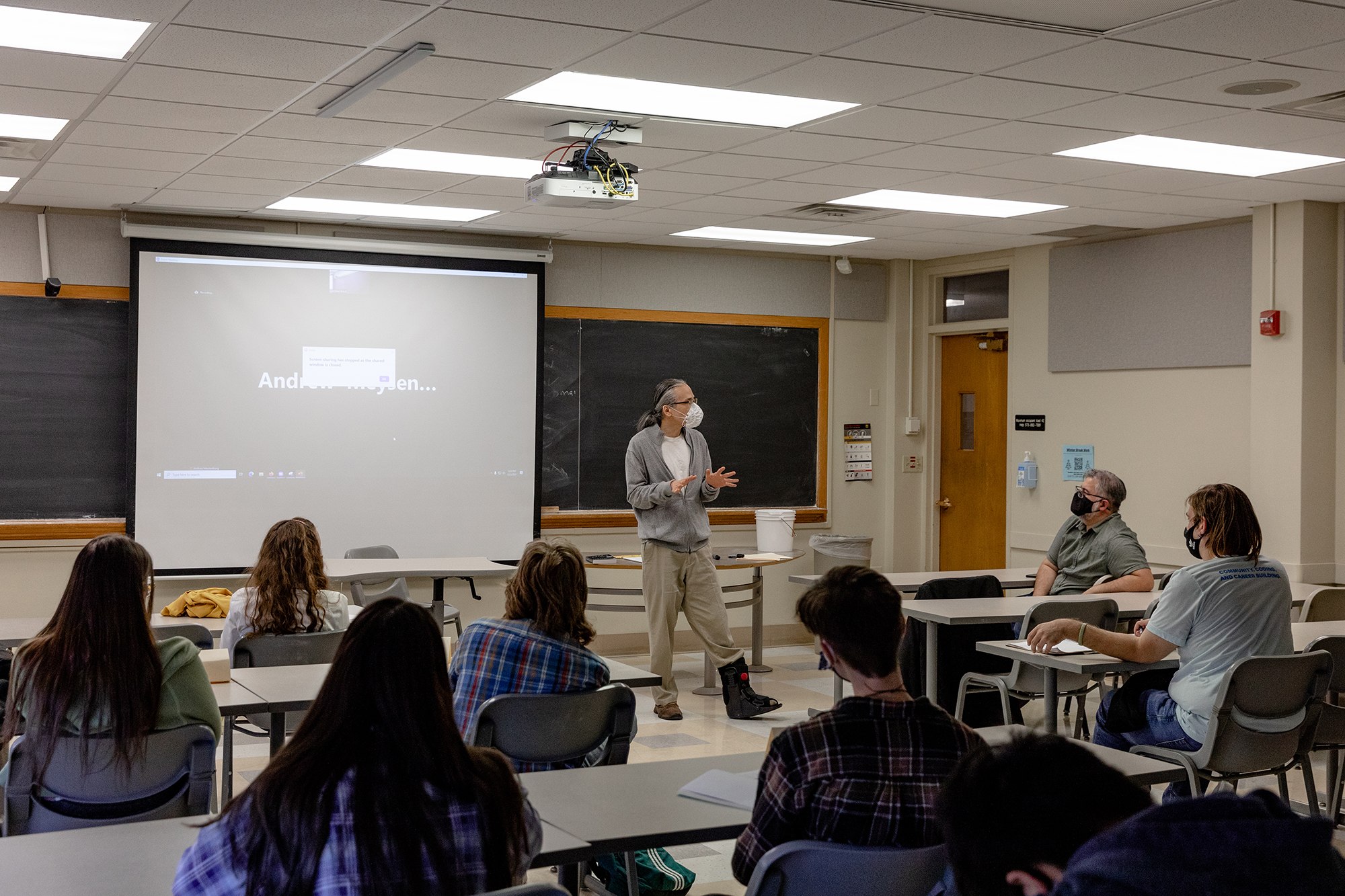 For Hatjakes, who also is a graduate student, the visit was particularly meaningful. "Ted Chiang's visit gave me a renewed sense of inspiration — both as an instructor and as a graduate student," she said. "It can be easy to get lost in the day-to-day responsibilities of providing feedback, conducting research and writing seminar papers, so I was especially grateful for his visit; it served as a great reminder of what made me want to write in the first place — the desire to create new worlds that are constrained only by the limits of my imagination."
AIR is a program of the College of Arts and Science and a collaboration of the Museum of Art and Archaeology, School of Music, Department of Theatre, School of Visual Studies and Department of English. Working together, these principals have focused the program's mission on inviting established and emerging artists to MU to celebrate the arts and cultivate creativity across disciplines. AIR helps position MU as a national leader in supporting the arts and building a creative economy. The program is a special initiative of the Office of the Chancellor.