Sept. 11, 2021
Dozens of community members gathered on The Quad on Saturday, Sept. 11, to honor the nearly 3,000 lives lost on 9/11. The ceremony included a wreath processional, presentation of the colors by the Joint Services Color Guard and City Honor Guards, a flyover by the MU Health Care helicopter and music performed by the Boone County Fire Protection District Pipes & Drums group and University of Missouri School of Music faculty. Provost Latha Ramchand and Columbia Mayor Brian Treece gave remarks. See photos from the event.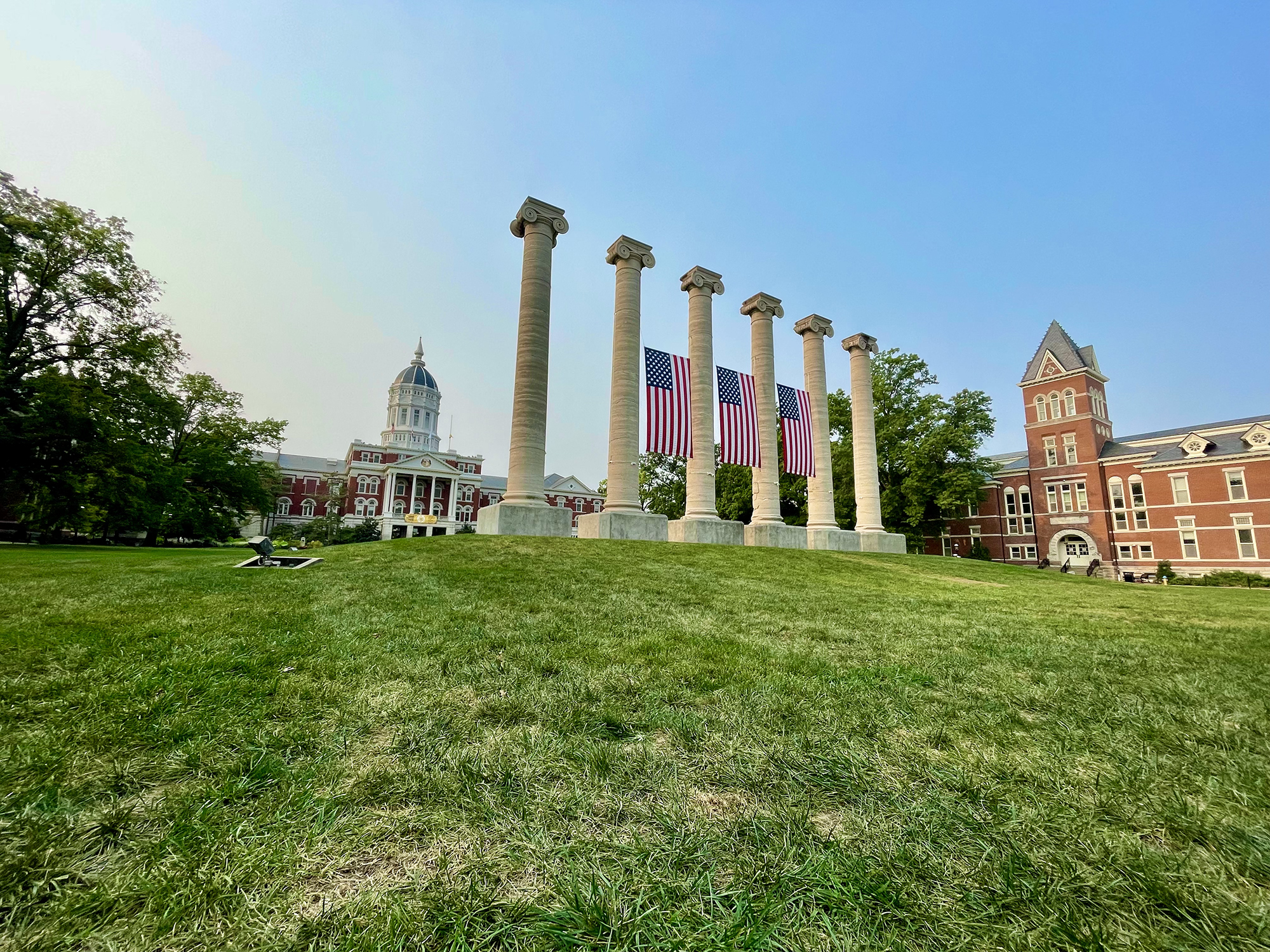 American flags swayed between the Columns as community members arrived ahead of the ceremony. At 10 a.m., the Switzler Hall bell rang 20 times in honor of the 20th anniversary of 9/11.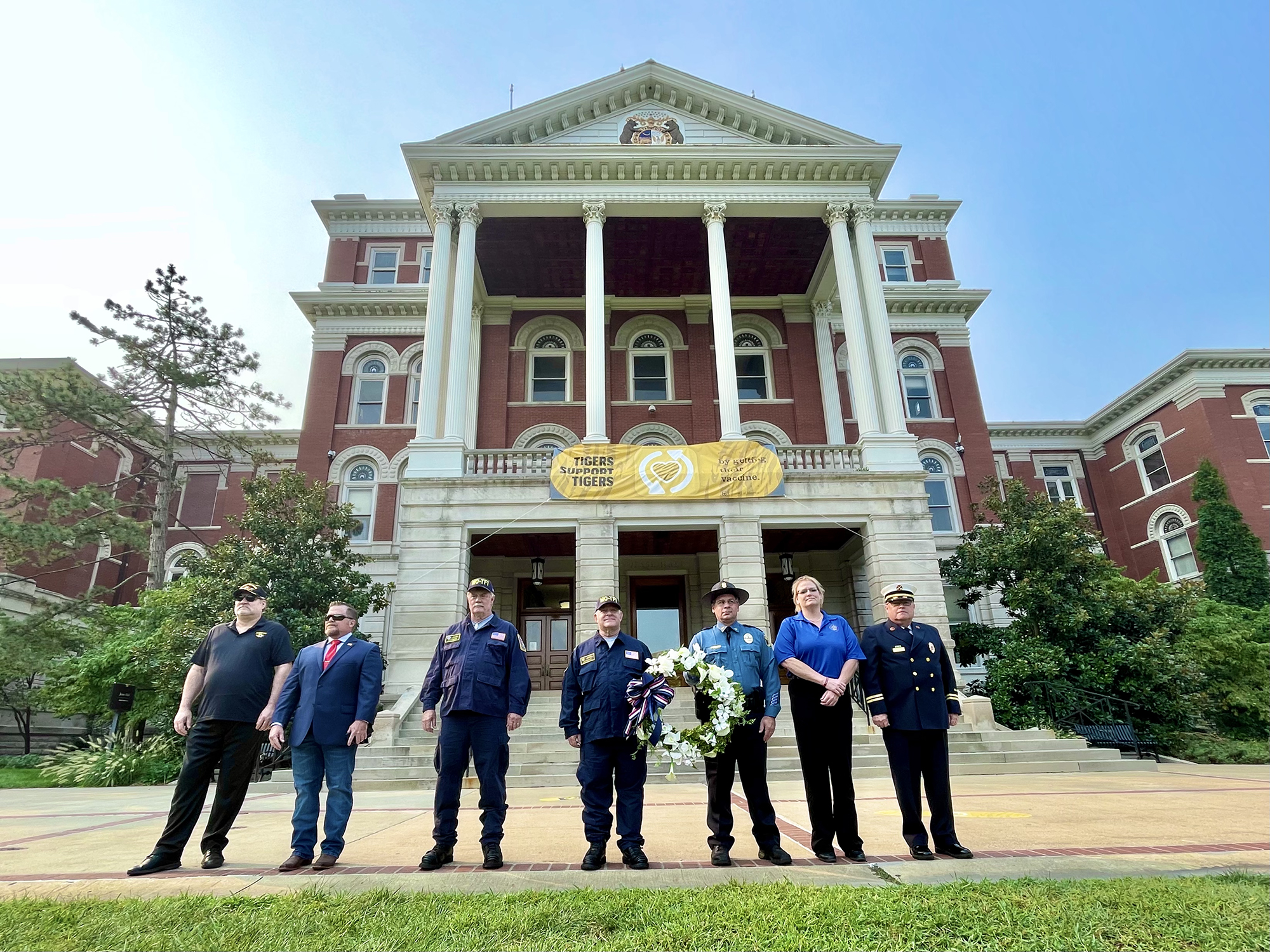 Representatives from the Missouri Student Veterans Association, Mizzou Military Vets Alumni Association, the MU Police Department, MU Fire and Rescue Training Institute, Missouri Task Force 1 and the Columbia Fire Department carried the wreath from Jesse Hall to the Columns.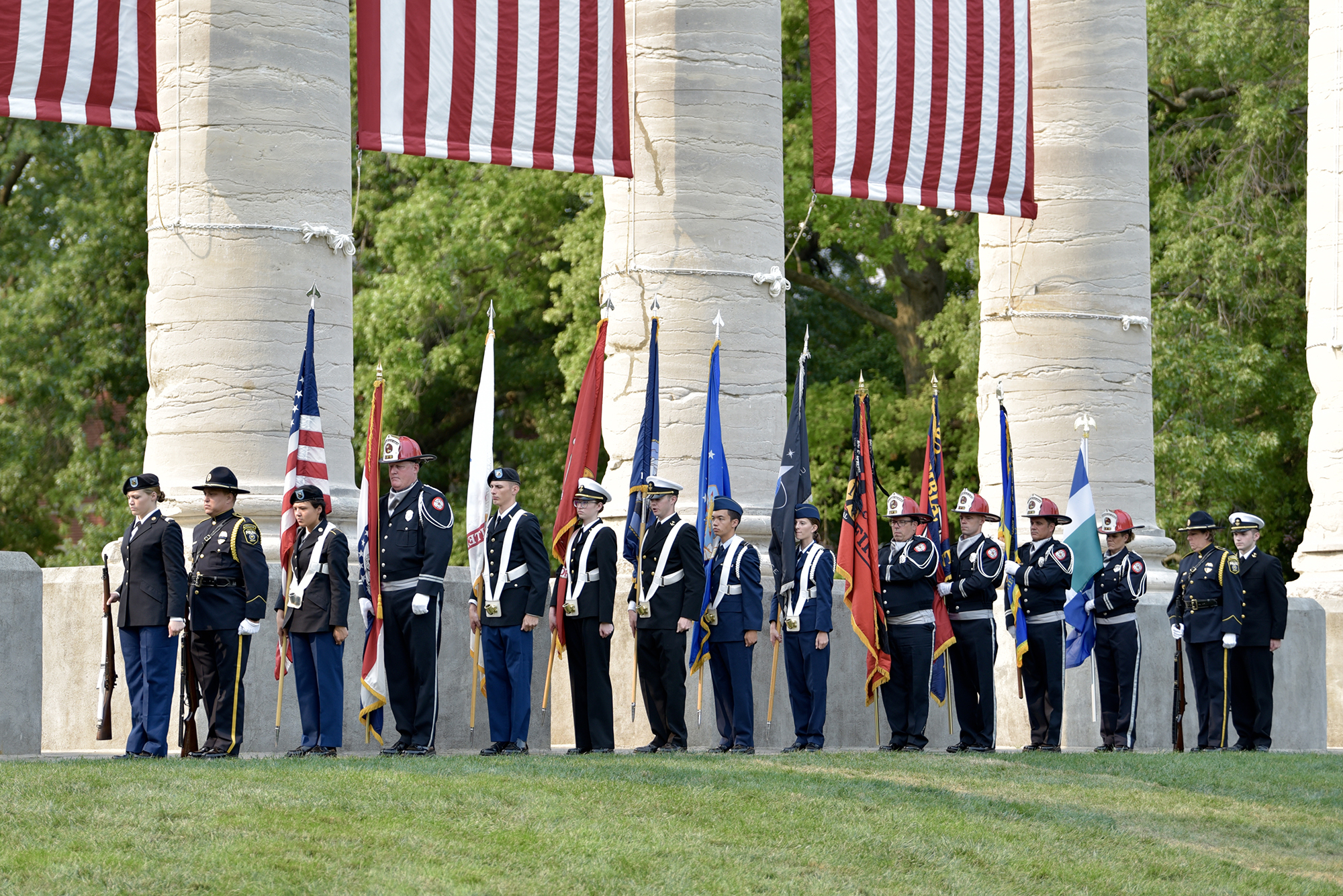 The Joint Services Color Guard and City Honor Guards presented their colors at the beginning of the ceremony.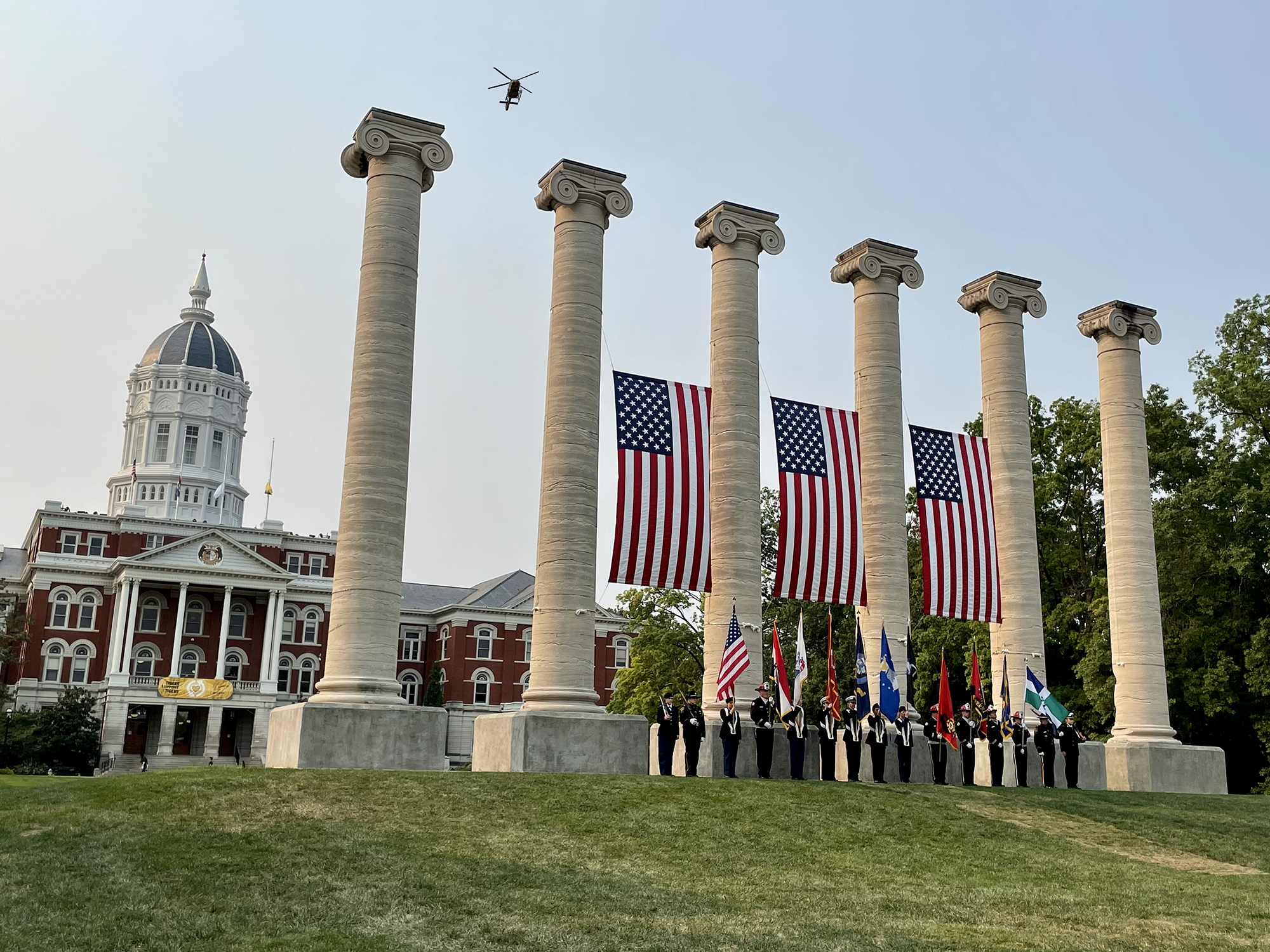 After a moment of silence, the MU Health Care helicopter flew over the crowd toward the Boone County Courthouse.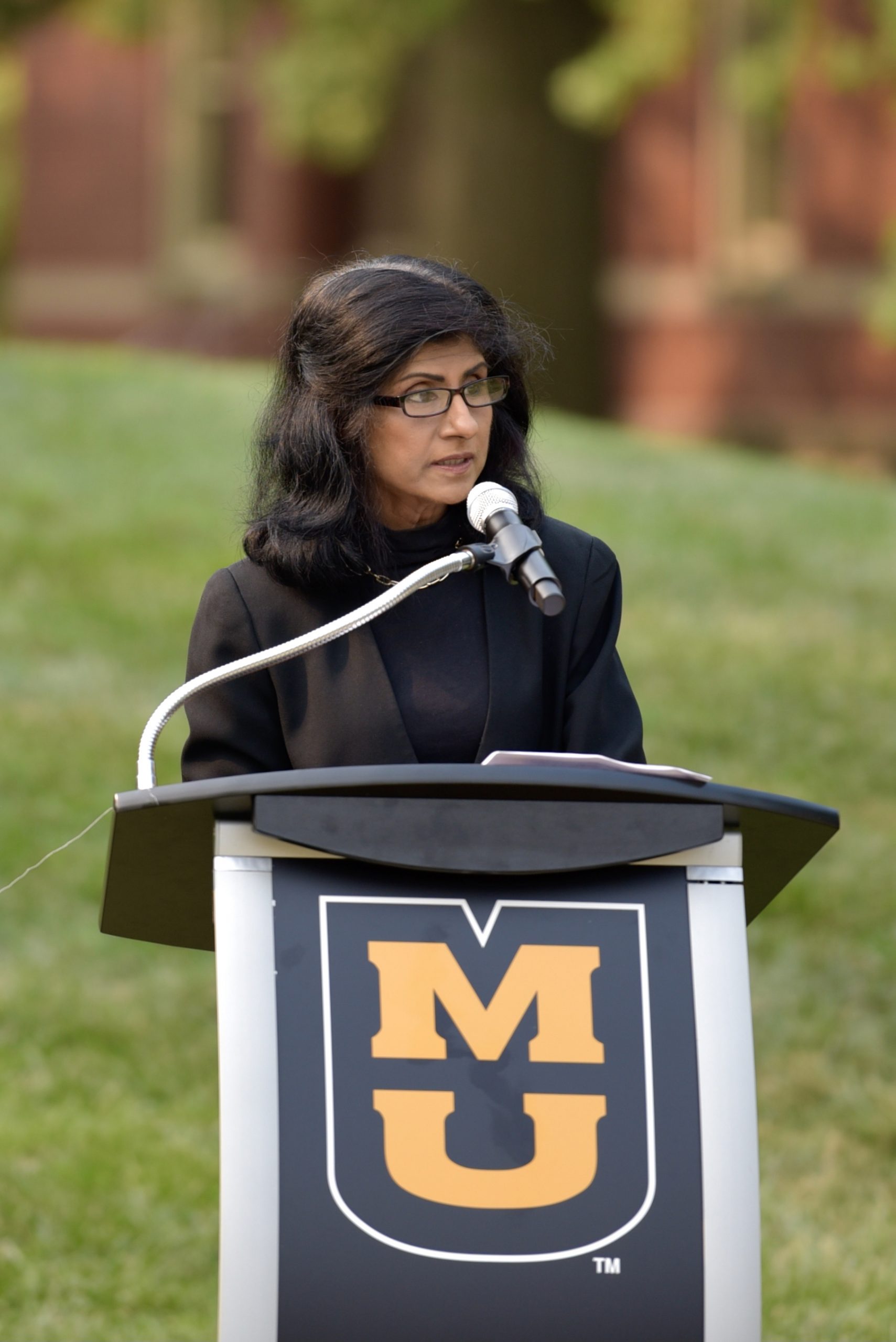 In her remarks, Provost Latha Ramchand shared her own connection to the attacks of 9/11. Her brother was working on Wall Street, across the street from the World Trade Center, that day. "I will never forget those moments as we waited anxiously to hear from him — and how relieved we were when we got that call letting us know he was alive," she said.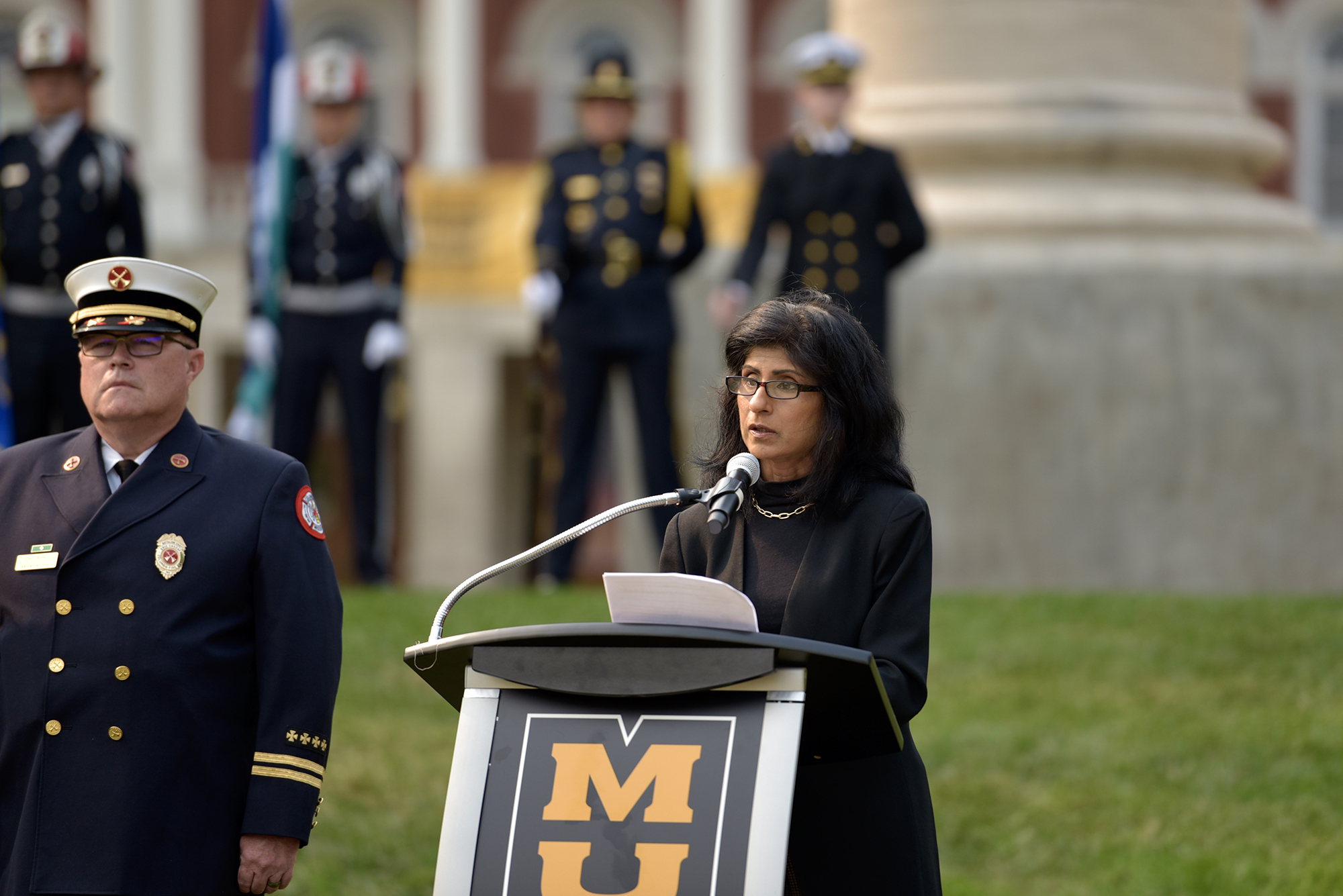 Ramchand continued to talk about the strength of our country and the veterans and service members within the Mizzou community. "We are honored, as an institution, to give back to those who have given so much for our country," she said. "These heroes show us that people can try to destroy us, but our spirit and our values can never be taken away from us."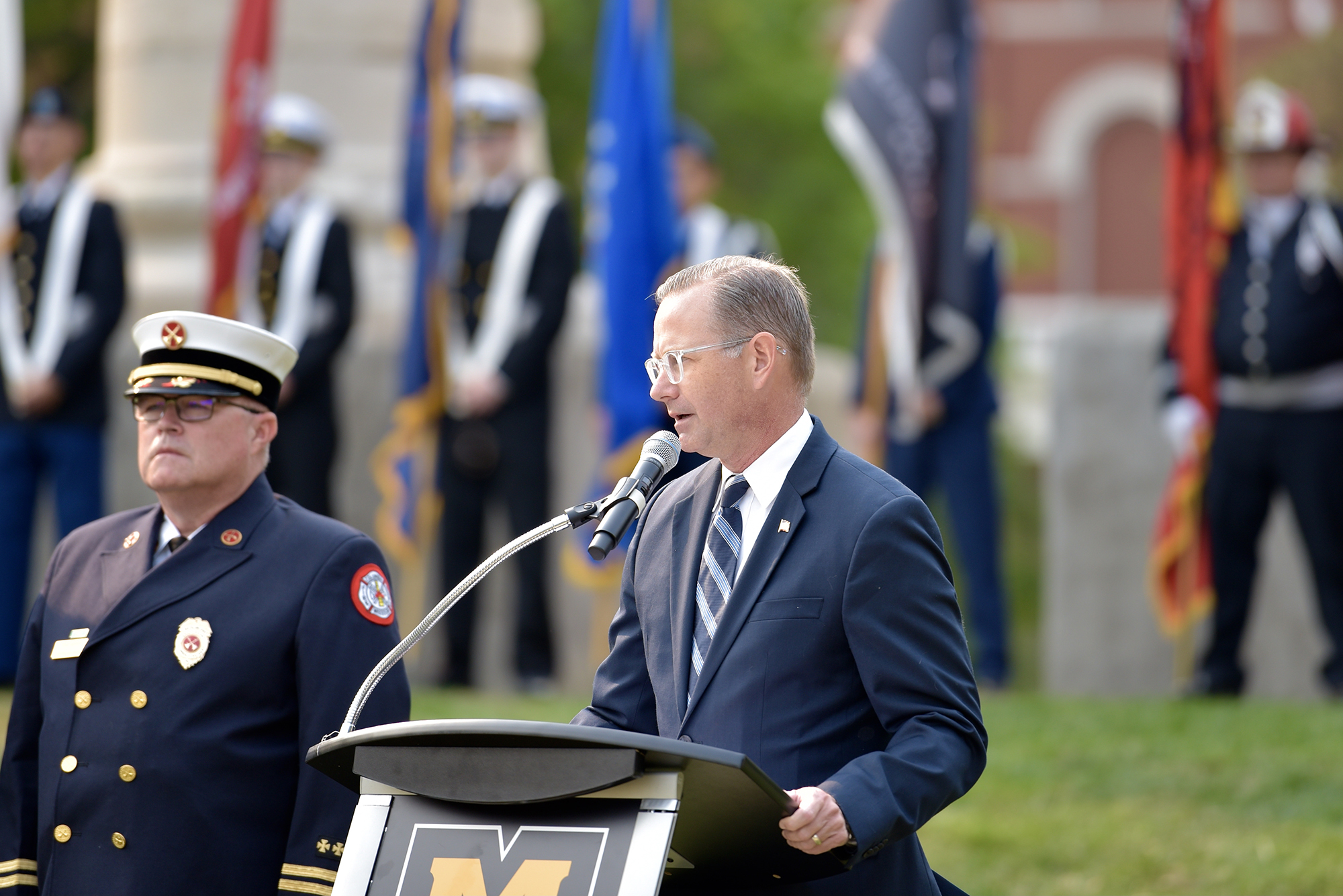 Columbia Mayor Brian Treece mirrored Ramchand's sentiment and reflected on how tragedy can shape our future — both as a country and a community. "Sometimes, it takes a tragic event like the attacks on 9/11 to make us remember all that we can accomplish when we set aside our differences for the common good," he said. "May we carry on the compassion and unity that we felt, as a nation, after these attacks and ask ourselves, 'How can we dedicate our lives in service to others?'"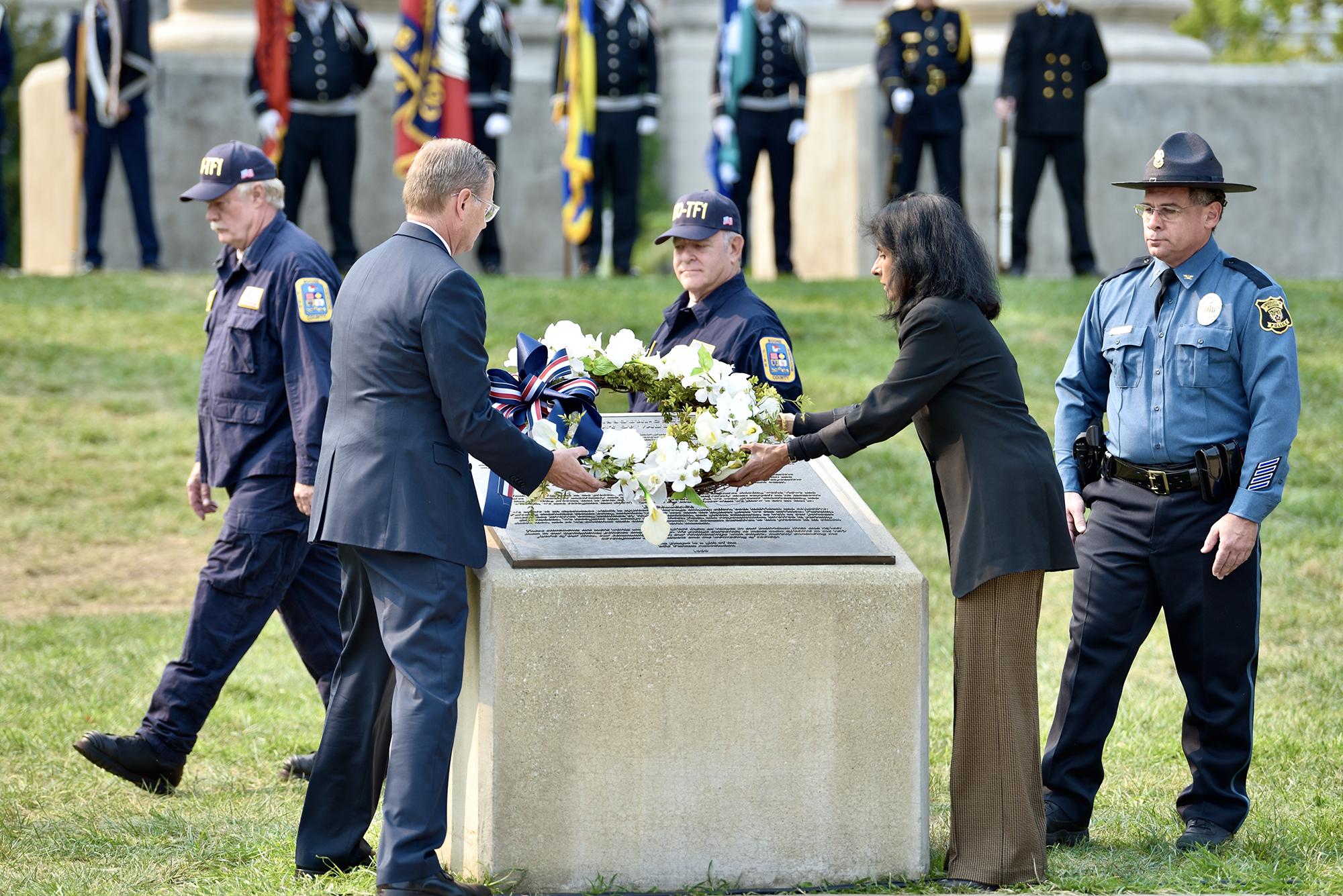 Treece and Ramchand placed a wreath on the Columns' cement marker in honor of the nearly 3,000 lives lost on Sept. 11, 2001.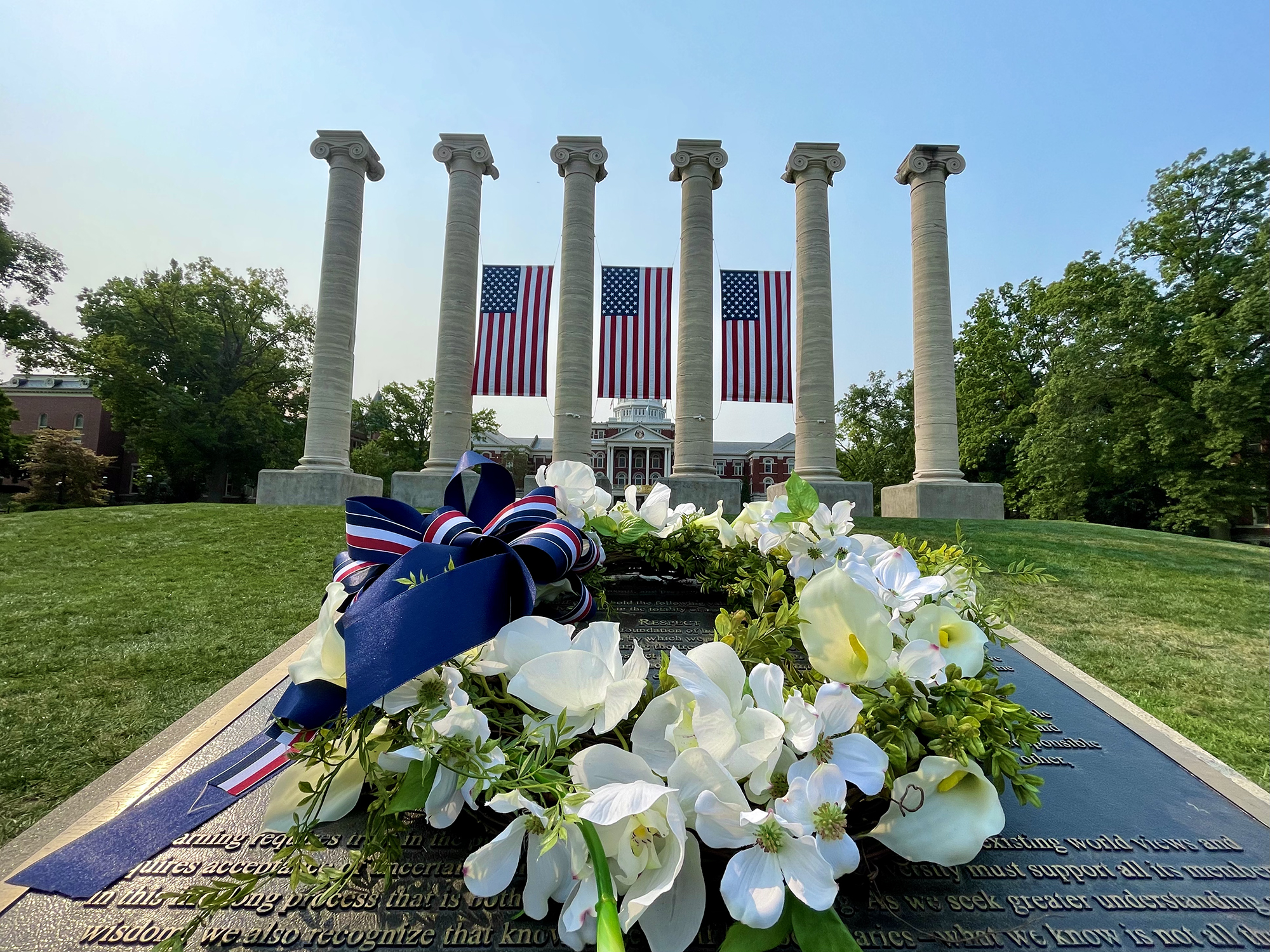 The memorial wreath was on display for the rest of the day.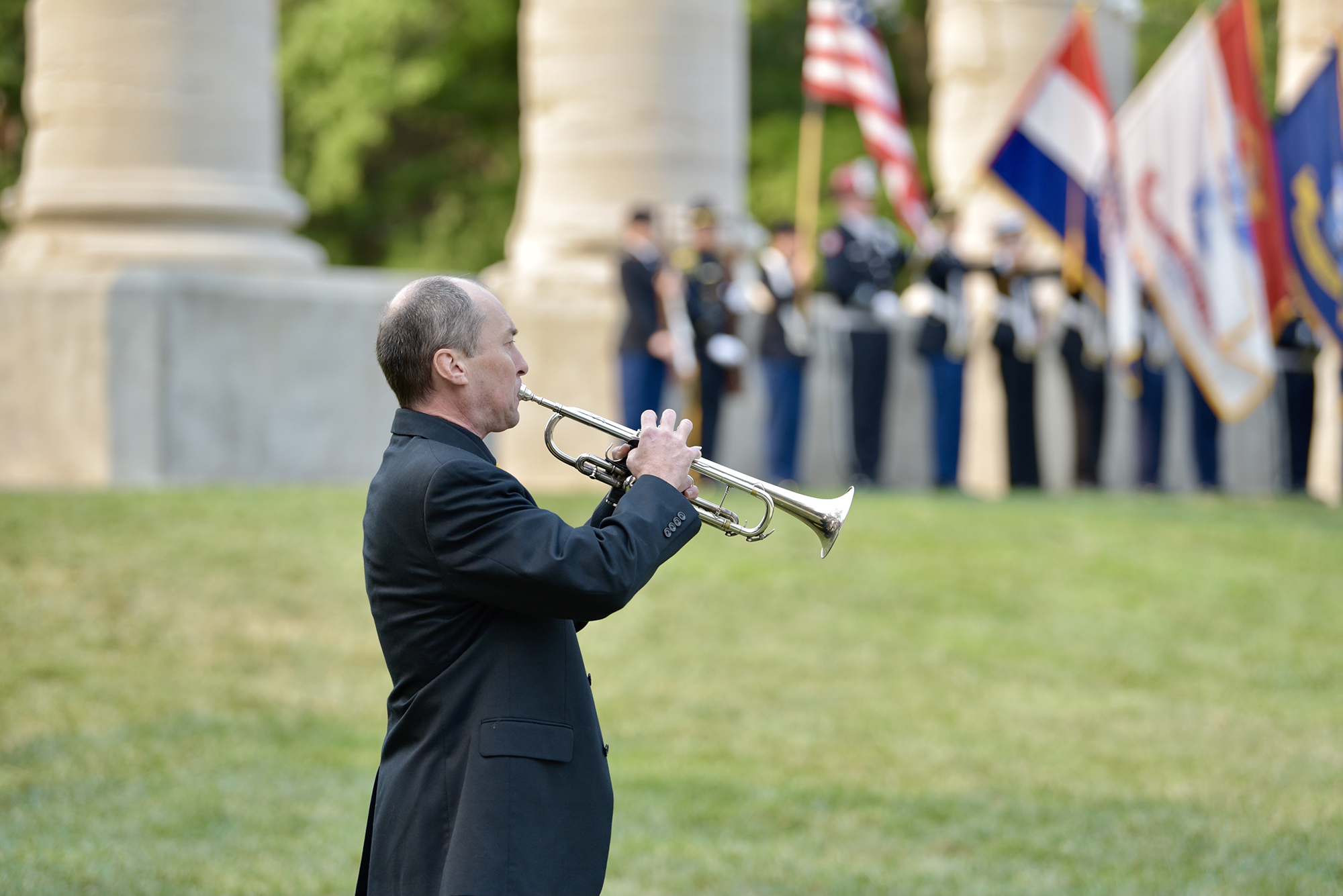 School of Music Professor Iskander Akhmadullin played taps after the wreath was placed on the marker.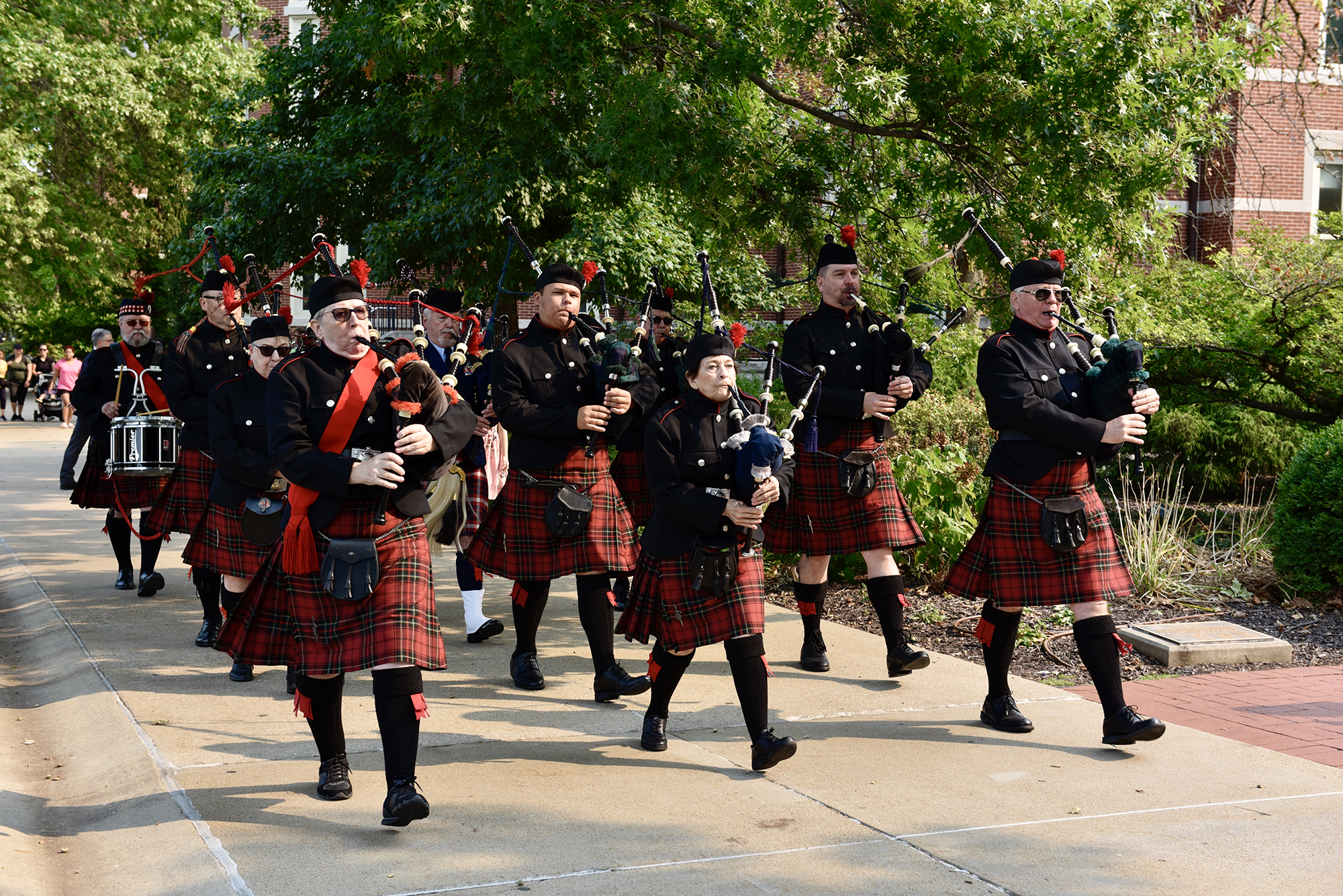 The Boone County Fire Protection District Pipes & Drums group closed out the ceremony with patriotic music.