Dec. 10, 2021
Contact: Deidra Ashley, ashleyde@missouri.edu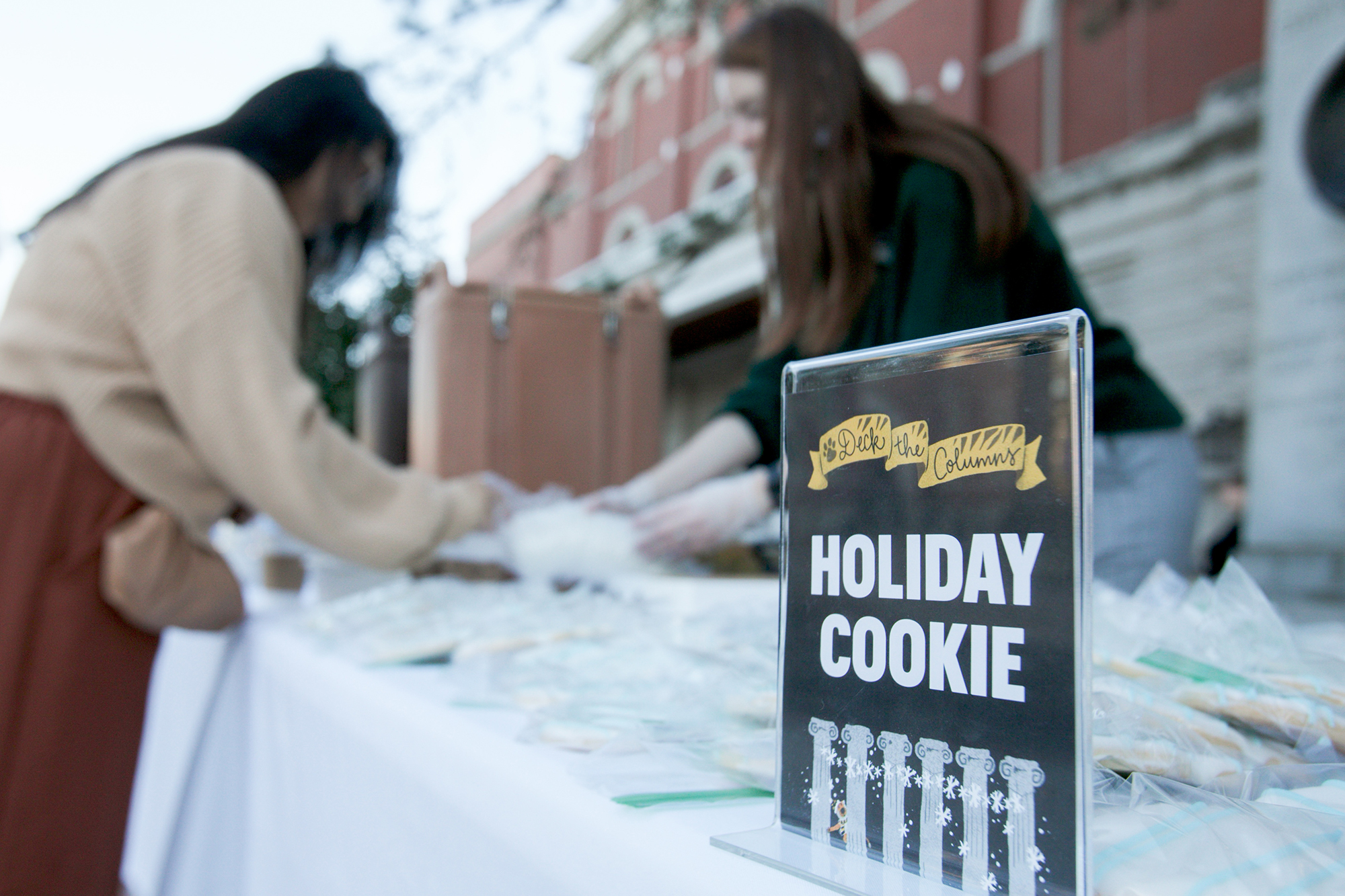 More than 800 faculty, staff, students and community members gathered on the Quad Dec. 9 for the inaugural Deck the Columns event.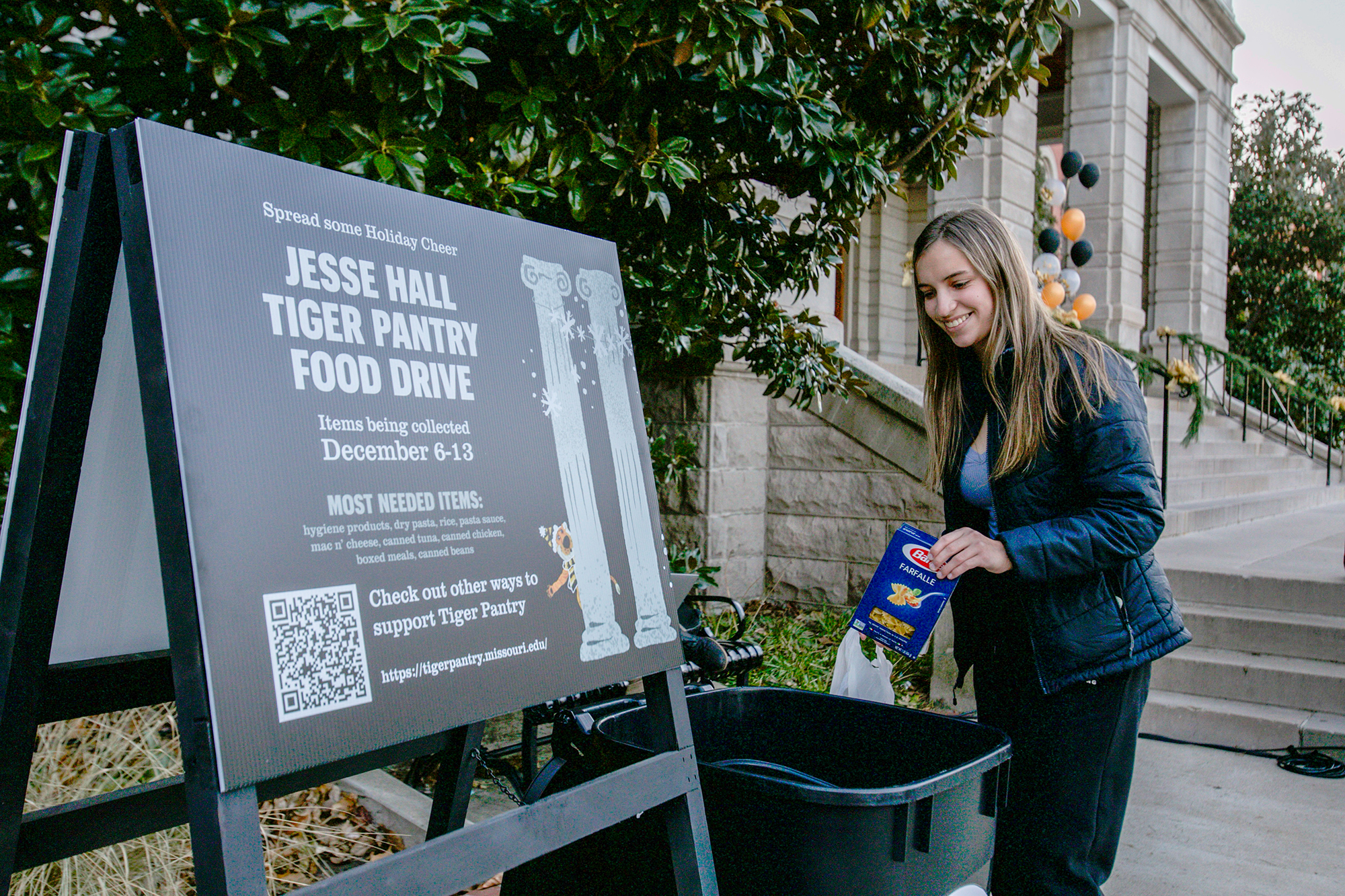 The event was a campus-wide celebration as well as an opportunity to donate to the Tiger Pantry — an on-campus resource that helps address food insecurity. Sophomore Lilah Roberts brought nonperishable items to contribute.
Many campus leaders were present, including President Mun Choi. Students enjoyed interacting with him and taking group photos and selfies.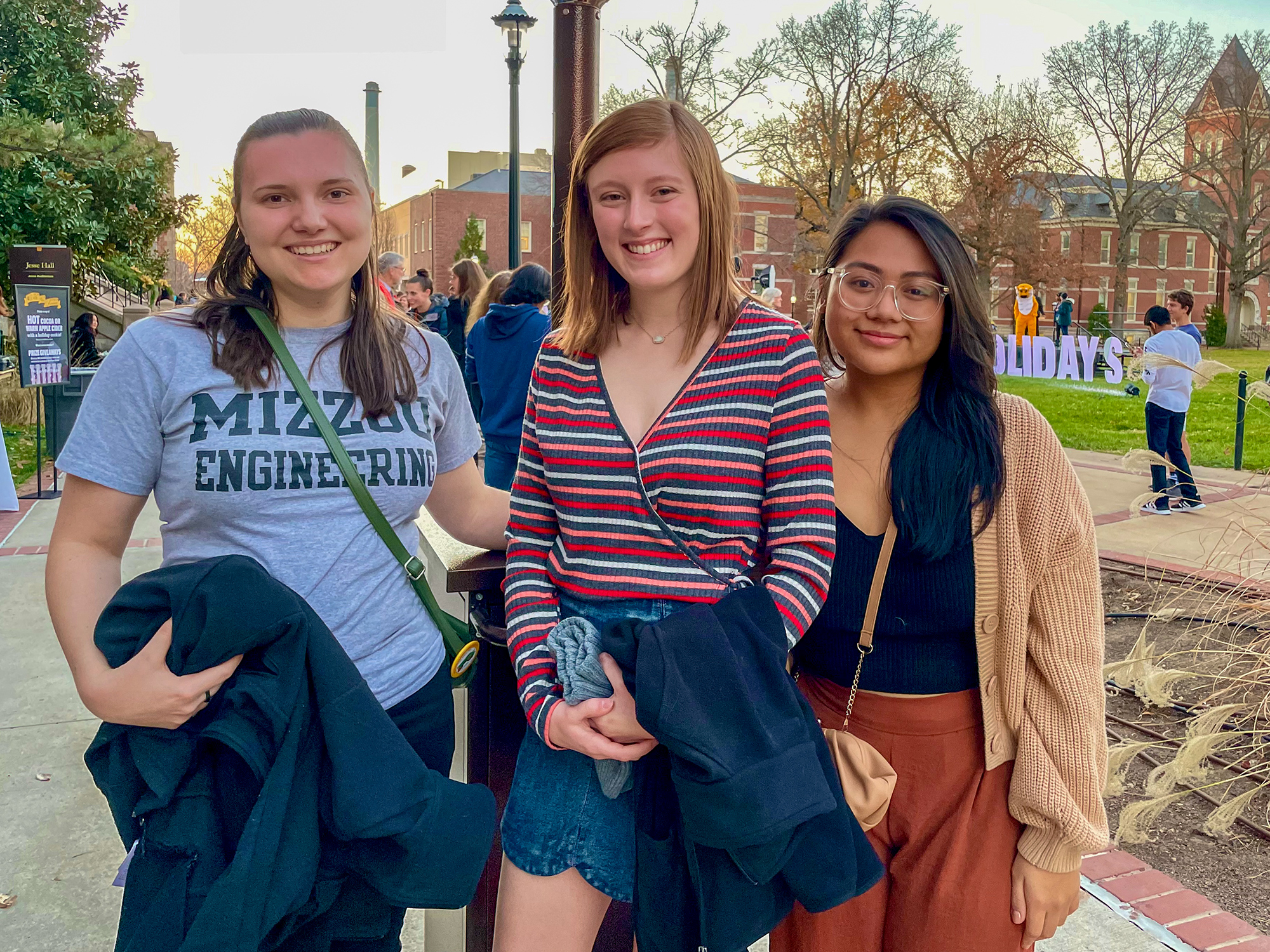 "This was the first time I met President Choi, and we had a nice time talking to him," said senior Diana de la Cruz. "We're engineering majors, and he talked to us about our future careers and how we can make an impact." (Pictured left to right: Katy Whitledge, Haley Niner and Diana de la Cruz)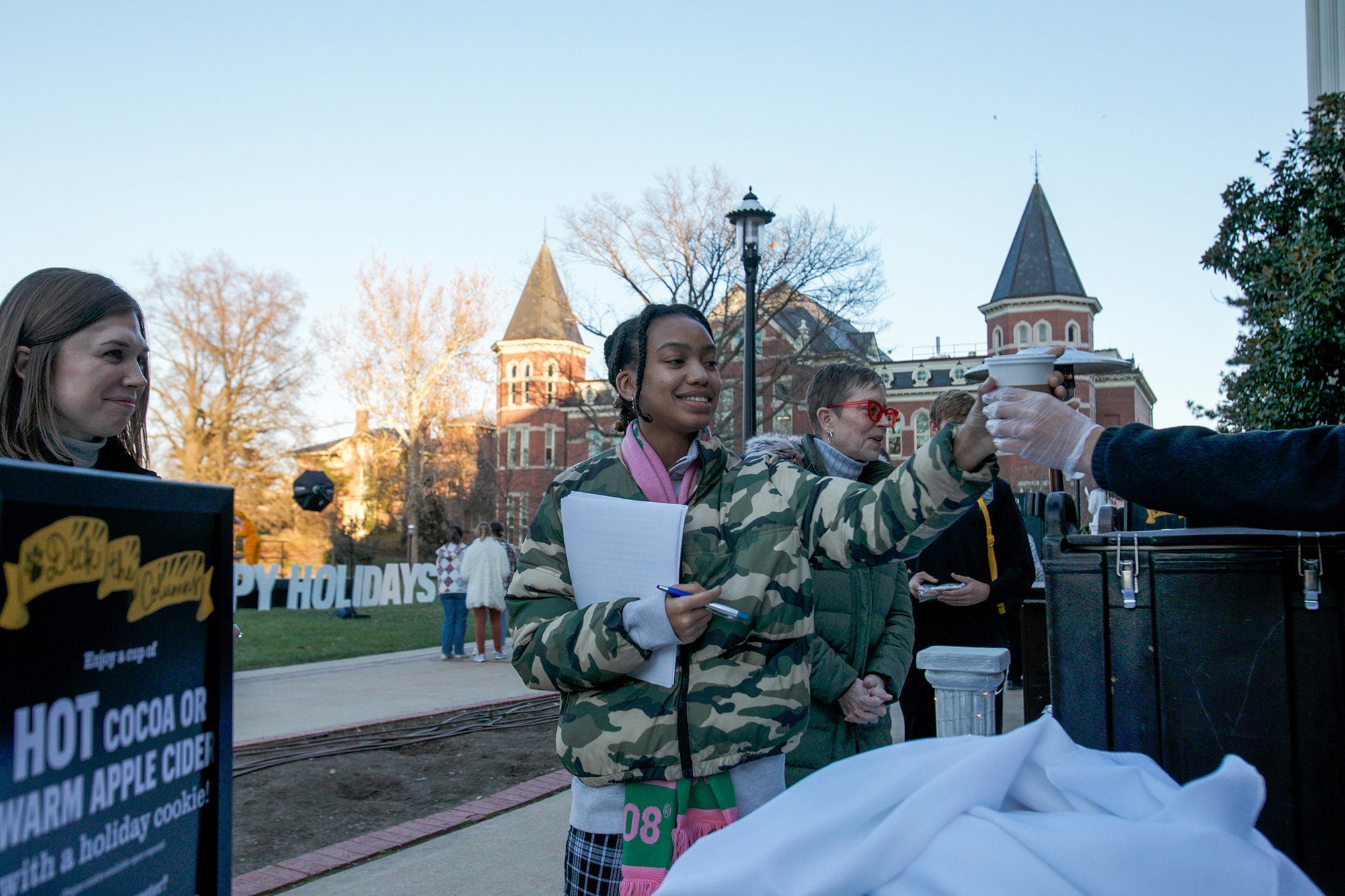 It wouldn't be a party without snacks. Attendees drank more than 40 gallons of hot cocoa and 20 gallons of warm apple cider.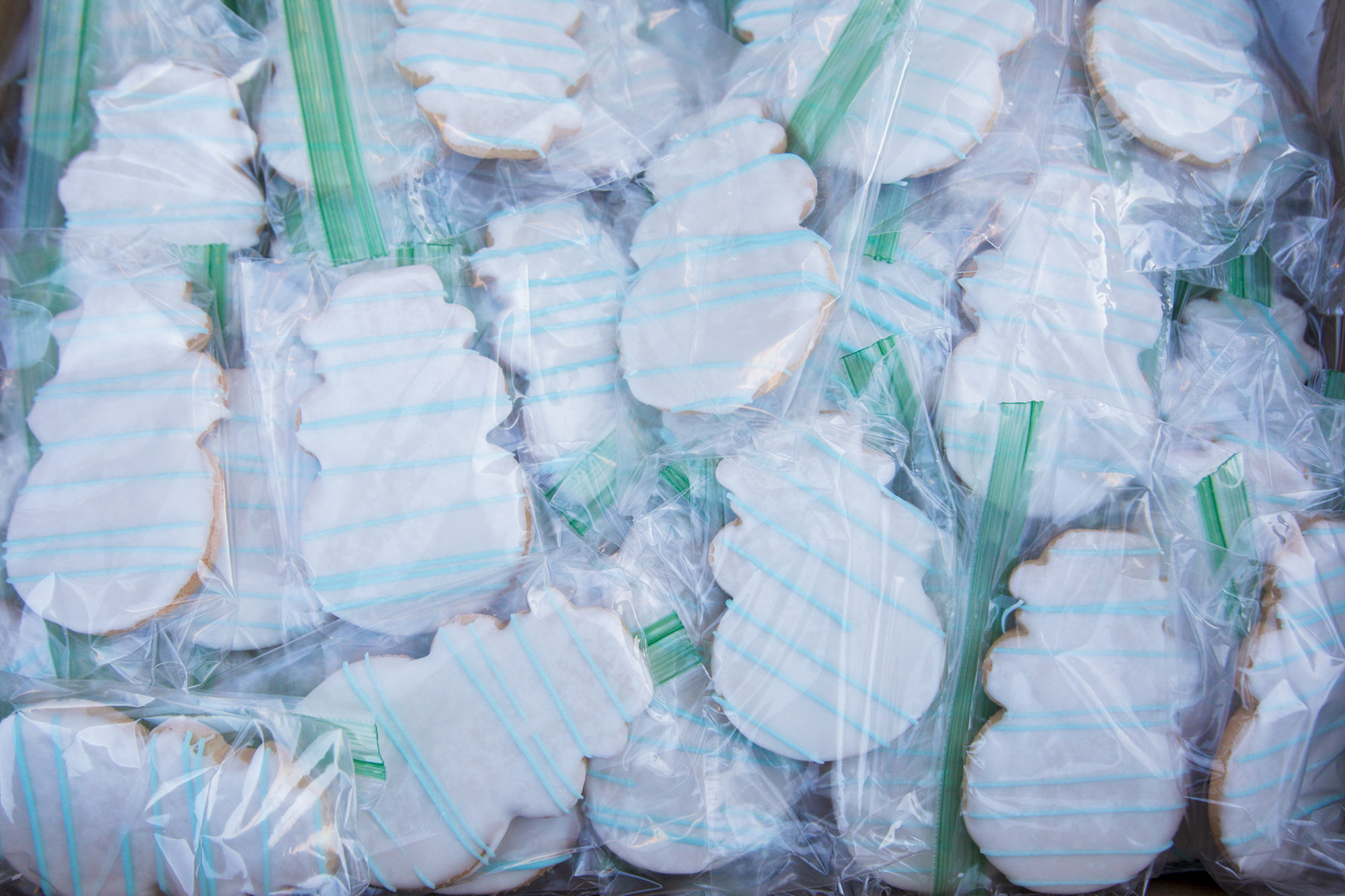 They also enjoyed snowman cookies — some of which had prize-winning stickers on the back of the packaging.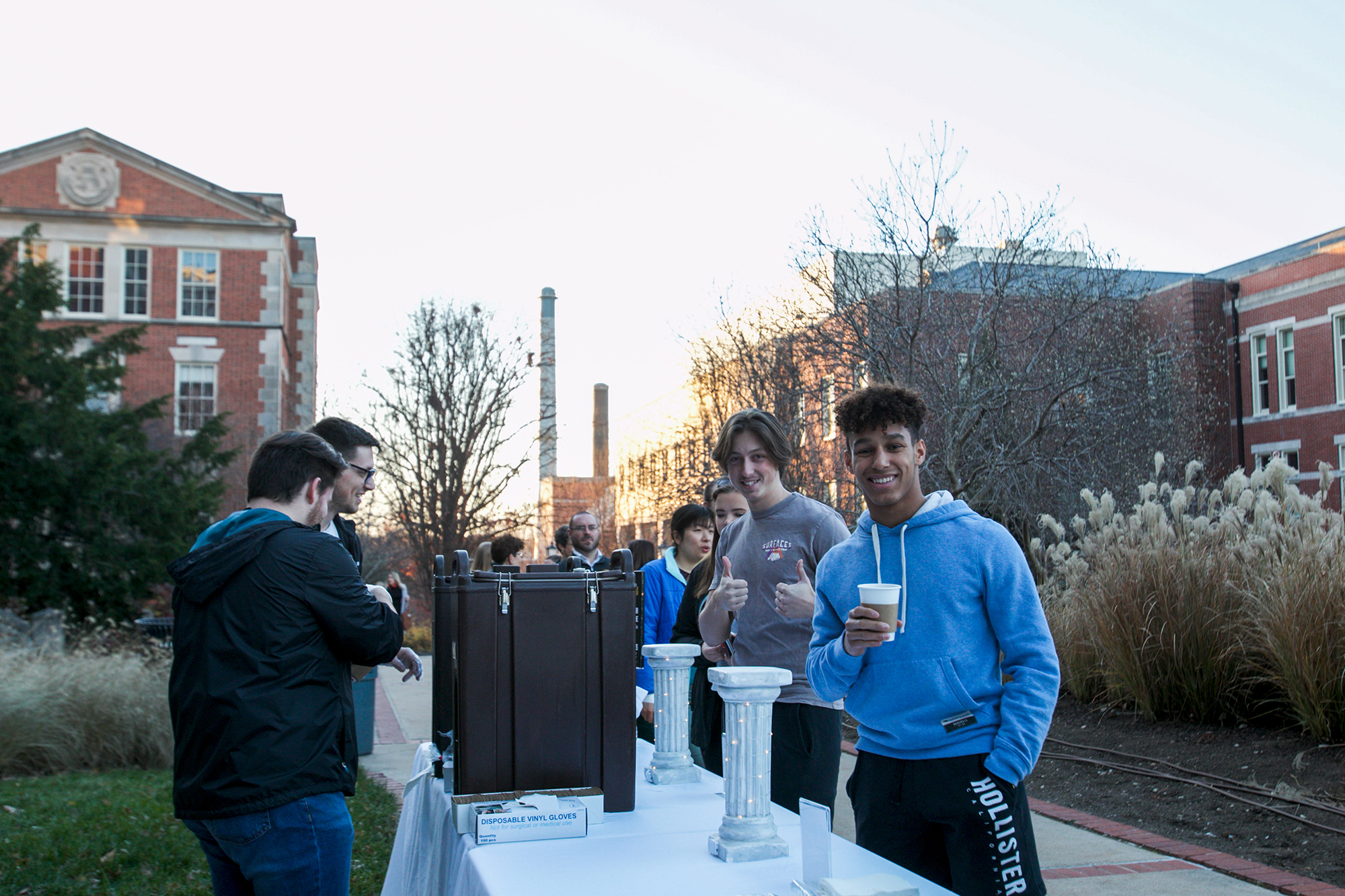 Film studies major Ray Morrow (brown shirt) selected a Mizzou cooler as his prize.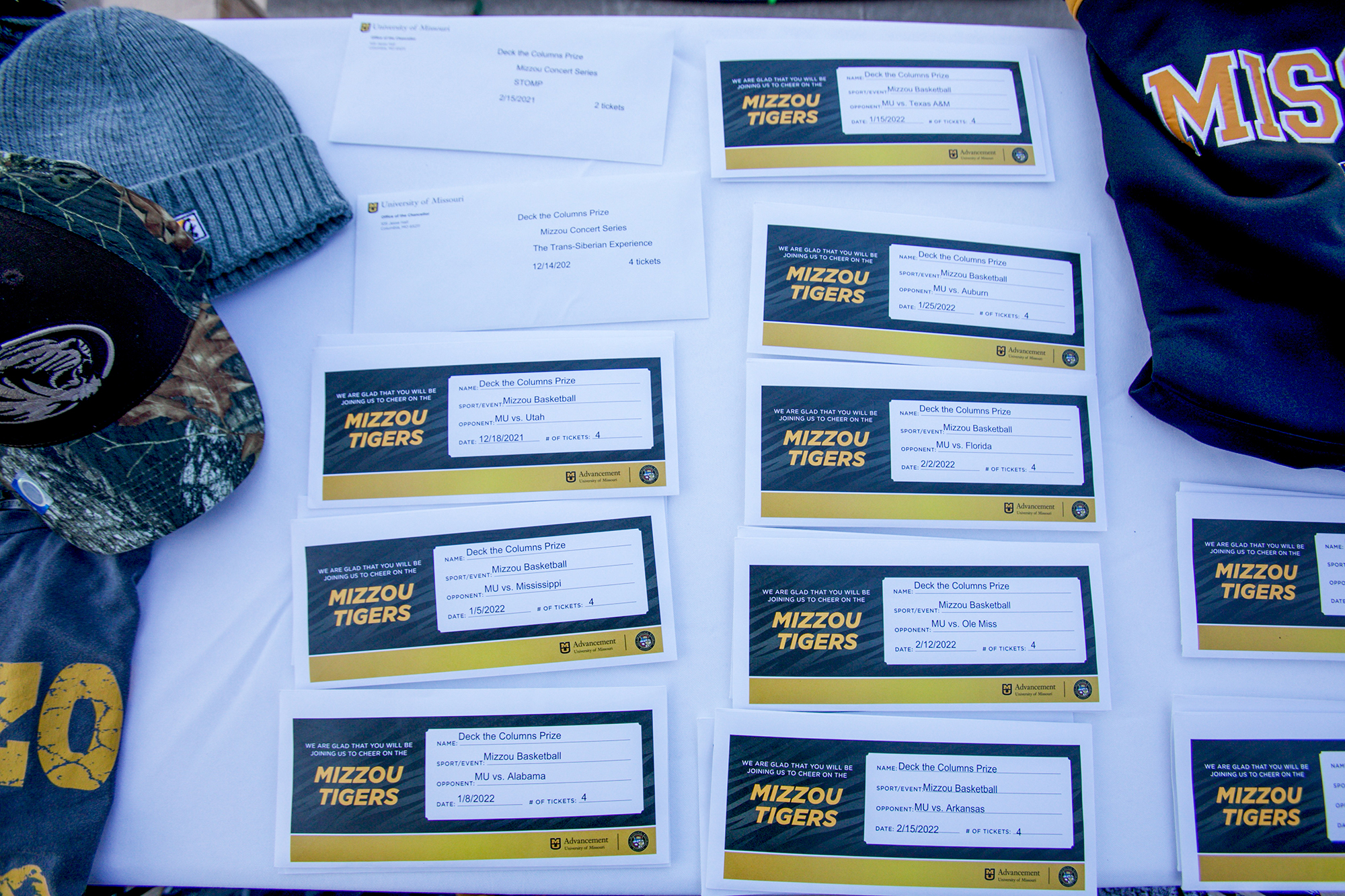 Other prizes included Mizzou apparel and tailgate gear, MU men's basketball tickets, Trans-Siberian Orchestra tickets and more.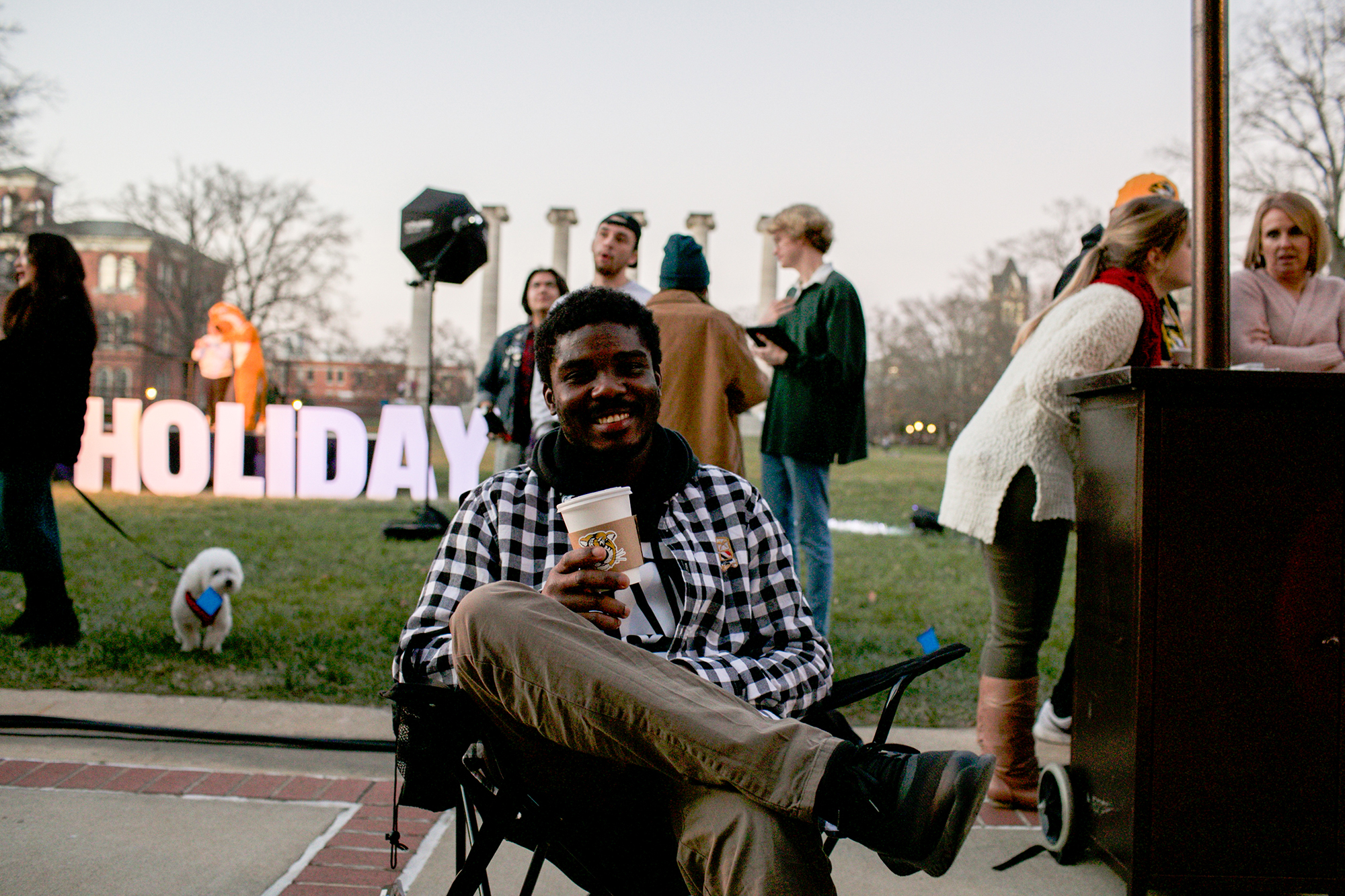 Samuel Adejoh, a graduate student in the School of Law, poses in a chair he won. Adejoh is studying dispute resolution.
Truman the Tiger was on hand to pump up the crowd and take photos with guests.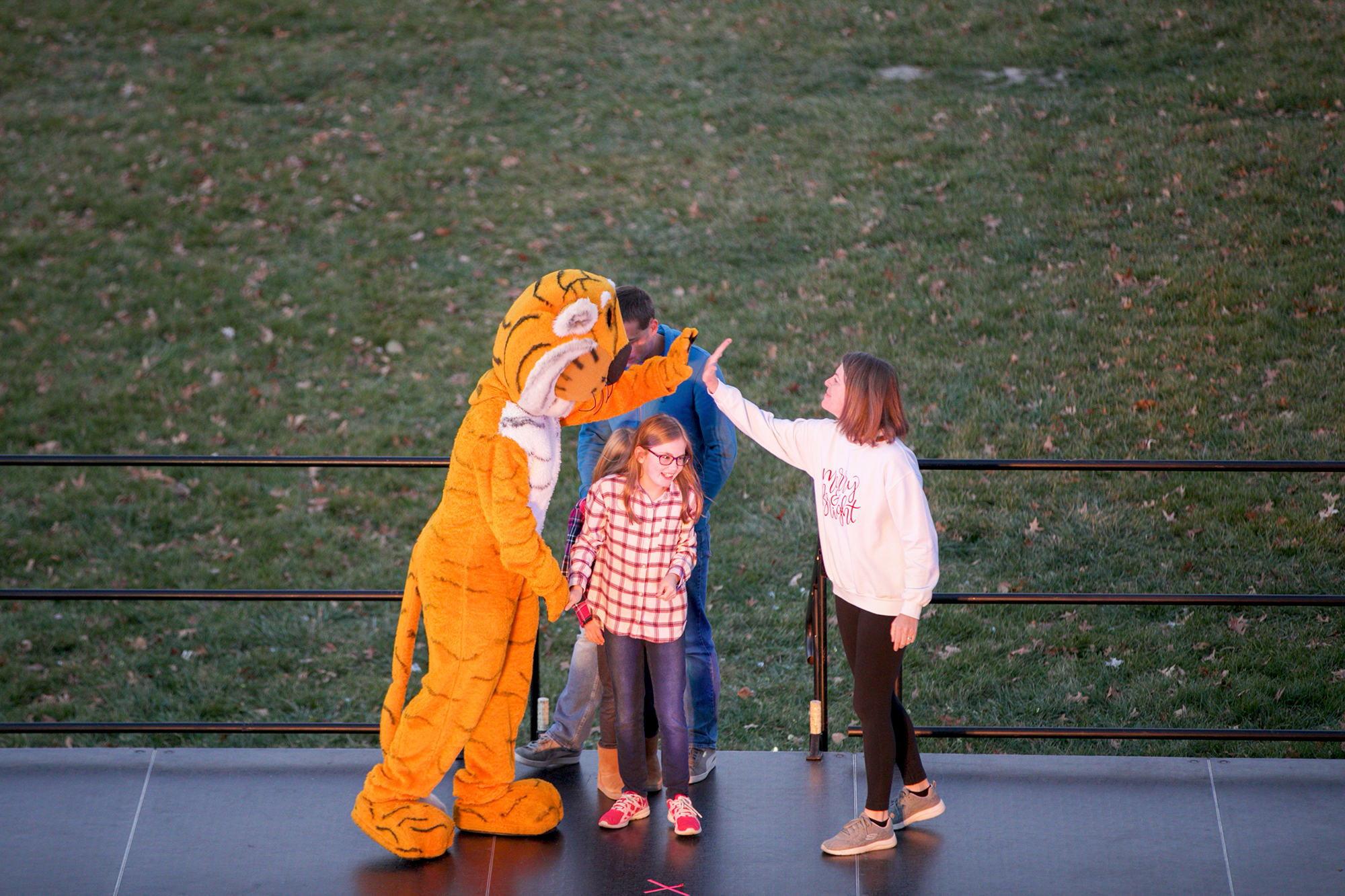 Several faculty and staff members turned the evening into a family event and brought their children to the fun.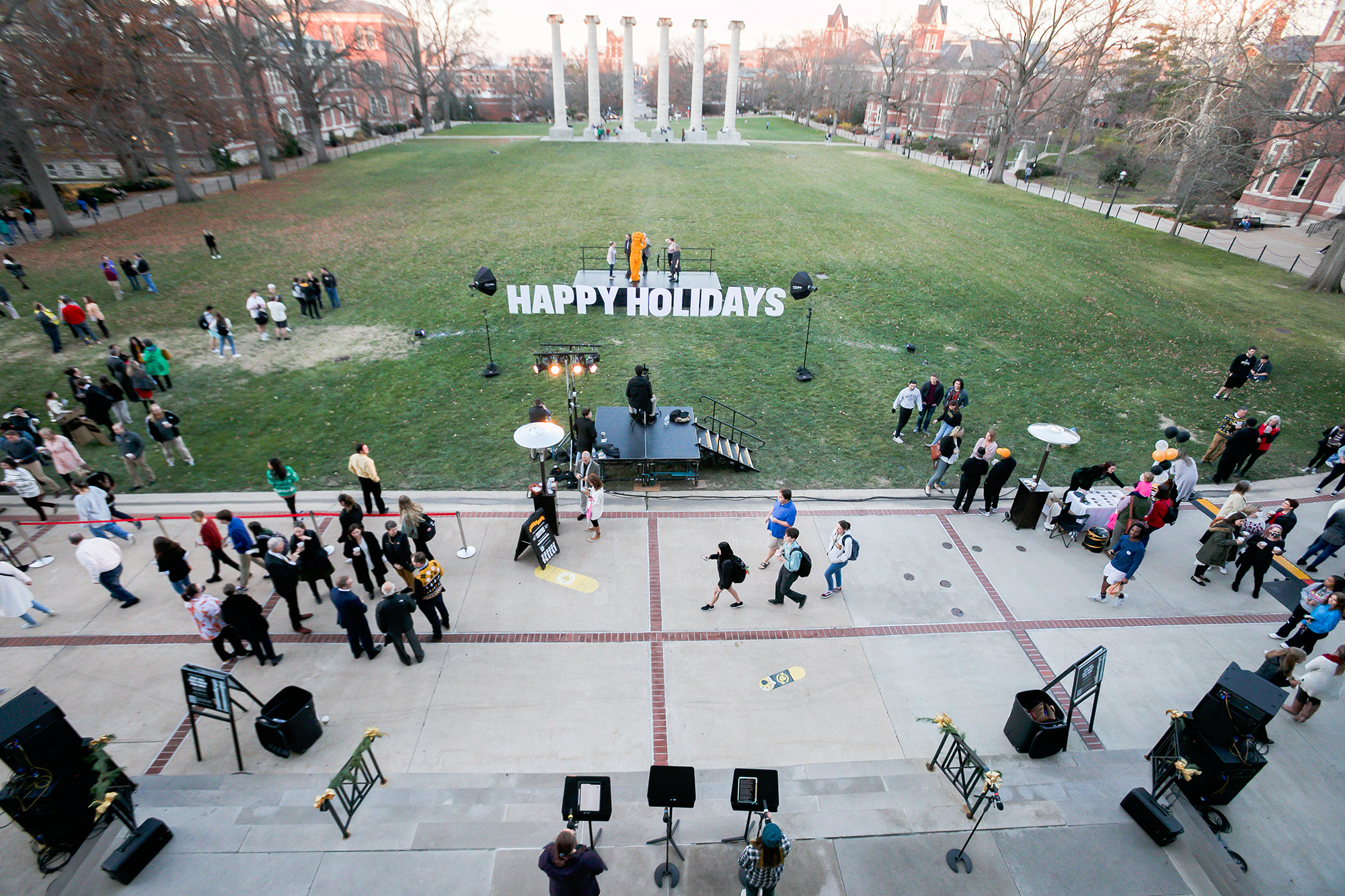 "I loved the opportunity to gather together after we've been apart for so long," said Chartese Jones, assistant professor of mathematics. "I got to meet people in person whom I've only ever seen on Zoom!"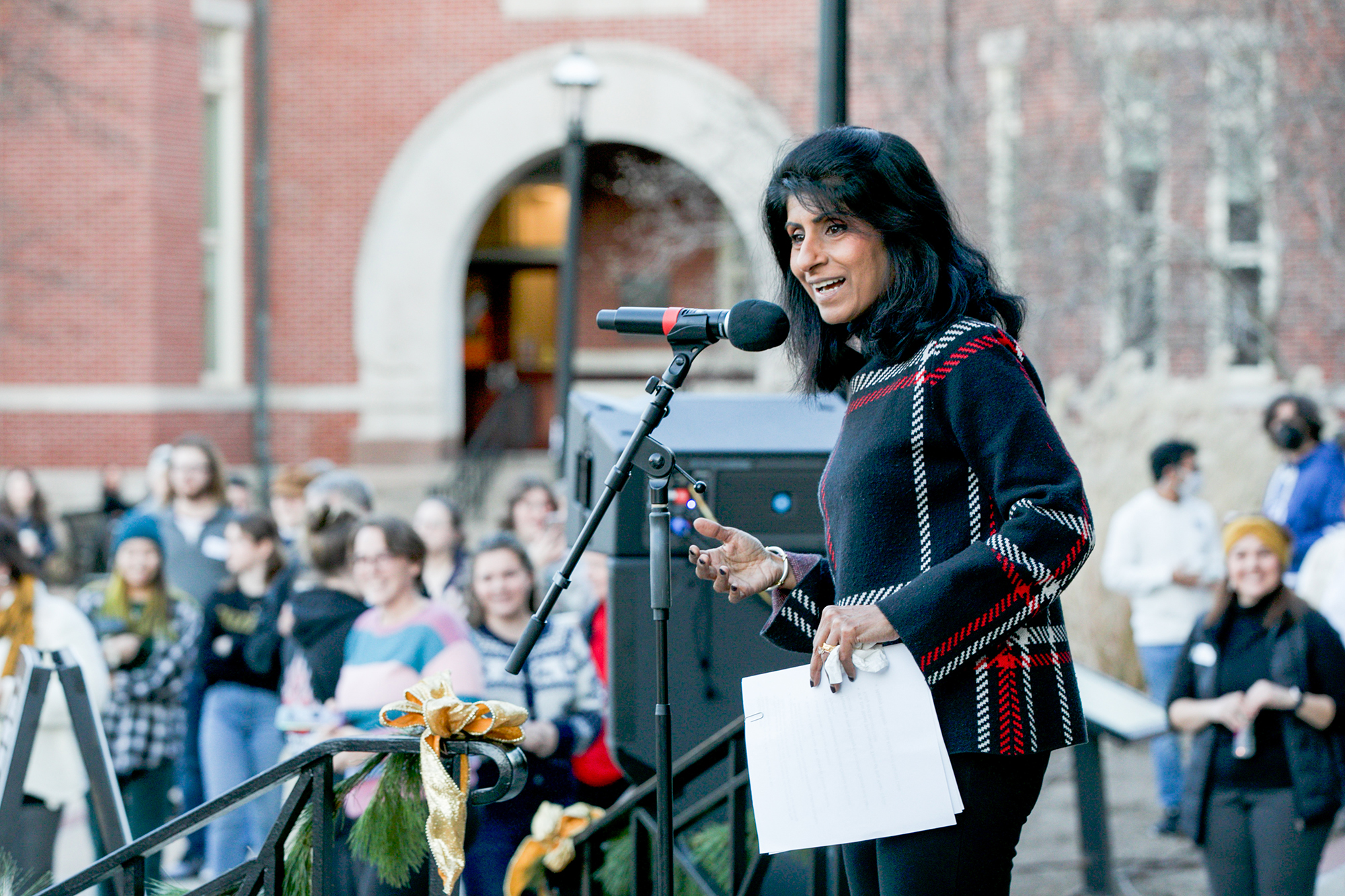 Provost Latha Ramchand helped emcee the event. She, too, brought her family, including her grandson who helped entertain the crowd.
Student vocalists from Hitt Street Harmony performed holiday favorites for attendees. Freshman Lukas Barker chose to perform "You're a Mean One, Mr. Grinch." "Growing up, that song was always on the radio when we drove to my grandma's house," he said. "It's the song that made me want to become a bass singer."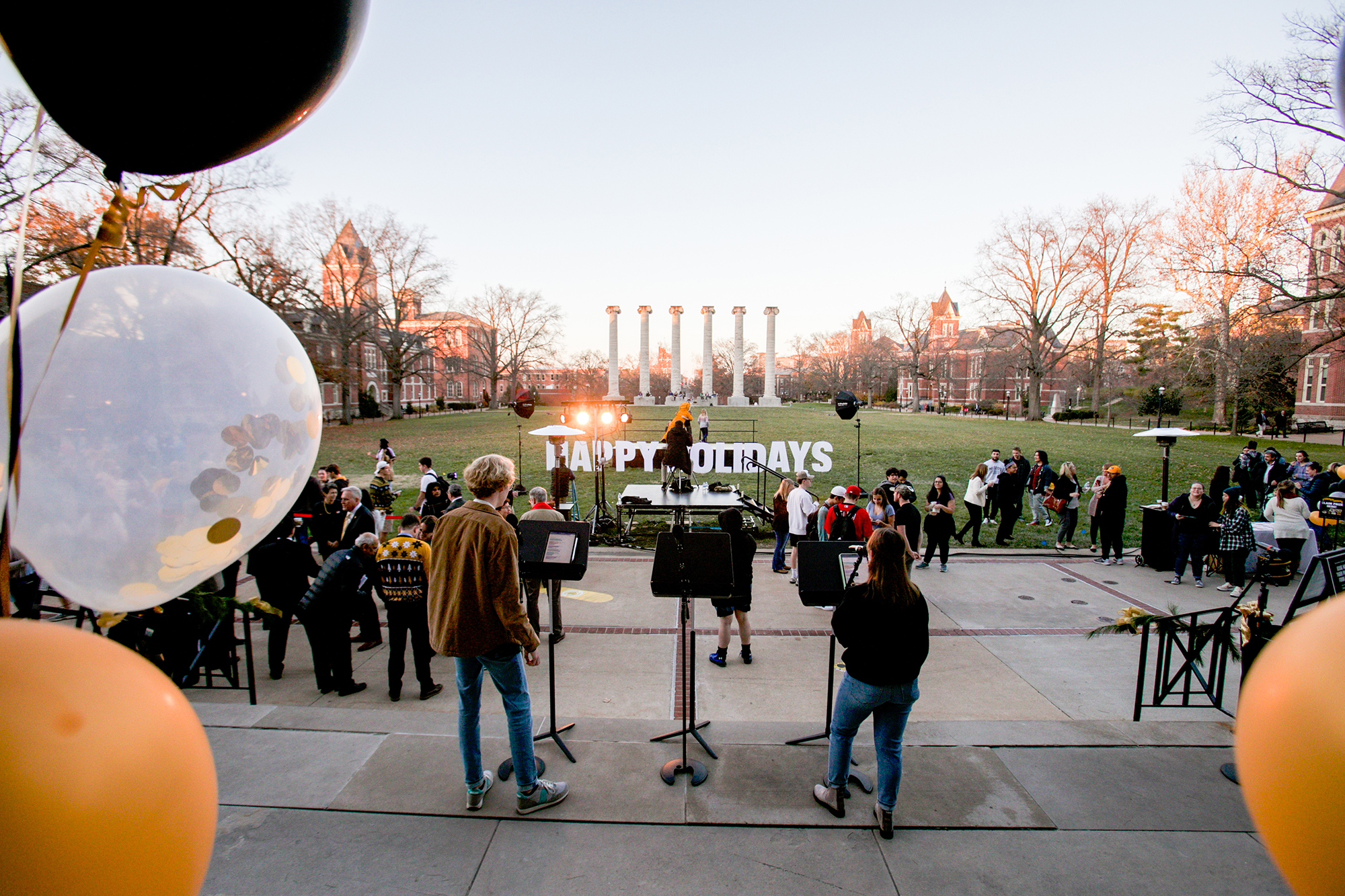 "It was so nice to come together for one last event before I graduate next week," said chemical engineering major Katy Whitledge. "I will miss my friends, but I'm excited to get started in my career."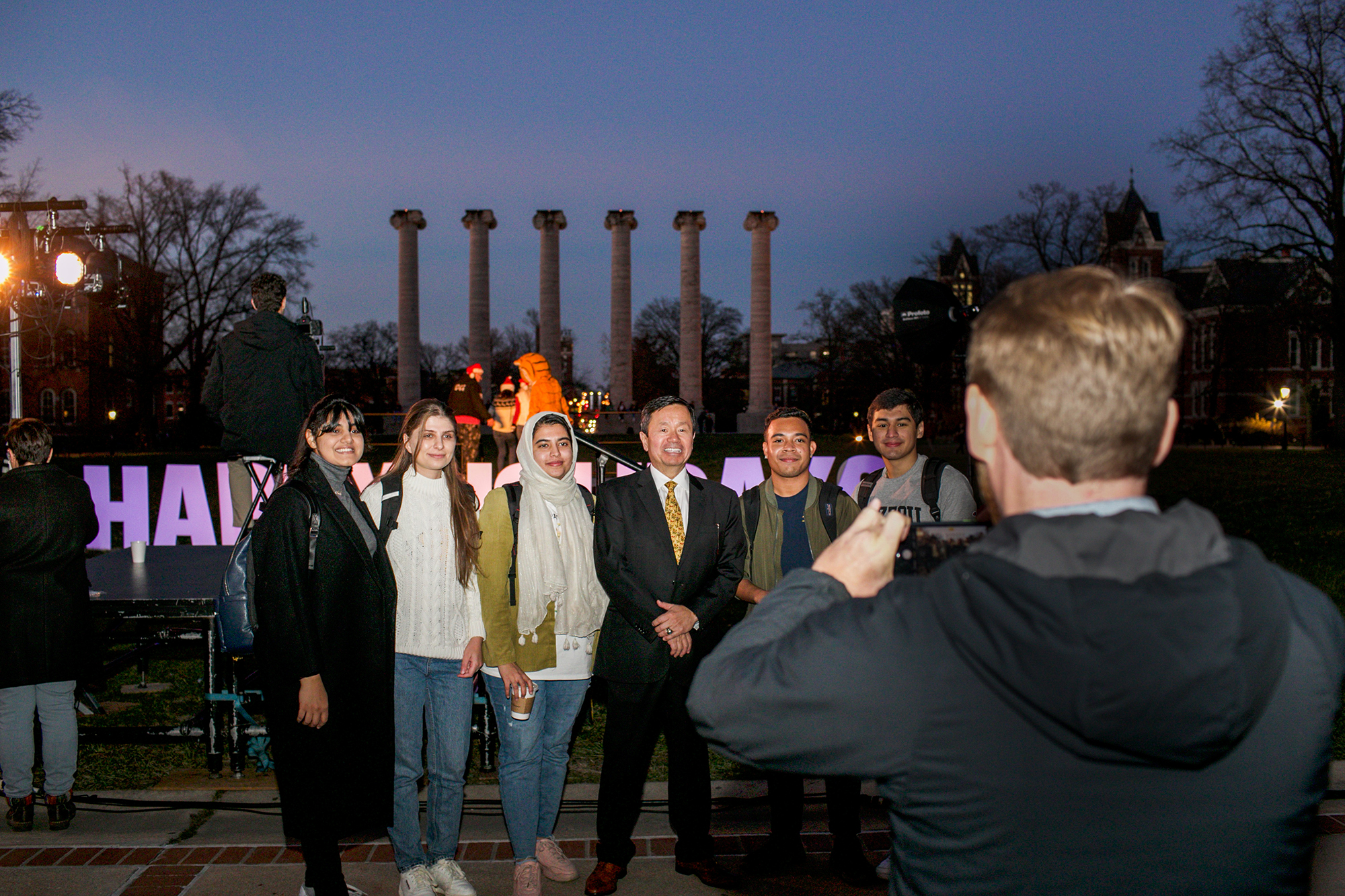 "I love traditions," said international student Edilberto de Oliveira (second from right in group photo). "I have a bucket list of Mizzou traditions that I've been crossing off. I'm grateful for the opportunity to mingle with leaders and administrators while experiencing things with my friends."