Sept. 22, 2021
Contact: Deidra Ashley, ashleyde@missouri.edu
Global Tigers Week takes place Sept. 25 through Oct. 1 and is a great way to for the entire community to learn about and celebrate University of Missouri students from around the globe. To prepare for the celebration, Show Me Mizzou talked with four global Tigers to learn about their experiences on campus.
Global Tigers Week events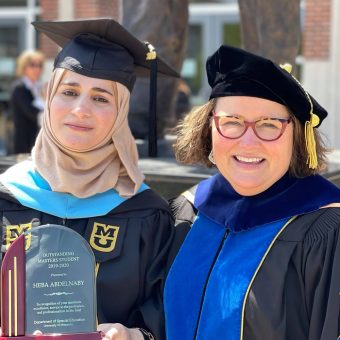 Heba Abdelnaby, Gaza
Graduate student studying special education
How are you sharing your culture on campus?
I participate in different student organizations: MISC, The Bridge, MU Fulbright Association, MU Special Education Graduate Students Association (SPEDGSA) and represented my country in different cultural events such as the flag event for International Student Day. I have also presented at MU events about my country and culture.
What is your favorite Mizzou memory?
My favorite MU memory was when I was awarded the master's student of the year award a year ago from the Department of Special Education. This recognition is an indelible moment I will cherish forever!
How has Mizzou supported you in your time here?
The MU community has been a great support. The International Office team worked diligently in guiding us with logistic and legal matters. In addition, the College of Education cultural engagement staff as well as my instructors and peers in the Department of Special Education are a great support for me and my family.
---
Vishwa Bhayani, India
Graduate student studying health informatics and biology
How has Mizzou supported you?
Being an international student and studying in a completely different country without the support system I had back home is hard, especially during this pandemic. My professors and mentors are very understanding of my situation and give me ample opportunities to improve and showcase my skills.
How do you share your culture on campus?
I am an extrovert and a social person. Being involved in the Cultural Association of India allows me to meet and guide incoming students. We have students from all corners of the very diverse India. It's fun interacting with all those different cultures and getting together to celebrate the many various festivals we have back in India here at Mizzou, like India Nite, coming up on Oct. 16.
How is Mizzou helping you achieve your goals?
The day I started pursuing my education, I was exposed to ample opportunities in terms of building my skill set, communication and student involvement activities. All these things have helped me thrive and [have] boosted my confidence.
---
Helmut Leodart, Indonesia
Graduate student in civil engineering
Why did you choose Mizzou?
I chose Mizzou because of my supervisor, Bill Buttlar — one Mizzou's world-class faculty members. As a graduate student, it is very important to have faculty with such great records as supervisor.
How do you share your culture on campus?
I've been sharing my culture by participating in cultural events on campus like the International Welcome Party. During the party, people from my country usually serve our traditional food. Other than that, I occasionally cook some traditional Indonesian food for some of my Mizzou friends.
What are you most looking forward to during Global Tigers Week?
I'm looking forward to the International Welcome Party that's finally back. I'm really excited to see the different cultures and food shared there.
---
Maya Moreau, Belgium
Senior studying psychology
How do you share your culture on campus?
I am originally from Belgium and spent most of my upbringing moving to different countries around the world. I would say that I have a multicultural background, and I am very proud and open about that. I share my culturally diverse background on campus by engaging with cultural organizations and sharing my experiences with others. I am currently the president of the Missouri International Student Council, so I am able to share my background with others through my work with the organization and the events that we host.
What is your favorite Mizzou memory?
My favorite Mizzou memory is when I was able to participate in the 2019 Homecoming Parade with the Missouri International Student Council. MISC invites their members and volunteers to hold their countries' flags during the parade and participate in actively spreading awareness about the nationalities and cultures represented on campus.
How is Mizzou helping you achieve your goals?
Mizzou has given me many opportunities to participate in events, activities and discussions that have helped me further my academic and career goals. I have had the opportunity to participate in the search committee for the new director of the MU Counseling Center, a student mental health discussion group with other student leaders and administrators, and President's Council, to mention a few.