Aug. 17, 2020
Contact: Kenny Gerling, gerlingk@missouri.edu
Read on to meet some of our newest Tigers. Even though they've been on campus for less than a week, each student has already shown an incredible willingness to be flexible and adapt for the good of everyone.
Though things have changed, these five freshmen show the Mizzou spirit is still thriving — even behind a face covering.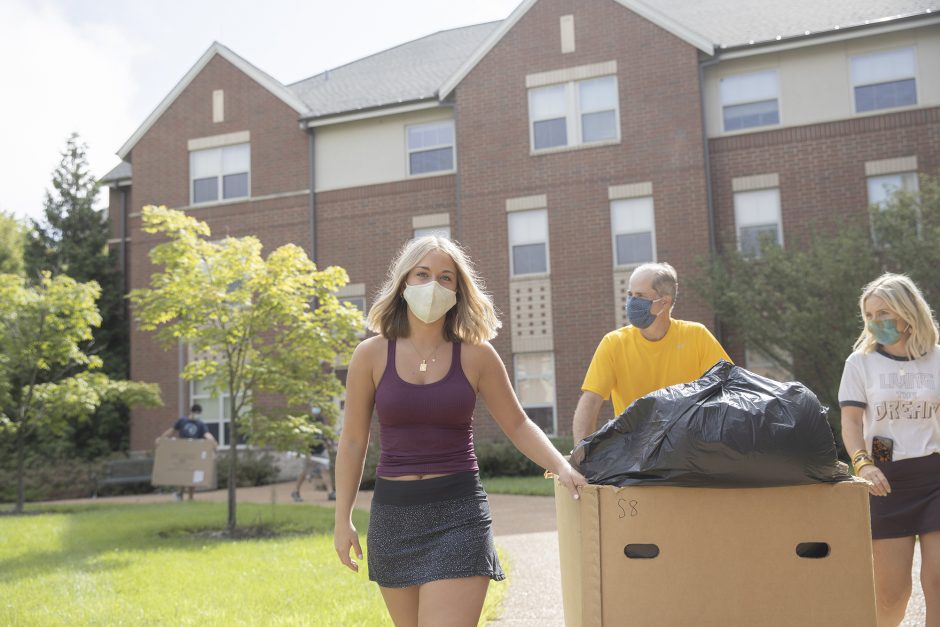 Chloe Orscheln
Textile and apparel management
Carthage, Missouri
South Hall
Chloe Orscheln was one of the first students to move in Wednesday morning. Though she was randomly paired with her roommate, they've already become good friends.
"I'm coming from a small school in a small town," Orscheln said. "But meeting my roommate lifted all my concerns. It's comforting."
Chloe is the youngest of three, including a brother who is a Mizzou graduate and was involved in Greek Life. She said she is looking forward to rushing and attending recruitment events over Zoom.
Her parents, Heather and Randy Orscheln, said they preferred the extended move-in period to other years when they helped their son. "We've been through it before, so we know what to expect," Randy Orscheln said. "This is much more relaxed."
Heather Orscheln agreed. "This doesn't seem as hectic," she said.
Allyson Smith
Broadcast journalism
Bolingbrook, Illinois
Schurz Hall
Allyson Smith was ready well before her 8 a.m. move-in time on Saturday. Dark clouds threatened rain, but Allyson remained unphased. This day was the culmination of a lifetime of academic excellence, and a week's worth of intense packing.
"I started Monday with shoes," Smith said. "Tuesday was clothes and Wednesday was everything else."
Allyson met her roommate over the summer near their homes in Chicago. It gave them a chance to discuss some of the unique aspect of campus life this fall. "We talked about safety," she said, and both decided they wanted to be cautious and limit the amount of people allowed in their room.
Allyson's goal is to be the lead news anchor at a major news organization, and she's already looking forward to her junior year when she can begin working at KOMU.
The journalism program's reputation, in addition to the scholarship she received, made coming to Columbia an easy choice for Smith. "Mizzou is known for having the best broadcast journalism program in the country," she said.
For now, however, Smith was focused on settling in. "I think I'll just stay in my room and decorate," she said, when asked about her afternoon plans. "Maybe later I'll link up with a small group" she added.
Abdullah Syed
Biology and psychology
Ann Arbor, Michigan
Gateway Hall
Abdullah Syed biked up to the rack outside Rollins Commons and began fiddling with his combination lock. It was early Saturday — the morning after his first night alone at Mizzou.
Syed was there to grab breakfast and check out campus. "My plan for today is to chill and bike around," he said. Syed said he's excited to start making connections, but for now, he's just focusing on getting a lay of the land.
To help meet people, he joined a freshmen interest group, Biome, for biology majors. He also plans to do rec sports once it's safe.
Syed is interested in environmentalism — hence the bike. So far, he said he finds Mizzou to be really bike-friendly, but an incident back home in Michigan two weeks ago left him cautious.
"I went for a wheelie and fell," he said. "I had to get stitches in my leg. It was bad."
After a bit more work, his bike lock finally snapped shut and he was free to get something to eat.
"I've never lived by myself, so this is the first day out on my own," Syed said. "Hopefully there are no more accidents."
Clayton Marsh
Computer science
Lee's Summit, Missouri
Gillett Hall
Clayton Marsh comes from a family full of Tigers. His oldest sister, Emily Marsh, is a senior education major. His parents, Brandi and Steve Marsh, met at Mizzou and are both alumni. Now Clayton will be living in the same residence hall — Gillett — that his mother lived in when she was a freshman.
"I thought it was cool," Brandi Marsh said Saturday of the connection. "But I know things are different. It didn't have air conditioning then."
Steve Marsh said he remembers his own freshman move-in in 1989. "We lived on the third floor," he said. "It was hot and humid."
Clayton Marsh is ready to begin his own adventure at Mizzou. He said he's interested in getting involved around campus and finding others who are interested in starting a Dungeons & Dragons campaign.
"I'm just excited to join the community, to start college and to start a new chapter of life," he said.
Clayton Marsh could only remember one piece of advice his sister gave him: where to eat. "She told me about Plaza 900," he said.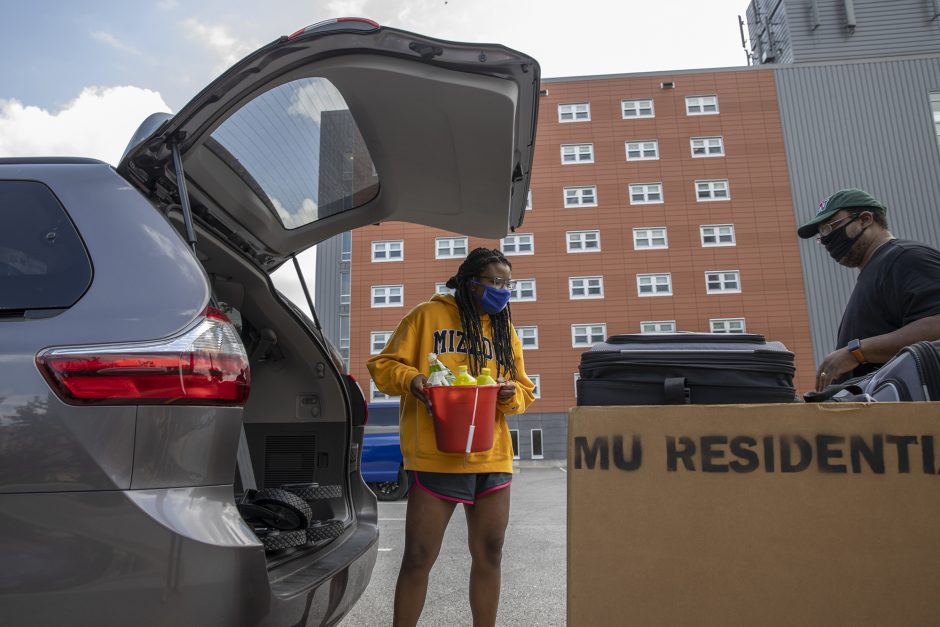 Danielle Levingston
International relations, Spanish with a minor in political science
Indianapolis, Indiana
Mark Twain Hall
Danielle Levingston attended Spanish immersion schools her entire life. In sixth grade, she went on a class trip to Ecuador, cementing her interest in world affairs. On Saturday, she began her journey as a Tiger, and was eager to expand her horizons even further.
Levingston said she's intrigued by diplomacy, and her dream is to work for the United Nations. She's already considering some of Mizzou's international programs. "One of my high school teachers was really pushing me to study abroad in Spain," she said.
Though globally minded, Levingston's also familiar with Mizzou and the Columbia community. Her grandfather was a PhD candidate in psychology in the '80s, and he taught classes on campus. Her father spent a portion of his childhood in Columbia, and the family frequently returns to visit friends.
Danielle said she is excited to possibly join campus organizations like the Mizzou Black Women's Initiative, among others, that allow her to link her global vision with local concerns.
"My parents joke that my personality traits are politics and One Direction," she said with a laugh.
The University of Missouri always played an important role in Levingston life, but now she's ready to start creating her own story. "As a child it was kind of idol worship, coming to Mizzou," she said. "But as I got older, I thought, 'OK, I can actually do that.'"