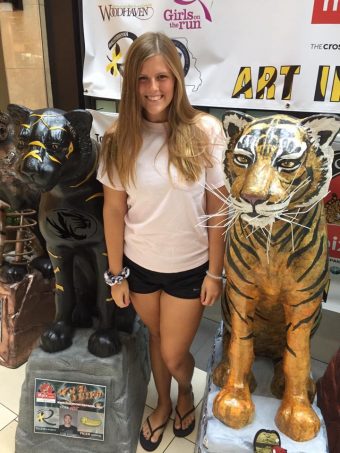 When the time came for sophomore Jenna Heaton to choose a college, she knew Mizzou was perfect. It was close enough to go home to Kirkwood for a weekend trip, but it also was far enough away that she could get a true college experience. Now, Mizzou is like a second home to her.
"It is full of so many opportunities and is such a diverse community," Heaton said. "I just could not get this kind of experience anywhere but here."
Heaton, who is pursuing a degree in early education, quickly became involved with Jumpstart, a program that partners college students with local preschools to provide at-risk children in the community tutoring and afterschool care. Heaton realized that Mizzou is a service-oriented community, and Jumpstart offered her the opportunity to give back and become a better teacher.
For new students at Mizzou, the best advice Heaton has to give is to take advantage of Mizzou's long list of clubs, work-study programs and community outreach opportunities. Besides her involvement in the Jumpstart program, Heaton plays on Mizzou's club racquetball team, and her favorite Mizzou memory was a trip with her team to California last spring break to compete in the national championship.
"College is the time to have new experiences and push yourself out of your comfort zone," Heaton said. "Not only will your experiences here shape you as a student, they will shape you as a person and will change you for the rest of your life."